Beautiful things can also serve a function. That's exactly the principle behind the Scandinavian movement that started sometime around the early 20th century. What began in the countries of Denmark, Finland, Iceland, Norway, and Sweden has spread all over the world.
Today, Nordic beauty is synonymous with utility. So if you're looking for gorgeous, practical design elements look no further than these amazing Scandinavian fonts.
Gorgeous Scandinavian Fonts
1. Bjorn
Bjorn is a sans serif display typeface with sharp corners. It's a versatile, Scandanavian font that features uppercase multilingual letters, numbers, and punctuation. It comes in regular, light, and halftone styles.
2. Noatun
Noatun is a Scandanavian font that features a unique geometric style. It works great in titles, logos, and short quotes. It includes some multilingual support, uppercase letters, numbers, and punctuation.
3. Nordica
Introducing Nordica, a hand-sketched Scandanavian font with a beautiful runic style to help you bring the soul of the Nordic region into your design works!
4. Tundra
Tundra is a simple sans serif Russian font in two weights. It includes uppercase multilingual letters, numbers, and punctuation.
5. Zenzero Grotesk
Zenzero Grotesk is a fresh, eccentric, and stylish Scandanavian font, with a mixture of sans serif and slab. It boasts tons of ligatures and stylistic alternate glyphs, for complete control of the final result.
6. Castillo Scandinavian Font
Happy Letters is proud to present this modern display font in 4 unique styles (Regular, Italic, Bold, and Bold Italic). With a bonus of 6 seamless patterns, you'll spend hours of fun working on scrapbooks, cards, logos, labels, albums, and gift packs.
Download Castillo Scandinavian Font
7. Jonny Font
Created by Alena Dubinets (Alyonka_lis), this typeface has two versions (Decor and Black) that go great together, or can be used independently. It also supports Latin and Cyrillic characters to give you more creative freedom.
8. Nordic Tale
Tell your story using this beautiful folk art font family from Victoria Strukovskaya (Struvictory.art). Each letter from the decorative version was made with distinct Nordic patterns, telling a separate cultural story of its own. The pack also includes symbols so you narrate your tales in excellent harmony.
9. Funny Christmas Typeface
Can't wait for the most wonderful time of the year? With this gem from Qilli, you won't have to! Imbibed with the spirit of Christmas, the unique font comes with special characters, accents, alternates, and ligatures just for you!
Download Funny Christmas Typeface
10. Scandilover
This Latin and Cyrillic font family from Katsia Jazwinska was inspired by monochrome Scandinavian style kid rooms filled with handwritten graphics, as well as black-and-white accessories and prints. Available in two fonts (Decorative Display Font and Script), use one or both to bring out your own creative side.
11. Lazy Olov
Bring out your colorful side in this offering by JuliyArt. Presenting 3 amazing fonts in Regular, Color, and Black, there's no limit to what you can do. The pack also includes color and monochrome elements, seamless patterns, and posters to help you explore your artistic side!
12. Brave Ulrik
Whether you're making something for the holidays or for the kids, you will love this versatile Scandinavian font from Katrinelly. Featuring a Regular version with a free Doodle Symbol font, it's everything you need to start creating Nordic-inspired projects in no time.
13. Hygge Scandinavian Font
Add the Danish and Norwegian concept of Hygge in this typeface by Alisovna. With its warm and cozy vibe, it will look amazing on shirts, cards, pillows, labels, posters, headlines, and more.
Download Hygge Scandinavian Font
14. Yeti Scandinavian Font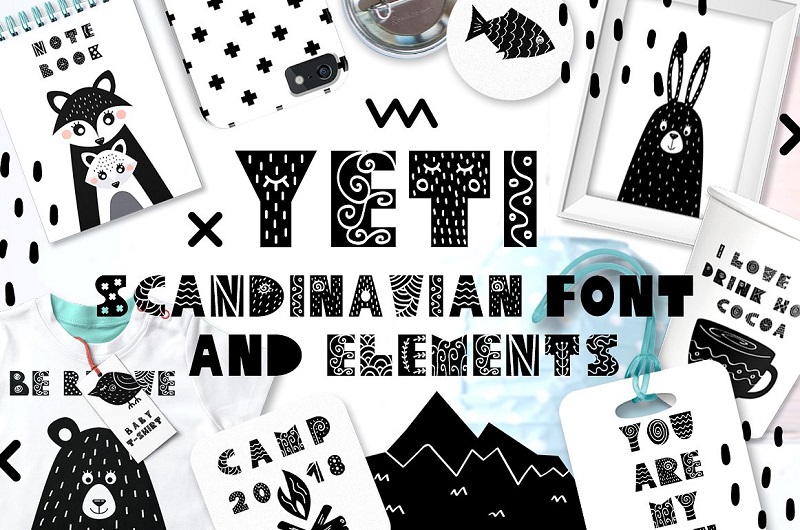 JuliyArt makes black-and-white look so good in this typeface that comes in two cute styles (Regular and Bold). Get the pack and also receive bonus goodies such as decorative elements, seamless patterns, and posters.
Download Yeti Scandinavian Font
15. Scandinavian Font Family
Inspired by Nordic folklore and traditional Finnish and Swedish folk art, Favete Art proudly presents this font family that comes in two unique versions (Decorative and Black). With black and white Scandinavian symbols to boot, this is one pack you won't want to do without!
Download Scandinavian Font Family
16. Sweetheart Fonts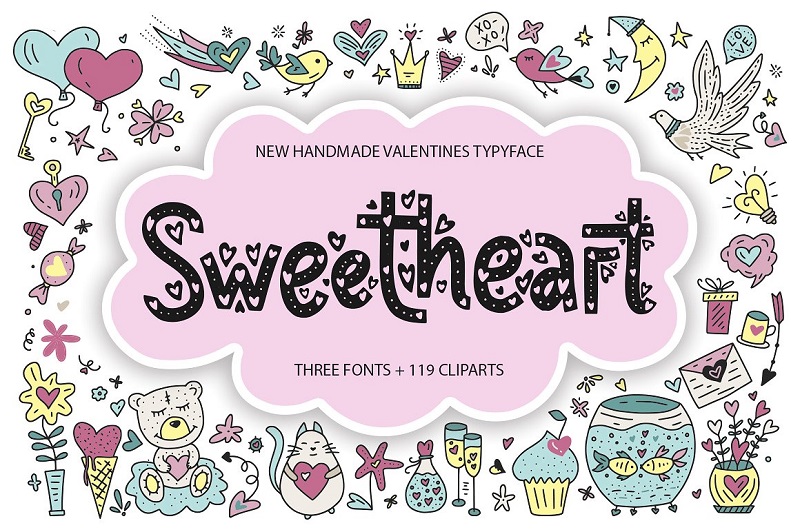 Express your love any time of the year using this pack from Red Ink. Not only will you get cool fonts in 3 beautiful styles, but you will also receive more than 100 hand-drawn love clip art illustrations in color, as well as outline love clip art illustrations in black.
17. Little Submarine Kids Fonts
Make little ones smile with this amazing typeface created by KAZUKA. It comes in two styles (Regular and Decor) that will bring out the kid in you. It's perfect for kid-inspired projects such as personalized items and wall stickers.
Download Little Submarine Kids Fonts
18. Ethnic Love Font
Latin Vibes wants you to come out and play in this all-in-one bundle featuring a totally unique, decorative font! Get it today and enjoy other bonuses such as illustrator brushes (compatible only with Illustrator CC+), seamless patterns, plus decorative circles.
19. Janica Font
Give your designs a warm touch with this font family that has plenty of Nordic folk elements. Brought to you by Katrinelly, the font comes in two styles (Regular and Black) that go great together, or used separately. The pack also contains bonus symbols to complete your final product!
20. Maitana
Keep it fun using this typeface by himoki. With a playful country style that comes in two versions (Extralight and Light) as well as bonus doodles, it's a great addition to any project that needs a bold, Scandinavian vibe to it.
21. Norse Font (FREE)
Joel Carrouche proudly presents this strong, uncompromising font born from the land of Vikings. It is 100% free for personal and commercial use (but donations are gladly accepted). It should enhance both modern and traditional projects with its minimalist look yet subtle, rough lines.
22. Stormning Font (FREE)
This amazing font family from KineticPlasma Fonts (co-designed with Mew Too) includes 12 styles, each with their own glyphs. It's made up mainly of Elder and Younger Futhark runes, with Dalecarlian (Swedish province) and Medieval Scandinavian runes as equivalents to Latin characters that have no equivalents in the runic alphabets.
23. Folkard (FREE)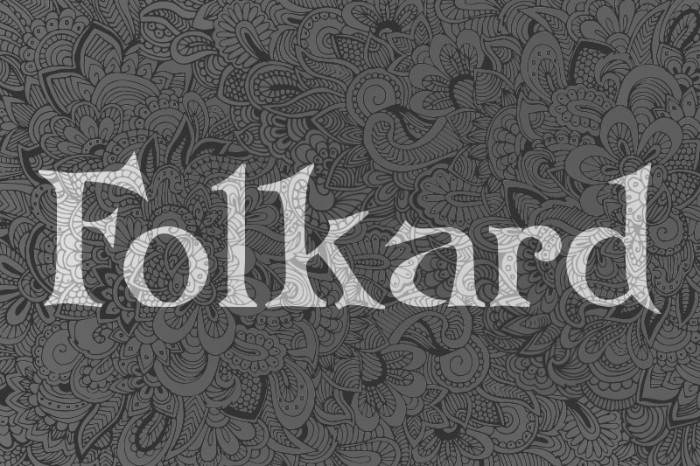 Give your book covers, game titles, and t-shirts a touch of old-folk magic with this fairytale-like serif by The Scriptorium. It has upper and lowercase characters, as well as numerals and punctuations.
24. Scandinavian Runes Artistic Set (FREE)
Welcome to the mysterious world of the Scandinavian Vikings! This wonderful collection by Draw Wing Zen features a runic PNG alphabet, plus illustrations of crystals, alchemy symbols, herbs, and brush strokes. Unleash your creativity by customizing them or combining them in your other artworks. The possibilities are endless with this one kit!
Download Scandinavian Runes Artistic Set
25. Nordic (FREE)
Based on Scandinavian runes and elegant geometric forms, this unique typeface from Yana Bereziner has 3 weights to fit your needs. Don't be fooled by its playful, decorative details – it will look great on modern projects like logos, apparel, portfolios, cards, invitations, headlines, and branding.