Last Updated on August 29, 2023
Whether or not you believe it, the old saying 'don't judge a book by its cover' rarely rings true. It's no secret that humans are visual creatures. And when it comes to buying books, covers often speak louder than the words inside them.
Whatever your reason for wanting to design your own book cover, here are several tips to guide you on the right path.
Quick Guide on Designing a Book Cover
Self-publishing is not only common nowadays, it's usually the preferred method of young authors to quickly get their story to the market. But the process ain't a picnic. There are plenty of factors to consider – one being making your own cover.
There are two ways to go about this. The first, of course, is to hire a professional. But if budget is tight, you may want to DIY. For authors who want to do the latter, you can opt for a simple layout using Microsoft Word and stock photos. An alternative is to use on- or offline design software such as Canva or Photoshop.
Once you've picked HOW you want to do the cover, the next step is to answer the following questions:
Do you have a brand as an author? You want your brand reflected on the design of the book.
What genre is your story? Readers usually expect the book cover to convey the genre's mood and tone. For example: dystopian sci-fi works often have dark, desolate covers.
Will the book be sold online or at a bookstore? If you're planning to sell your story on Amazon for instance, you need a thumbnail to go with the regular sized cover. For prints, you need to think about paperback or hardback, foil stamping or embossing, etc.
Keep in mind that a printed project will differ from an online version. Once your book is printed, it may eschew the design, impacting overall experience. When in doubt, consult an expert.
Practical Book Cover Mockups
A good book cover is not only eye-catching, but should also reflect the genre and brand of the author. Designing one may take time and plenty of practice. But with these handy book cover mockups, that process just got easier.
1. Digest Size Book Mockups
Show off your novel and future bestseller in this pack by Zippy Pixels. Featuring 5 PSD files, 5 poses, in 5 different backgrounds, it's an eye-catching way to promote your masterpiece.
Download Digest Size Book Mockups
2. Long Shadow Book Cover Mockup
Professorinc brings you this product of 9 fully layered PSD files in 8 various sizes plus a square variant. Photo-realistic and effective, it's easy to use, even for beginners.
Download Long Shadow Book Cover Mockup
3. Book Cover Mockup Front View
Stand out in this simple graphic template by Graphic Crew. Just change the book cover, texture, and/or background, and you're good to go.
Download Book Cover Mockup Front View
4. Book Cover Mockups
Save time and money when you opt for this book cover mockup set by Artimasa Studio. There are 4 different styles to choose from; simply replace the cover with your own design and voila!
5. Book Mock-Up/Dust Jacket Edition
For those who are thinking of including a dust jacket for their book covers, this mockup by Punedesign contains 8 PSD presentations/15 different book templates, with the option to turn on the dust jacket feature.
Download Book Mock-Up/Dust Jacket Edition
6. Two Books Mockup
Give your future readers the chance to see your book front and back with this book cover template from Pixelbuddha Graphic.
7. Small Paperback Book Mockups
This softcover mockup is perfect for authors who want a small paperback book. Created by GfxFoundry, the pack includes 3 PSD mockups with organized layers, letting you change backgrounds, shadows, and effects in a single click.
Download Small Paperback Book Mockups
8. Book Mockup
Itscroma gives you this clean, easy-to-use, and carefully crafted paperback book mockup kit with photorealistic results.
9. Book Mock-Up
Show off your masterpiece from every angle in this set that contains 9 PSD files with front, back, and inside peeks.
10. Square Book Mockup
Wutip brings you this kit of 10 pre-made high-resolution (3000×2000 px) templates, with fully editable shading and shadows for your convenience. Ideal for coffee table books.
11. Book Mockup
Imagine your book already in print and on someone's marble or wooden table. Get a similar effect when you use this paperback book mockup kit in 15 cm x 21 cm, portrait orientation.
12. Beautiful Book Cover Mockups
Give your future readers a chance to envision themselves with your book in this mockup set with unique handheld positions. This soft cover set features front and back views, smart layers, and realistic effects and shadows.
Download Beautiful Book Cover Mockups
13. 65 Book Mockups Bundle
Want plenty of options for your next book cover? Can't decide on just one design? Then satisfy those whims in this collection of 65 book templates! Also includes an e-book cover mockup.
Download 65 Book Mockups Bundle
14. Book Cover Mockups Hardcover
This minimalist yet aesthetically pleasing set from Mr. Mockup contains 20 ready-to-use scenes, shot professionally, for neat, beautiful close-up photos that look amazing online or in print.
Download Book Cover Mockups Hardcover
15. Hardcover Book Mockup Set
Design Squad gives you this collection of 4 PSD files so you can get started on your book cover. User-friendly and includes 6 background textures, it's recommended not just for authors, but also for publishers and graphic designers.
Download Hardcover Book Mockup Set
16. Book Mock-Up
10 scenes in high-resolution (4000×2800 px) and fully organized layers, WebAndCat offers you this clean, simple, and practical template for bringing your book cover idea to life.
17. Vertical Book Hardcover Mockup Set
This pack by Deeplab includes 17 different mock-ups in RGB Colors and with a vertical book dimension so your readers can imagine your book in their shelves.
Download Vertical Book Hardcover Mockup Set
18. Book Cover Mockups
Don't just daydream about writing a book – design its cover today! Pixelbuddha gives you a set of 5 mockup scenes, with options to edit for silver/gold foil effects, as well as choose between glossy and textured covers.
19. Book Mock-Up/Hard Cover Edition
Let future readers take a peek inside your bestseller in this graphic template collection from Mockup Cloud. Contains 4 real photo presentations in A5 and US-half letter page sizes so you can quickly customize it in a few clicks.
Download Book Mock-Up/Hard Cover Edition
20. Book Mock-Up/Hardcover Edition Ultra Sharp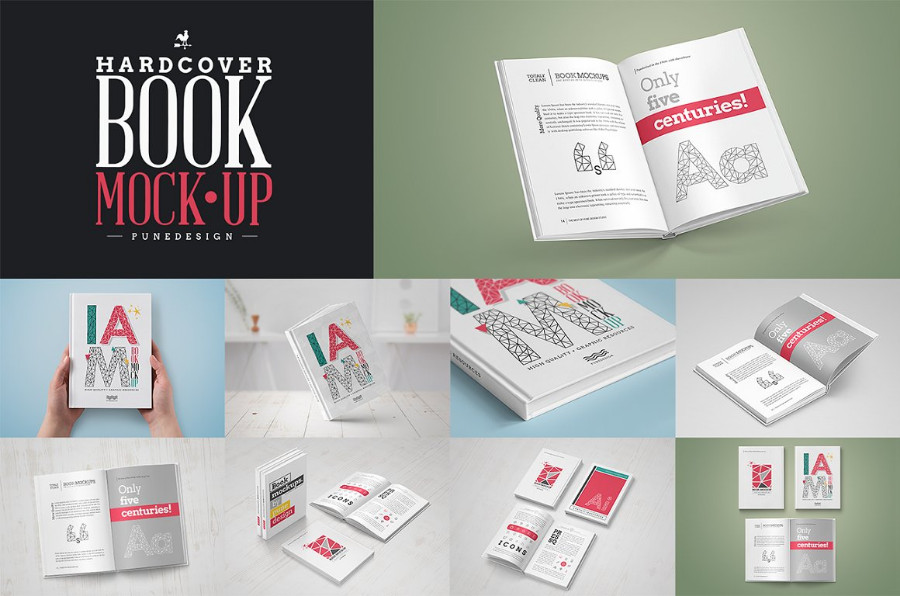 This pack consists of 9 varying scenes, with 1 both hands holding the book and 3 featuring the front, back, and open pages. Photos boasts of ultra sharp details, you'll be amazed at the results!
Download Book Mock-Up/Hardcover Edition Ultra Sharp
21. Mockup Pack Minimal Book Covers
Simple yet impactful, this product contains 8 PSD files by S48 Mockups. It will give an isometric view of the front, top, and back of the book.
Download Mockup Pack Minimal Book Covers
22. Soft Cover Book Mockup
See what your final book would look like once it's published using this template collection from Petr Stránský. With 9 high-res PSD mockup files (4500×3000 px) in standard size of 5 x 8 in, it only takes a few minutes to customize it to your liking.
Download Soft Cover Book Mockup