Last Updated on September 13, 2023
Coming up with a compelling design isn't a walk in the park. Although pros make it look simple, designing shirts, logos, and business cards need creativity, patience, and some technical knowledge. Add a deadline to beat and you've got a dilemma on your hands. This is where digital design software comes in.
Apps like Placeit by Envato is a wonderful platform to help beginners and pros create beautiful mockups fast. From gaming and social media, to clothing and beauty – there are thousands of templates to choose from. It simplifies the process and frees up more time for you.
But how helpful is it really? And is Placeit worth the money? Let's find out.
What Is Placeit?
Placeit is a pioneering digital design company established in 2013 by Navid Safabakhsh. Its standout feature is its remarkable mockup generation capabilities.
It also functions as a versatile logo generator, design creator, video editor, and a treasure trove of design templates. Dependable and user-friendly, Placeit has a diverse clientele, ranging from individual designers to large organizations.
Notably, the app's journey took an interesting turn when it was acquired by Envato on July 26, 2018. This strategic move marked a new chapter for the platform, further cementing its position as a go-to resource for creatives seeking powerful design solutions.
How Big Is Placeit?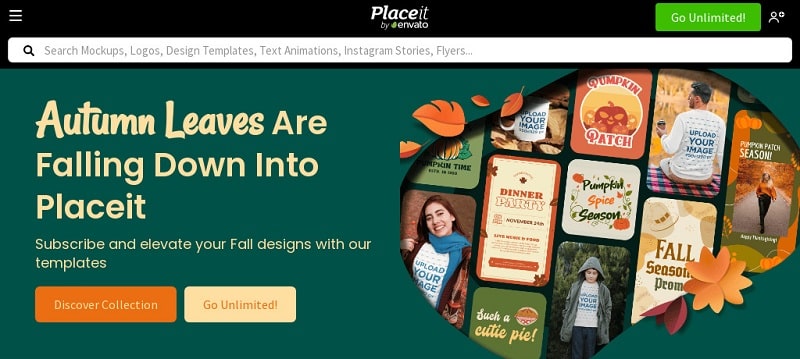 This design tool maintains a huge library of more than 100,000 digital assets. Content is intuitively grouped into different categories, namely: Mockups; Designs; Logos; Videos; and Gaming. Each category has a sub-category, depending on how you intend to use the digital assets. The subcategories include:
Mockups – Highlights; Apparel; Digital; Print; Print on Demand; and Promotional
Designs – Highlights; Apparel & Print; Gaming; Music & Podcasts; and Social Media
Logos – Highlights; Architecture & Design; Clothing & Beauty; Education & Arts; Finance & Legal; Food & Events; Gaming; Healthcare; Lifestyle & Fitness; Music & Podcasts; and Services
Videos – Highlights; Gaming; Intros & Slideshows; Social Media
Gaming – Highlights; Merch; Streaming; Twitch Templates; and YouTube
In addition to the five major product categories, Placeit also offers handy guides. Beginners can use these tutorials to get a head start on how the website works. Even better, Placeit updates its content daily. This gives users access to fresh assets every few hours.
The company even allows users to shoot them a message for ideas and feedback. Simply send a detailed description of your request through placeit.uservoice.com and they will let you know if and when your requests can be available.
What Is a Mockup Anyway?
Mockups are the core of Placeit. If you're new to it, it's a good idea to first understand what they are before signing up to any service.
In essence, mockups are visual previews of web pages, apps, or products, typically displayed on screens. They breathe life into design concepts, acting as digital blueprints. These provide creators with an overview of how visual elements interact. Mockups offer the most realistic representation of ideas, revealing hidden flaws that may impact the final product's visual appeal. They are invaluable for detecting errors and fine-tuning.
Placeit is one of the many tools and websites available to help you make mockups. Be sure to read everything you need to know before deciding which one suits you best.
How to Get Started On Placeit
To get started, create an account. You can sign up with just your email address and a strong password. Or if you prefer, use your Facebook or Apple account for quicker registration. Once you're all set up, it's time to personalize your experience. Select your business name and specify your industry to begin exploring the website's offerings.
Choosing a logo is where the real magic begins. Upon selecting a logo, Placeit swiftly generates mockups featuring that graphic – think notebooks, flyers, and banner ads.
Then, it guides you through the process of selecting your preferred font and colors, all while generating various versions of the logo based on your chosen template. This flexibility allows you to pinpoint the most captivating design.
The final step: download your creations. Mockups, logos, and design templates come in PNG format, while videos are available in MP4 files. Social media posts are downloadable in the format compatible with the respective platform. Placeit simplifies the journey from concept to creation, offering a user-friendly experience from start to finish.
Practical and Professional Placeit Services
Whether you need a company logo, product packaging, or a 3D video, Placeit has it. The website also maintains thousands of mockup templates for inspiration. Check out the fantastic services you will get when you signup:
1. Logo Generation
It provides logo design services for both amateurs and pros. With a variety of user-friendly tools, you can effortlessly create a logo that perfectly aligns with your brand. This not only saves you money and time, it also offers access to thousands of ready-to-use templates for a seamless experience.
2. Design Creation
The software also serves as a design generation and template website. It has thousands of assets for effortlessly designing your next book cover, business invitation cards, event flyers, and posters. There are handy resources to inspire your next apparel branding project, too.
3. Video Editing
Creating branded videos can be a daunting task, even for seasoned content creators. The challenge intensifies when using budget-friendly software.
Thankfully, Placeit offers a powerful video editor that simplifies the process. What sets it apart is that the generated videos are ready for publication. This means you can quickly export them to your blogs, social media profiles, or e-commerce platforms without the need for additional editing.
To make the most of Placeit's video editor, start by exploring the templates. Select one that aligns with the type of video you want to create, whether it's intros, outros, product descriptions, animations, etc.. From there, customize effects including images, fonts, and colors to suit your branding.
Some templates even include pre-set sound effects. But you have the flexibility to pick your own audio from the options.
More Things To Love About Placeit
1) Ease of Use
It boasts one of the most user-friendly dashboards of all popular mockup generators. The software provides two different ways to locate digital assets on its platform.
First method is using the product categories. Simply hover a mouse over a category and a drop-down menu of sub-categories will pop up. Click on the product you're looking for and take it up from there. The second method is by using the search function located at the top of the page. This option is best when you have an accurate description of the digital assets you're looking for.
Placeit's user-friendliness also relates to its simple and clean interface. The software's homepage has no pop-up ads, allowing you to focus your full attention on asset generation. Even when adverts pop up, they're usually helpful ones like ongoing deals and discounts.
2) Customizability
One of Placeit's excellent qualities is its customizability. You can personalize the templates depending on the graphics you're trying to create. The drag-and-drop editor takes customization to a whole new level. Simply select a template and make changes to it before downloading.
Some of the edits you can make to the templates include swapping out graphics, changing the font, adjusting color, and resizing elements. Even better is that you can download your creations in resolutions up to 4,000 x 4,000 pixels. This ensures your mockups and designs maintain their visual quality.
3) Unlimited Downloads
If you're a professional graphic designer, you deserve a mockup generator that gives you unhindered access to digital assets. That's pretty much what you get with Placeit.
Subscribers have unlimited access to digital assets, and there's no limit to how much content you can download and customize. The unlimited download feature allows you to get several copies of the same asset and save them for future editing. Placeit also lets you organize downloads for easy access.
What's Not So Good about Placeit?
Keep in mind that Placeit doesn't function as a print-on-demand (POD) service; it serves as a wellspring of inspiration for generating realistic mockups and designs. While Placeit doesn't manufacture or ship physical products, it thrives by providing invaluable inspiration to graphic designers.
One potential downside lies in the quest for entirely unique assets. While it boasts an extensive catalog, discovering truly original content may require some exploration. The silver lining lies in the platform's accommodating licensing terms. It allows you to use its generated content without attribution, making it a convenient resource for your creative needs.
Placeit Pricing
The graphics can be purchased individually. But to enjoy better value for your money, your best bet would be to purchase the subscription plan. The single subscription package costs $14.95/month billed monthly and $9.99/month billed annually.
This subscription grants you access to Placeit's entire asset library, which includes mockups, designs, templates, logos, and videos. It also lets you to download graphics in the highest resolution possible.
Payment Methods and Cancellation Policy
The mockup generator accepts PayPal and all major cards – Visa, MasterCard, and American Express. There's a one-month minimum commitment placed on subscribers on the unlimited premium plan, with the freedom to cancel subscriptions any time after the first month.
However, the minimum commitment applies only if you've used your account to download assets from the platform. Placeit allows you to use your assets even after canceling your subscriptions. However, it's best to store your downloads locally before canceling your subscription.
Customer Support
As you'd expect of any reliable mockup and design generator, Placeit maintains 24/7 customer support. The fastest way to contact its support team is by sending them an email to support@placeit.net. You can reach Placeit even faster via their recently-unveiled live chat function. And as you await response, be sure to check out the platform's help page and tutorials for answers to some FAQs.
Placeit Quick Pros and Cons
Remember that the suitability of Placeit depends on your specific requirements and preferences; but it can be a valuable tool for many design and mockup needs. Here's a quick rundown of its pros and cons:
Pros
• Easy-to-use mockup and logo generator
• Affordable graphics
• Unlimited downloads
• Customizable templates
• Excellent customer support
Cons
• Graphics not fully original
• Limited file formats and file size supported
Licensing Terms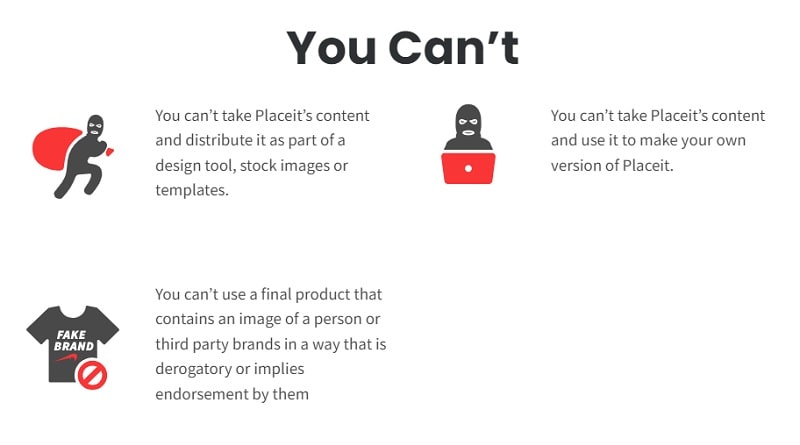 You can edit, publish, distribute, and even trademark any content downloaded from the website. Placeit provides a comprehensive license that lets you use any downloaded asset for personal and commercial purposes. However, it's against the terms to distribute graphics generated from its platform on a competitor website. The company also discourages using its content in a derogatory manner.
Placeit versus The Competition
a) Placeit vs Envato Elements
Placeit and Envato Elements are owned by the same company. The primary difference between the two is that Placeit has built-in editing tools while Elements does not. Pricing varies as well. Although Elements has four different pricing plans and Placeit has only one, latter is slightly more affordable.
b) Placeit vs SmartMockups
SmartMockups is more affordable than Placeit. The website has a free version and three different pricing plans, with the cheapest starting from $9/month. However, Placeit excels because of its huge library of templates.
c) Placeit vs Magic Mockups
Customizability is the first noticeable difference between Placeit and Magic Mockups, with the latter offering little to no customization. Placeit also outperforms Magic Mockups in both the type and number of templates offered.
Final Word
Placeit is the go-to cloud-based digital design software that delivers on most its claims. It's also an editor's pick for logo, design, and video creation. With a user-friendly interface and relatively affordable plans, Placeit is definitely a valuable online resource for any designer, entrepreneur, and creative.