The use of script or calligraphy has been a favorite of many designers, as well as the average folks, for decades. Thanks to its distinct flair, it can immediately add a touch of elegance, personalization, and beauty in a couple of strokes. Back then, expert calligraphers had to be hired to get desired results. But nowadays, you can go to select websites and simply download a font of your choosing.
From the generic English script to the more exotic Eastern or Arabic alphabets, you won't run out of calligraphy fonts that will tickle your fancy. Use them to spice up an otherwise drab office presentation. Or why not try them on your branding projects.
Either way, you can bet that their classy curves are something you'll get plenty of use of in years to come.
To start you with, here are some of the best calligraphy fonts fit for royalty.
Delicate and Beautiful Calligraphy Fonts
1. Kudeta
Kudeta is a stylish, modern, hand-written calligraphy font best for typography art, logos, prints, and social media.
2. Lulla
Lulla calligraphy font is becoming for any design needs; quote, wedding, book, banner, poster, print media, promotion, business card, profile, fashion, makeup, and more!
3. malo
Malo is a calligraphy font, hand-lettered and kerned to give the feeling of a brush in hand! Malo features double-letter alternatives and the ability to change up letters quickly.
4. Ramblin
Ramblin is a calligraphy font duo inspired by ink and tints used with a manual brush for a 'messy' look. Features alternate glyphs and ligatures.
5. Rise & Shine
Rise & Shine is a hand-drawn calligraphy font that mimics the messy, natural look of real brush lettering.
6. Templar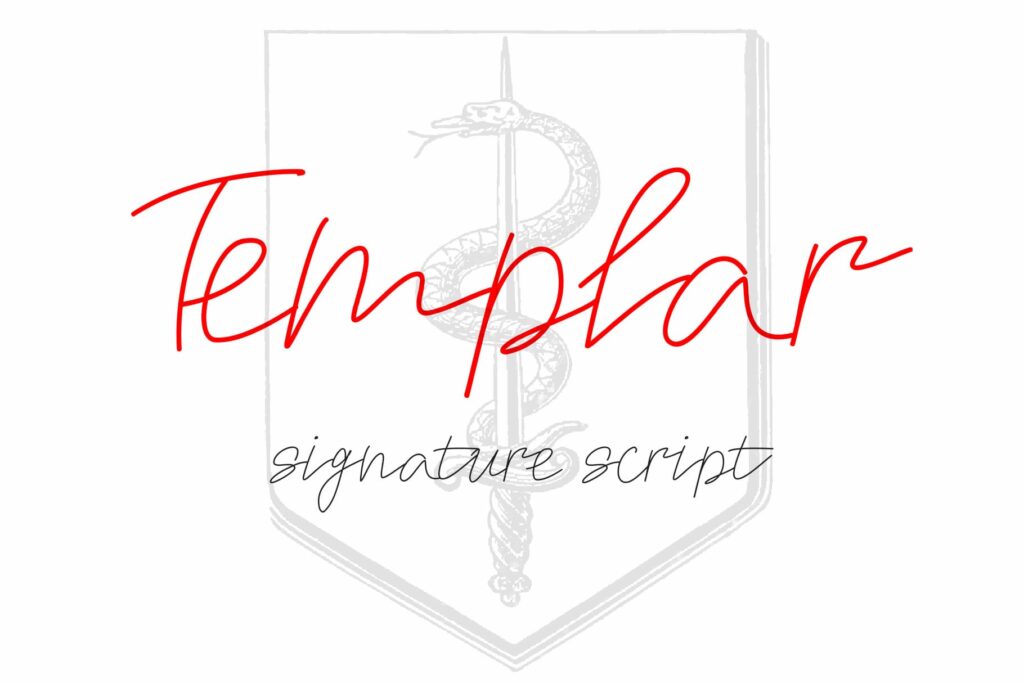 Templar is a stunning handmade signature script typeface ready to be used for your creative endeavors. This font was made entirely by hand, ensuring a unique and natural feeling.
The typeface is very versatile which means you can use it for numerous projects like branding design, blog headers, signatures, quotes, social media posts, advertisements, product packaging, fashion apparel, business card, labels, stationery and more…
[fontsampler id=30]
7. Paperchaser Calligraphy
Boasting of organic, free-flowing letters and a dancing baseline, Callie Rian Hegstrom outdoes herself in this fanciful typeface.
Download Paperchaser Calligraphy
8. La Roche Font Duo
Featuring an elegant Script and a contemporary Serif font, this duo pack is perfect for pros or beginners alike.
9. Hermitage
Suggested for those with Adobe Illustrator CS, Adobe Photoshop CC, Adobe Indesign, or Corel Draw, the smooth textures of this font is perfect for print or digital projects.
10. Adore Calligraphy Font
If you love all things script and elegant, then you will love this little gem from The Styled Script.
Download Adore Calligraphy Font
11. Miss Wailsey Organic Calligraphy
Featuring imperfect lines to add just the right amount of attitude, this offering from It's Latsayz is all about making any design stand out!
Download Miss Wailsey Organic Calligraphy
12. Billion
Want to re-create the look and feel of gel pen on paper? Then Agung Rohmat from alphart has got you covered with this typeface.
13. Just Married Font Collection
Nothing but weddings and romance in your horizon when you get this amazing font collection from none other than Inky Jar Design Studio.
Download Just Married Font Collection
14. Witter
With initial and terminal letters, alternates, ligatures, as well as multiple language support, it's hard not to fall in love with this stunning script from danti.
15. Claudya Script
Always exude that air of elegance and royalty when you purchase this dramatic font by Herlan Nawwi.
16. Modern Symphony Font Duo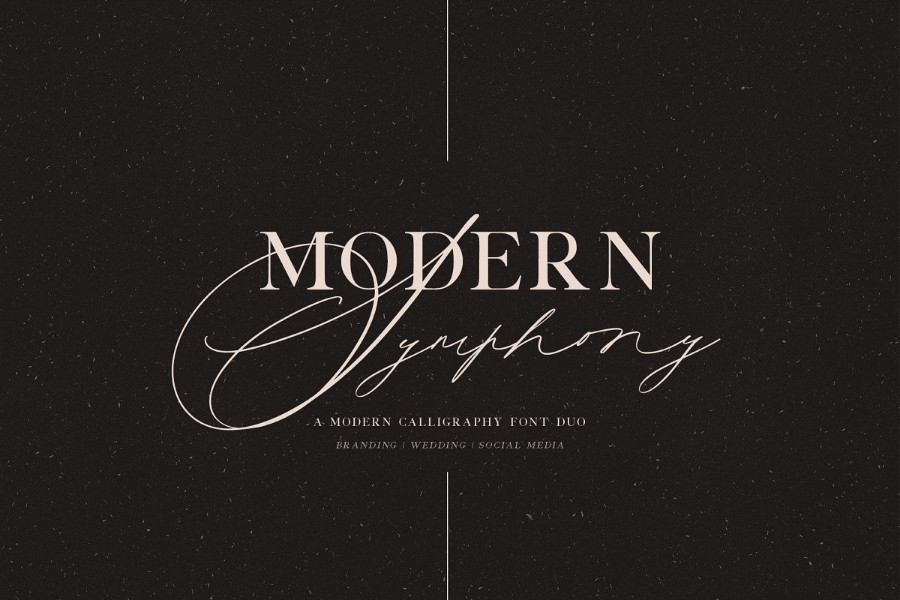 Just like everything that simply go well together, this pair is best suited to any work that requires a touch of class or sophistication.
Download Modern Symphony Font Duo
17. Balayage Script
What pack includes a sweet signature script as well as 6 bonus pre-made logo templates? This one from Pink Coffie.
18. Printed Moments
This modern yet casual font comes with a full set of upper- and lowercase letters, multilingual symbols, numerals, punctuation, and 134 ligatures.
19. Candlescript Pro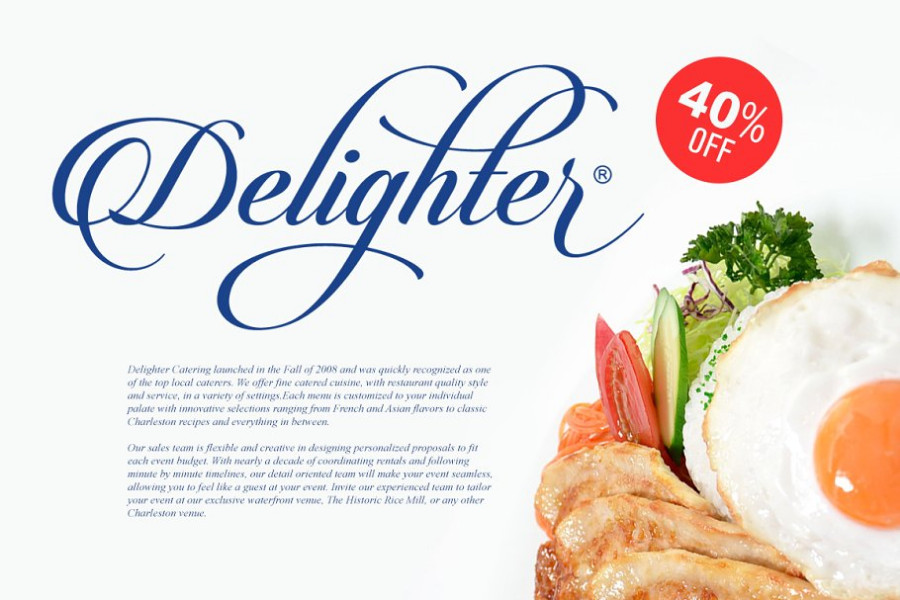 If you're looking for the perfect typeface for your headers, logos, or titles, this script from Vast boasts of precise and smooth flows to ensure seamless elegance throughout your designs.
20. Margarita Light
Lovingly crafted by Ivan Rosenberg, it's best used for those extra formal occasions.
21. Silenter
This modern calligraphy font by Bluestudio is as flexible as it is beautiful. The best part: it's fully accessible without additional design software!
22. Willmaster Calligraphia
This classic typeface from Alcode will be a mainstay in every designer's toolbox thanks to its versatility.
Download Willmaster Calligraphia
23. Canyonlands Script Font
Say hello to this hand-lettered script that will tenderly grace the cover of your wedding invitations, business cards, stationeries, or social media pages.
Download Canyonlands Script Font
24. Julie Edgar
A unique handwritten calligraphy font, it features connecting lowercase 'heart' letters to add that extra 'love' in your works.
25. Lile Dahliya
Download it today and get not only the classy letters, punctuation, and numbers – you'll also receive stunning ornaments to make your designs a true work of art!
26. Beloved Gray
Featuring a unique and beautiful 'un-patterned' ending with each letter, this gem is surely something script lovers shouldn't miss out on.
27. Wild Love Fonts Symbols & Logos
Skyla Design presents this amazing collection of a script and sans, as well as 62 hand-drawn illustrations. 6 pre-made logos templates, and textures.
Download Wild Love Fonts Symbols & Logos
28. The Impressionist
Use this chic font if you want to make a great first impression on your personal or commercial projects.
29. Amalfi Coast
This practical set from typeline studio is all about modern calligraphy with a magical twist.
30. Slight
Hand-lettered with a heavy right slant, this font by Up Up Creative will look perfect on invitations, editorials and branding. It also includes more than 1,000 glyphs!
31. Saint Amour Script
Upcoming wedding or black-tie event? Worry no more – Calamar's creation contains ligatures and stylistic alternates to perfectly re-create natural calligraphy.
32. Mindline Script
This unique combination of classic calligraphy with sophisticated accents from Creative.lafont comes with a complete set of standard characters, eastern diacritic symbols, plus a total of 505 glyphs.
33. White Marble Calligraphy Font
CallMeStasya presents this modern marvel that includes Latin and Cyrillic alphabets for the practical designer.
Download White Marble Calligraphy Font
34. Floral Hearts Luxury Script Font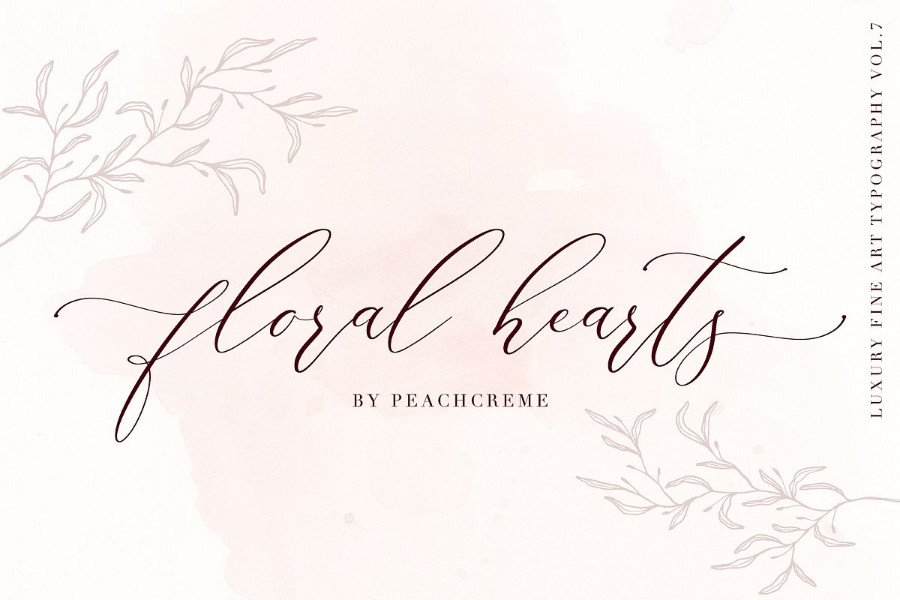 Inspired by spring love with floral scents, PeachCreme introduces this crème de la crème with beautiful beginning and ending swashes.
Download Floral Hearts Luxury Script Font
35. Milova
If you're looking for flexible lines and a natural-looking style, then this gem from creativemedialab is your best bet.
36. Planolla
Whether it's for weddings, business, logos, or branding, this sweet collaboration font with watercolor artist Planolla and Ef Studio will surely be a delight.
37. Balzak
Messy, imperfect, but edgy – love it or hate it, this script is about making a huge impression.
38. Khatija Calligraphy
This stunning calligraphy script font from 38 Line Studio uses an eclectic design that combines elegant letters with a modern penmanship style to create a unique typeface for everything from invitations to packaging. OpenType features like alternate characters and ligatures give this beauty real versatility for your latest masterpiece.
This font set includes 2,484 ready-to-use letters and offers 27 language support. It also uses the access all alternates feature to make it easier for you to use. Khatija Calligraphy is suitable for wedding themes, projects, and product brands that seek to elevate their aura with elegance.
Download Khatija Calligraphy Font 
39. Madelican Calligraphy
Madelican Calligraphy Font is a lovely blend of modern and classical calligraphy. It was inspired by Italian women's handwriting and ancient manuscripts.
This font is ideal for weddings, book covers, greeting cards, logos, branding, business cards, certificates, and any other design work that calls for a classic, formal, or luxurious look. It comes with multilingual support and offers up to 16 stylish alternates.
Download Madelican Calligraphy Font
40. Symphony Calligraphy Font
This charming and modern calligraphy font uses distinct swashes and sophisticated lettering to enhance any design. It complements all digital and printed creative products. Symphony Calligraphy is ideal for posters, social media posts, branding, personal projects, and more.
Download Symphony Calligraphy Font
41. Rhapsody Calligraphy Script
Rhapsody Calligraphy Script is a stylish and graceful font. It includes amazing swashes which will add a touch of refinement to your designs. 
Uppercase and lowercase letters, numerals, a wide range of punctuation, and ligatures are all included. All lowercase letters also have swashes at the end and an alternative font.
Download Rhapsody Calligraphy Script Font
42. Angeline Modern Calligraphy 
This is a modern calligraphy script font characterized by lovely, smooth flows. Angeline Fonts include uppercase and lowercase letters, numerals, ligatures, and a wide range of punctuation. Over ten ending swashes and alternative fonts are included for uppercase and lowercase letters.
Download Angeline Modern Calligraphy Font