Last Updated on September 28, 2023
Synonymous with power, splendor, and prestige, gold is a captivating color that exudes the same warmth as the precious metal that shares its name. It evokes feelings of wealth, grandeur, and abundance. Because it symbolizes power and prosperity, gold has been treasured throughout history, adorning ancient artifacts, royal regalia, and architectural masterpieces.
In this article, we'll explore the meaning, symbolism, and history of gold. We'll also look at the color's associations with certain positive and negative emotions. Plus, we'll review its widespread presence in literature, art, and architecture. Read on to learn more about the color gold!
Brief Overview of the Color Gold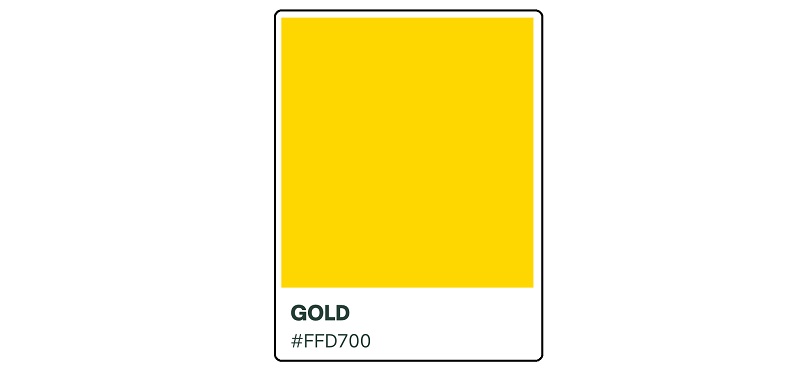 Gold, a member of the Yellow color family, exudes a captivating allure with its hexadecimal code #FFD700. Within the RGB color model, it boasts a red value of 255, a green value of 215, and a blue value of 0.
As a warm color, gold harmonizes splendidly with natural shades such as greens and blues, just like other orange and yellow hues. Design-wise, it frequently forms striking partnerships with black, evoking a sense of drama and opulence.
This powerful color combination finds extensive application in print, where techniques like foil stamping enhance the overall aesthetic, emphasizing its luxurious appeal.
Origin of the Color Gold
The gold color we know today is the product of millions of years of natural geological processes. The mineral gold, has been mined in multiple locations throughout the world, from the ancient Egyptian and Mesopotamian empires to modern-day America. Its discovery is arguably one of greatest turning points in the history of mankind.
Alchemy, the ancient practice of turning lead into gold, has played a key role in the history of this precious metal. It is believed that alchemists were the first to discover gold's properties as well as describe how to use the mineral.
Gold (both the natural mineral and the color) exists in a variety of forms. These include coins, jewelry, and even some types of food. The precious gem has been used as a currency as well as a symbol of status, beauty, and power. It's unsurprising that these qualities apply to the gold color too.
It's interesting to note that gold has maintained its symbolism over time. The mineral is used in many different ways. Its substance and color are associated with wealth, success, and excellence. Many people consider it the ultimate status symbol.
It's also associated with masculine energy and the power of the sun. The color symbolizes achievement and triumph. These meanings likely resonate with the intricate process involved in extracting the gold mineral from its natural ores.
In terms of emotional attributes, gold is generous, loving, and supportive. The color is also chic and conveys a sense of optimism.
Gold in Nature
Many of nature's wonders often feature the captivating hue of gold, symbolizing richness and luxury. The mineral exists abundantly in nature in various forms. Its chemical properties may differ slightly depending on the extraction method.
The mineral exists in the Earth's crust, where it forms due to various erosion processes caused by intense heat and pressure. The deposits may be found in rivers, oceans, and other water bodies.
Gold may also be found in quartz veins. These are deposits formed when hydrothermal fluids circulate through the Earth's crust.
Most of gold's extraction takes place through panning or sluicing. The mineral may also be obtained through more advanced methods, such as open-pit mining and cyanide leaching.
The various gold extraction methods can have a negative environmental impact. That's mainly due to their use of hazardous chemicals. In fact, the gold rush of the 19th century had a significant impact on the environment, as many areas were affected by the extensive mining activities.
Symbolism and Applications Of The Color Gold
Gold in Ancient Cultures and Mythologies
As a symbol of power and prestige, the mineral gold represented wealth, prosperity, and strength in ancient and mythological cultures. Gold jewelry was often worn by the elite and wealthy.
Its use in art and decoration was widespread too. In ancient alchemy myths, the mineral was believed to possess the power to heal and transform. It was a symbol of the gods, and was widely used in making royal artifacts and ancient coins.
Moreover, gold has had a profound cultural significance, as is evidenced by its widespread appearance in religious ceremonies and rituals. The mineral has been the choice material for jewelry, figurines, and coins. It has also been a popular choice for adornment, from statues to weapons.
Still on cultural significance, gold was thought to bring luck and good fortune, whereby it was believed to represent a higher power. Many cultures associated the mineral with life as it was viewed as a physical embodiment of the power of the sun.
Gold has also appeared in art and decoration for thousands of years. The mineral has been an inseparable part of many ancient art and design projects. Nearly every culture that interacted with the gold associated it with status.
Gold in Religion
Many religions revere gold as a sign of divine power and holiness. The color is endowed with spiritual abilities to radiate warmth, energy, and blessings. Gold is also seen as a symbol of purity. That explains why the color has appeared in religious ceremonies and rituals for thousands of years.
In Christianity, gold is often used to represent the holiness and divinity of Jesus Christ. In Jewish traditions, it symbolizes Israelites' exodus from Egypt.
In Hinduism, gold is believed to represent the sun god Vishnu, the destroyer of evil. The color also stands tall as a symbol of good fortune and is used to represent prosperity, wealth, and abundance.
The religious connotations of gold are also widespread in Islam. In the Islamic faith, gold is an important spiritual symbol of the divine. Many Muslims believe that the color might promote inner peace and strength.
Gold is also associated with the prophets of Islam, such as Abraham and Moses. These prophets are thought to have used gold to create spiritual symbols and structures.
Furthermore, gold is believed to bring prosperity and good luck to Muslims who possess the mineral or valuables bedecked in the gold color. In fact, most of those who possess golden artifacts often already count themselves lucky.
Gold in Art and Architecture
Many artists have admitted to being obsessed with gold's opulent sheen since their childhood. No wonder the color has graced art and architectural designs for centuries. Thanks to its regal splendor, gold can add a luxurious and prestigious air to any space.
Contemporary interpretations of this precious metal have been used to express a range of emotions and ideas, from the beauty of nature to the power of love. Famous gold artworks have been created throughout history, from Egyptian hieroglyphs to modern sculptures.
Gold has also been used extensively in interior design, from the grandeur of royal palaces to the warmth of modern homes. Its timeless beauty can imbue a sense of magic into any space.
Historically, the color has been used to represent wealth, power, and prestige. Some cultures even associate it with divinity, immortality, and strength. So it's unsurprising that many artists have used gold in palettes where the objective is to communicate these very emotions.
Gold in Literature
This pigment's captivating beauty and symbolic meanings have inspired countless stories and poems.
In literature, gold is perhaps best seen in Homer's Odyssey, where the hero Odysseus is rewarded with a gold-studded cup as a sign of his victory. The metal has appeared in many other literary works to represent wealth, power, and success.
In Shakespeare's King Lear, gold is seen as a symbol of the king's power and authority. While in Mary Shelley's Frankenstein, it represents the creature's longing for acceptance.
Expectedly, gold has been interpreted in many different ways in literature. Different cultures and individual prejudices have played a huge role in influencing most of these interpretations.
For the Chinese, gold is often associated with immortality; while in Indian literature, it is a symbol of divine power. In Islam, it's the color for purity and divinity. And in Christian literature, it often symbolizes the divine and the eternal.
The emotional impact of gold in literature is often profound. Many authors have used gold to illustrate how a character's fortunes can drastically change, or to represent hope and redemption. The color has also been used to evoke feelings of joy and celebration.
A notable mention is in the classic novel The Wonderful Wizard of Oz, where the characters are rewarded with gold for their courage and determination. For instance, in the novel The Alchemist, the protagonist is able to unlock the secrets of the universe with the power of gold.
Gold in the Modern World
Today, gold still stands as a timeless symbol of success, luxury, and opulence. The color's impact on modern fashion has been evident in its use as an accessory or an accent color. It has become a popular choice for many fashion designers worldwide.
Gold is used in gadgets for conductivity, corrosion resistance, and aesthetics. It enhances electrical connections, prevents corrosion, and adds a touch of luxury to high-end devices.
It has also garnered a visible presence in sports, with clubs and teams opting for gold colors in their uniforms and logos. It has earned its stripes in the branding world too. That's due to its potential to capture attention and convey success.
Conclusion
Gold has been used throughout history to signify wealth, power, and excellence. The color has been an important part of various cultures, religions, and works of art.
With its inherent richness and shimmering brilliance, gold captures attention and imbues extravagance. It serves as a timeless symbol of beauty, success, and achievement. The gold color entices the beholder with its allure – leaving a lasting impression of prestige and splendor.