Last Updated on March 28, 2023
There are certain characteristics that take something from ordinary to awesome. When it comes to fonts, this could be the details, such as: decorative designs, elegant strokes, or extra hand-drawn doodles. While you can't use them as normal text, they'll look great on- or offline.
Tribal fonts for example, can be used for invitations, logos, posters, or book covers. Their unique, often geometric characters will work wonders on branding projects as well, like apparel, business cards, social media posts, website headlines, and more.
Not convinced? Then check out the possibilities with these artistic tribal fonts.
Unique Tribal Fonts
1. Tikiland Typeface
Sun, sand, sea – and coconuts. When paradise is calling out to you, respond by using this display typeface by PutraCetol Studio. This fun sans serif is all about island living at its finest, featuring upper and lowercase characters, as well as handy dingbats.
2. Buick
Working on the future? Believe it or not, this tribal font family by Drizy can help you out. Featuring strong geometric shapes, it has three styles that give off an ethnic yet futuristic vibe. Use it on personal projects or branding assignments.
3. Afolkalips
Let Arterfak Project help you get back into the basics with this handsome display font. Inspired by wood and earth elements, it's traditional yet minimalist at the same time, making it perfect for headlines as well as body copy. With stylistic alternates, ligatures, and accents, you're guaranteed hours of creative expression.
4. Haext
Make something different using this neo-Goth typeface designed by Hello Mart. Depending on how it's used, it can exude a rustic Art Nouveau vibe, or a part-rune part-craftsman appeal. It's perfect if you're trying to grasp Germanic or Anglo-Saxon times.
5. Braque
Braque is a minimalistic and geometric tribal font with modern vibes, featuring a basic set of Latin characters and unique glyphs.
6. Matiska Tribal
Matiska Tribal font is a unique and attractive font with a mystical feel inspired by the tribes in Indonesia.
7. Mjölnir
Introducing Mjölnir – a tribal font inspired by Nordic runes and the Viking era. Incredible when used for headlines, titles, logos, posters, flyers, and anything that requires a unique geometric typeface with a tribal motif.
8. Astrid Font
Want to create harmony in your works? Do so effortlessly with a little help from this thin decorative font from Anastasiia Macaluso. This typeface has an eclectic vibe that makes it exceptional, but also remains elegant enough thanks to its smooth curves and repeating lines.
9. Viva La Fiesta
Viva La Fiesta is a tribal font trio with layers, that create dozens of combination options alone, but even more so when you customize the colors! A fun, party atmosphere or even a childrens' book would be great with this font!
10. African Font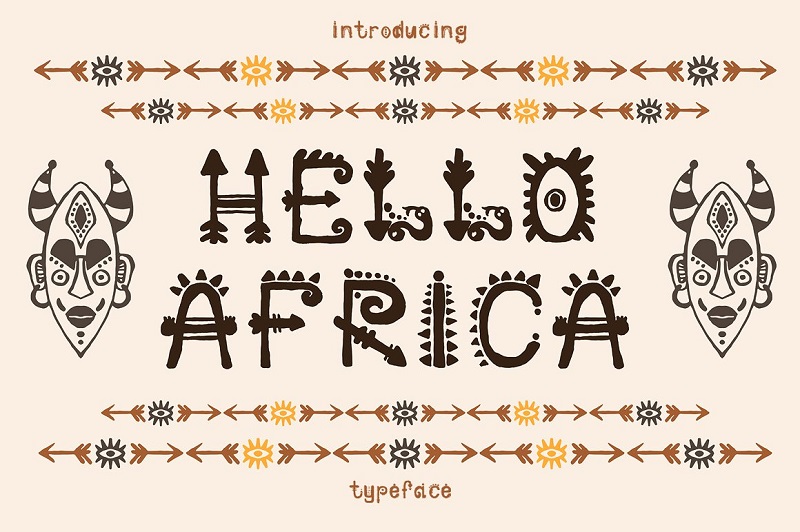 Capture the rich heritage of the African culture when you use this hand-drawn typeface from Wittmann. The pack includes African patterns and masks in beautiful ethnic patterns as well. Use them on countless tribal projects like shirts, posters, logos, signage, and more.
11. Mexico Font Family
Love Mexico's steamy jungles, spicy cuisine, and fiesta culture? Now you can capture the same essence by using this interesting display font from Struvictory.art. With two styles to choose from (decorative and black), you can go from ornamental to minimal in a snap. This pack also consists of decorative vector elements plus two seamless patterns.
12. Solaris Tribal Font Family
Struvictory.art outdoes herself with this unique offering of a modern, yet runic display font lovingly decorated in tribal geometric patterns. With three unique versions (Decorative, Regular, Symbol), simply mix and match to get your desired effect.
Download Solaris Tribal Font Family
13. Tribal Aleut Color Font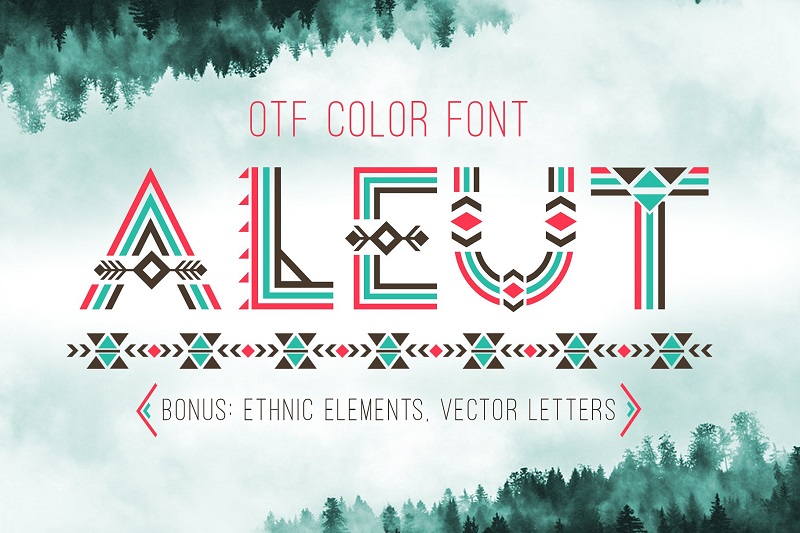 End your search for the best tribal font with this little gem from Peliken. The pack includes characters inspired by traditional ethnic shapes and colors, as well as bonus geometric elements. Use the typeface as it is, or combine with extras to create folklore-inspired projects everyone will love.
14. Tribalcase
Traditional fonts are popular because not only do they lend an ethnic feel to artworks, they can also be edgy and decorative, depending on the purpose. Roland Huse Design definitely describes the latter with this all-caps tattoo font that's full of attitude.
15. Tabu Tribal Font Family
Add a little bit of mysticism when you use this font family from Struvictory.art. This decorative sans serif features three beautiful versions (Decorative, Black, Symbol) that can be combined to make traditional looks with a modern touch. Available with multilingual support, it's perfect for use in branding, monogram, or boho projects.
Download Tabu Tribal Font Family
16. Aztec Geometric Font
Evoke the colorful Mesoamerican culture when you use this decorative font by Katrinelly. Featuring all-caps letters with lots of pride and character in every line, your works will have that post-classic period feel in an instant.
17. Majolica Font Family
There's no doubt that the distinct, handmade feel of Italian ceramics has made history all over the world. Inspired by their timelessness, Victoria Strukovskaya of Struvictory.art has created this font family that comes in three lovely styles (Regular, Bold, Symbols) for you to mix and match on various personal or commercial projects.
18. Aztec Soul
Aztec Soul has beautiful handdrawn texture of tribal Aztec ornaments in every letter. This font features a full set of lowercase and uppercase letters and full set of alternate letters for them. You also get 25 decorative Aztec ornaments elements to décor your texts, and make amazing prints for different creative things.
19. Ethnic Love Font BUNDLE
Get more for less when you grab this amazing bundle by Latin Vibes. The pack not only has an ethnic inspired typeface, but also gorgeous seamless patterns, decorative circles, and illustrator brushes (for Illustrator CC+ only). Imagine endless design possibilities and hours of creative fun!
Ready to return to your roots? Then grab any of these beautiful tribal fonts to get started!