Last Updated on January 21, 2022
Attending games at Fenway Park, collectible cards, and little boys hoping to catch that foul ball – baseball definitely played an iconic role in the lives of many Americans.
In fact, the mere thought of it calls to mind lazy Sunday afternoons, eating hotdogs at the benches, and catching the next baseball star at cereal boxes. There's just something nostalgic about those times.
So whether you want to re-create that vintage feel or you're a fan of the game, these baseball fonts are sure to hit a home run with you.
Cool Baseball Fonts
1. Houston Italic Font Family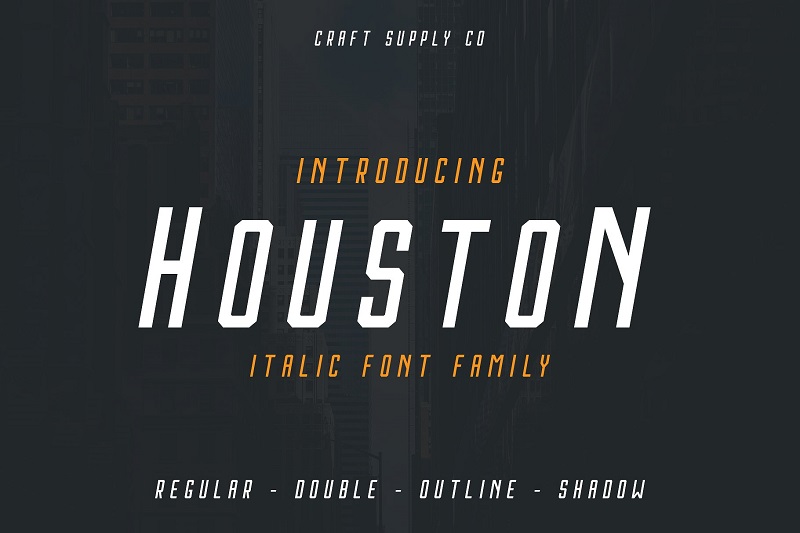 Inspired by American sports, this modern modular sans serif family by Craft Supply Co. is solid enough to be used on almost any project. There are 4 styles to choose from, so you could easily go from trendy to classic in minutes.
Download Houston Italic Font Family
2. Auckland
Auckland is a bold, baseball font script that's perfectly suited for logos, apparel, little league fundraisers, and much more. Features upper and lowercase, numbers, accents, punctuation, and 5 alternates.
3. Boardley Script Layered Font
This contemporary hand-drawn typeface by Craft Supply Co. comes in two different versions that are meant to be layered into one another for a totally cool, retro look. Use it to make titles, cards, websites, or apparels pop!
Download Boardley Script Layered Font
4. Frankey Vintage
Frankey Vintage Font is an elegant baseball font that perfectly represents vintage esthetics in a modern and minimalist way. Includes special uppercase letters, alternates, and ligatures.
5. Mudhead Family
MUDHEAD, a condensed sport-inspired upper and lowercase baseball font with 5 weights, multiple types, glyphs, and multilingual support.
6. Routhers Retro
Routhers Retro is a bold baseball font with 4 sets of alternates, ligatures, swashes, and underlines. You can use it to make a logo for branding, best for apparel design, and quotes.
7. Sporter
Sporter a is a baseball font with a sporty display typeface good for logotype, label, badge, headline, signature, packaging, and any more.
8. Houston Sports Font Family
Craft Supply Co. brings you this pack with 3 different fonts you can play with for all your design needs. With upper and lowercase letters, plus standard ligatures, it's the best typeface to show off your sporty designs.
Download Houston Sports Font Family
9. Sea Dog Athletic Display Font
Inspired by stencil lettering around shipyards, Doug Houvener presents this no-nonsense typeface that comes in 16 versions. And with a bonus set of 6 color swatches, this pack promises to work harder than others.
Download Sea Dog Athletic Display Font
10. Scout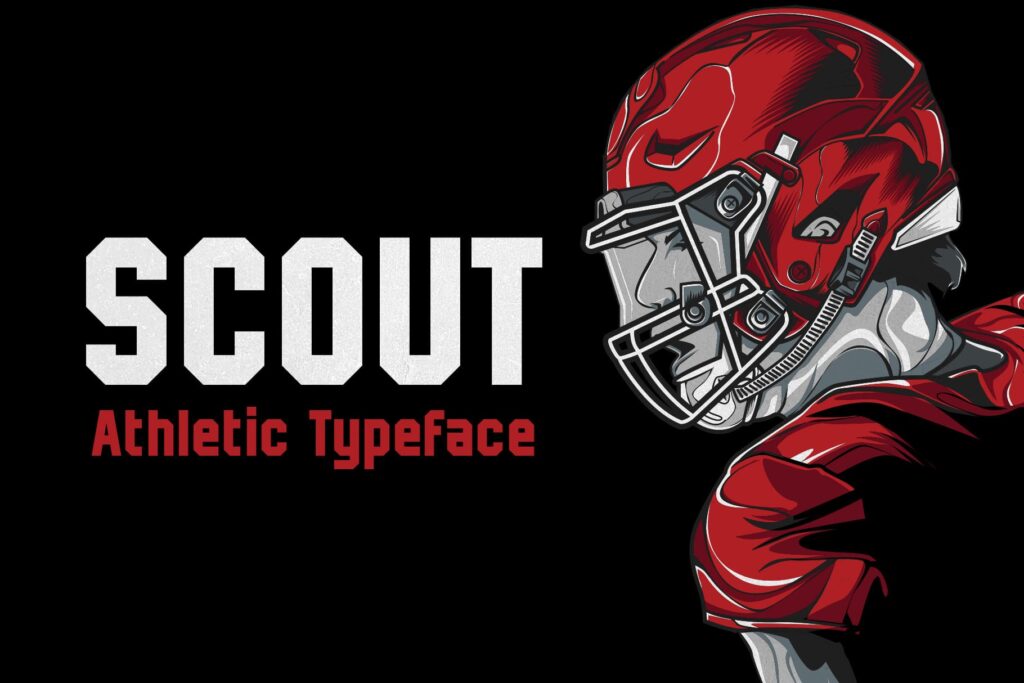 Scout is a sharp, clean, and bold athletic font. It is a very versatile display typeface perfect for sports branding, emblems, jerseys, posters, apparel design, magazine headlines, labels and so much more. Scout is fully-kerned and ready to be used right out the box.
Test this font by typing here
11. Strikeout – Bold Script Typeface
Strikeout is a beautiful script typeface inspired by 1940s and 1950s baseball era. Strikeout allows you to create hand lettering in an instant. This super handy typeface is ideal for logos, product packaging, headers, posters, merchandise, handwritten quotes, social media, greeting cards, and much more. If you love baseball and retro typography, then this font is for you!
Test this font by typing here
12. Wild Pitch
Looking for something old-fashioned to use in your athletic-themed works? Stop your search in this offering by Victor Coreas (boldversion). Ideal for headlines and titles, the font comes in two skilfully handmade variants (clean and gritty).
13. Flyer
Studio One Four presents this all caps display font with unique winged serifs that's perfect for all your sporty designs. Choose from any of its 5 styles to instantly add movement to your headlines, quotes, labels, shirts, and branding projects.
14. Metroscript™
Influenced by popular hand-lettered styles between the 1920s and the 1950s, this unique script from MichaelDoret/AlphabetSoup can be applied to almost any concept that you may have in mind – from sports, sci-fi, artsy, to vintage, the possibilities are limitless.
15. American Forkball
Can't get enough of the game? Handcrafted by OpusNigrum, this typeface was inspired by the spirit of baseball and comes in two beautiful styles. The pack also consists of a free vector pack with swashes and illustrations so you're sure to create more with just one download.
16. Volkschaft
This multilingual script font is brought to you by Typehaus. Inspired by retro propaganda posters and graphics, the pack also contains swashes you can add to your works to give it the right touch of vintage vibe.
17. Herchey Script
Ilham Herry proudly presents this gem that comes in two fonts: a lovely script that pairs delightfully with its accompanying serif. Combine both for use on posters, invitations, headlines, website designs, and all kinds of branding projects.
18. Buinton
This highly versatile script typeface by Mika Melvas has plenty of alternate characters, swashes, and ligatures that create infinite possibilities for your designs. This allows you to go from sporty to classy in minutes.
19. Eusthalia Typeface
Working on vintage designs? Make a lasting impact when you go for this script font from YdhraStudio. It comes in two delightful styles (Clean and Stamped) that are sure to add nostalgia to your headlines, stationeries, labels, and ad projects.
20. Fenway Script & Sans
Vintage Voyage Design Co. is proud to bring to you this lovely vintage script influenced by old school scripts seen on old-school baseball jerseys and team logos. The pack also consists of a handy sans serif, plus vector illustrations that are great for creating baseball-inspired works.
21. Hudson NY Serif
Inspired by American sports and college themes, this display font from Arkitype is the perfect typeface for both modern and retro designs. Available in two styles (Regular and Press), it has a strong, bold look that's clean and consistent.
22. Jawbreak
Hit the homerun in this multipurpose typeface that comes in three styles (Sans, Serif, Slab) with two variations each (Regular and Cut) created by BoxTube Labs. Sporty but classy at the same time, the pack includes logo templates to help you get started on your design adventure.
23. Thistails Font Duo
This beautifully crafted font duo by Pana Type & Studio comes in a playful script and a display sans serif typeface with two styles (Normal and Rough). Use both or one of each to instantly get the design you need.
24. Killebrew Typeface
A fan of Midwestern games? Then count your lucky stars that you found this gem by Sean Thorenson. With a slight blackletter feel, this pack includes upper and lowercase letters, plus tons of special characters, limited ligatures, as well as banner underscore graphic.
25. Marmalade
Uniontype proudly presents this modern type family with lots of alternates, swashes, and ligatures to help you achieve the exact retro look you want. Inspired by vintage monoline fonts, it comes in 4 styles to use in posters, menus, branding projects, or product packages.
26. Tribe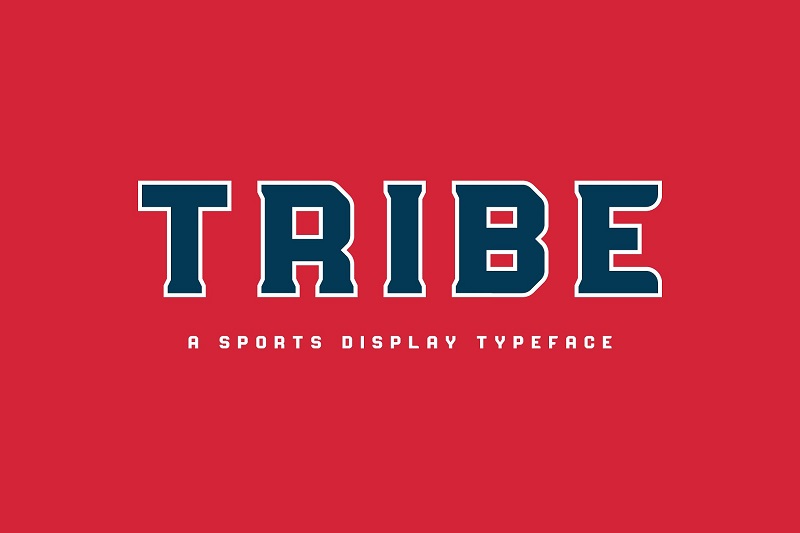 This versatile display typeface from Studio One Four comes in 6 straightforward styles that you can combine with one another for a winning look. It's great for vintage or athletic themes.
27. Season Times Vintage Font Duo
Feel like you've hit the home in this hand-drawn font duo by Vintage Voyage Design Co.. Beautifully rustic, it will add the right amount of classic vibes to your projects. Plus, both fonts go so well together – you won't want to use them separately!