They're handy, easy-to-read, and they're from Japan. They're called manga. And thanks to globalization and the Internet, manga now has a bigger audience than before. With more and more people getting on the craze, ever thought about picking up a title yourself?
What is Manga?
Manga is basically a term for graphic novels and comic books produced and published in Japan. They're typically in black-and-white, with colored versions published only for special editions or releases. As with most Japanese publications, you read manga from right-to-left.
These works are released in weekly/monthly manga magazines like Weekly Shōnen Jump. If the story becomes popular enough, some of the chapters are gathered and published under a volume known as tankōbon. Manga are categorized based on audience first, and genre second. For example: Golgo 13 would be categorized as Seinen (young adult men) thriller.
For those who want to read manga for the first time, it's important to note how many volumes a title has before committing to it. Shorter stories (e.g. Slam Dunk, Fullmetal Alchemist, Love Hina) can be finished in no time. Longer or ongoing titles (e.g. Bleach, Baki, One Piece)on the other hand, can be more difficult to fit into your busy schedule.
Most Notable Manga Titles
If you've never tried reading manga before OR you're wondering what to read next, a top-selling manga title can be a safe bet. As other people have already enjoyed them, there's a good chance you would, too!
One of the best-selling manga titles in terms of copies sold is One Piece by Eiichiro Oda. Published in 1997, this manga has sold more than 480 million copies worldwide, with an ongoing story to this day. Two popular choices are Naruto by Masashi Kishimoto and Attack on Titan by Hajime Isayama. Both have proven to be favorites, especially since they have anime adaptations as well.
An oldie but goodie is Akira by Katsuhiro Otomo. Published between 1982 and 1990, the sci-fi story follows Shotaro Kaneda and Tetsuo Shima, and Akira, who has psychic abilities. Other interesting titles include: JoJo's Bizarre Adventure, Nausicaä of the Valley of the Wind, Vagabond, Oyasumi Punpun, Uzumaki, and Fist of the North Star.
Always fancied yourself making the next Astro Boy or Gin Tama? Start by picking a standout manga font from this collection and see where it takes you.
Fun Manga Fonts
1. Stupendous Jack
Take kids – and adults, too! – on a fun journey using their imaginations when you use this cute and cool typeface by Tokokoo. Featuring bold shapes with a funky baseline, you will love it online games, posters, movie titles, menus, magazine covers, and YouTube thumbnails.
2. Vintagity
No cover for your new manga yet? Here comes Pandastocknet's bold comic display font to the rescue!
3. Brocody
Whether you're looking for the next great font to grace your esports logo or you need something sophisticated and edgy for your t-shirt designs, you can't go wrong with this bold typeface from gblack-id.
4. CHIBOLD
This all-caps chubby font from Alexa Type will save your game titles, posters, fast food menus, magazine covers, and social media posts in just a few clicks.
5. Dulce Chico
From book covers to back-to-school promotions, this layered font from Garisman is playful and versatile. It comes in two styles (Regular and Shadow) with over 350 glyphs to support 16 Latin-based languages.
6. Monolith Typeface
MehmetRehaTugcu brings to you this chipped font with no curves and a hard-carved look. It's basically an all-caps font, but it offers alternate letters you can access via Caps Lock.
7. Upside Down
Don't be afraid – it's the Upside Down! This awesome font is bound to bring mystery and retro vibes to any design. Bold and dramatic, it'll totally grab the attention of anyone who sees it.
From posters to logos to social media graphics, its clean angles and curves will take your works to the next level. You can even mix and match the regular and outline styles to create various moods such as mystery, adventure, horror, or vintage. So don't settle for a noob font – grab Upside Down and dominate the design world!
8. Malabo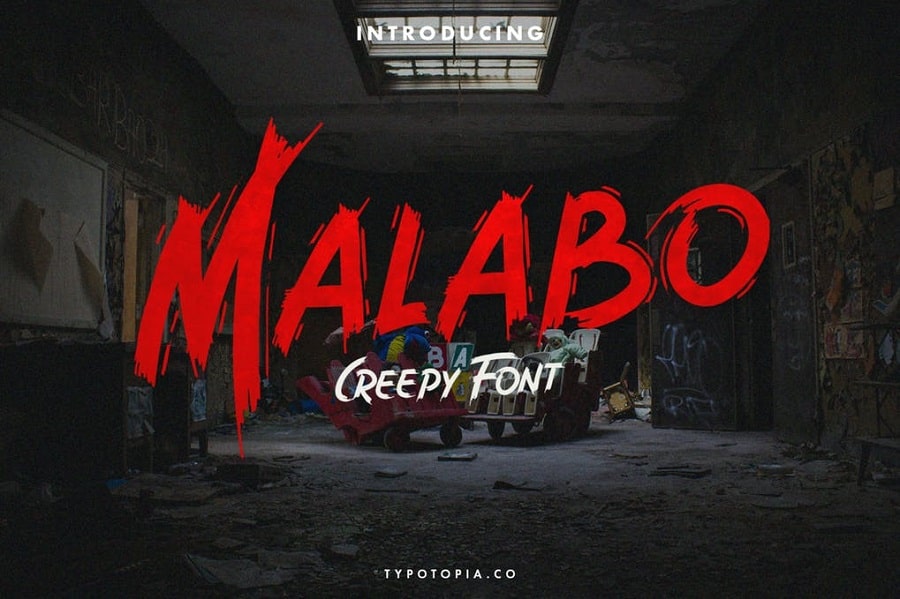 Creepy but adaptable, this display font by TypotopiaCo comes in two styles (Regular and Clean) that will look amazing whether you decide to put them on Halloween banners or on a summer concert poster.
9. Warden Regular
This bold, irregularly rounded typeface has 4 distinct styles that make it a perfect addition to any comic-related pursuits, be it in the sci-fi or children's genre.
10. Silverkids
Make your DIY projects shine with this cute handwritten font by Axel Art Studio. Sweet, funny, and full of character, it looks amazing by itself or paired with colorful illustrations and graphics.
11. Ariston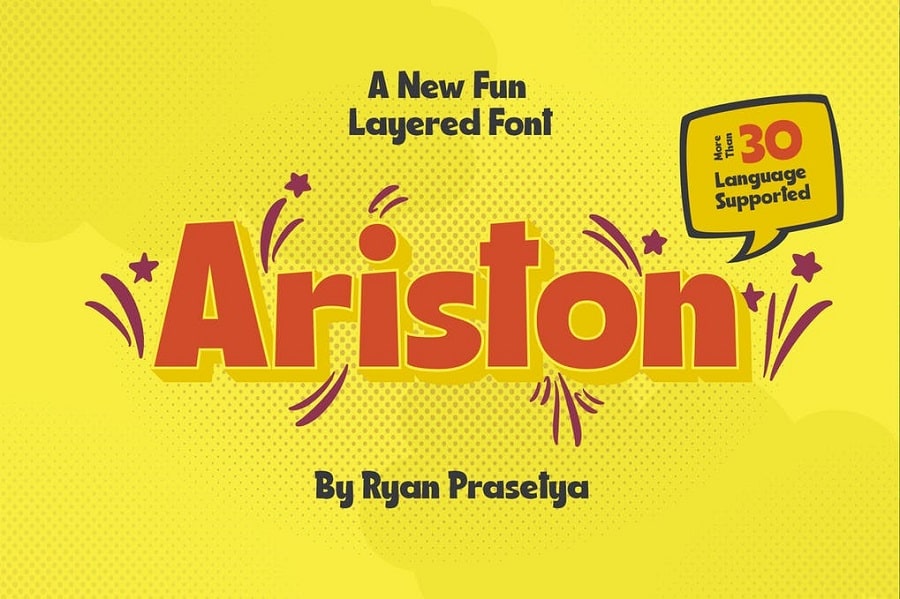 Say hello to your new favorite font by Ryan Prasetya! This typeface includes 3 styles (Base, Outline, Extrude) you can layer to create interesting effects to fit your kid-friendly designs.
12. CHEDROS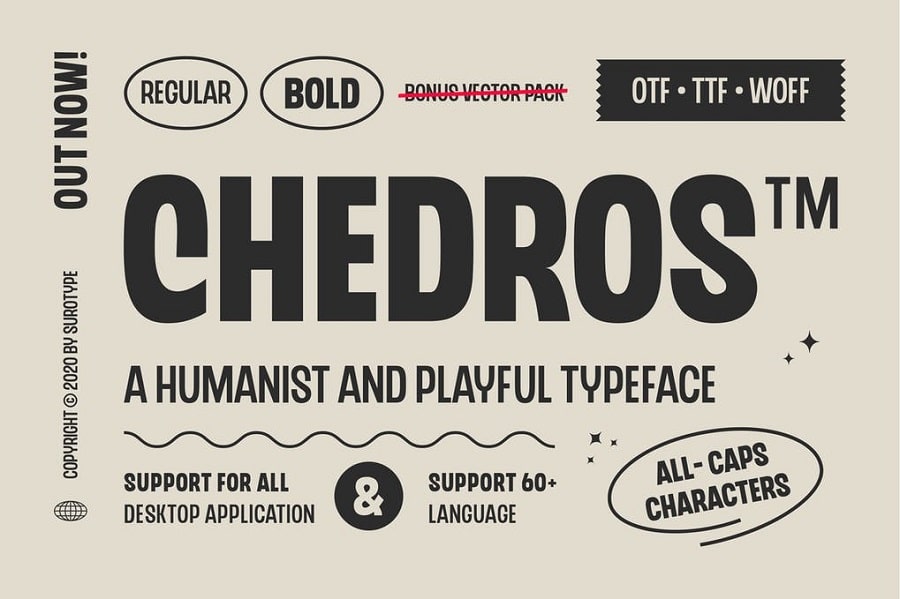 This playful and humanist all-caps by Adilbudianto comes in two styles (Regular and Bold) you can mix and match. Experiment with various looks to make your menus, branding, book covers, labels, and posters stand out!
13. Masked Hero
Linecreative brings to you this bold and powerful sans that's sharp, creative, and surprisingly handy. With 4 options (uppercase, lowercase, alternates 1 and 2) for each letter, the possibilities are endless. Try them on any theme – from cyberpunk, sci-fi, rave, to sports, comics, and music.
14. Komix Eighties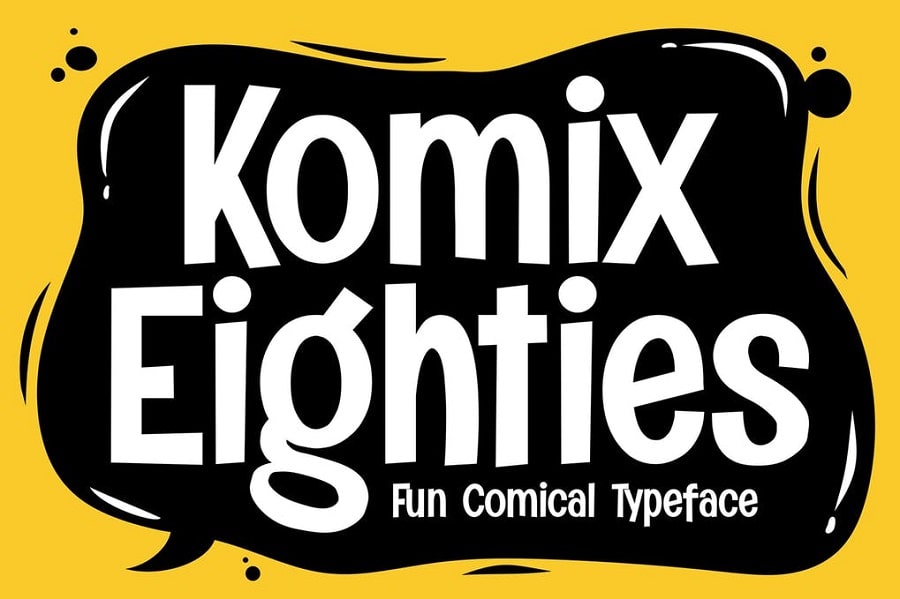 If you can't say it out loud, say it instead with this awesome comic typeface by figuree. Featuring 3 styles (Regular, Regular, Bold), it will brighten up your t-shirt designs, postcards, social media photos, and animations.
15. Nezuko Typeface
With no curves, this sharp-edged typeface has a sense of urgency that can be felt with every letter and character. See it spell out emotion in your graphic novels, game design, animations, and book covers.
16. Funzi
Funzi is a handwritten bold typeface. This playful font was inspired by the idea of spilled ink that spreads and fills the shape of letters. Its smooth rounded corners are comforting to the eye and give a welcoming feeling to the viewer. Funzi is perfect for greeting cards, children books, quotes, posters, invitations, business cards, presentations and more.
[fontsampler id=62]
17. Windsor
Windsor is a groovy typeface ideal for gig posters, magazines, bucket hats, enormous stickers, bachelor parties, postcards, taco joints, fishing charters, dive bars, shell shops, and business retreats. With Windsor you can effortlessly create eye catching designs. Enjoy!
[fontsampler id=67]
18. KIBO Squad
This flexible decorative font by Olexstudio boasts of a dynamic vibe and a uniquely rough texture. With a good set of alternates, it's guaranteed to look gorgeous on logos, posters, book covers, as well as body copy.
19. Sour Crunch
Inspired by pop art style, this comical all-caps sans serif comes with irregular shapes to give your works a bold and animated twist.
20. Penbox
Bold, playful, but functional, this display font by wowomnom is ideal for titles, covers, and headlines. Product comes with a set of 20 bubbles you can use for business cards, graphic novels, comic art, and more.
21. CA Kometo
Re-create the look of vintage comics when you use this superhero typeface by Cape Arcona. Featuring two styles: 'Regular' (the Shadow) and 'Fill', you can stack them for interesting effects. This oblique headline typeface is here to save your works from being bland and boring.
22. Black Friday
Bring your drawings and product packages to life with this cool display font by CocoTemplates. Chunky, sharp, but clean, it's what your toolkit has been missing.
23. Komika
The perfect blend of bold and fun, this comic typeface by Rahardi Creative is surely popping!
Download Komika Fun Comic Typeface
24. Best Friends
Bring the WHAM and BAM to your graphic novels, comics, or illustrations when you try this comic book style font by Maroon Baboon that truly packs a PUNCH!
25. Dale Adventure
Ready to go where your imagination has never taken you before? Then get ready to take this energetic and adventurous sans with you.
26. Tsuki Typeface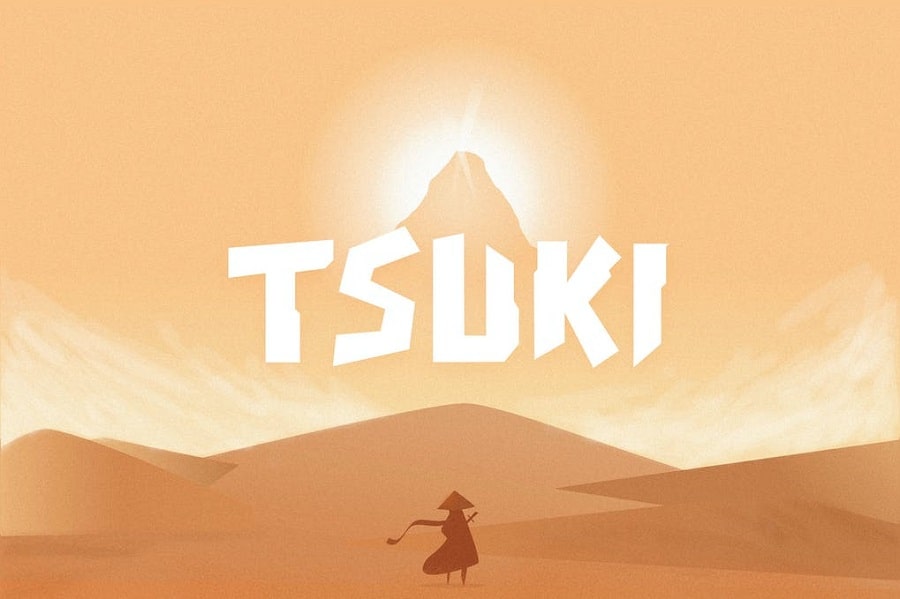 Inspired by themes from Japanese manga and video games, NEWFLIX gives you jagged sans that has plenty to prove. Put it on the covers and titles of your books, comics, or game concepts, and watch it transform the ordinary into something sublime.
27. Chunky
Chunky is a manga fonts set featuring lowercase, uppercase, symbols, and multilingual support. Lots of ligature in this font, suited for fashion, branding, or comics!
28. Dilo World
Dilo World is a cutesy but not too cutesy manga fonts set with a bouncy baseline and goofy, friendly feel is perfect for everything from posters, packaging, clothing, stickers, and more.
29. Mangaka
Mangaka is a manga fonts set full of expression, cartoon style, and bold options. Specially crafted to have a handmade look while being easy to use with a unique feel.
30. Arthipuka
Keep it fun and casual using this handcrafted sans from Motokiwo. Featuring complete upper and lowercase letters, numbers, and punctuations, its childish charms will melt away worries and put a smile on anyone's face.
31. Sushi Moshi
Hungry for a display font you could really sink your teeth into? Then take a bite out of this all-caps quirky and bold comical font by Dm Letter.