Last Updated on September 28, 2023
For centuries, mankind has braved perilous seas in search of new lands and discoveries. While today's waters no longer contain the mischievous pirates, mysterious sirens, and frightening monsters of past tales, it remains as crucial as ever in our culture and everyday living.
Of course, there are still folks who sail the seas. But this time, it's more for adventure and conservation. There are also those who are in search of deep sea minerals, such as precious oil. Indeed, the deep blue has provided not only inspiration, but sustenance.
It can be difficult to express the sea's calm yet powerful nature. But through the ages, mankind sure has tried. This is evident in numerous arts, crafts, and literature dedicated to the deep blue.
Want to invoke the might and beauty of the sea in your own projects? Then get a load of these awesome nautical fonts.
Seaworthy Nautical Fonts
1. Asphalts
The Asphalts Typeface nautical font has a look and feel that can mentally bring any surfer to the California coastline just on looks alone. Created in lowercase forms, the alternates are on the uppercase.
2. Originals
Originals Typeface is a hand-drawn playful nautical font. The font can be used for many purposes but looks great when put on signs, shirts, or cards. Also, it works perfectly on fresh summer theme designs.
3. Sweethart
Sweethart is a fun & flirty script nautical font with some great bonuses! It's fat-to-thin brush strokes and imperfect baseline give it a fun and stylish aesthetic perfect for typography, branding, logo design, invitations, and prints.
4. The Salvador
The Salvador is a combination of nautical font typefaces with 4 layers for the main lettering and 2 shadow layers. Perfect for that hand-painted sign look, and includes vector ornaments to help make your designs pop.
5. Freebooter 
Freebooter is a pirate inspired typeface from the 1500s. The imperfections of Freebooter will give your designs and authentic human touch. It comes with upper and lowercase letters along with all the special characters you would expect. Suitable for branding, apparel, social media, advertising, editorials, marketing. etc.
6. Bold Riley Font
Effortlessly re-create a sailor and pirate twist to your projects with a little help from this handmade serif display typeface by Simon Stratford.
7. Sailor Jack Script
You can search the world and not find a more romantic yet casual script (with extras) as pretty as this gem created by CallMeStasya.
8. Sailors Diary Tattoo Style Font
Make your designs as savvy as the vast sea with this hand-drawn old-school tattoo font with bonus vector graphics and character map from BAD TASTE.
Download Sailors Diary Tattoo Style Font
9. Galley Font
Inspired by the waves of a dark and endless ocean, Think Make Design gives you this hand-drawn serif that's as salty as the Seven Seas.
10. Sailor Font Bundle
Keep exploring the limits of your imagination using this vintage bundle made by NEWFLIX.Bro. Featuring 24 fonts and alternate characters, this is one sweet addition to your collection.
11. BOSMAN
Get your sails done with this practical but beautiful typeface that comes in stripes, empty, and black styles. The product also includes great icons, custom frames, and rope – made with care by Pan Cabaj.
12. Maritime Champion Stencil
Very Cool Studio will give you a run for your money with this all-caps stencil font in 4 weights. Anchor's away!
Download Maritime Champion Stencil
13. Sailors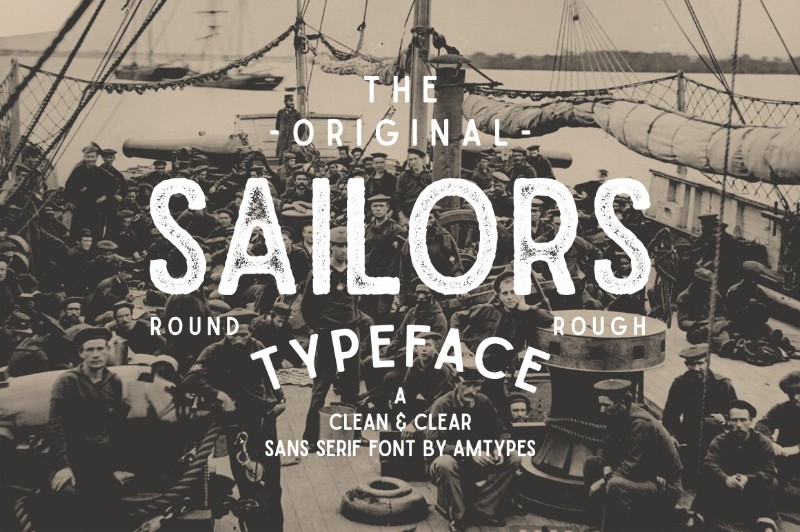 7 clean and clear sans in 5 styles – you simply can't go wrong with this vintage font from Angga Mahardika that's as good for the sailors as it is for everyday use.
14. Montara
No need to choose between readability and looking good. With this textured sans duo from Navi Singh, everything should be smooth sailing.
15. Captain Shipwreck Font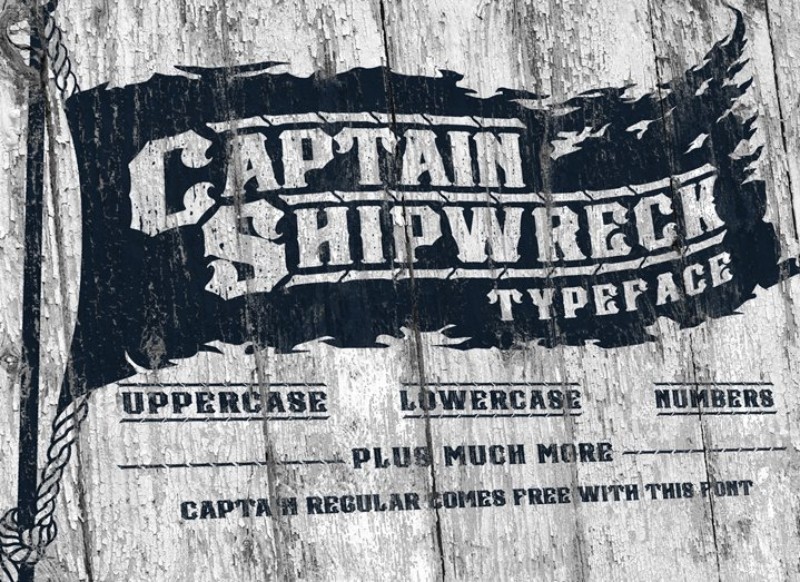 Influenced by beer labels, biker gang jackets, and pirate/outlaw themes, this uniquely distressed font by Jon Swinn will give your works that coveted worn paint appearance in a pinch.
Download Captain Shipwreck Font
16. U.S. Navy Script
No need to look further to achieve that coveted 20th Century look. Simply download this typeface by Vintage Voyage D.S. inspired by American Navy and WWII hand scripts and you're good to sail!
17. Glory
This elegant and rounded serif is not only beautifully practical – it's also multilingual.
18. South Blues
Make waves with whatever you're designing using this handmade brush font from Cepeye. Aside from fresh upper and lowercase characters, the pack also includes additional handmade lines to make your works pop.
19. Sants
Thin and condensed, yet gorgeously modern, you can count on this typeface from Heroglyphs to make those posters, cards, shirts, book covers, and flyers seaworthy.
20. Sailor Bob Watercolour Display Font
Featuring individually hand-painted characters with authentic, soft brush textures, Alexandra Snowdon proudly gives you this nautical gem fit for any adventurer.
Download Sailor Bob Watercolour Display Font
21. Navy Queen Display Font
Pay homage to simpler times with this over-extended sans that's clean, bold, and ready to take on the world. Available in three styles, it's guaranteed never to go out of style.
Download Navy Queen Display Font
22. Sailor Stripes Font
Keep it cute and fun using this nautical font from On the Mark Designs. The product comes with 26 hand-drawn line illustrations as well as 26 full color ones to help you truly express your love of the sea.
23. Burford Rustic Pro
With 22 fonts you can mix and match to create totally unique effects, this layer-based font family by Kimmy Design is anything but ordinary.
24. Eastern Typeface
Rendy Yanwar presents this beautiful sans serif family (3 styles) with a vintage print look for use in social media posts, cards, logos, invitations, etc.
25. Ocean Six
Rugged and true to its nature, you can't go wrong with a bold display typeface brought to you by Drifter Studio.
26. Seaworthy Typeface
Callie Rian & Co. presents this labor of love that contains a nautical font, over 80 original hand-drawn vectors, as well as 52 catchwords and ornaments. What a catch!
27. Unmoor
This colored rope font from Anastasia Macaluso comes in three styles (Regular, Rough, and Thin) and a light beige with dark grey strokes. Looks great on signs, labels, shirts, cards, posters, and more.
28. Sonorous Font
Simple, vintage, and adaptable, make sure you have this structured typeface by Jordan Wilson in your toolkit. Available in Regular, Rough, and Textured styles.
29. Nautica Sottile
Perfect not only for nautical themes, this script from Rsz Type Foundry will also suit designs that require classic, romantic, or elegant concepts.
30. Navigator
Featuring 8 informal, rounded sans-serifs, this old-style font family by Arkitype is everything you need to create stunning vintage logos, posters, cards, prints, and headlines in half the time.