Last Updated on September 28, 2023
What makes something Parisian chic? Is it the colors? Perhaps it's the angles. Or maybe it's adding French elements like the Eiffel Tower or a black beret? It's none of the above. A French-inspired aesthetic often embodies elegance and a blend of classic as well as contemporary elements. This is why it has remained popular throughout the ages.
If you want to give a nod to la République, here are a few pointers:
How To Achieve French Aesthetic in Design
Pick a Neutral Color Palette
French-inspired aesthetics typically showcase soft, neutral colors. Hues such as white, cream, beige, gray, and pastel create a light and airy atmosphere. These colors serve as a wonderful backdrop for other decorative elements.
Choose Delicate Patterns
Think: delicate floral prints, toile de Jouy (a traditional French fabric depicting pastoral scenes), damask, or stripes. These patterns can be incorporated into almost anything, as long as you don't go overboard. Complement them with neutral or plain components for a balanced presentation.
Effortless Mix of Old and New
French aesthetics often blend old and new details seamlessly. For example, combining vintage with modern accents creates an eclectic yet harmonious vibe.
Add French Country Influence
French country style, also known as Provencal style, is a common theme in French aesthetics. It includes rustic elements, natural materials, and a mix of patterns and textures. Weathered wood, stone accents, and floral motifs are normally used to attain this look.
Go for Timeless Elegance
The overall style is often characterized by a sense of luxury, grace, and sophistication. Focus on timelessness and refined beauty using clean lines, elegant curves, and a muted palette. Imagine your work years from now. How will people view your design?
Remember that these points are merely broad generalizations. There are numerous variations within French aesthetics, such as Parisian chic, French farmhouse, or French modern. To help you create amazing Parisian projects, try our selection of beautiful French fonts.
Exquisite French Fonts
1. Monalliza
Introducing Monalliza: a vintage and elegant serif typeface for your personal or business needs. With its latest professional features, it offers a sleek and captivating identity that harmonizes perfectly with modern serifs and scripts. This versatile font also supports multiple languages, ensuring effortless usage.
Enhance your designs with Monalliza's alternative ligatures and styles, elevating their visual appeal. Ideal for a range of branding projects like business cards, name tags, advertisements, posters, invitations, logos, magazines, merchandise, presentations, and more, Monalliza delivers a timeless charm and sophistication.
2. She Lost Her Mind
This unique font combination is meticulously crafted to fulfill the design requirements of elegant and feminine themes, making it ideal for magazines and branding materials. The serif font exudes timeless appeal, while the script style adds a personal and artistic touch. This results in a contemporary and imaginative ambiance.
From magazines and books to posters, brand identities, and logos, this versatile typeface suits various design mediums. By opting for She Lost Her Mind Font Duo, you infuse your designs with professionalism and modernity, while ensuring each creation possesses quality and character.
3. Volgue
With its sleek curves, exquisite ligatures, extensive range of alternative glyphs, decorative elements, and multilingual support, Volgue offers a blend of elegance and individuality. This highly versatile font shines in both large and small sizes, making it ideal for a wide array of creative projects.
Whether it's branding ventures, logo design, clothing branding, product packaging, magazine headers, or adding a touch of sophistication to text overlays on background images, Volgue rises to the occasion with effortless style.
4. Kelly Regular
Kelly Regular is an exquisite vintage font that embodies the essence of minimalism and elegance, infused with a touch of modernity. This font boasts stunning ligatures, an abundance of unique alternative glyphs, intricate ornaments, and comprehensive multilingual support. Its versatility shines through, making it an excellent choice for both expansive and compact formats.
Whether you're working on branding projects, designing a captivating logo, creating clothing labels, crafting alluring product packaging, composing captivating magazine headers, or seeking a stylish text overlay for any background image, Kelly Regular surpasses expectations.
5. Royale Luxurious
Minimalist, modern, and elegant, this font that exudes a sense of opulence and refinement, blending understated aesthetics with contemporary elegance.
This font showcases captivating ligatures and an extensive array of special alternative glyphs, accompanied by intricate ornaments and comprehensive multilingual support. Its remarkable versatility enables it to shine in both large and small sizes. It also makes a stylish text overlay for any background image.
6. Rosie Sans
With its bold, clean, and minimalist design, Rosie Sans captivates effortlessly. As an exquisite modern sans, it offers a multitude of stylistic alternates for you to explore. It stands proudly on its own, commanding attention in logos, headlines, posters, packaging, and countless other applications.
You will get three (3) distinct weights, expanding the possibilities for creating truly unique designs. Let your creativity flourish and indulge in the infinite possibilities that await you!
7. Mockine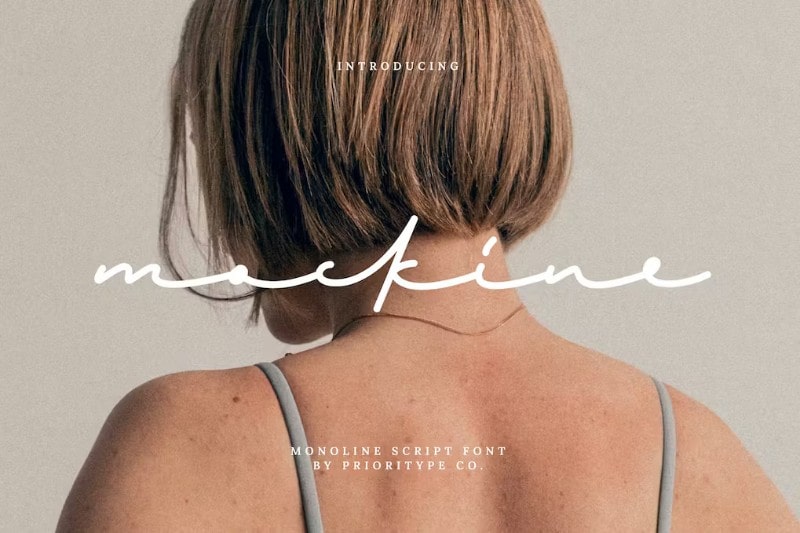 Who is Mockine? This new monoline script typeface presents natural hand strokes for the perfect logo, social media posts, and titles. Featuring upper and lowercase letters, numerals, punctuations, ligatures, and is PUA Encoded. Supports several languages including Spanish, Swahili, Swedish, German, and Zulu.
8. Allegin
This OpenType font has a clean, modern, and sophisticated style. To access these OpenType features, you will need Opentype-enabled software such as: Word, Photoshop, Sketch, Keynote, iBooks Author, QuarkXPress, Indesign, and Illustrator. Language support includes: Danish, English, Estonian, Filipino, Finnish, French, and more.
9. Native Stories
Make your typography projects speak for themselves with this clean yet stylish typeface. Use by itself over a plain background for a classy look, or add to feminine-inspired themes for simple but impressive results. You will love it on digital or printed products.
10. The Brands Quest
Be the next trendsetter in the typography industry with this textured signature brush font. Pack contains web fonts, tons of glyphs, ligatures, and alternates. Easy to install and to use, you will find yourself wanting to apply The Brands Quest onto every project you make. Hurry and add this to your collection!
11. Caroline
Caroline, a serif typeface that transcends time with its enduring charm, make it an ideal choice for chic, minimalist designs. Its versatility shines through in various projects such as branding, photography, invitations, magazines, posters, advertisements, postcards, wedding invitations, quotes, blog headers, books, and websites.
Its captivating appeal is not limited to standalone use, as Caroline effortlessly complements script, signature, and handwriting typefaces. Now, you have the power to evoke a timeless aesthetic and add a touch of sophistication to your creative endeavors.
12. Antigua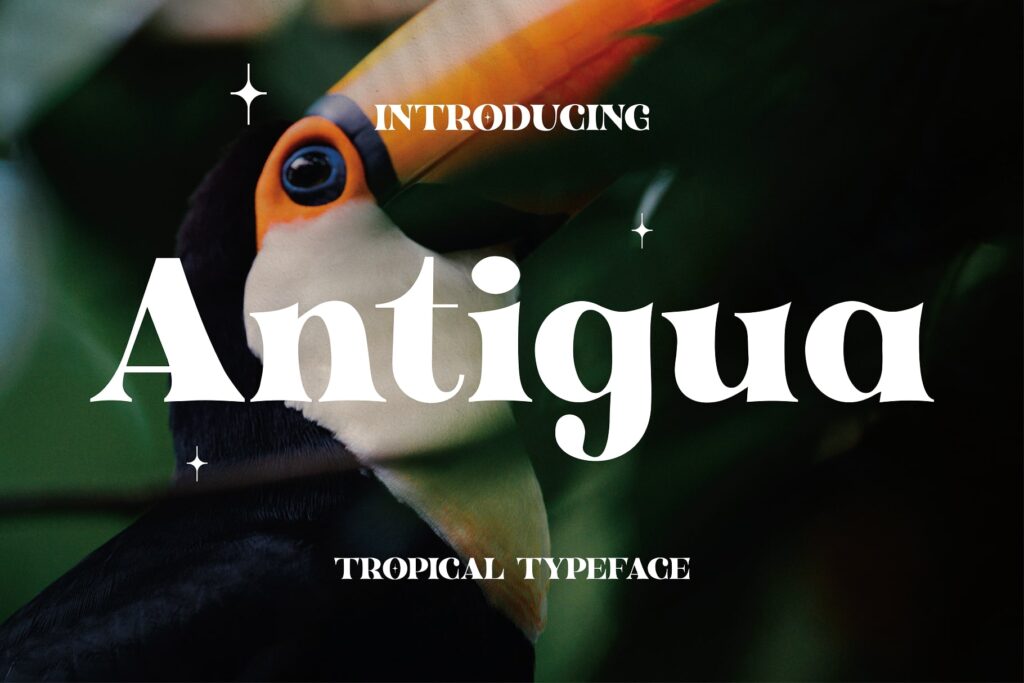 Welcome Antigua – a striking serif font family available in two (2) delightful variations: Regular and Outline, with added ligatures. This typeface embodies simplicity, versatility, and a memorable charm.
Try it on various design projects, including branding, packaging, posters, social media, and magazines. Readable and full of life, it's an essential addition to your design toolbox.
13. Avalar
Captivate audiences with this fashionable serif display typeface. Avalar boasts of an extroverted, lively, and bold personality.
Unlock its potential to create stunning wedding invitations, captivating magazines, engaging books, eye-catching packaging designs, visually appealing websites, sleek mobile apps, memorable logos, and more. With Avalar's Bold and Regular weights, you have the freedom to bring your creative visions to life.
14. Amenti
Discover Amenti, the embodiment of contemporary elegance. With its meticulously crafted clean lines and gracefully flowing curves, this font is a true visual masterpiece.
Amenti offers a stunning collection of 6 distinct weights, each possessing its own breathtaking allure. Timeless and stylish, it's sure to leave a lasting impression on all who see it!
15. Amoretta
Featuring refined craftsmanship and enduring sophistication, sophistication is a class of its own. Its graceful curves and delicate serifs create a visual symphony that bestows a sense of luxury upon any project.
Use it on branding and invitations, and even editorial design. Ideal for vintage and masculine themes, don't be shy on using it for travel, fashion, as well as automotive projects.
16. Pioneer Boulevard
Welcome to the world of Pioneer Boulevard, a font that seamlessly transports you to a bygone era. With a remarkable selection of 9 distinct weights, it offers unrivaled versatility and flexibility.
Whether you're designing a captivating logo, creating an impactful print advertisement, or crafting an elegant website, this font stands as your trusted companion. It also boasts an array of exquisite ligatures that infuse your designs with character and charm.
Beyond its aesthetic appeal, Pioneer Boulevard also embraces practicality. Its multilingual support caters to designers working on global projects. Give it a try and unlock the transformative power of Pioneer Boulevard today.
17. Goldoni
Buongiorno! Let's meet Goldoni, a font inspired by the luxurious Italian brands. With its simplicity and elegance, Goldoni presents a titling serif that places vertical emphasis.
This font has been meticulously crafted to exude a classic, ultra-clean appearance, with generous spacing that accentuates the contrast between negative space and the delicate nature of its characters. From high-end logos, captivating newspaper headlines, to striking movie posters, Goldoni is the perfect choice.
It includes basic and extended Latin characters, numbers, punctuation, European accents, diacritics, alternates, and carefully crafted kerning. Immerse yourself in the world of Goldoni, where timeless luxury meets impeccable design.
18. Agiary Signs
Experience the captivating appeal of Agiary Signs, an exquisite OpenType font. This stylish typeface offers a wide selection of intertwined OpenType features and alternative ligatures, providing you with top-end choices and endless possibilities to create a final look that is truly one-of-a-kind.
Let Agiary Signs be your creative partner in helping you craft mesmerizing typographic compositions
19. Rollgates Luxury
This exquisite sans-serif typeface seamlessly blends timeless style with a contemporary touch. Its beauty transcends boundaries, making it perfect for a myriad of creative projects.
From crafting stunning wedding invitations to finding an elegant solution for your magazine layouts or PowerPoint presentations, Rollgates Luxury is multipurpose. With its sleek look and vintage flair, there's plenty of creative possibilities. Today is the day to create something beautiful.
20. Valerius
Valerius draws inspiration from luxury hotels, fashion brands, and magazines. As a serif typeface, it exudes a royal aura that fits well for most branding, packaging, print materials, editorials, badges, and more.
With its comprehensive set of uppercase and lowercase letters, numerals, and special characters, Valerius provides all the elements you need to bring your creative vision to life. Let Valerius elevate your designs!
21. Matrole
This versatile serif is available in 3 distinct styles: Clean, Rough, and Stamp. Each style has its own unique charm and is well-suited for a range of products and designs.
With its multilingual characters and stylistic alternates, Matrole will look amazing on quotes, apparel, vintage logos, labels, posters, packaging, among others. See why other modern designers are loving this font!
22. Rosaline
Come and see a stunning outline typeface that pays homage to the magnificent Art Deco era of the 1920s. This exquisite font embodies strength, decoration, and class.
Whether you're working on vintage-inspired projects or contemporary works such as packaging, apparel, posters, branding, prints, or wedding assets, this font has got you covered. Embark on a journey to create your own Art Deco masterpiece using Rosaline.
23. Charitta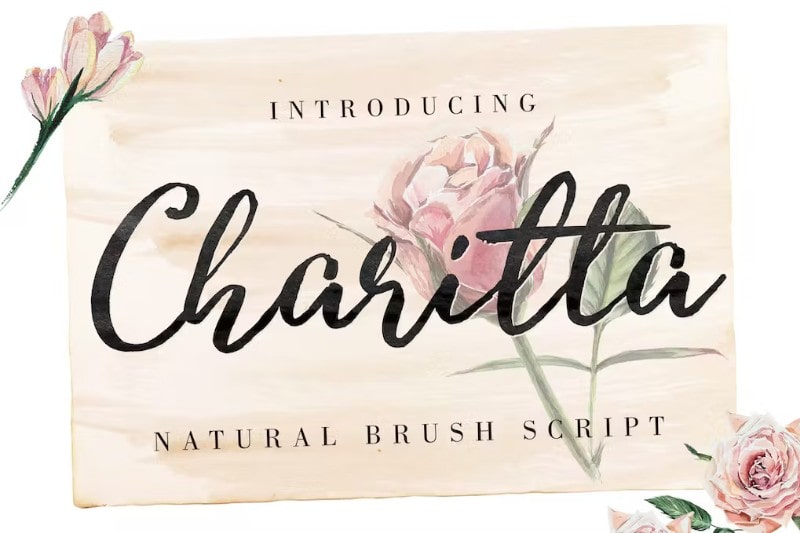 Made using brush pen, this organic font features upper and lowercase letters, lowercase alternates, and ligatures. It also includes multilingual support for several languages such as Swedish, Danish, Norwegian, Dutch, Irish, Italian, Finnish, French, German, Hungarian, Icelandic, and Polish.
24. Laxura
Looking to re-create authentic 18th Century Europe aesthetics? Then be sure to add this charming contemporary vintage serif font to your toolkit.
With its smooth and sharp curves, Laxura seamlessly combines style and personality. This font boasts exquisite ligatures, lots of special alternative glyphs, intricate ornaments, and comprehensive multilingual support.
Try it on logos, apparel, product packaging, magazine headers, and even as a stylish text overlay on any background image.
25. Eco-Friendly Market
Looking for the perfect minimalist font? Check out this vintage-inspired font that includes 2 styles (Regular, Italic). Set it against a neutral background for a classy, natural look. Or place it over faded, classic images for an effortless aura.
26. Pandyra
Thin, curved, and modern, Pandyra is a timeless beauty that will enhance your projects instantly. Add it on wedding invites, business logos, fashion magazines, social media quotes, or casual web design.
The pack comes with upper and lowercase letters, numerals, special characters, and extra ligatures. Whether you want something feminine or contemporary, Pandyra will never disappoint!
27. Blooming Season
Blooming Season is a stunning flourish serif display designed with intricate ligatures and decorative elements. This font has been meticulously crafted to enhance your logos, titles, wedding invitations, posters – anything you can imagine.
It also includes a an outline version for even more flexibility. Language support includes: Bahasa, Catalan, Danish, Finnish, French, German, Italian, Portuguese, Spanish, Zulu, and more.
28. Brioche
Possibly named after the famous French bread, this classic but modern serif contains a bunch of alternates for each character to make your works even more stunning!
While it's ideal for feminine, delicate, and minimalist themes, it would still look amazing on corporate, travel, retail, and period compositions. This font has multilanguage support and is already PUA encoded.
29. La France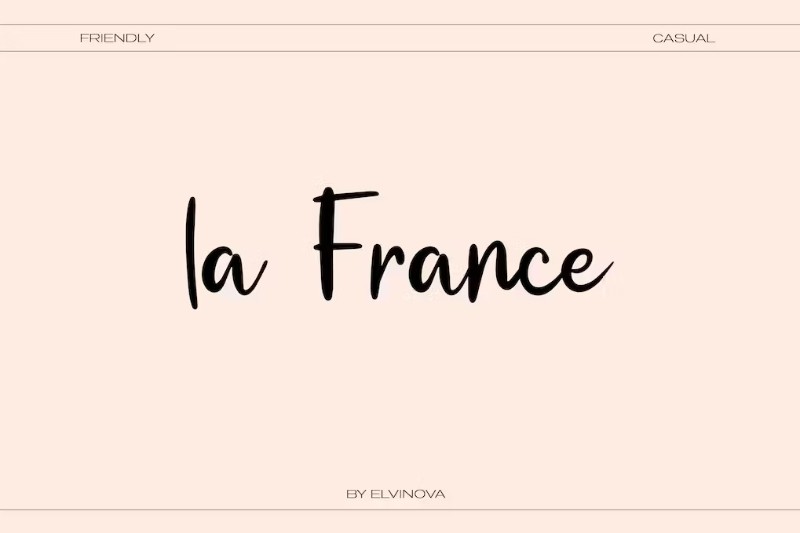 Looking for cozy fonts that feels like home? Then you will love this hugge-inspired typeface. Hugge or Hygge is a Danish word and concept that translates to "comfortable conviviality" with "feelings of wellness and contentment."
Somewhat resembling clean handwriting, this font is playful yet chic. Use it on social media posts, branding, postcards, invitations, business cards, as well as book covers. It currently only supports English.
30. France Typeface
A font inspired by the charm of typewriter letters. With careful attention to detail, each character of this font has been meticulously crafted by scratching pen ink, resulting in an authentic and warm handwritten texture.
As a bonus, the file includes six (6) trendy watercolor backgrounds that complement the font perfectly. These backgrounds will add an extra touch of creativity and style to your designs.
This handy font is great for branding, wedding invitations, magazine layouts, mugs, business cards, quotes, posters, etc.. Embrace the nostalgic appeal of typewriter aesthetics with the France Typeface.
31. Gourmet Le French
This font duo is highly functional, it can be applied to almost any project, from modern branding to minimalist designs, old-fashioned content to luxury layouts.
It doesn't matter whether you're working on product packaging, movie posters, business logos, homepage titles, or wedding banners – this font will deliver.
Use just one or combine both for a striking effect. Complement this organic duo with clean lines, neutral palettes, and shadows for trending results.