Having preschool education is more than just letting kids socialize and play outside of the home. The human brain, especially during the first three years, is highly adaptable. It can absorb plenty of information from different sources. The saying that kids learn quickly isn't an understatement.
How Did Preschool Originate
Preschool is part of a system known as early childhood education, or care and instruction of young children (usually between the ages of one to seven) outside of the home.
The concept was said to have begun in Germany, by Johann Friedrich Oberlin and Louise Scheppler in 1779 in Strassbourg. They started the school so that kids from parents, who worked in factories, as well as orphans, would have a place to learn and play.
It wasn't necessarily called 'preschool' at that time; but rather, a form of infant school. By 1816, the idea spread in New Lanark, Scotland. Robert Owen opened the first British infant school that taught not only basic literacy and numeracy, but also good morals. His objective was to help children eventually be fit to work.
English educator Samuel Wilderspin opened his infant school in London in 1819, with a focus on play. In fact, he was credited for inventing the playground. He believed that playing was essential to the early development of a child's overall (physical, intellectual, and moral) capacity. Early childhood education would be introduced to the United States in 1856 by Elizabeth Peabody.
Studying in Preschool Today
What began as a method for helping parents go to work unencumbered has become a race. Nowadays, parents who choose to educate their children at home are often ridiculed. But early childhood education isn't just grades and standardized tests. It's all about helping kids be well-rounded in terms of personal, social, and emotional development.
Even if you can't send your kids to preschool, you can introduce them to activities that are fun and engaging. Play dates with similar age groups can be arranged to help young ones become familiar with teamwork and sharing. Physical health can be done through regular chores, such as gardening, cleaning, and cooking.
While preschool is now a prerequisite before primary education, it doesn't mean that it should be demanding or stressful. Keep it light-hearted with lots of free play. Colorful toys, art materials, and wide, open grounds, can bring out the natural curiosity and imagination of a child.
What's more, adults need not curb their 'inner child'. Don't be afraid to play and let loose as well!
Bubbly Preschool Fonts
From book covers, tumblers, to notebooks, posters, and cards – using these bubbly preschool fonts will awaken the kid in you!
1. The Comic Struve
Cartoonish and a little bit mischievous, this handwritten typeface will fit any occasion, from Halloween banners, summer posters, to birthday invitations.
2. Bubble Shine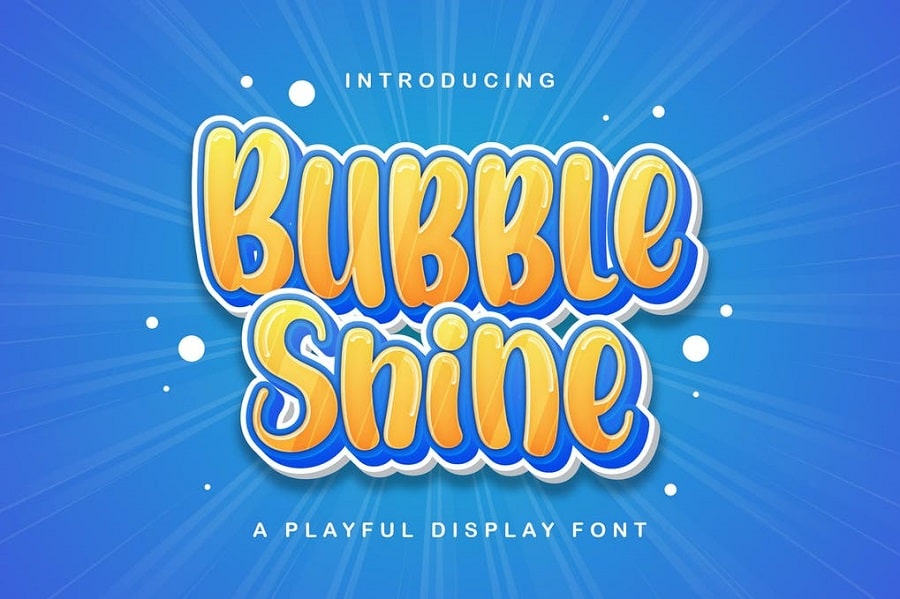 Explore the boundaries of your creativity with this fresh and colorful product. Ideal for book covers, invitations, banners, headlines, social media, and more.
3. Brightly Crush
This cheerful duo includes 2 styles (Regular and Shine) for digital and print. Use this font not only for kiddie projects, but also for food, party, animals, and other whimsical creations.
4. Geky Xin
Handcrafted to showcase playfulness, this brush font contains ligatures and alternates to help make your titles, headlines, and labels stand out. It pairs well with any other font, particularly serifs.
5. Baby World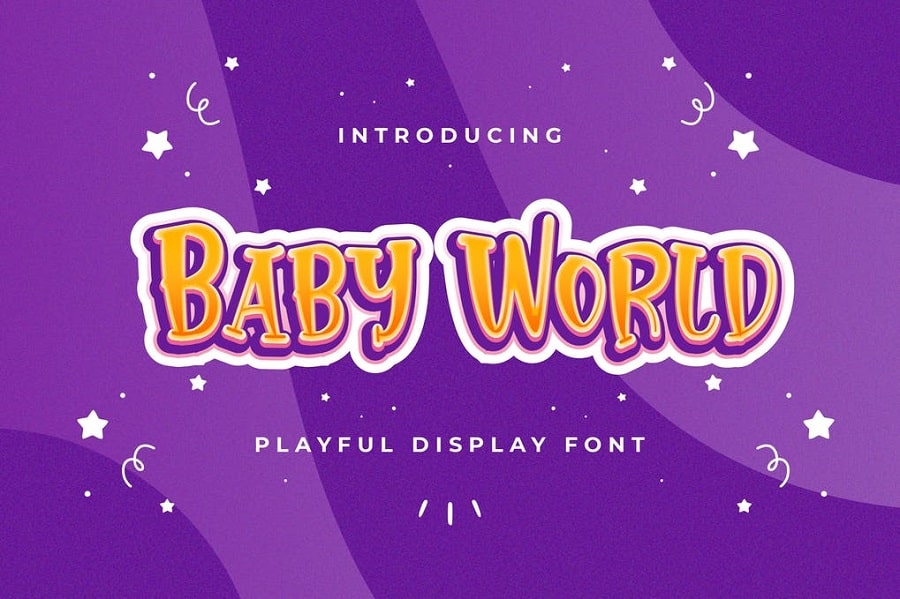 Turn anything ordinary into something cute, quirky, and joyful. This delightful typeface is ready make even your smallest creations shine.
6. Funzi
Funzi is a handwritten bold typeface. This playful font was inspired by the idea of spilled ink that spreads and fills the shape of letters. Its smooth rounded corners are comforting to the eye and give a welcoming feeling to the viewer. Funzi is perfect for greeting cards, children books, quotes, posters, invitations, business cards, presentations and more.
[fontsampler id=62]
7. Playkidos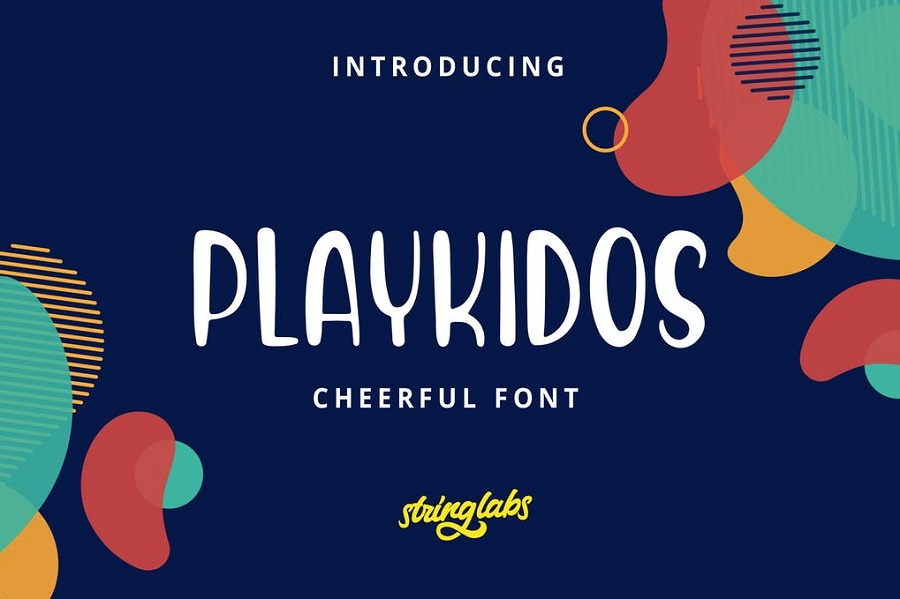 Looking for a flexible font that can go from fun and playful to clean and minimal? This multi-purpose typeface is just what you need.
8. Comic Boys
This marker font will add a fun, neat twist to almost any design – whether in travel postcards or in cafe menus.
9. Barnie Kids
Tall and quirky, this good-natured typeface comes in lower- and uppercase letters, with multilingual support, so you can apply it on a variety of projects.
10. Ghozali
Brought to you by GoldenGraph, this chubby lettering set looks wonderful by itself, or paired with sans serifs for fun-tastic effects for kids, or kids at heart.
11. Pianicas
Inspired by a kid poster in a preschool, this decorative font from LetterStockStd was crafted by hand to give you a naturally handmade feel that's also clean and adorable.
12. Cheerskid Font
Sweet, simple, yet unforgettable, this playful sans by TempCraft includes alternates and swashes so you can have more options to style your works.
13. Super Kids
Making a poster for your child's wall? Searching for the right playful font for an upcoming toy sale on your shopping website? This incredibly versatile display font by StringLabs will help bring your ideas to life.
14. Sandy Kids
A chunky, lettered display font for use in any occasion or season, you will love having it in your toolkit for kid or grown-up related works.
15. Jangkids
Back-to-school never looked this good. This font will transform your t-shirt designs, posters, labels, invitations, illustrations, and deco cards into charming, one-of-a-kind treasures.
16. Sebastian
Sebastian is a playful cutout font created for quotes, greeting cards, social media posts, branding, headers, posters, merchandise, and much more. If your project or design requires a light-hearted cutout typeface, then Sebastian is for you!
[fontsampler id=61]
17. Jassin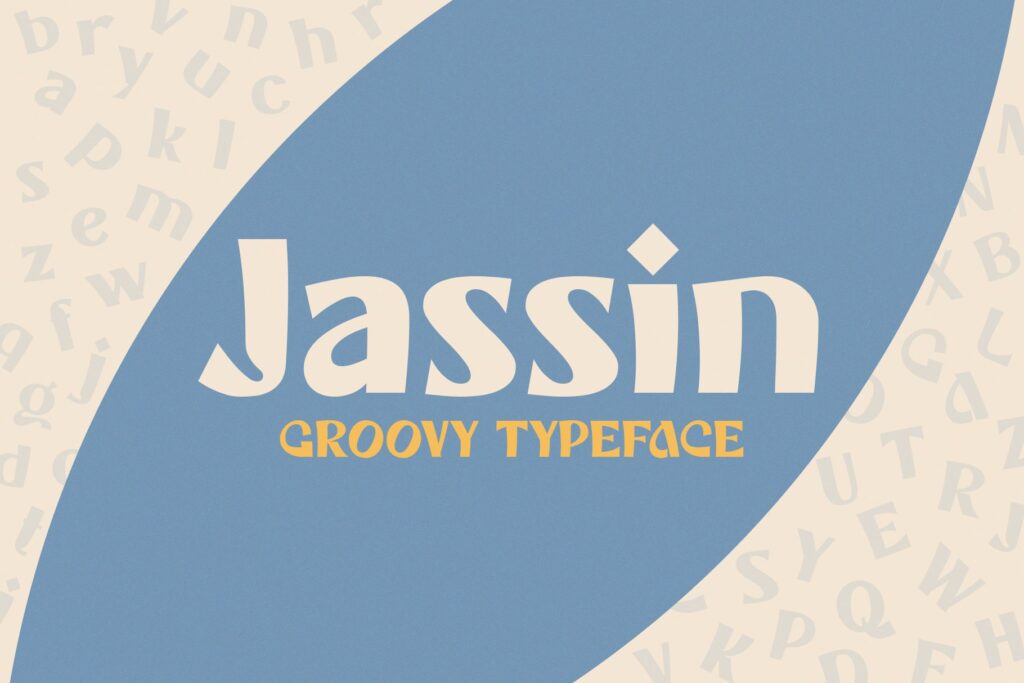 Jassin is a fun and groovy typeface with a bold personality. Perfect for branding, headlines, social media, advertising, packaging, posters, t-shirts, editorials and much more. Its vintage feel evokes the carefree and whimsical vibe of the psychedelic era, allowing you to craft impressive looking designs.
[fontsampler id=57]