Last Updated on October 13, 2023
Singer-songwriter Taylor Swift is undoubtedly one of the most prolific musicians of her era. Using her extraordinary vocal prowess, she has an uncanny ability to continuously transform her musical identity.
With a discography boasting no less than 10 studio albums and a multitude of chart-topping singles, her global record sales exceed a remarkable 200 million. This has secured her place among the best-selling artists in music history.
Notably, Swift holds the distinction of being the most-streamed female artist on Spotify. Furthermore, she's etched her name into the annals of American music history by achieving the remarkable feat of having five albums sell over one million copies within their first week.
Beyond the numbers, Taylor Swift's monumental contributions to the music industry have not gone unnoticed. Among her numerous honors are 12 Grammy Awards, 1 Primetime Emmy Award, and an impressive 40 American Music Awards. Her shelf also boasts 23 MTV Video Music Awards and 29 Billboard Music Awards, highlighting her multifaceted talent.
To date, Taylor Swift stands as the wealthiest female musician in the United States. Her current net worth stands at an astounding $740 million.
If you consider yourself a fan, you probably already know all these, plus most of the lyrics to her hit songs. And while Taylor Swift albums are famous for their beautiful covers, another aspect that makes them unforgettable remains unexplored – her choice of fonts.
This article seeks to shed light on the typography of Swift albums, a unique facet of her creative expression. We've also included useful links of where to download these fonts. Enjoy!  
Fonts Used on Taylor Swift Albums
1. Taylor Swift
Album #: 1

Release Date: October 24, 2006

Genre: Country

Length: 40: 28 Minutes

Label: Big Machine Records

Font: Satisfaction
About Satisfaction
Taylor Swift's eponymous debut studio album uses a font known as Satisfaction. It is a script typeface designed by Billy Argel and published through E-phemera Fonts. The font bears near-striking resemblance to the Pleasure typefaces that were inspired by cigarette advertisements from the 1930s.
Satisfaction is an OpenType font, which means that you can use it on different surfaces. It comes with over 600 glyphs, including a complete set of UPPERCASE letters, lowercase letters, integers, and special characters.
Note that many Taylor Swift's albums feature her signature. And in each case, the signature portion of the albums is set in this font. Among the top places to download Satisfaction font include Font Meme and Fonts Network.
2. Fearless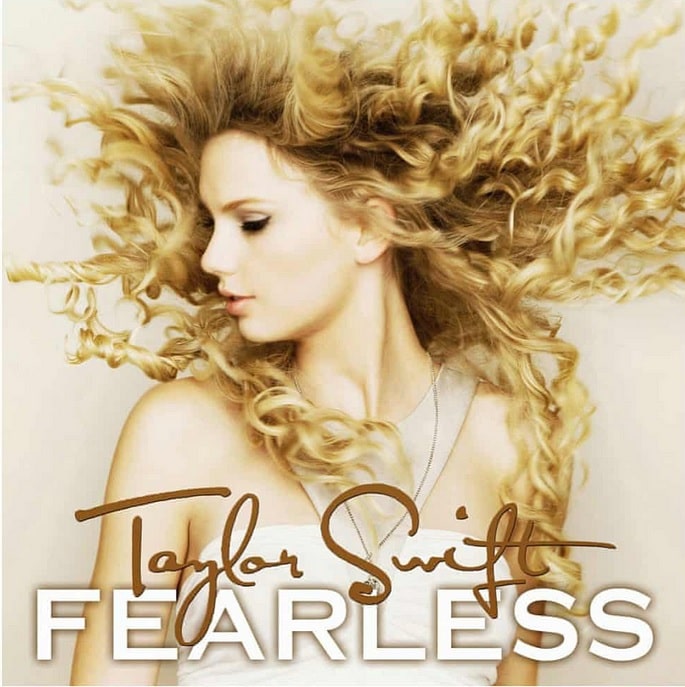 Album #: 2

Release Date: November 11, 2008

Genre: Country Pop

Length: 53:41 Minutes

Label: Big Machine Records
Font: Archivo
About Archivo
A free, grotesque sans-serif typeface created and initially published by Omnibus-Type. It's a display font, implying that it was designed primarily for use on headlines and titles.
Archivo is a nostalgic typeface that's reminiscent of late-19th century American typefaces. The font looks great whether used in print or digital displays.

Despite having been originally created for headlines, you can combine it with other typefaces and even use it as body text (as evidenced on the album cover of Fearless). It's also highly versatile.
It's currently available in different styles, including Regular, Medium, Bold, Thin, Light, Black, ExtraLight, SemiBold, and ExtraBold. You can find Archivo on websites like Google Fonts, DaFont Free, and Font Swan.
3. Speak Now
Album #: 3

Release Date: October 25, 2010

Genre: Country Pop, Power Pop, and Pop Rock

Length: 67:29 Minutes

Label: Big Machine Records

Font: Mina Medium
About Mina Medium
This is a medium version of Mina, a font family designed by Giuseppe Salerno and Paco González and released through their Resistenza Type Foundry.
The font is inspired by the elegance and simplicity that characterized the 1950s. It's an excellent typeface to imbue a touch of timelessness into your designs.
Mina comes in different weights and styles. Besides the Medium version used on Taylor Swift's third studio album, other styles in the Mina family include Regular, Thin, Light, Rough, Bold, Black, Heavy, and Super.
You can download Mina Medium and other fonts in the Mina family from Adobe Fonts, Font Shop, or MyFonts websites.
4. Red
Album #: 4

Release Date: October 22, 2012

Genre: Pop, Country, and Rock

Length: 65:09 Minutes

Label: Big Machine Records

Font: Tungsten SemiBold
About Tungsten SemiBold
Taylor Swift's fourth studio album utilizes one of the simplest typefaces: a semi-bold version of Tungsten.
Tungsten is a compact and sporty sans-serif font family designed by Hoefler & Co. It's the same font appearing on the posters of the films 'Central Intelligence' and 'Uncut Gems,' the television series 'The Walking Dead', and the video games 'Just Dance' and 'Guitar Hero Live.'

The Tungsten family comes in four different widths, including Normal, Condensed, Narrow, and Compressed. Each width is available in eight styles, from Thin to Black, making it yet another versatile font used on Taylor Swift's albums.
Tungsten SemiBold is available on Fonts Family, Typography, and Goova Fonts. It comes in both TrueType and OpenType formats.
5. 1989
Album #: 5

Release Date: October 27, 2014

Genre: Synth-pop

Length: 48.41 Minutes

Label: Big Machine Records

Font: Permanent Marker
About Permanent Marker
This is Taylor Swift's first studio album not featuring her name. The album's cover bears Swift's initials "T.S." on the left side and "1989" on the right side. Both wordings are executed in Permanent Marker.

Permanent Marker is a font family designed and published in 2010 by Canadian type designer Font Diner, Inc. The font mimics hand-drawn typography and was intended to recreate the effects of permanent marker pens, hence the name.
It's currently available only in one style. However, the single style comes with dozens of characters, including plain and accented UPPERCASE letters as well as multilingual support.
It's also available for both personal and commercial use (just contact the designer if you're planning to apply it on commercial projects). CDN Fonts, Better Studio, and Font Squirrel are some of the top places for download.
6. Reputation
Album #: 6

Release Date: November 10, 2017

Genre: Electropop and R&B

Length: 55:38 Minutes

Label: Big Machine Records

Font: Engravers' Old English
About Engravers' Old English
Not only is Reputation one of Taylor Swift's most successful studio albums, it also uses one of the most unique cover arts. The font appearing on Reputation's cover is quite similar to Engravers' Old English, a blackletter font designed by OPTI FONT.

Engravers' Old English is available in 8 different styles. Each style supports 255 glyphs. These include UPPERCASE, lowercase, and accented letters, as well as integers and at least 40 special characters.
Most songs in the Reputation album highlight the darker side of fame and anger. Swift couldn't have found a better font her album cover. A couple of websites to download Engravers' Old English include Font Meme, Fonts Geek, and Mais Fontes.
7. Lover
Album #: 7

Release Date: August 23, 2019

Genre: Electropop, Pop Rock, and Synth Pop

Length: 61.48 Minutes

Label: Republic Records

Font: Satisfy
About Satisfy
Just like Reputation, Taylor Swift again settled on a font whose aesthetic vibe captures the content of the album's overall theme. The font appearing on the cover art of Lover is Satisfy, a brush script display typeface designed by Sideshow.
Satisfy supports normal and accented letters, integers, punctuation marks, and other quirky characters. It's currently available in the Regular weight only. However, the single version supports up to 227 glyphs. You can also avail the typeface in over 300 languages, including many little-spoken dialects.
Satisfy is available for immediate download on Google Fonts, 1001 Fonts, Font Squirrel, and many other websites.
8. Folklore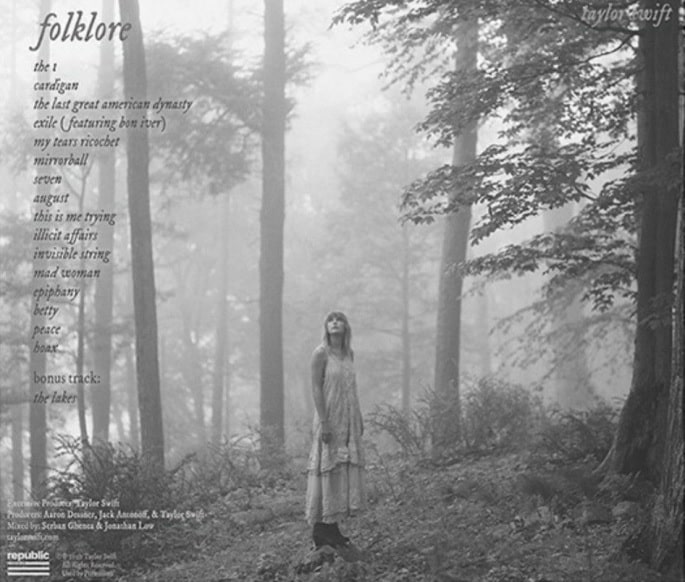 Album #: 8

Release Date: July 24, 2020

Genre: Indie Folk, Alternative Rock, Electro-Folk, Indietronica, and Chamber Pop

Length: 63:29 Minutes

Label: Republic Records

Font: IM Fell DW Pica
About IM Fell DW Pica
IM Fell DW Pica is an elegant serif typeface originally created by renowned 17th-century Bishop of Oxford John Fell and later revived digitally by Igino Marini. To replicate the look on Taylor Swift's 'Folklore' cover art, use the italic version.
Although its design period qualifies it as a classic font, this typeface has a touch of modern sophistication. It is widely regarded as a typewriter font due to its ink-like effect on letters. The font aptly suits the vintage theme of this album.
Try this typeface on book covers, business cards, apparel branding –  pretty much any project where you want to achieve a retro feel. Head to Font Swan, DaFont, or Fonts Shmonts to get this font.
9. Evermore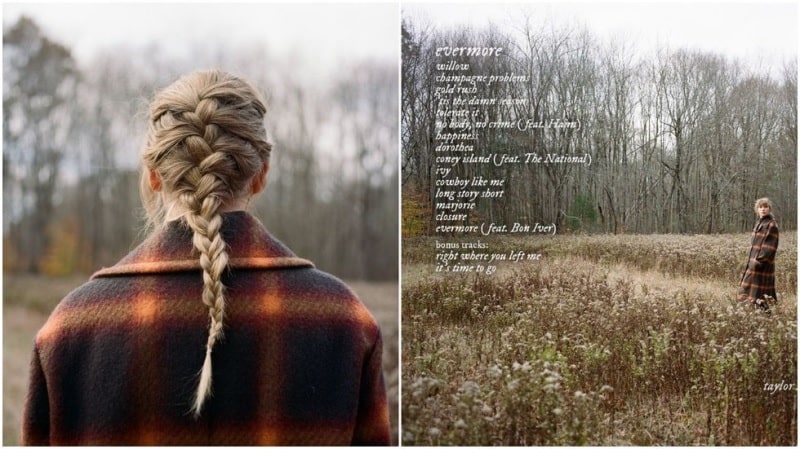 Album #: 9

Release Date: December 11, 2020

Genre: Alternative Rock, Chamber Rock, Folk-pop, and Indie Folk

Length: 60:38

Label: Republic Records
Font: IM Fell DW Pica
Taylor Swift's ninth album was released barely five months after her eighth album. It's unclear whether the artist was in some kind of a rush or she deliberately intended for the two albums to have the same cover art. That's because Evermore and Folklore appear to share the same font – IM Fell DW Pica.
10. Midnights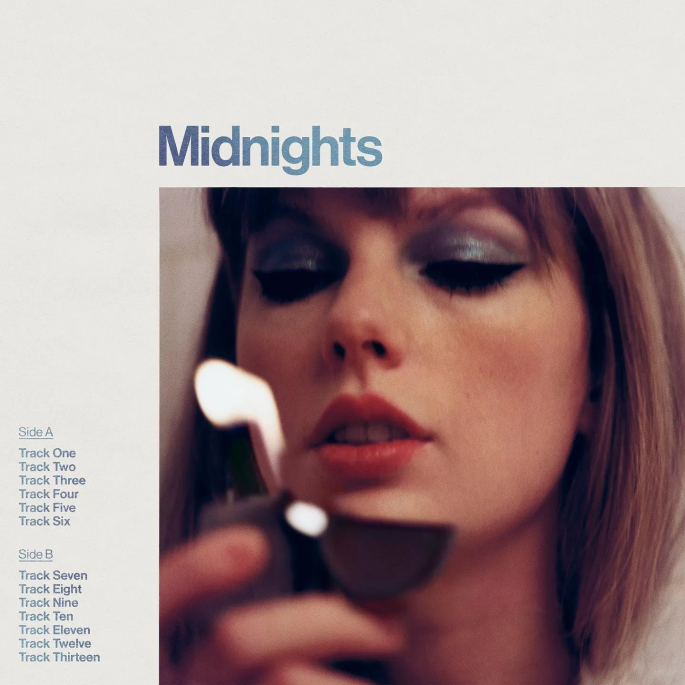 Album #: 10

Release Date: October 21, 2022

Genre: Synth-pop, Electropop, Bedroom Pop, and Dream Pop

Length: 44:02

Label: Republic Records
Font: Neue Haas Grotesk
About Neue Haas Grotesk
This is the most popular and widely used of all Taylor Swift's album fonts. More commonly known as Helvetica, Neue Haas Grotesk is a sans-serif typeface developed in 1957 by Max Miedinger and Eduard Hoffmann. The neo-grotesque font was inspired by famous 19th century German and Swiss designs, including Akzidenz-Grotesk.
Characters executed in Neue Haas Grotesk are noted for their tall x-height and tight kerning. The font also stands out for its square-shaped letter 's,' symmetrically-executed wide capitals, and concave-curved stem of number '7.'

Although originally released in the Regular version, Helvetica has undergone several upgrades over the years. The typeface is now available in multiple weights and styles, including those released exclusively for digital use.
You can find Helvetica on DaFont Free, CuFon Fonts, and Fonts Family, among many other websites.
**Taylor Swift has re-recorded four of her albums: Fearless (Taylor's Version) released on April 9, 2021; Red (Taylor's Version) released on November 12, 2021; Speak Now (Taylor's Version) released on July 7, 2023; and 1989 (Taylor's Version), which is scheduled for release on October 27, 2023.
Remember…
Most of these fonts are FREE for personal use. However, always check with the designer or publisher before using them in commercial projects.