Last Updated on August 29, 2023
Known as the decade of jazz, the 'golden age' of Hollywood, and radio broadcasts, the 1930s was a fascinating era. On one side, there was great growth for culture, music, literature, and the arts; but on the other hand, it was a depressing time marked by unemployment, political turmoil, and the looming threats of WWII.
The Problematic Decade
There are some that refer to the 30s as the 'Dirty Thirties' because of the myriad political and socio-economic problems during that time. The decade after all, didn't begin on a good note (there was the stock market crash in 1929). There were also plenty of political movements, including the spread of populist ideas as well as the beginnings of World War II.
The 30s marked other conflicts, particularly the Chinese and Spanish civil wars. In the United States, then newly elected Franklin Delano Roosevelt wanted to help Americans get through 'The Great Depression' with various deals and laws. This was done by employing hundreds of Americans in building schools, parks, highways, and bridges.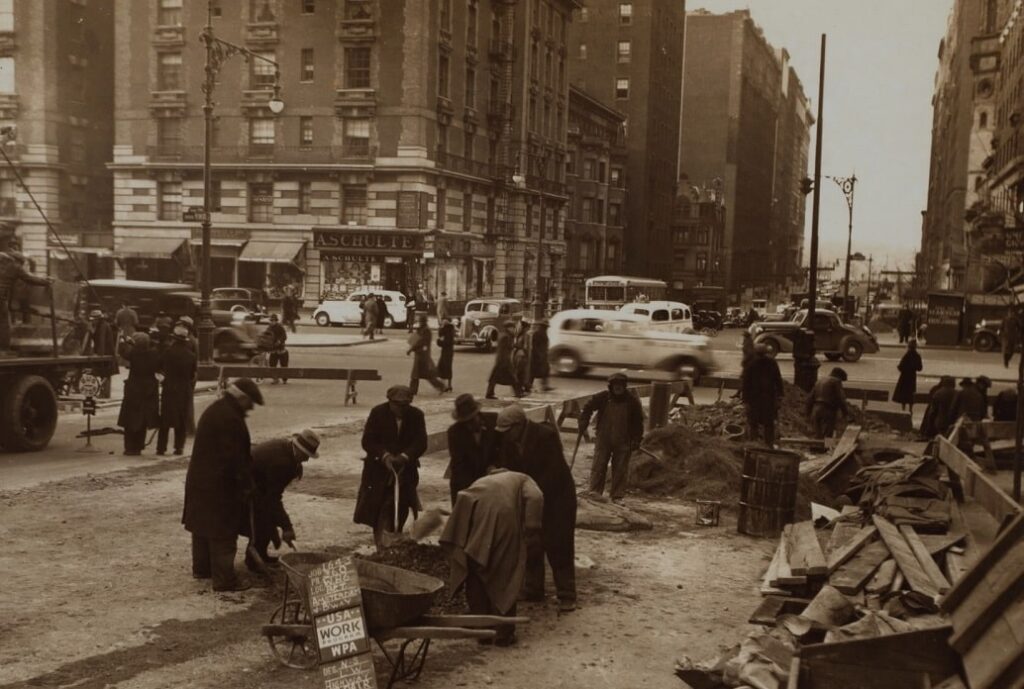 The 1930s saw several natural disasters, too. Some states including North Dakota, South Dakota, Wyoming, Montana, Colorado, Oklahoma, and Texas suffered one of the worst droughts in American history. Because of this, terrible dust storms followed. In China, the Yangtze–Huai River flooded. But not everything during the 30s was depressing.
It was perhaps the lack of money that drew people to all kinds of entertainment: from comedy radio programs like Amos 'n' Andy to dancing to swing music in ballrooms. Hollywood enjoyed a 'golden age' as well. People flocked to movie theaters to watch adventure, gangster, and literary adaptation films. This decade produced some of the most memorable actors such as: Greta Garbo, Boris Karloff, Mae West, Shirley Temple, and Charlie Chaplin.
Unforgettable 1930s Fonts
While the people of United States suffered a lot during the 1930s, there were also some positives. Entertainment played a huge role in helping the citizenry cope with unemployment and depression. Photography documented everyday lives of Americans. Literature, arts, and music received support and were highly promoted then to bring culture to the masses.
Relive this interesting decade through these unforgettable 1930s fonts.
1. Oregon Display Typeface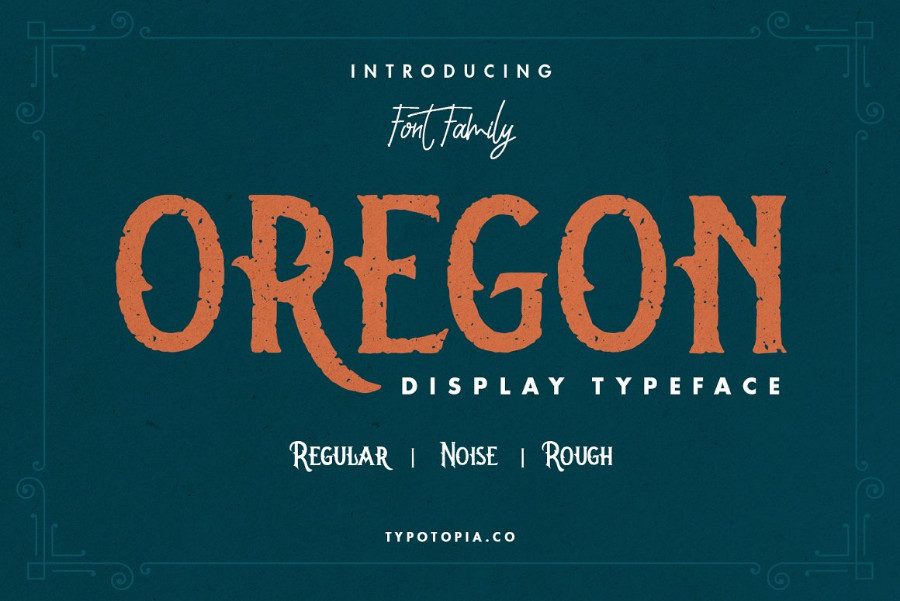 This semi-vintage font by Typotopia is available in 3 styles (Regular, Rough, and Noise) and can be utilized on both digital and print projects.
Download Oregon Display Typeface
2. Rosterine
This condensed display typeface by Letterhend Studio will make you feel like going back in time. Use it on labels, invitations, postcards, magazines, book covers, ads, labels, and more.
3. Cocosignum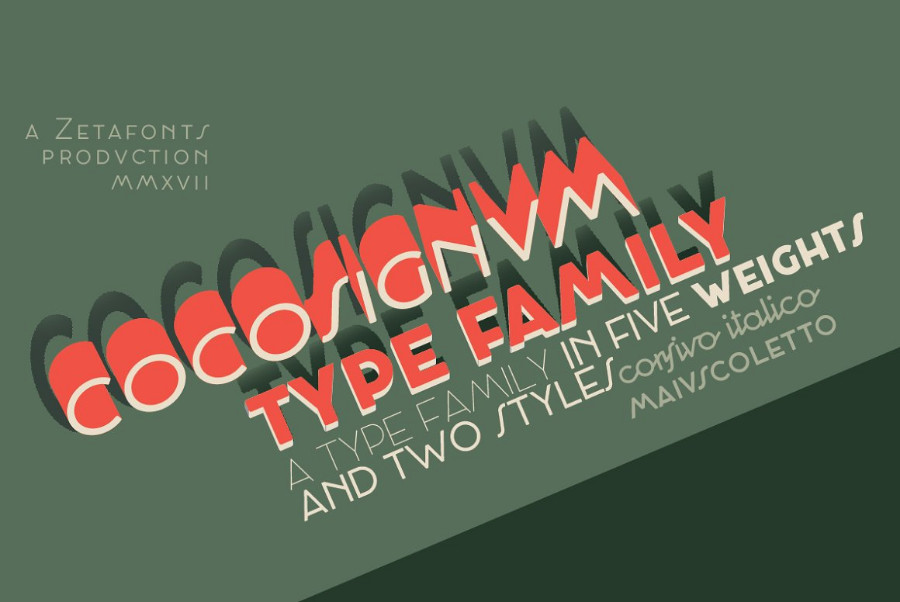 Inspired by Italian typography from the 30s, this pack by Zetafonts contains a total of 11 fonts boasting of imperial uppercases and propaganda deco overtones that can support up to 40 languages.
4. Ahkio
Mika Melvas presents this disconnected script family of 5 fonts influenced by 1930s sign painting and showcard lettering, but with a modern, individual twist.
5. JT Douro Sans
With more than 500 glyphs, plus multiple ligature sets and alternatives, this collection by JAM Type contains a total of 10 styles reminiscent of art deco movement.
6. Penfield Poster Display
Named in honor of the American illustrator and designer Edward Penfield, this vintage font by Vertigo Creative Products offers a rather heavy, hand-painted look that's easily recognizable and beautiful.
Download Penfield Poster Display
7. 8th Avenue
The 30s weren't all curves and swirls – this strange, blocky lettering from Our House Graphics Inc. would be perfect when placed on packaging, logos, and headlines.
8. Latte
Font Kitchen presents this cozy font made of rounded serifs and ball terminals. Fun, friendly, yet robust, it's not just for coffee shops or bakeries. Feel free to use it on automotive, retail, editorial, as well as travel themes.
9. Postpress Industrial Serif
Although crafted especially for headlines and titles, this vintage serif by Parker Creative can still work effectively in small sizes, thanks to its versatile soft wedges and narrow lettering.
Download Postpress Industrial Serif
10. Biscayne DemiBold
Named after one of the key places in Miami, this Art Deco-inspired typeface from JVB Digital Foundry can be applied on headlines, as well as body copy and short texts.
11. The Pincher Brothers
Larin Type Co. gives you this practical collection consisting of a script, serif, sans serif fonts with plenty of retro personality. Rough styles are included so you can make both clean and rough looks in an instant.
12. MONTE CARLO Caps Font
This stylish caps font will make you nostalgic for lazy summer days and simpler times. It comes in 2 variants to help you create luxe headlines, posters, business cards, magazine editorials, product ads, vintage postcards, and more.
Download MONTE CARLO Caps Font
13. Wavelength Font Family
Mysterylab Designs combines the art deco stylings of the 30s with the ultra-modern flair of the 21st century in this collection of 10 eye-catching fonts.
Download Wavelength Font Family
14. Addressotype
Durable, reliable, and ready for action, this font by Midwest Type was based on lettering from a vintage ad for the Addressograph-Multigraph Corporation that manufactures Addressograph machines, which were used to print mailing labels. Today, you can use it on headlines, posters, labels, and signage for that authentic 30s vibe.
15. VOLKI
Rough, stretched, yet elegant, this typeface from Roman Paslavsky works well for logos, business cards, flyers, shirt designs, posters, and more. Comes in 2 styles – Regular and Thin.
16. Mr Sheffield Pro
Go back to a time when hand-lettering and calligraphy were the norm. This lovely script from Sudtipos will let you re-create handwritten letters, postcards, signs, and cards that reflect the bygone days of post mail, pen names, and intricate signatures.
17. Waverly CF
Restrained, modernized, yet exudes a unique character, this sans serif from Connary Fagen consists of 6 weights, alternate glyphs, and plenty of personality.
18. Winston Sans Typeface
A lovely mix of modern and vintage vibes, this all-caps sans serif by BusyPort will make your signage, labels, and logos truly unforgettable.
Download Winston Sans Typeface
19. DELANOR
Reminiscent of Great Depression headlines and newsreels, this condensed, heavy sans serif by Baseline Type Shop looks highly effective when set against black-and-white images.
20. Warszawa Deco
Brendan Ciecko brings you this typeface inspired by the aesthetics of Poland during the early 1900s to 1930s.
21. Serifa Typeface
With influences from hand-painted letters on the walls of Brazilian cities, this pack from Type Box comes in 2 styles (Forte and Áspera) with 161 glyphs.
22. Haarlem Deco
This all-caps semi-condensed sans by Twicolabs Fontdation is a chic mix of old Euro-American advertising letters and modern clean sans serifs to bring you a genuine feel of the vintage world.
23. Braga Huis
Featuring strong lines, passionate curves, and 3 amazing styles (Regular, Black, and Outline), Juru Aksara gives you this font family to help you craft authentic retro projects.
24. BOTANICA
Looking for a versatile font for mastheads, word-mark logos, monograms, and quotes? New Tropical Design has the solution in this minimalist offering that includes 8 logo templates.
25. FHA Nicholson French NCV (FREE)
This alphabet by legendary sign-painter Frank H. Atkinson continues to stand the test of time in this version by Fontry. Try it on headlines, logos, signage, and book covers. Free for personal use (uppercase letters only).
Download FHA Nicholson French NCV
26. Hooverville (FREE)
Whether you're trying to make newspaper headlines or vintage movie titles, you can't go wrong with this bold serif from Kevin Christopher. The added shadow and rough details make it seem like it was printed by old typesetters.
27. Crescendo (FREE)
Bring your dancing shoes and get ready to boogie the night away in this art deco-inspired gem by Chequered Ink. Its sleek lines and tall stature make it perfect for banners, headers, logos, titles, and covers. Free for personal, non-profit use.
28. Rocketeers (FREE)
Inspired by writing 1930s writing styles, this bold and sturdy typeface from Ikiiko has pleasing aesthetics but solid forms. Use it on ads, branding, editorials, logos, invitations, and retro projects.
29. Britanie (FREE)
Want to give a 1930s feeling to your contemporary works? This all-caps serif by UICreative should help achieve that effect. It goes well with fashion, retail, and beauty themes.
30. Mrs Sheppards (FREE)
Did you know that there were about 200 professional hand letterers working in New York City alone during the 1930s? The lost art of letter writing has since enjoyed resurgence thanks to typographers and dedicated artists who bring their passion to the public eye through YouTube tutorials. For those missing the authentic Bluemlein scripts of that era, this script font by Sudtipos will hopefully satisfy your nostalgia for hand-lettering.