When you mention the word 'tiki', most people associate it with colorful leis, rattan furniture, exotic cocktails, and a general laidback island vibe.
Tiki culture in the United States began sometime in the 1930s when Don the Beachcomber, a restaurant in California, became known for its Polynesian theme. Folks who came there became enamored with the decor. Pretty soon, they too longed to visit the South Pacific and see the actual inspiration for the bar and resto.
This prompted the birth of Tiki culture. Soon enough, from Hollywood movies to backyard parties, everyone wanted a piece of tropical paradise. It wasn't until after WWII, when thousands of American servicemen were in fact, deployed to the South Pacific, that the trend died down.
However, it did see a second resurgence in the early 21st century, when people became nostalgic once again for everything exotic and carefree.
Want to imbue a relaxed island vibe to your designs? Then check out these amazing – and versatile – tiki fonts.
Cool Tiki Fonts
1. Tikiland Typeface
PutraCetol Studio proudly presents this exceptional display typeface that comes with handy dingbats to bring out the best in your projects.
2. Wakiki Layered Typeface
This fantastic layered set by Drizy was inspired from beautiful Hawaii. Featuring various typefaces to easily convey an exotic and tropical mood, it also includes a vector pack as well as a poster template.
Download Wakiki Layered Typeface
3. Beachcomber Font
Go back to days when there was salt on your lips, and you were dancing the night away in a bamboo hall. Relive your carefree years in this unique typeface with 9 hand-drawn illustrations by Think Make Design.
4. Vintage Hawaiian Font
Think Make Design presents this handmade sans-serif that's all about organic feelings while remaining readable in small or large scales.
Download Vintage Hawaiian Font
5. Phantom Isles
Phantom Isles is a tiki font inspired by 1950s culture, with tales of exotic location and divine.
6. Tahiti – Tropical Font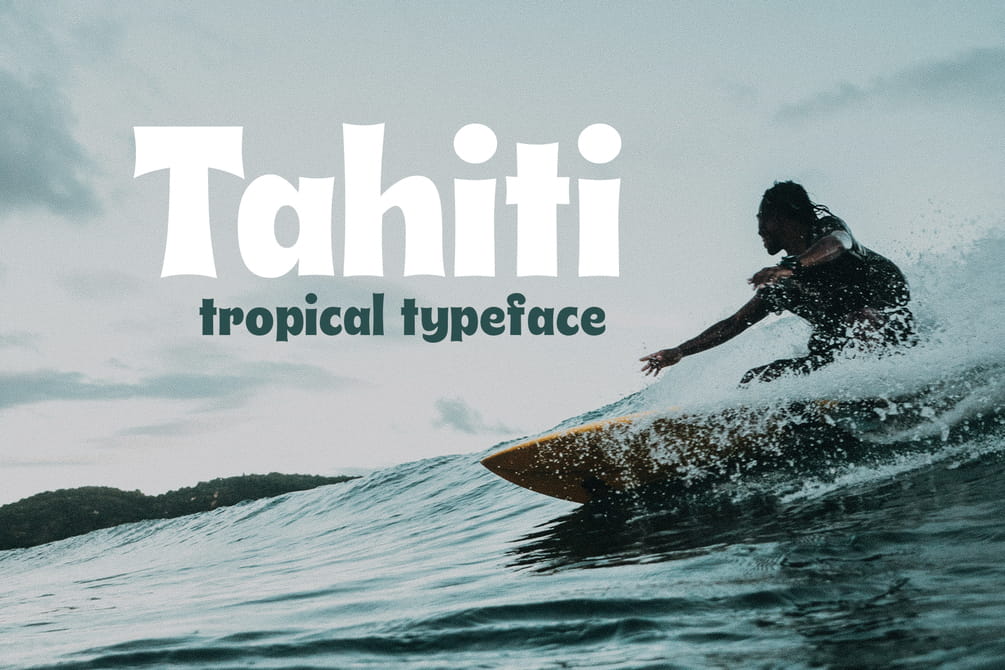 This juicy, flavorful display face is inspired Tiki culture to give your projects that funky, tropical vibe that it's been missing.
7. Citro
Citro is a bold typeface based on retro hand-painted paper signs primarily seen in grocery stores from the 1920s through the 1970s. It features inconsistent baseline and cap heights so as you type the characters seem to dance.
Citro is fun and not too serious. It's perfect for both vintage-inspired and contemporary branding, marketing, packaging, and much more. If you're looking to create a bold impact with a retro flare, then Citro is for you!
8. AZ Tiki
Inspired from Polynesian pop art Ephemera of the 1950's, this gem from Artistofdesign will look great on headings or banners.
9. Tiki Hut Font
Reg Silva Art Shop brings to you this fresh, fun font with hard, uneven edges and weights that look best on posters, cards, stationeries, and social media graphics.
10. Tiki Time Font Collection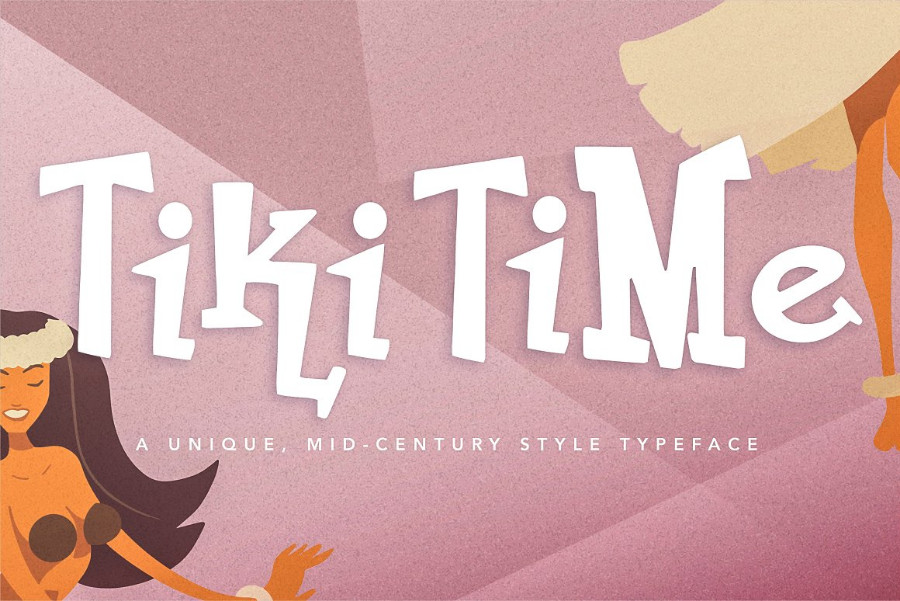 Enjoy guilt-free Luau nights using this multilingual Hawaiian themed font by Digital Hustler.
Download Tiki Time Font Collection
11. Fruitos
This funky font family by Fenotype features interlocking ligatures as well as underlined Titling Alternates in 6 beautiful styles.
12. Tropical Punch
This retro-inspired font by Missy Meyer has 200 multi-letter ligatures with nesting letters so you can effortlessly add a quirky and fun look to all your projects.
13. Forbidden Isle Tropical Font
A reimagining of 70s font with a cleaner, bolder look, this gem from Spring Break Jake was created to express unhinged love for all things tropical.
Download Forbidden Isle Tropical Font
14. Desert Island
This mystical display typeface by BusyPort is the closest thing you can have to taking a wonderful trip to a faraway Pacific island.
15. Changing
Stop being predictable! Take it up a notch using the dynamic letter combinations of this font by PintassilgoPrints to create striking designs that's anything but ordinary.
16. Tropik Island Font Family
Featuring two styles (Casual and Interlock) along with handy extras, this font family from Aiyari is ideal for use in headings, logos, posters, quotes, book covers, and more.
Download Tropik Island Font Family
17. Tiki Tiki Festival Font Duo
Inspired by end-of-summer vibes, Tu Neuwin challenges you to make something splendid with this two-font set.
Download Tiki Tiki Festival Font Duo
18. Tide Sans
This font family from Very Cool Studio includes italics and condensed versions, totalling an awesome 18 fonts. It's ideal for use in beach or retro themes.
19. Halau
Set your sights in an island far away – where all worries melt away, and you're simply enjoying all 5 fonts by Vintage Voyage D.S. as they set the stage for the perfect tropical vacation.