Last Updated on September 28, 2023
Thin, delicate strokes with see-through pigments that seem to capture lots of light. Watercolor art seems to be enjoying plenty of attention recently thanks to artists on social media. There's no shortage of inspiration, too – from landscapes, super hero characters, to space, cityscapes, and flora.
But using this medium isn't new. In fact, it's been around since ancient times.
Brief history of watercolor painting
The method of watercolor painting can be traced all the way during the paleolithic period when our ancestors drew on cave walls. It flourished in the Middle Ages, when the medium was used for making religious scenes.
There were no watercolor paints back then. Pigments, which were mainly from minerals or vegetable fibers that were ground to powder, were combined with egg or gum to draw surreal works. Paper wasn't perfect yet, so artists used vellum, which was made from animal skin.
Watercolor painting took off sometime during the 16th and 17th centuries. Better pigments were produced, but because paper was still not white, a 'white support' (e.g. ivory) had to be mixed with the paints to make the paintings stand out.
By the 17th century, there was a growth of watercolor artists all over Europe. They painted mostly landscapes and estate for travelers and landowners. The artist Albrecht Dürer was one of the most well-renowned for painting wildlife, botanicals, and landscapes. However, around 1768, other branches of art emerged and watercolor artists felt marginalized by this new 'hierarchy'.
How to get started on watercolor art
Ever wanted to make those cute and dainty watercolor art you see on YouTube? With practice and the right tools, you can!
It's true that this medium can be temperamental and unforgiving. But no skill gets better without constant training. The right mindset should get you on the road towards your first watercolor painting.
First things first: you will need watercolor paper and a watercolor set. Don't forget brushes and a palette for mixing paints in. Using regular paper or cardboard is not advisable, especially for beginners, because you still need to learn control.
Next, you need to understand how water behaves on paper. This knowledge will help you plan how you want your final painting to look like. In essence, water moves to dry areas. So expect your pigments to diffuse where there's wetness, and have hard, more defined edges on a dry surface.
Lastly, the devil is in the details. Make sure you get good materials so you get vivid color in your works. Clean your brushes after every color. Have two jars of water so you don't need to keep changing one, tearing you away from your progress.
And of course, be patient! Wait for the first pigments to dry before applying one on top of the other (unless that's exactly the effect you were going for). There are plenty of watercolor tutorials on YouTube to serve as your guide. Watch and be inspired to begin creating your own!
Wistful Watercolor Fonts
Keep your work station clean and dry while still achieving that coveted watercolor look with these splendid watercolor fonts.
1. Love Quake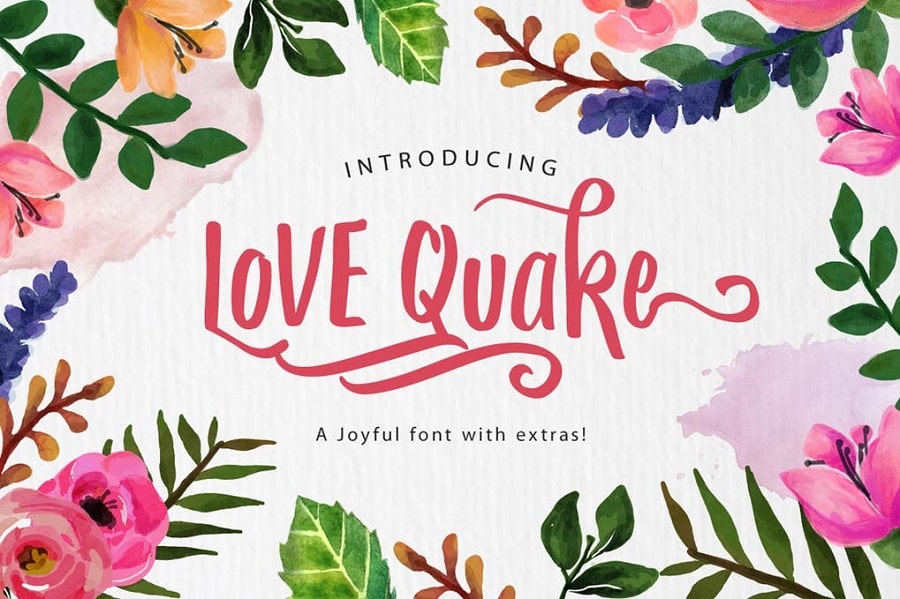 Ramzehhh introduces this joyful brush lettering that's 100 percent traced by hand. It includes alternates and ligatures, as well as extra swashes to give you more options.
2. SpringRain SVG
This handwritten watercolor brush font by Angelekamp will take your breath away. Available in SVG and solid versions, the SVG one has the transparent watercolor texture you will love to see on greeting cards, websites, logos, and posters. Please use Photoshop CC 2017 or Illustrator CC 2018 or higher for the SVG version.
3. Storyline Font & Watercolour Pack
Tell your story using this romantic typeface from Lettersiro. Featuring stylistic alternates, 6 bonus editable logos, 10 watercolor brushes, plus a bonus all-caps Stories serif, you wouldn't want to pass this one up.
Download Storyline Font & Watercolour Pack
4. Asphalts Typeface
The Branded Quotes brings you this interesting mix of rough and heavy brush strokes. Inspired by the steez of downhill passion, try it on your logos, posters, image quotes, apparel, or business cards. This easy-go-lucky script pairs well with sans fonts.
5. Paltrow
A hand-painted typeface that resembles actual ink or watercolor, this gem from Aarleykaiven will give your headlines, book covers, posters, business cards, and invitations a classy appeal.
6. Sannie Typeface
What's pretty, bold, and boasts of an organic hand-brushed look? This handwritten script from Areatype.
7. Baurbon and Graphics
Maghrib brings to you this unique script with stylistic and contextual alternates. Includes 40 flower graphics (PNG) in lovely watercolors so you can add something beautiful to your projects.
8. Bonsay Brush
This hand-painted brush script by Siwox also contains webfonts so you're ready for anything – whether it's a holiday greeting card or a request for a client's website. A great complement to minimalist sans fonts.
9. Shallom
Drawn with brush and ink effects in a modern calligraphic style, this fresh brush typeface from Adamfathony has 5 different alternate characters, plus bonus fashion graphics pack in PNG, to help you make stunning websites, apparel, branding, and DIY products.
10. Pastelle SVG Font
From fashion to photography, any theme will look effortlessly amazing when you use this display font by Letterhend. Featuring stylistic set alternate, ligatures, and multilingual support, the set contains SVG and solid versions to suit your needs.
11. Hello Friday
An organic watercolor font that looks fun, fresh, and natural. Brought to you by Saridezra. For the best results, please use on Photoshop CC 18.0+, Illustrator CC 22.0.0+, or InDesign CC 13.0.1+.
12. Ciera Watercolor SVG Font
Welcome spring in this dream collection of 4 fonts (Ciera SVG, Ciera Solid, Ciera Sans Regular, Ciera Sans Bold), 23 floral illustrations, and 6 pre-made logos.
Download Ciera Watercolor SVG Font
13. Wisely
This handwritten font trio by Point and Poem has lots of stylistic alternates and ligatures as well as fun dingbats to use in your social media posts, greeting cards, or branding themes.
14. Empathy SVG Font
Featuring a total of 4 fonts, this product from Ivan Rosenberg was able to preserve all the high-definition detail of the original handwritten letters. With realistic texture, lowercase alternates, and 17 ligatures, it's a wonderful addition to any toolkit.
15. Heartwell
Inspired by modern calligraphy lettering, Flavortype gives you this brush typeface that comes in Regular and Italic styles. With an ornament pack included, you'll be creating all kinds of lovely logos, prints, apparel designs, business cards, and more in no time.
16. Wiggle Watercolor
Konstantine Studio presents this handy brush script that's anything but ordinary. Made with love, expect lower- and uppercase alternates, swirly-swashy vector packs, plus 6 Photoshop splatter brushes so you can get your creativity flowing.
17. Buckwheat Opentype SVG Fonts
With a total of 6 fonts, Tom Chalky brings you this SVG font collection with high-quality and authentic textures similar to real paint. And with hand-painted, multilingual glyph range, this is one versatile collection you can't miss out on!
Download Buckwheat Opentype SVG Fonts
18. Hello Sunshine Font Duo
Romantic, sophisticated, and even a little magical, this font duo from Nicky Laatz boasts of a bouncy baseline and tell-tale dry brush imperfections for that authentic, handmade look. The set also contains 52 bonus ornaments and a complimentary marker font.
Download Hello Sunshine Font Duo
19. Sophie Watercolour Display Font
Whimsical and laidback, this high-res watercolor display font by Alexandra Snowdon is hand-painted with flexibility in mind. This font will come in black, but you can easily add color in Photoshop CC2017 or Illustrator CC2018.
Download Sophie Watercolour Display Font
20. Otherway
Give your social media posts, posters, invitations, and scrapbooks that graceful handwritten look in seconds with this quirky, modern calligraphy typeface by KA Designs.
21. Charlie Watercolour Display Font
Individually hand-painted and playful characters that you can use for birthdays, posters, flyers, cards, or print products.
Download Charlie Watercolour Display Font
22. Pickley
This watercolor OpenType bitmap SVG font by Lef only has transparent all-caps with basic punctuations. No numbers or multilingual glyphs included and no vector version. It'd still look stunning on your projects though.
23. The Mammoth! Watercolour Kit Bundle
You'll be making watercolor logos, posters, cards, and more with this massive bundle pack filled with vector graphics, fonts, watercolors, foils, patterns, papers, and splatters. It's everything you need for creating watercolor effects – without the brush!
Download The Mammoth! Watercolour Kit Bundle
24. The Lovestory Font Collection
Wistful, romantic, and elegant, this collection has of 4 fonts has SVG and solid versions to help you make dreamy DIYs. There's also a chic full serif font that complements them beautifully. Inside are watercolor design elements (hearts, leaves, swashes) as well as 6 high-res subtle watercolor overlays.
Download The Lovestory Font Collection
25. Vintage Ink
Vintage Ink watercolor fonts set is an elegant brush font suitable for childrens books, movie logos, quotes, and titles! It's fun, uneven baseline makes for a truly modern, handmade calligraphy look.
26. Maltese SVG Watercolor Font
An all-caps font family with SVG and solid variants by The Paper Town. The solid versions feature a sensible calligraphy texture of ink on paper thanks to dipped pen hand-lettering techniques.
Download Maltese SVG Watercolor Font
27. California
California Jackpot is a distressed watercolor fonts set with glyphs in regular, slant, and script styles. It's perfect for loud messages and attention grabbing design!
28. Originals
The Originals typeface watercolor fonts set is totally handmade, and reminiscent of the old beatnik artwork and films of the 1950s and 60's. It's great for posters, cards, and any other lettering projects.
29. Sweethart
Sweetheart is a classic watercolor fonts set with clean, modern calligraphy design. Includes 14 end ornaments and ligatures and over 40 bonus vectors.