Twitch is an American video live streaming platform launched on June 6, 2011, by Justin Kan, Emmett Shear, Michael Seibel, Kyle Vogt, and Kevin Lin. The service primarily focuses on video game streaming but also accommodates creative video contents, music broadcasts, and in real-life streams.

Twitch was established as a spin-off of Justin.tv. The platform is operated by Twitch Interactive, which is a subsidiary of Amazon.com. Inc.
About Twitch Font
Twitch's logo is a simple emblem based on the company's wordmark, executed in lowercase characters. The logotype appears in white, with each letter surrounded by purple shadows. Letters "t," "c," and "w" on the wordmark feature beveled bottom edges on their left.

Twitch uses what appears to be a unique, custom font on its logo. However, the typeface looks very similar to a mono-linear geometrical sans-serif font known as Roobert.

Roobert is a relatively new typeface, with a history spanning no more than five years. The font was designed by Martin Vácha and released in 2018 through the Prague-based font foundry, Displaay Font Foundry.

It's important to note that Twitch precedes Roobert. Besides, the streaming service's logo hasn't undergone remarkable changes over the years. Therefore, it's logical to infer that the Roobert typeface may have been modeled taking some inspiration from Twitch's original logo font and not the other way around.
Roobert was created in collaboration with Anymade Studio as a bespoke font for the 2017 Moogfest. The typeface gets its name from Robert Arthur Moog (1934—2005).
Moog was an American engineer and one of the pioneers of electronic music. He's best known for inventing the Moog synthesizer. Part of Moog's legacy includes founding two electronic musical instrument manufacturing companies. Although he may be gone, his innovative electronic designs continue to be used in numerous synthesizers.

Roobert is available in six different weights. That's a remarkable achievement for a typeface that's barely five years old. Besides, each weight comes with matching italics. The different styles and weights share similar general characteristics. For instance, the bottom part of the small letter "g" in all Roobert variants have rounded corners.
Where to Download Twitch Font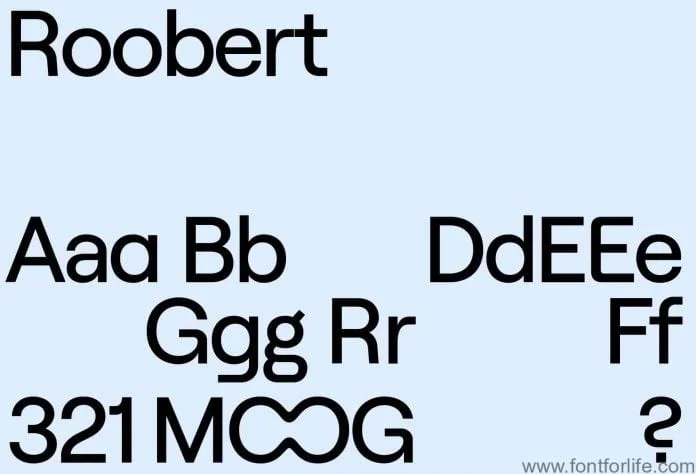 Roobert font can be downloaded from the Typewolf website. The platform provides a brief but concise description of the typeface, including some of the fonts you can pair it with. You can also download Roobert from Fonts In Use, Variable Fonts, and Font for Life.

Is Roobert Free? Roobert is a commercial typeface; so you must pay to use it for both personal and official projects. Fortunately, there's a free trial option that lets you gauge the font's suitability for your design projects before purchasing the paid license.

It's also important to contact the font publisher on their website to obtain the full license details.