Last Updated on November 6, 2021
Rustic is more than just a look. Whether it's in your home, on a book cover, or on a framed poster, this theme feels warm, comforting, and familiar.
Is Rustic Style Just a Fad?
Rustic design is nothing new. However, it is enjoying a modern twist thanks to decorators, architects, homemakers, and artists who love nature and the outdoors. There's no one definition of what 'rustic' is. But it normally has three important components:
Utilization of natural materials (reclaimed wood, live plants, unpolished stone, etc.);
Lots of texture (as seen on the different materials used); and
It should convey warmth and 'homey-ness'.
In essence, things should look laidback, rough, or aged. This style is highly popular in interior design. Many people incorporate rustic elements in their homes so it feels less 'hardy' and more put-together.
You don't need an expensive DIY to give your rooms a similar treatment. A couple of tweaks should do the trick. For instance: make sure to set aside an area for hibernation. It could be a cozy chair with a blanket, or a sofa with colorful linen quilts.
Next, handmade rustic home decor, like wooden side tables or a wicker basket for magazines is a nice touch. Don't forget rugs in earth tones. Lastly, add indoor plants to let the outside in. Open up your curtains during the day to let as much light in, too. This should make the room seem less stuffy.
Must-Have Rustic Fonts
When it comes to that authentic outdoorsy vibe, less is indeed, more. Settle on two to four elements that go well together. Then adjust your design accordingly. Rustic is in the little things – be it a pillow, a plant, or a hue.
Never underestimate what tiny changes can bring. With that said, check out these modern rustic fonts to add a genuine country feel to your projects.  
1. Hesland Vintage
Vultype presents this font inspired by Old American type. It comes in 2 styles, Clean and Stamped, to help you achieve an effortless aged look in minutes.
2. Bhortead
This decorative typeface will look amazing on branding for liquor, restaurants, beverages, barber shops, farmers markets, and on anything old-school.
3. Grenhil Vintage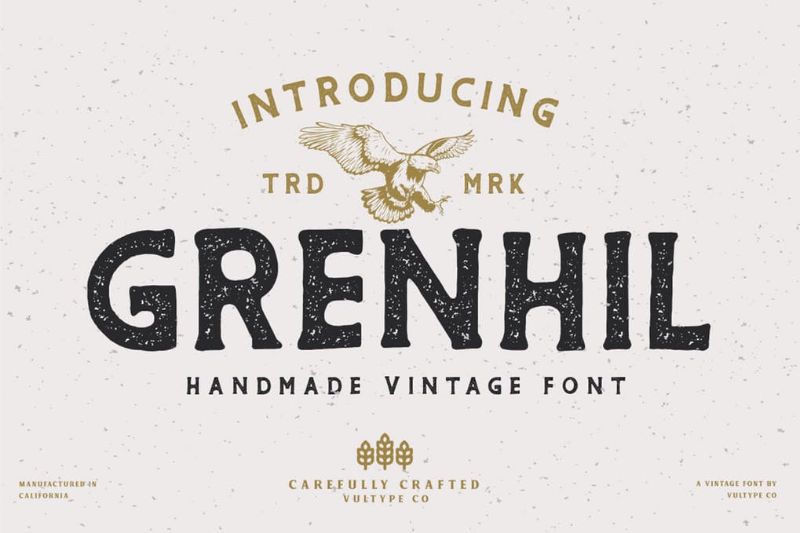 Whether on coffee shops or tattoos, this stylish font includes Ligature and OpenType features so you can make the most out of your purchase.
4. Breakdance Vintage Font Duo
This vintage duo of sans and script by Trustha has sharp textures to give great first impressions.
Download Breakdance Vintage Font Duo
5. Nordin Slab Vintage Font Family
Craftsupplyco gives this all-caps font family composed of 4 styles: Regular, Outline, Rough, and Stamp. Set also contains sample logos to save you time and money.
Download Nordin Slab Vintage Font Family
6. Matthew Rough
Rough, hearty, and hand-painted, this dry brush font by Maghrib features coarse, bold strokes to give your design a modern, slightly punk vibe.
7. Melvis
Pretty and trendy, this versatile font family will look amazing whether in print or in digital works.
8. Handler Stamp Font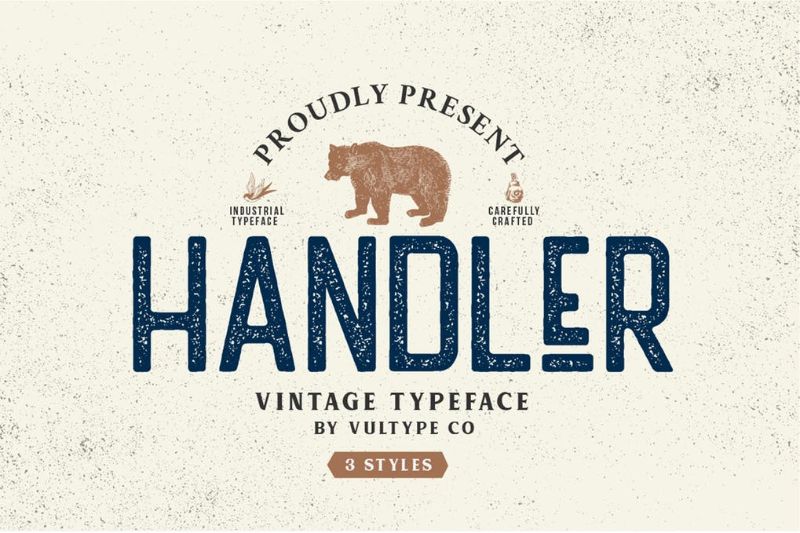 This hardworking sans will surprise you. Use it on retro or bad-ass designs such as coffee shop logos, adventure signage, rustic posters, motor stickers, or tattoo shops.
9. Duskey Font Family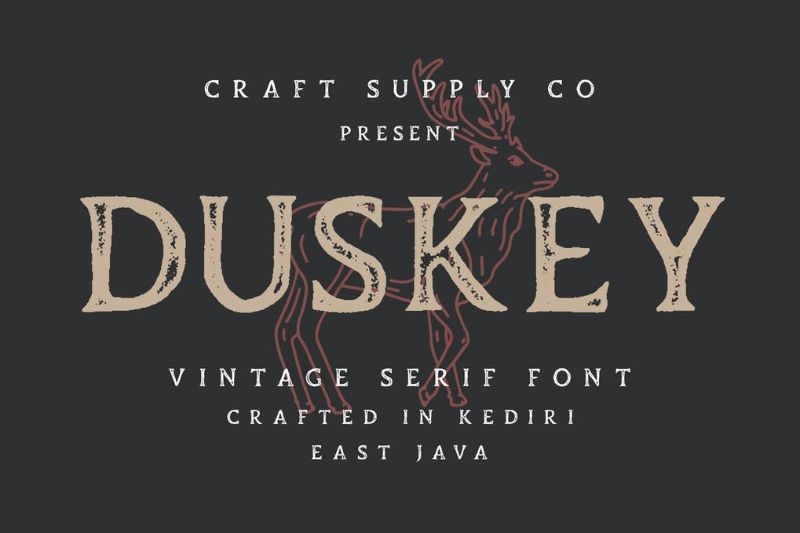 Make your logos, posters, greeting cards, DIY crafts, and graphic materials come to life with this classic all-caps.
10. Sophiscated
This lovely script is based on real handwriting. Upscale, functional, and chic, it's perfect for fashion, wedding, e-commerce, and rustic blogs.
11. Gasolyn
Give your album covers, t-shirts, and logos the vintage treatment using this carefully-crafted font family.
12. Vendeur Vintage Font Family
Featuring 8 fonts, this collection will suit almost any project you may have in mind – from nature postcards, cooking blog headers, to fashion branding.
Download Vendeur Vintage Font Family
13. Marques Vintage Font Family
From nature, photography, interior design, to music, adventure, and retail, your works will get the upgrade they deserve with this awesome font family.
Download Marques Vintage Font Family
14. Mangano
This unique, modern typeface from Hindiamaya will make an interesting addition to any artwork.
15. The Foregen Vintage Font
Bold and strong, this classic sans has 6 different styles that would pair well with sophisticated scripts or old-fashioned serifs. Try and see for yourself.
Download The Foregen Vintage Font
16. Road Race Font Family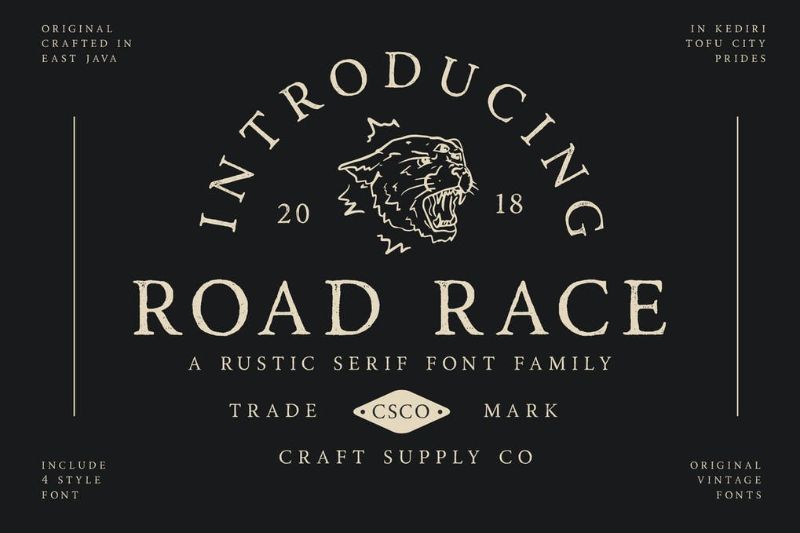 Add old-world charm to your projects, whether it's for personal or commercial use, using this rustic serif.
Download Road Race Font Family
17. Disctactor
Simonok proudly presents this wood-type and letterpress hybrid font with worn ink details. Ideal for retro album covers, posters, greeting cards, invites, and more.
18. Tigreal Font Family
Reminiscent of typewriter characters (but with more rounded corners), this typeface has 4 various styles (Regular, Rough, Stamp, and Vintage) to choose from.
19. Dutchy
A charming sans serif with intentionally uneven edges, it gives any work a genuine handwritten appeal that's difficult to replicate.
20. Bristain Rought Serif Font
Inspired by modern vintage posters, this bad-ass typeface from Blankids is ideal for automotive or biker themes. Use on emblems, logos, apparel, badges, etc..
Download Bristain Rought Serif Font
21. Center Voyage
Letterhend introduces this textured SVG sans serif with 2 beautiful, organic styles: solid and transparent. Compatible with Adobe apps and Corel Draw.
22. The Kingdrops
Classy, adaptable, and handcrafted, this font duo includes 50 objects, plus 12 premade logo templates!  With a complementary sans to complete the set, it's a collection you won't want to miss.
23. Backwoods Cabin Font
If you love nature and the outdoors, then you can't go wrong choosing this rustic all-caps by Adrianpelletier.
24. Addison Typeface
Influenced by the Old West and combines the modern western styles with rustic textures, this typeface from Kimmydesign is both decorative and functional.
25. Autogate Stamp
With jagged lines and a rough appeal, this font mimics a stamping effect that would go nicely on apparel, cards, logos, badges, and banners.
26. GROCHES RUST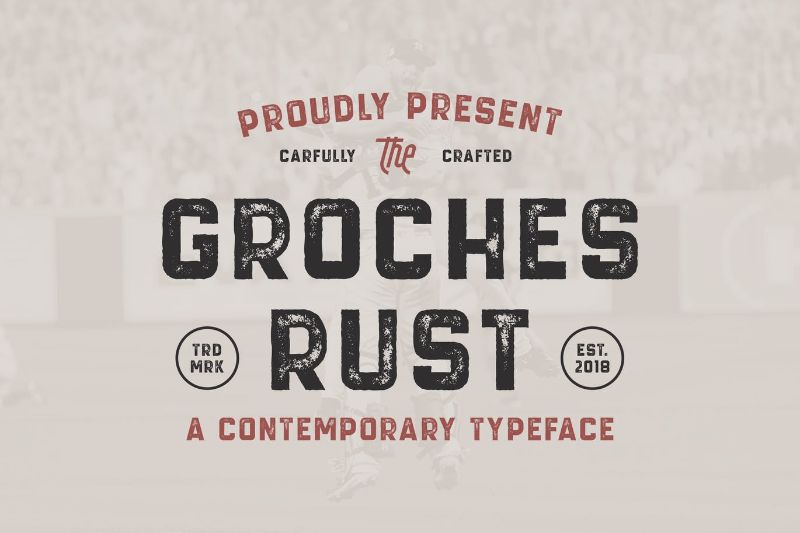 Contemporary and refined, this bold, geometric typeface by Adilbudianto exudes strength, making it ideal for industrial, technical, and vintage projects.
27. Absoleam Vintage Rough Font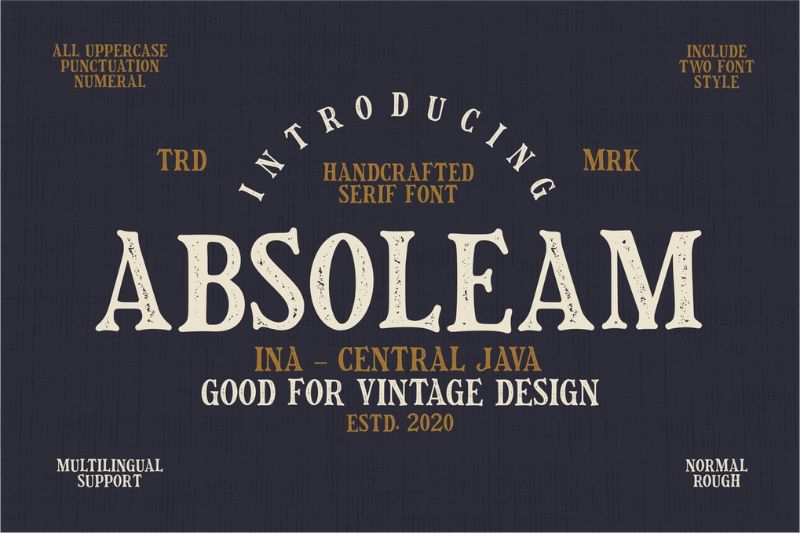 Easy to install, and works for both Mac and Windows OS, this rustic font from Holismjd will be a great addition in your toolkit.
Download Absoleam Vintage Rough Font
28. Bangers and Mash Font
Sausages and mash is an irresistible combination. Build up your British collection by getting your hands on this handmade serif that will make any design simply delightful.
Download Bangers and Mash Font
29. Bearbone Sans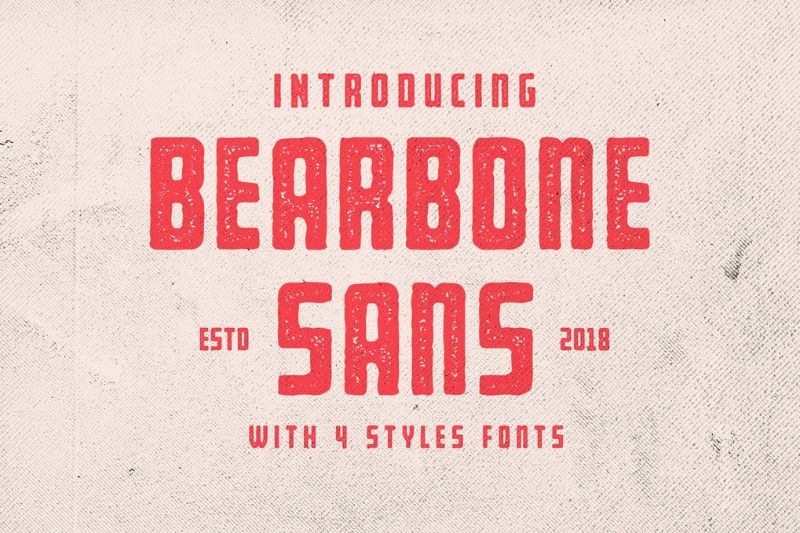 Simple yet bold, you will need this handy typeface by MartypeCo when making your own t-shirts, logos, invitations, and postcards.
30. Segara Font
Inspired by the vintage styling of the letterpress and silk screen, Visuelcolonie brings you this textured font that suits headers, banners, titles, and more. Set includes vintage vector outlines to help you craft the best rustic designs.
31. Lofi Cottage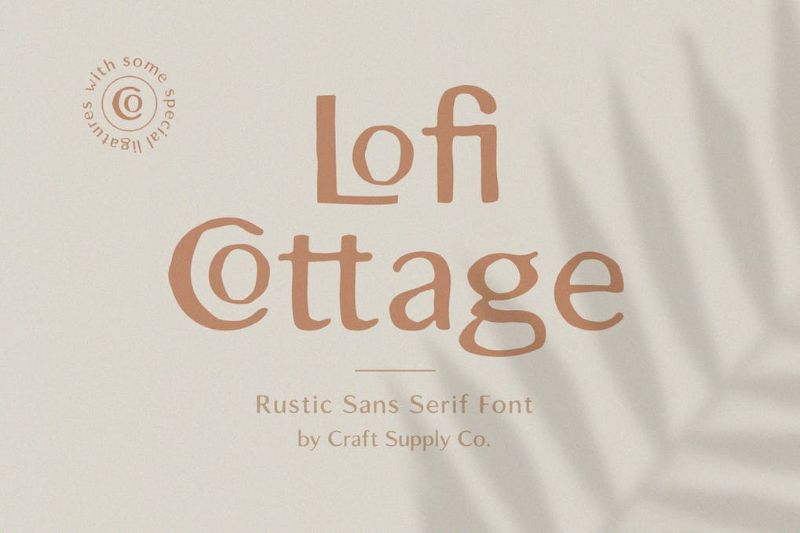 Feel free to play using this elegant sans serif. Use it on magazines, greeting cards, invitations, blogs, or posters for a modern yet cozy feel.
32. Roadford Rough
Don't go on the road alone. Bring this renegade serif with you as you make logos, shirts, banners, titles, and posters for likeminded rebels.
33. Rustic Jack
This straightforward and highly legible font duo by Andrew Timothy is fitting for any kind of design work, be it a travelogue, magazine spread, or social media branding.
34. Rustyne
Pretty, trending, and purposeful, this handsome script evokes freedom, adventure, and the outdoors.
35. Black Ground
Its jagged edges are perfect for the renegade minds who want something new and unique. This strong brush typeface also contains ligatures and alternates.
36. Rustic Station Typeface
Been waiting for the perfect decorative font that will sweep you off your feet? Then welcome this gem from Maulana Creative.