Last Updated on May 25, 2023
The color lavender needs no introduction. The plant has been part of folk medicine from time immemorial, thanks mainly to its anxiolytic and sleep-aiding benefits.
It is also a staple ingredient in perfumes, potpourris, and various aromatherapy products due to its sweet floral scent. The oil extracted from this traditional herb also packs immense antiseptic properties and can go a long way in disinfecting wounds as well as combatting many diseases.
In addition to its incredible pharmacological applications, lavender is also famous for its delightful blossoms. These exotic plants look exceptionally gorgeous while in full bloom.
This article will take a deep dive into the lavender color and highlight several things you probably didn't know about this beautiful pigment.
Introducing Lavender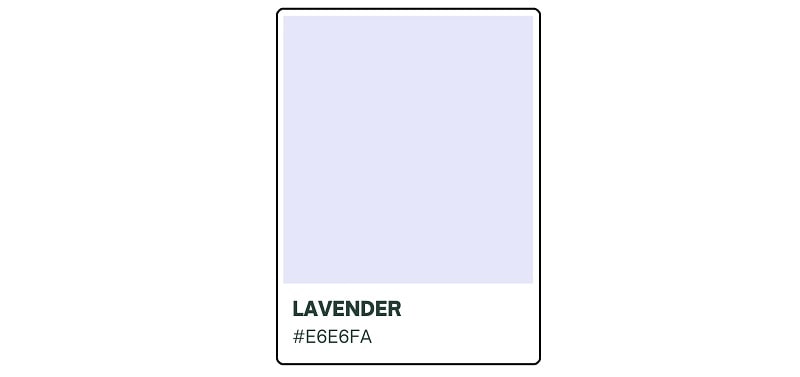 Lavender is a light shade of purple or violet with the hex code #E6E6FA. The color may also be described as a light pinkish-purple or medium purple.
The term lavender may also be used broadly to denote a variety of pale, light, or grayish-purple pigments. However, this application is only limited to shades with fairly visible blue undertones.
The Individual Colors in Lavender
This pigment is the result of combining purple with white. So, these are pretty much the dominant hues in the pigment. But it's also worth noting that purple is itself a mixture of red and blue colors. Therefore, blue and red are also fairly represented in lavender, much as these shades are so muted that they're almost imperceptible.
Is Lavender A Warm or Cool Color?
This shade's relative brightness often has many people confusing it for a warm color.
However, lavender is actually a cool color due to its pronounced blue undertones. That's unsurprising considering the calming effects associated with both the lavender color and the essence of lavender plants.
Is Lavender Purple Or Pink?
The generally accepted definition of lavender is 'a light shade of purple.' However, the pigment may also be described as a light pinkish-purple color. Due to these somewhat mixed descriptions, some artists may find it difficult to classify lavender as a purple or pink.
But as you shall find, lavender is more purple than pink. While the color is available in numerous shades, these hues vary primarily by the saturation of purple and white (not pink) in them.
Is Lavender The Same As Lilac?
Both lavender and lilac are named after the colorful blossoms of their respective plants. Both are also variants of purple and can look strikingly similar depending on the hues they appear in.
That said, lavender and purple are relatively different from each other. Lavender is a pale purple with blue undertones while lilac is a light purple with pink undertones.
Shades of Lavender
1) Lavender Blue – Lavender blue, also known interchangeably as periwinkle, was listed in 'A Dictionary of Color' in 1930 as one of the three original primary shades of lavender.
2) Lavender Blush – Lavender blush is a pale-pinkish tone of lavender.
3) Lavender Mist – Lavender mist is a very pale shade of lavender.
4) Pink Lavender – The name pretty much sums up what this lavender tint looks like.
5) Deep Lavender – A deep medium violet color that's considered one of the rarest shades of lavender.
6) Medium Lavender Magenta – This shade of lavender sits between blue and rose.
7) Wisteria – A light medium violet color that's nearly identical to light lavender.
8) Lavender Gray – Lavender gray is a grayish tone of lavender that was also one of the three colors listed in 'A Dictionary of Color' in 1930 as the main shades of lavender.
9) English Lavender – A medium light tint of grayish-pinkish lavender.
10) Languid Lavender – A pale variation of lavender that almost borders on white.
11) Floral Lavender – Floral lavender, along with lavender blue and lavender gray, were the three original shades of lavender according to 'A Dictionary of Color.'
12) Old Lavender – A dark grayish-violet color that's also one of the most exquisite lavender variants.
13) Psychedelic Lavender – More commonly known as heliotrope, psychedelic lavender is the iteration of lavender that was popular during the hippie era of the late-1960s.
14) Amethyst – A moderate, transparent shade of lavender named after the precious stone.
Lavender's Etymological Facts
The lavender color derives its name from the flowers of the lavender plant. The first documented usage of the word "lavender" with respect to color in the English language was in 1705.
Now, the name "lavender" itself derives from the Latin verb 'lavare,' which means to wash. The term may have a lot to do with the plant's original applications.
Ancient Egyptians reportedly bathed their mummies in lavender essence. The fragrance from the plant was also used during the Elizabethan times to dowse clothes and bed linen.
The color also appears prominently in Greek culture. The ancient Greeks called the plant 'Spikenard' or 'Nardus,' named after the city of Naarda in Syria.
The Origin and History of Lavender
It would be accurate to say that the lavender color has been around for as long as the lavender plants have been in existence. However, the color was largely underutilized and undefined.
Originally, the word "lavender" was used exclusively for the flowering plant and not for the color of its blossoms. Most people probably considered the color a solid purple.
However, lavender began to pique the interest of artists and designers after it first appeared in the English language in the early-1700s. By 1930, the color had already spawned three shades – lavender gray, lavender blue, and floral lavender. These undertones appear in the book 'A Dictionary of Color.'
The color would gain widespread attention in 1955 following the publication of the ISCC-NBS Dictionary of Color Names. The dictionary listed numerous shades of lavender, many of which have since been officially approved by color enthusiasts worldwide.
The Psychological Meaning of Lavender
Lavender is a color of many sentiments. The pigment is most noted for its soothing and refreshing properties.
This is unsurprising considering that extracts from the lavender plant have been used for centuries to calm down the senses and relieve numerous ailments. Lavender's healing properties makes the color a top choice for use on a variety of lifestyle products, including fitness and wellness supplements.
In contrast to its soothing nature, lavender may also resonate with rejuvenation. Introducing a dash of lavender hues into your space can produce mentally-stimulating and mood-uplifting effects.
Thanks to its association with one of the most therapeutic plants, the lavender color is also suitable for nature-themed designs. You could consider lavender when painting tropical landscapes or as the primary color for travel products, such as camping tents and backpacks.
It also connotes grace and elegance. The color can help infuse a touch of class into your designs without coming off as too overbearing. Due to its similarity to purple, lavender can inspire a sense of power and status. Note that the purple color has been a symbol of nobility for centuries.
As a lighter shade of purple, lavender resonates with feminine grace. The color is also subtly seductive and can help get you into the zone, so to speak. Lavender may also evoke feelings of mystery. Again, this has much to do with the high saturation of purple in the color.
Purity and devotion are other admirable qualities inspired by lavender. Choosing lavender as the theme color on your first date is a covert way of telling your love interest that your innocence is still intact.
Similarly, a greetings card designed in a lavender background can serve as a timely reminder that you still have the recipient's interests at heart.
In the language of love, lavender resonates more with love at first sight. A lavender flower to your crush is the shortest way of letting them know that they blew you off your feet the first day you set your eyes on them.
Some cultures also consider lavender a divine color. The pigment holds a sacred place in nature and is associated with spiritual healing.
Like most colors, lavender also has a negative side. The color was associated with mourning in Georgian, Victorian, and Edwardian Britain.
Women in these periods were expected to wear shades of purple like lavender and lilac during the last half of their mourning phase, either in combination with black or when black was no longer acceptable.
Recent Notable Uses of Lavender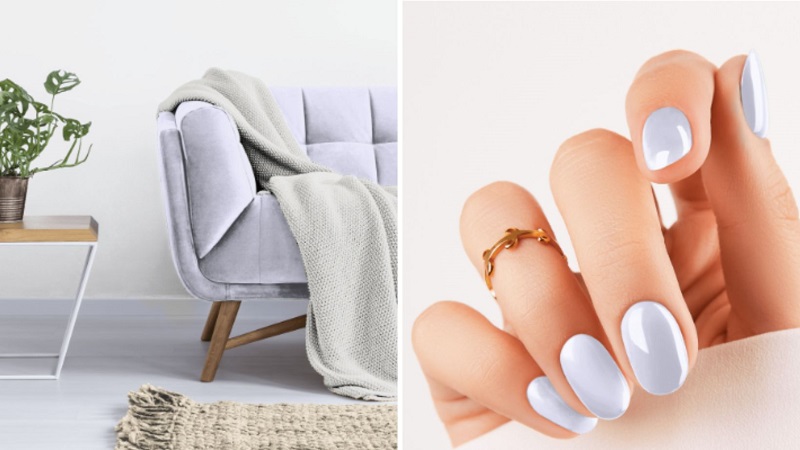 This color has appeared in the mainstream fashion industry on several occasions throughout the 19th and 20th centuries. A noteworthy occasion was in 1955 when actress Uma Thurman donned a lavender dress to the Academy Award ceremonies.
The lavender color has also received a decent amount of attention in the entertainment industry. Of notable mention is a 2004 British drama film by Charles Dance titled 'Ladies in Lavender.' In the music industry, lavender is probably best known for its association with an originally English folk song dating back to the 17th century called "Lavender Blue."
There have been several renditions to the song, including a piece by R&B sensation Solomon Burke in the 1950s. Still in the music industry, lavender has inspired the title of songs by Marillion in 1985 and October Noir in 2019. Not to mention Taylor Swift's 2022 smash hit "Lavender Haze."
How to Make Lavender
Lavender is a mixture of purple and white whereas purple is a mixture of red and blue. Therefore, you can create lavender using either a purple and white palette or a red, blue, and white palette.
In the latter option, you'd begin by combining red and blue to make basic purple. You would then add white to the purple to achieve a lavender color. Adding more white lightens the color whereas more purple darkens it.
You can also make lavender by mixing blue with magenta. This will yield a vivid purple color, which you can then lighten by adding white.
Wrap Up
The lavender color is just as restoring as the plant whose blossoms it's named after. Add this pigment to your designs today and watch it transform you into a professional artist or designer. You can use the color alone or pair it with other shades.