Last Updated on September 28, 2023
If you think pasta and pizza are two of the many things that make Italy one of Europe's most visited countries, you're absolutely right. However, aside from these mouth-watering delicacies, Italy has much more to offer.
Believe it or not, Italy is the bridge where ancient and modern meet, with almost every city mirroring this unique blend. Home to a world rich in history, this boot-shaped country is famous for its unique scenery, luxury brands, remarkable historical ruins, literature, film, opera, architecture, and not to mention, exquisite cuisine.
Italians have graced the design world for centuries with great artists and their equally notable designs. I'm talking about Leonardo Da Vinci, Michaelangelo and Sandro Botticelli. As such, it's a no-brainer that Italy is at the forefront of the international art scene. 
However, exceptional artistic production did not end with the renaissance. Recent designs also reflect the artistic intelligence of Italian designers. In today's world, it is reflected in the digital scenery through stunning graphic fonts cleverly crafted by Italian creative designers. They are all beauties to behold. Go ahead and feed your eyes!  
20 Stunning Italian Fonts
1. Airone Font
Go big or go home with Airone Font in your display designs. Indieground Design Inc.'s sans serif font is a real eye-catcher that will undoubtedly make a striking statement in your design project. This font is available in two styles: regular and outline. It's daring, and you can use it to bring your headers and display texts to life.
2. Bayside Font
Indieground Design Inc. comes through with an early 90's inspired font, Bayside. This font gives you control over your space, thanks to the three condensed font weights available: regular, condensed, and ultra condensed. Use this summer-style display font for any design that might otherwise look bland or monotonous.
3. Narse Font
Like people, fonts have personalities, and the Narse font has a bold one. It is a display font with distinctive letters drawn from a blend of modern lettering and '70s jazz cover art. The typeface is bold, attention-grabbing, and just what your artwork needs to stand out.
4. Marcovaldo
Andrea Tartarelli's Marcovaldo was made for the display design world. One of its most admirable features is its ability to combine vintage and modern elements to create something truly unique. Its other features include alternates, ligatures, ordinals, and stylistic sets.
5. Decay
Alessio Pompadura's Decay is a modern typeface with sharp serifs. This typeface embodies a mixture of flexible curves with unusually pointed serifs. It exudes a visually appealing elegance with its combination of regular characters, alternates, and fierce ligatures. It is perfect for fashion branding, magazines, web designs, prints, and many more.
6. Cyrene Font
Riccardo Agostinelli's Cyrene font is elegant in itself. It's a stylish font that combines beauty and sophistication and pours it all over your design. It will undoubtedly complement your posters, branding, magazines, logos, and publications.
7. Boring Sans 30 Fonts
Boring Sans is anything but boring. Legend has it that sometimes, tapping into your weird side wouldn't hurt. This font is available in 30 weights and three styles that accommodate text and display sizes in relation to contrast and readability. 
These styles can be used separately or together to complement each other in any design. Its features include uppercase, lowercase, numbers, punctuation, and symbols. As such, it is perfect for branding, advertising, broadcasts, magazine headers, and quotes.
8. YONDU Bold Round Display Typeface
Yondu is a round bold display font that looks like it was created due to a shape experiment. It has thick, chunky letterforms with rounded edges and lines dividing the letters to create a logical image. 
Because this font requires patience to read through and make out the letters, it is unsuitable for long texts. Instead, it is excellent for display texts with bold headings. Examples of instances to put this cheerful font into use include banners, posters, and shirt branding.
Download YONDU Bold Round Display Typeface
9. MERNI Round Display Typeface
Sometimes, art comes in the form of round and fluffy characters, like the Merni Round Display Typeface. This typeface automatically transforms your designs from boring to eye-catching. It is suitable for book title covers, product packaging, branding, posters, social media, and magazine headers.
Download MERNI Round Display Typeface
10. Pexel Grotesk

With Pexel Grotesk, you could as well be staring into a computer screen. The letterforms take the form of pixels that have been meticulously arranged in a grid. This typeface is distinct and futuristic, making it the dream of any tech enthusiast. It is perfect for tech-related large-format designs that need a little bit of spice.
11. Rotonto family
Rotonto typeface, designed by Marcello Raffo, is from a family of seven weights and italics. Inspired by Swiss design, this typeface's letterforms appear square-shaped with somewhat round exteriors. It features alternates, arrows, diacritics, currency, old-style numbers, and fractions.
12. Enotria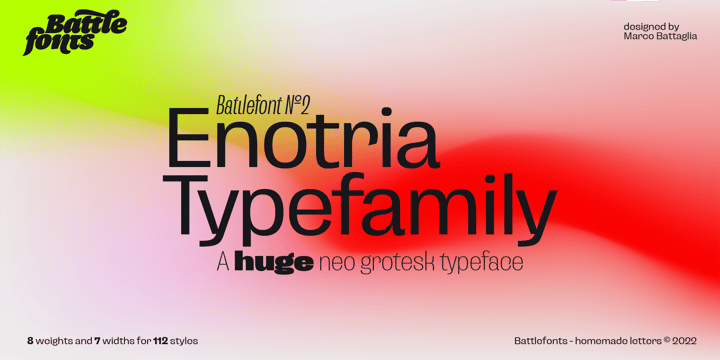 Enotria is a neo-grotesk typeface with eight weights and seven widths that explores modernism. Designed by Marco Battaglia, Enotria offers contextual alternates, numerators, old-style figures, ordinals, fractions, and tabular figures and is case sensitive.
13. Astroz
When you see the Astroz typeface, you immediately think of aliens, cyberspace, and comic books. Inspired by sci-fi culture, the Astroz display font helps give your design project a futuristic aesthetic. Sharp lines cut across the letterforms, making them stand out in any way they are used. It is most appropriate for logos and headlines.
14. Lorano Family
The Lorano Family font is distinguished by its clean and legible design, which contributes to its overall sophistication. It is an all-caps typeface with 13 weights and obliques, ranging from thin to extra black. The weight disparities provide you with a range of weights to choose from when designing a modern layout.
Hederae Creative Shop designed this font so that it tends to your contemporary aesthetic and functional design needs. It is ideal for titles and boosting headlines, as seen in magazines, book title covers, and posters.
15. Zenzero Grotesk Sans (Regular + Round)
Zenzero Grotesk Sans embodies what true creativity should look like; dynamic and fresh. Including this font into your design project will usher in an entirely new level of vibrancy while moving between the two accessible types, regular and round. 
Zenzero offers a character set packed with a vast selection of ligatures and multilingual support that will look great on your upcoming design.
16. Esther Handmade
Esther is a serif typeface that imitates handwriting. It mixes a bit of retro and classy to form an ultimately elegant feel. This typeface is available in two variations: regular and exhaust. The exhaust version is the dry ink variant of the regular style, whereas the regular style includes traditional characters and symbols. Uppercase and lowercase letters, ligatures and alternatives, numerals, glyphs, and language support are all supported in the character set.
17. LA Perseverance Display Typeface
This typeface is intended to appeal to tech-savvy individuals. It is modern, sleek, and futuristic, which are the magic words of any computer enthusiast. The LA Perseverance Typeface is a perfect fit for IT and automotive industry-themed designs. 
Download LA Perseverance Display Typeface
18. LA Roundwall Typeface
Who needs a time machine when LA Roundwall Typeface can help you tap into your childlike side? Liviu Andronic created this typeface for the fun and playful world of art. 
Each letter is altered to draw attention to its childlike nature. Its features include uppercase, lowercase, numbers, and symbols. Need some design inspiration? Just get creative with the LA Roundwall Typeface!
Download LA Roundwall Typeface
19. LA Taco Display Type
As the name implies, this typeface was influenced by tacos, a Mexican delicacy that Italians also love. Its characters are shaped to reflect the crusty, crunchy nature of tacos. This font gives off retro vibes and is an excellent choice for poster designs and branding. LA Taco is bold, funky, and suitable for old-school designs.
20. Gris Typeface
Gris Typeface is sans serif font with uniform letters and clean-cut edges. With an extensive character set, this typeface features two varieties, Regular and Alternative, whose distinctions can only be noticed by a keen eye. It is a unique blend of bold and confident with keen attention to detail. It also works well with editorial projects, magazines, and book covers.