Last Updated on November 13, 2023
Ever dreamed of owning a business but you're afraid of the risks? Are you swimming in ideas and can't wait to show it to the world? Then maybe print-on-demand (POD) is the business model for you.
Low-risk and cost-effective, print-on-demand requires minimal upfront investment and allows you to effortlessly sell on a global scale. As products are created on-demand, it eliminates the need for large inventory holdings.
This approach mitigates traditional business risks associated with overstock and gives more flexibility and scalability. You can sell all kinds of fun projects too, such as shirts, home décor, stickers, and labels. But where would you sell your creations?
This article explores the best print-on-demand websites for artists in 2023. But first, let's learn more about print-on-demand.
Introducing Print-on-Demand
Print-on-demand is an ecommerce fulfillment model that allows online retailers to customize white-label products.
White-label products are merchandise manufactured by third-party entities but sold by other retailers under their respective brand names. Examples of such goods include apparel, homeware, phone cases, and art prints.
Print-on-demand shares one fundamental similarity with drop-shipping – both do not require a retailer/seller to maintain real inventory. Instead, sellers receive orders and reroute them to manufacturers. The manufacturers then produce the required pieces of merchandise and ship them to customers using the retailer's brand name.
The primary difference between print-on-demand and drop-shipping is that POD requires manufacturers to customize the products further as per retailers' preferences, while drop-shipping does not.
What is a Print-on-Demand Website?
These websites can have two connotations. The term may refer to platforms that enable artists to create design mockups of the artwork they wish to incorporate into their merchandise.
For instance, creatives may download t-shirt models from artificial intelligence (AI) mockup generators. These models are virtually embedded into t-shirts to create realistic apparel, which are then listed on e-commerce stores.
A print-on-demand website may also refer to a company that produces real merchandise based on AI-generated models. Some POD mockup generators also provide actual printing services. Others work closely with partners who manufacture final products from virtual models.
How Does Print-on-Demand Work
Understanding how the print-on-demand ecommerce model works is instrumental in picking the right POD site. The process generally unfolds as follows;
i. Set up an ecommerce store.
ii. Determine the products you wish to sell.
Common POD merchandise include apparel like t-shirts, homeware like coffee mugs, bedding like bedsheets, and accessories like phone cases.
iii. Integrate your ecommerce store with a print-on-demand partner.
The partner can be a mockup generator, a printing company, or an entity that serves both purposes.
iv. Upload your designs to your POD partner.
Your POD partner will generate a mockup of your design. Some websites will go as far as to provide realistic models featuring your products. For instance, if looking for a mockup of a branded hat, your POD partner may generate an image of a person donning the hat.
v. List your products for sale.
After receiving an accurate model of the products you're looking for, import the mockup and list it for sale on your ecommerce store. You may incorporate additional tweaks, such as resizing the object or adding color.
vi. Forward orders to your POD provider.
When an order comes through, reroute it to a POD provider. Again, this can be the very company that generated your mockups or a third-party entity that deals in actual printing services.
In most cases, you'll need to pay the entire amount or a significant portion of the printing services before the work can commence. You should retain a considerable fraction as that would constitute your profits.
vii. Sell and get paid.
The POD provider will receive your orders, print the merchandise, and ship them to your clients.
Best Print-on-Demand Sites for Artists
Printful is arguably the gold standard in the print-on-demand industry. The website is a design maker and mockup generator all rolled into one.
This platform utilizes different printing techniques, including direct-to-garment (DTG), all-over-print (AOP), direct-to-film (DTF), and embroidery. Your preferred technology will depend on the nature and quality of the products you need printed.
Among the website's popular product categories include clothing (for men, women, and kids), hats, home & living, and accessories like handbags, face marks, and hair products. There are also dozens of customizable templates for a hassle-free design experience.
It also maintains an incredibly low entry barrier to print-on-demand. That's due to the lack of setup costs and monthly fees. You only pay when you place an order. However, there are premium membership plans if you need to unlock the website's additional features.
Printify and Printful are two different companies despite their rather similarly-sounding names. However, they both offer cutting-edge print-on-demand services.
Printify features over 850 fully customizable designs spread across several products, including t-shirts, hoodies, sneakers, stickers, etc. The platform allows you to create white label products in minutes, which explains why it enjoys the approval of over 4 million people.
To use Printify, simply pick from the hundreds of high-quality templates provided. Then, upload a file of your merchandise or create one using the website's mockup generator. The platform automatically connects you to dozens of popular marketplaces, so you can start earning immediately.
Like Printful, Printify only charges when you place an order. However, the POD website also offers premium plans, with the cheapest bundle starting from $24.99/month.
An intuitive dashboard is the first thing you'll love about this print-on-demand website. The company maintains a neat and uncluttered dashboard, with every key function instantly recognizable.
Apliiq caters primarily to POD artists specializing in clothing items. The website provides fully customizable templates that you can readily apply to generate retail-quality white-label outfits.
You can experiment with both branded designs and embroidered patches. There's also the option of replacing generic tags with your own labels to achieve greater customization.
They're also one of the few print-on-demand companies that take quality assurance seriously. Each product is subject to review by a professional in-house production artist to ensure it meets the minimum quality threshold. Popular product catalogs include tees, joggers, hoodies, hats, and jackets. Expectedly, each category features premade templates.
One of the striking things about AOP+ is its integration with multiple marketplaces and e-commerce productivity apps. These include Amazon, Etsy, Shopify, Magento, and BigCommerce, to mention but a few.
Numbers-wise, the platform enjoys the confidence of 10,000+ print-on-demand sellers. Another reason to trust AOP+ is its huge product design catalog. There are over 140 retail-quality designs to pick from.
Like Apliiq, AOP+ employs a team of experienced in-house designers who ensure your orders meet the highest quality standards before shipping them. All orders are printed in the company's London-based facilities but shipped to multiple locations around the world.
AOP+ imposes no minimum order volume. That makes it ideal for small-scale print-on-demand orders. Excellent customer support and flexible branding options are other noteworthy features of AOP+ as a print-on-demand website.
Are you looking for a print-on-demand website that doubles as a drop-shipping service? Look no further than CustomCat.
CustomCat exists with the sole mission of offering on-demand printing and other drop-shipping services to businesses and individual artists alike. The ordering process is quick and easy.
Start by uploading your designs and then select the relevant products. Next, connect your ecommerce store and start earning immediately. The website integrates with Shopify, Etsy, BigCommerce, WooCommerce, and its own application programming interface (API) for seamless service delivery. You can request POD services for apparel, homeware, and accessories.
CustomCat offers four different printing options – direct-to-garment, embroidery printing, sublimation, and 3D dye diffusion. The company's website features plenty of tutorials on how each printing technology works, making it a top choice for beginners.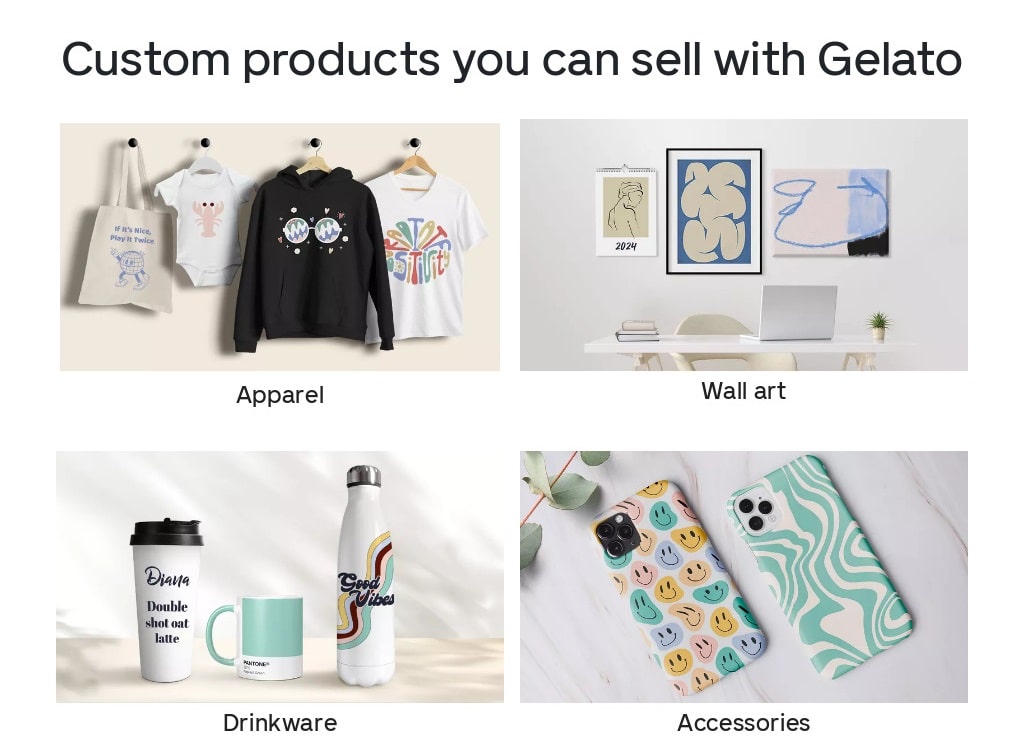 Gelato bills itself as the "#1 trusted global print-on-demand platform." While we're not swift to buy into that catchphrase, a quick trial of the company's POD services suggests it actually lives up to its mission.
The website partners with over 130 on-demand printing service providers across more than 32 countries. That means your orders are automatically rerouted to printing facilities near you.

To avail of their print-on-demand services, simply connect your ecommerce store with Gelato and pick your on-demand printing merchandise from the website's catalog. There are dozens of categories to choose from.
Next, upload your designs to your products and list those merchandise in your store. Finally, wait for orders to pop up and let Gelato fulfill them on your behalf.
Sellfy is an ecommerce company that helps creatives generate and sell their merchandise or digital products hassle-free. The website has offered its print-on-demand services to over 32,000 creators since its establishment.
Sellfy operates primarily like an ecommerce platform with built-in print-on-demand features. Artists can utilize the site to build their ecommerce stores from scratch, in addition to requesting for on-demand printing services. And the best part is that the setup process takes only 10 minutes.
They are also one of the few print-on-demand sites that provides a "buy now" button. Digital creatives can easily embed a "buy now" link to their ecommerce stores to ease their customers' shopping experience.
As with other websites on this list, Sellfy supports numerous printing technologies, including direct-to-garment. Product categories range from apparel and mugs to bags, mugs, stickers, phone cases, etc.
Gooten boasts a massive catalog featuring over 150 high-quality products. These include apparel, wall art, and home décor items like hand towels and blankets. But the flexibility doesn't stop there.
There's also the option of choosing specialty items depending on your branding needs. Orders take an average of 1.7 production days and 3.8 shipping days. In other words, you can have your merchandise shipped in as few as five working days regardless of the order size.
The company attributes its incredibly short turnaround time to the fact that it partners with over 30 manufacturers spread across 70+ global routing locations. Which means your orders are rerouted to the nearest fulfillment location near you.
Gooten maintains a flat-rate shipping costs for most of its products. Its printing technologies include direct-to-garment, direct-to-film, embroidery prints, dye-sublimation printing, and woven products.
Amazon is the world's largest online retailer. So, it's unsurprising that it also features among the most reliable print-on-demand providers. It runs its own on-demand platform known as Merch, which allows businesses and individual artists to generate royalties for every product sold.

The obvious benefit of Amazon Merch is that it provides access to more customers than any on-demand printing service. Artists are also assured of premium-quality designs, in line with Amazon's quest to protect its reputation among its clients.

Merch by Amazon doesn't require setup fees or upfront costs. There are no minimum monthly payouts either. Aside from that, the website offers straightforward success tracking metrics and artists earn royalties automatically for each successful purchase.
Many ecommerce store owners rank RedBubble as the number one on-demand printing service provider. While these rankings may often be subjective, what remains true is that the website provides nearly all the services you'd want in a high-end POD service.

RedBubble is probably the best place to go shopping for indie art. The platform features tons of other insanely quirky yet highly customizable prints and stickers.

RedBubble also boasts a powerful search engine optimization (SEO) analytical tool that you can use to gauge the potential online visibility of the selected artwork.

The POD website has over 70 different products you can try. It also features one of the largest product categories, ranging from clothing and stickers to wall art, phone cases, home & living, stationery & office, kids & babies, pets, etc.
Experience is a key consideration while looking for a print-on-demand company. With a history spanning close to two decades, Zazzle has carefully studied the industry and amassed the experience required to deliver stellar POD services.
They have evolved from its humble beginnings in 2005 to become one of the most preferred on-demand printing service providers. It currently enjoys over 10 million monthly visits and has a global reach of over 30 million shoppers.
Zazzle has thousands of design templates you can add your products to. These include personalized gift items like coffee mugs, luggage tags, and Christmas cards.
Since it's both a POD and drop-shipping company, Zazzle makes it incredibly easy for artists to earn income. There are no setup fees or monthly charges. Simply link your store with the website and start earning.
One of TPop's best selling points is its premium packaging. The print-on-demand company uses parcels that are not only durable but also beautiful and environmentally-friendly.

TPop has a vast product catalog to kick-start your print-on-demand business. You can sample from scores of retail-quality clothing (for men, women, kids, and babies), home decorations like faux plants, and accessories like handbags. All products are eco-friendly and come in multiple color options.
Integration with numerous apps allows you to perform several functions without exiting your ecommerce website. The platform connects to Etsy, Shopify, and WooCommerce.
TPop charges no fees or monthly subscriptions. You only pay the company a fraction of your earnings when your items sell. And while using this POD service still leaves you responsible for generating actual sales, the inclusion of a Direct Orders feature allows you to sell directly before establishing your POD brand.
13. SPOD by Spreadshirt
SPOD by Spreadshirt is a drop-shipping cum print-on-demand service that provides digital creatives with the tools they need to set up lucrative POD ecommerce stores. The company produces more than 95% of its orders within 48 hours while still taking care of the required personalization.

SPOD is another top print-on-demand service provider in terms of experience. The company has been fulfilling POD orders diligently for 20 years.
Admittedly, this website has a rather smaller selection of white label designs compared to other POD services on this list. But it makes up for that drawback with its competitive pricing, fast turnaround time, and simple shipping model.
Artists also get to experiment with different printing technologies, including digital direct, digital transfer, thermal sublimation, and special flex.
Teelaunch operates with a mission of equipping artists with the tools required to bring their ideas to life.
The website focuses on apparel and related accessories. However, there are tons of other templates that you can add your product to, such as home décor, office décor, kitchenware, drinkware, lifestyle, and jewelry.

They also use a powerful mockup generator that creates real-life models of your artwork in a matter of seconds. Simply upload your file, match it up with a design template, and let the tool do the rest.

The website offers competitive pricing despite its premium-quality mockups. It also allows you to add other quirky effects to your designs before importing them to your store, such as shadow replacements. Seamless integration with Etsy allows you to start selling your artwork immediately after creating it.
The last website on this list is a print-on-demand marketplace that caters primarily to home products. It's an excellent place for artists looking for premium-quality graphics to add to their coffee mugs, shower curtains, tapestries, wall art, and bed sheets.

Besides home décor mockups, you can also get your hands on designs for branding your apparel, furniture, office supplies, and outdoor equipment. Be sure to check out the 'TRENDING COLLECTIONS' section of the website to gain insights into trending products in your niche.

Society6 is also one of the few POD websites that provide expert design recommendations. The platform features some of the mockups that have piqued the interest of the company's curators. As it is a marketplace, you can list your merchandise soon after creating them.
Summary
Print on demand has revolutionized the way artists share and monetize their creativity. With platforms offering high-quality printing services and an array of customizable products, creatives now have unprecedented opportunities to showcase their work to a global audience.
The best print on demand sites empower artists to transform their passion into a thriving business. From turning paintings into prints to decorating various merchandise. As the digital age continues, these platforms serve as invaluable tools not only for creative expression, but also for entrepreneurial endeavors.