Let's say you want to start a project but the default fonts you have just don't cut it. This means you will have to search the web to find the proper typefaces for your needs.
While there are currently free options available, it's far better to pay for fonts and have the appropriate license to use them. Today we gathered our favorite font marketplaces for you to check out.
Here are 15 great font marketplaces to buy new fonts:
1. Adobe Fonts
This was used to be known as Adobe Typekit. This service gives you a library of over 14,000 fonts. You can access the basic collection of 6,000 fonts if you have an Adobe ID. You can activate as many available fonts as you like – one cool advantage of using Adobe Fonts, is that the fonts can be used online and desktop.
2. Linotype
Formerly the biggest independent foundry, Linotype is the creator of classic typeface families like Helvetica, Frutiger, and Universe. With over 10,000 font under their belt, more likely than not will find the exact font you're after. Prices range from $65-$260 for a font family. 
3. MasterBundles
Do you want your web project to be remembered? Then use readable and stylish fonts from MasterBundles! This marketplace offers a great variety of ready-made designer fonts that are constantly renewing.
The prices there will also be a pleasant surprise for you as they start from 1$. Visit the website and see for yourself that it is a great deal both for your time and money! 
4. MyFonts
What sets this digital font distributor apart from the others is a choice of a free or a paid font within a font family. MyFonts lets you choose from more than 130,000 typefaces from more than 2,000 font families. 
Pricing on MyFonts is per license basis. The cost depends on how many platforms you intend to use the typeface on. 
5. Envato Elements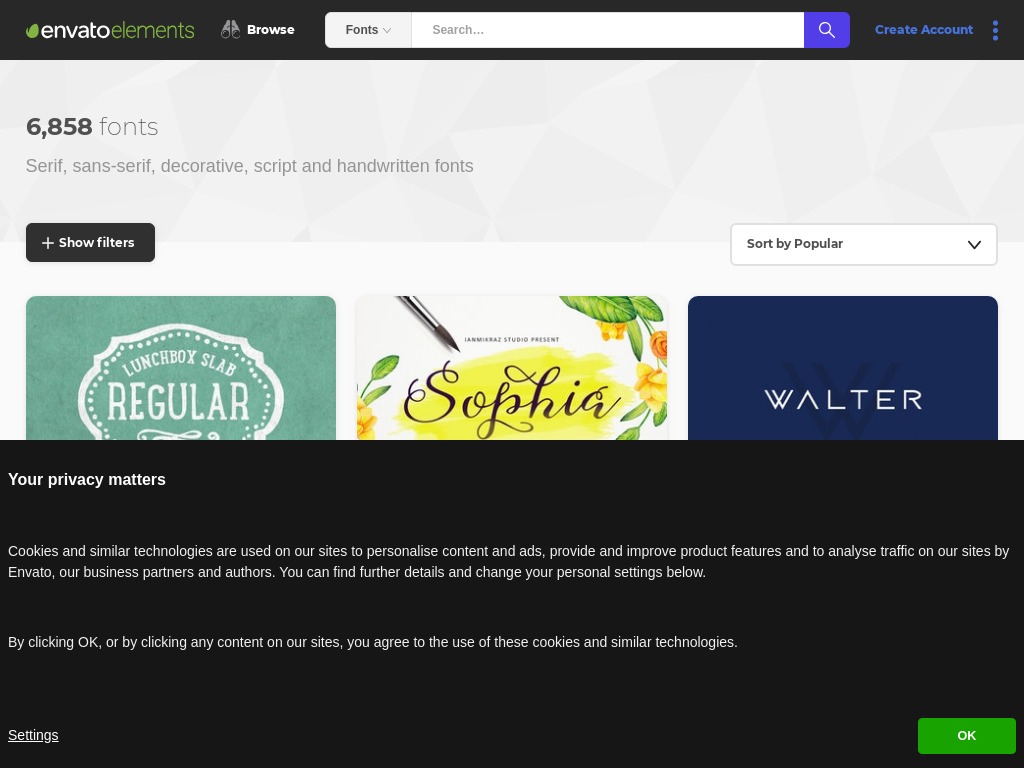 Envato has an unconventional approach when it comes to making their digital assets available for use. Instead of the need to buy content separately, you can access fonts and other graphics essentials through a monthly subscription. Their library of almost 7,000 fonts is readily available upon signing up for their monthly account. If you're a designer, the subscription is worth every penny. 
6. Font Bundles
This store takes a unique approach when it comes to selling typefaces. As their store name suggests, Font Bundles sells their fonts in packages. You can also score a great deal with their limited-time sale packages – a great value if you are a crafter maximizing a limited budget. Every purchase comes with personal and commercial licenses.
7. Creative Market
Creativemarket is a platform that distributes design content made by independent creatives worldwide. This is more of a marketplace that caters strongly to inidividuals wanting to buy or sell graphic products that are not linked to any corporation. Choose from a range of both free and paid fonts in 61 categories. Promotions and bundle deals are also available through the website. At the moment of writing this, Creativemarket boasts over 32,000 fonts. 
8. FontHaus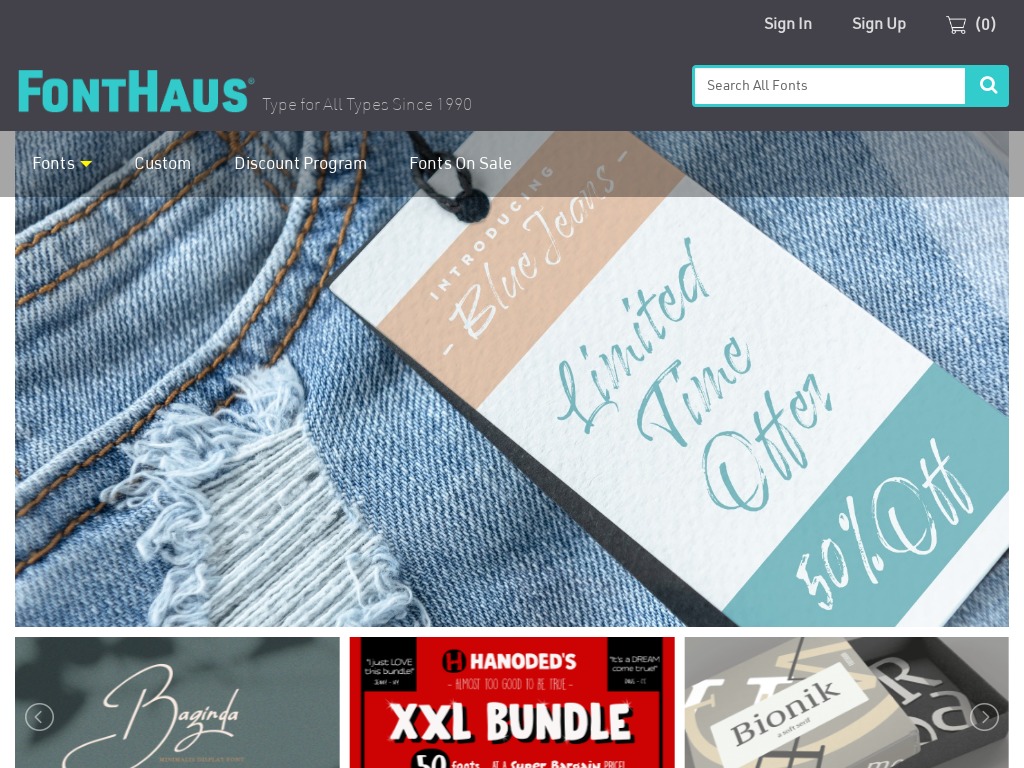 This is the first independent digital font retailer in the US. FontHaus' library has over 92,000 fonts supplied by known foundries such as Adobe, ITC, Monotype, and so forth. Typefaces from independent and new designers are also up for sale. You can choose between buying a single font and going for a font family purchase.
9. The Hungry JPEG
For those who are on the lookout for budget friendly fonts, you should consider giving The Hungry JPEG a visit. This vendor provides not only cheap fonts, but also font bundles and discount packages on select products.
10. Typefaces by Hoefler and Co.
This independent foundry may not look like a web store at first glance. To make a font purchase, click the image of the font you'd want to buy, then click the link that will take you to the purchase page, choose a license type, and submit your payment info.
The extensive overview aims to give as much details to the buyer as possible before completing their purchase. Their library holds almost 1,500 print, web, office, and mobile typefaces. 
11. Dalton Maag
While their products are available on Adobe Fonts and other platforms, this foundry has its own online library, with around 100 fonts across 37 font families available for sale. To try a font before downloading, you can use their site's type tester tool. Purchases are on a per-license basis starting at around $21 US.
12. Colophon Foundry
Colophon distributes typefaces for analog and digital media. The foundry also sells typefaces of other practitioners along with their own designs, giving the you a range of choices. Colophon also accepts commissions for custom fonts, font families, and logotypes. They also work on altered versions of Colophon's existing fonts and their extensions.
13. A2-Type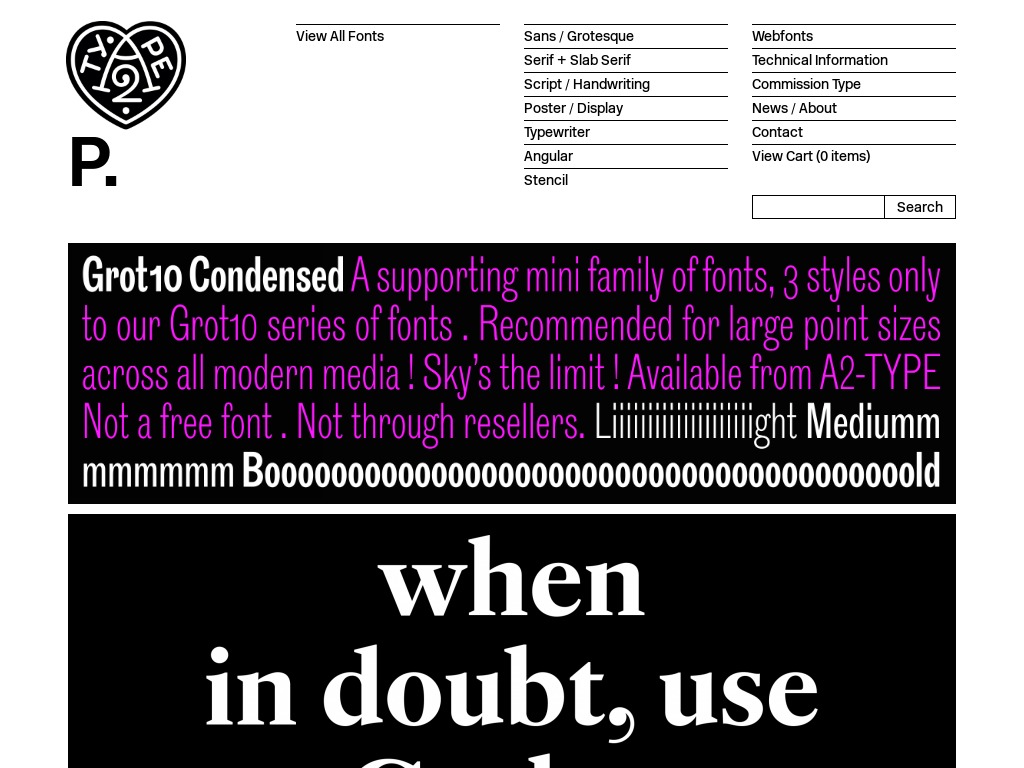 This foundry is set up by the London-Based Design Studio A2/SW/HK. They have expanded well over the 15 fonts they have started out with in 2010. Fonts are bought per weight and license, which may mean additional cost.
14. Lineto
For unique fonts that won't be found in any other website, Lineto is a wonderful choice. With fonts that have scripts for as many as seven languages, fonts purchased here are going to be well-used for a variety of applications. Typefaces can be bought either as a single weight or sold as a font family. Licenses are separately chosen and calculated.
15. FontShop
Known to be the first font reseller in digital history, FontShop has expanded its base through its affiliate foundries since  it was acquired by Monotype. Their library includes typefaces from FontFont and Bitstream.
You can lookup fonts directly using FontShop's search engine or you can browse via category, fonts on sale, or completely free typeface downloads.
Conclusion
From well-known online establishments to individual foundries, these are some of the best font marketplaces on the web. We hope you will find them useful. Have a lovely day, and happy font searching!