Last Updated on August 11, 2023
They're simple, versatile, yet surprisingly fitting for any age or shape. No wonder it's in every person's wardrobe. Who knew that what began as an undergarment would later morph into an icon for rebellion. The t-shirt may have existed since medieval times, but its influence has spanned not only centuries, but also borders.
T-Shirts through the Decades
Before Marlon Brando helped to popularize the garment in the 1951 film, A Streetcar Named Desire, t-shirts started as a kind of 'onesie' worn by both men and women for colder weather. By the 19th century, the bottom was cut off to be worn in factories so workers can keep cool. The US Navy wore short-sleeved versions under their uniforms that they were allowed to wear alone during hotter months or when working on deck.
By the 30s, you can buy t-shirts in department stores; and by the 40s, it has become a staple in American high schools mostly as standard wear for phys ed. During Marlon Brando's sexy but unruly role in cinemas, graphic tees were on the rise. A prominent example would be Thomas E. Dewey's t-shirt slogan 'Dew it with Dewey' for his presidential campaign.
If the 50s saw the shirt as a fashion statement, the 60s and 70s used it to stir revolutions in various forms. Fans wore t-shirts with their favorite band logos, while some individuals used the garment to convey their political or moral leanings. Unique 'stories' of fighting for rights, equality, or ideology are printed with bold fonts that are hard to miss.
From here on out, the humble t-shirt would be known as a disruptive element that has stood the test of time.
Practical T-Shirt Mockups
Whether it's worn as a fashion statement or simply because it's comfy, t-shirts are definitely here to stay. Don't forget to grab two – or more! – in your favorite style, color, and brand. If you're feeling creative, you can even create one, too.
Want to test how your t-shirt design will look like? Customize these t-shirt mock-ups and see for yourself.
1. T-shirt and Packages Scene Generator
Perhaps one of the most comprehensive packs available, this product from CreativeForm includes 119 isolated t-shirt images, 15 premade scenes, 8 photographic color presets, and more! No need to be a Photoshop expert: simply drag and drop or double-click smart object to put in your own design.
Download T-shirt and Packages Scene Generator
2. Modish Round Neck T-Shirts Mockups
Show off your amazing ideas in seconds with these graphic templates from DesignNeutrons. With manageable layers, customizable shadows and lights, editable color, it's as easy as 1-2-3.
Download Modish Round Neck T-Shirts Mockups
3. T-Shirt Mock-Up Fashion Girl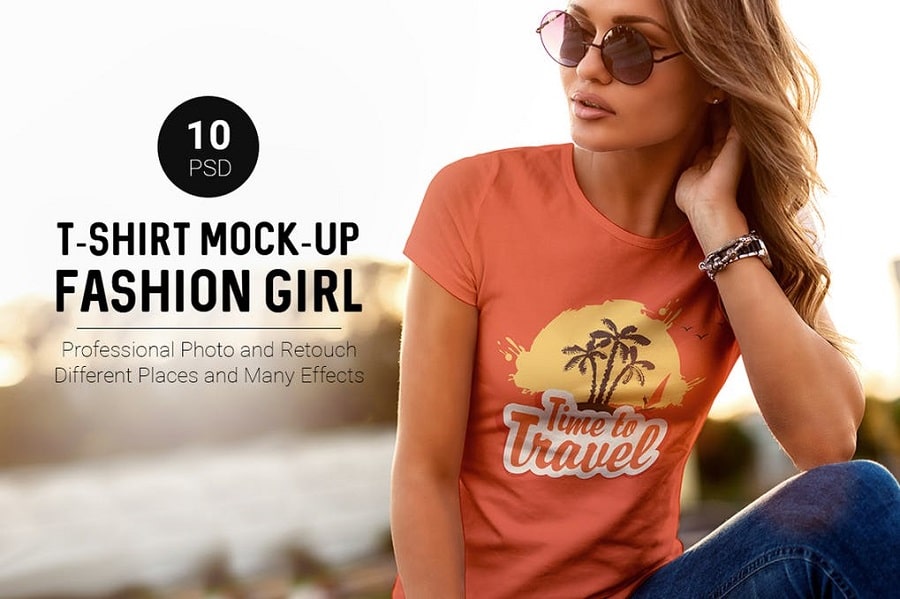 See what your output would look like once someone is already wearing it. Use this pack by Temaphoto for realistic and beautiful renditions in 5000×3333 pixels.
Download T-Shirt Mock-Up Fashion Girl
4. Men's T-shirt Mock-up
Got a men's fashion collection up for grabs soon? Tell the world about it through these time-saving mock-ups by Vasaki.
Download Men's T-shirt Mock-up
5. T-Shirt Mockup
Sometimes, simple is better. And there's no better way to show that than by using these clean and minimal t-shirt mockups by Itscroma. Organized, fully editable, and comes in 4K UHD pictures, all that's missing is your art.
6. T-Shirt Mockups Street Edition
Whether you're designing for your own brand or for a client, make it easy on yourself using this template set by Mint Mockups with 8 PSD files, as well as male and female model scenes.
Download T-Shirt Mockups Street Edition
7. T-Shirt Mockup Adventure Edition Vol. 2
Made from Gildan 64000 soft-skin t-shirts, Genetic96 spared no expense in making this kit that's perfect for those creating adventure or outdoors themed garments. The 3D artwork mapping used resulted in ultra-realistic effects, and also supports all-over print.
Download T-Shirt Mockup Adventure Edition Vol. 2
8. T-Shirt Mock-Up Summer Pack
This mockup collection with a female model works great for both light and dark designs.
Download T-Shirt Mock-Up Summer Pack
9. T-Shirt Mock-Up's Casual Girl
Set the stage in this alluring set featuring female models in various casual scenes and poses. It's fast, easy, and ideal for making social media posts, hero images, or website pages.
Download T-Shirt Mock-Up's Casual Girl
10. T-Shirt Mock-Up Hip Hop Style
Let your customers know you've officially joined the summer season in these hot PSD t-shirt mock-ups. They're high-quality, changeable in color, and include a shirt and face mask template.
Download T-Shirt Mock-Up Hip Hop Style
11. T-Shirt Shopping Mock-Up Vol.2
These graphic templates showcase shirts on a rack and mannequins, as they would inside a shop or department store. They're great for when you want to view your creations in eventual settings. Templates use real photos and are compatible with CS4 or higher.
Download T-Shirt Shopping Mock-Up Vol.2
12. T-Shirt Mock-up 4
Yogurt86 brings you this graphic pack (male model, not showing face) with 10 photo-realistic presentations compatible with Photoshop CS 5 or higher.
13. T-Shirt Mock-up 2
This collection of user-friendly mockups is advanced enough to allow you easy and quick editing, even for the labels and paper bands.
14. T-Shirt Mock-Up Mokka Colors
High-quality photos (5000×3335 px) that will take your presentations up a notch – grab this pack by Dikarte Media and show off your creative designs using unique and laid-back poses.
Download T-Shirt Mock-Up Mokka Colors
15. Realistic T-Shirt Mock-Up
Preview how your apparel design will look like with help from this template graphic set by Mock-up Store. Detailed, adjustable, and fun to work with, watch as your patterns blend seamlessly among the folds and creases to generate an authentic look.
Download Realistic T-Shirt Mock-Up
16. T-Shirt Mock-Up on Hanger
You can hang up those worries when you use these smart mockups. Easy to navigate, with named layers, plus a friendly PDF help file, you can also change the background to what suits your needs best.
Download T-Shirt Mock-Up on Hanger
17. Women's Anvil 880 T-Shirt Mockup
Save time and money when you opt for this graphic pack from Moonlit Mocks. Made with stunning 4K photography and genuine Anvil 880 t-shirt on a real model, the product also comes with 43 preset Anvil 880 colors.
Download Women's Anvil 880 T-Shirt Mockup
18. Men T-shirt Mockup Set
With perfect 3D wrapping for true-to-life effects, this template by Creatsy can accommodate any design or color of your choice. Works only with Photoshop (minimum CC 2018) application.
Download Men T-shirt Mockup Set
19. Male T-Shirt Mockup
Sparrow & Snow brings you this easy-to-edit t-shirt mockup worn by a male model in a dreamy beach setting. Compatible with Adobe Photoshop CS6.
20. Polo shirt Mock-Up
Designing a polo shirt? Make it fast and easy with these graphic templates that come in 4000×4000 px and 300 DPI resolution. Amazon-ready with removable and editable labels, getting your designs out there has never been this fun.
21. Clothing/Fashion/T-Shirt Mockup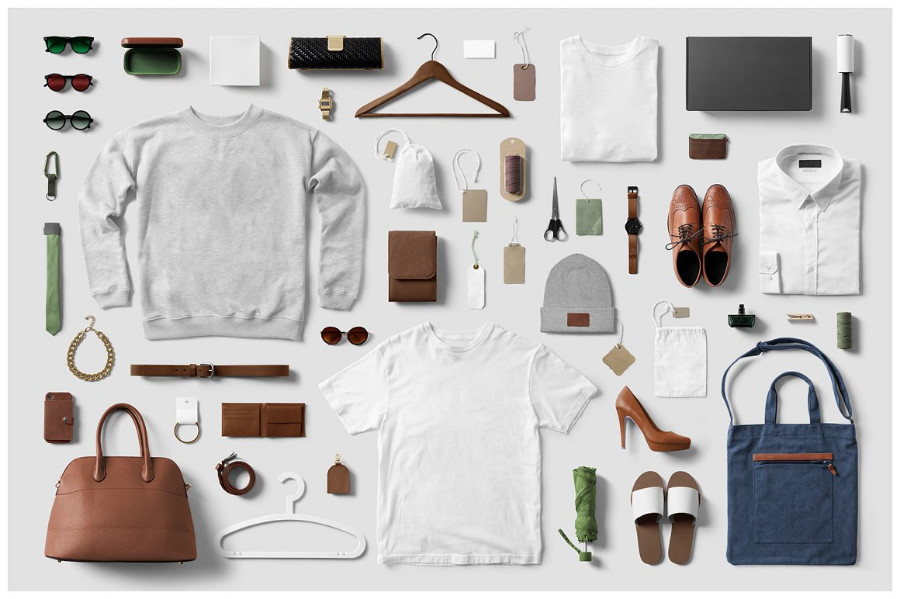 These PSD mockups by Forgraphic™ are based on high-quality professional photos for crisp details even if viewed up close. Product contains 10 PSD files, 95 different items, 2 perspective views, and 4 PSD premade scenes.
Download Clothing/Fashion/T-Shirt Mockup