Embroidery is one of the oldest and most inexpensive hobbies to get into. The craft evolved from the need to tailor, patch, mend, or reinforce cloth. From there, people learned that once you get into it, it can be a pretty fun thing to do as you don't need much (just the right thread, an embroidery hoop, needle, and scissors) and the designs you can create are limitless.
Pretty soon, almost everyone – from the royals to the peasants – was getting into embroidery. In fact, you can tell from which culture or country a specific design originated.
For example: small, floral patterns are typical of Crimean Tatar traditional embroidery. Meanwhile, elaborate and sophisticated stitching, especially those done with gold thread, pearls, or sequins, can be of Tunisian origin since they are known for their elegant and rich needlework.
Love the look of colorful stitching? Then you may find these embroidery fonts too delightful for their own good.
Beautiful Embroidery Fonts
1. Patchwork Font Duo
Salt and Pepper Designs introduces a font duo that can switch between a chunky font and a stitched style for the best embroidered look.
2. Patchi Patchi
Looking for an adorable, highly stylized embroidery font? Look no further than Patchi Patchi! It's cute, it's got stitching, and is perfect for sewing and handmade related projects.
3. Sugar Donut
Sure, Sugar Donut is named after a food item, but did you know that it also features an embroidery font? Four styles, all caps, with numerals and symbols in multilingual form. Now, that's sweet!
4. Lovely Day Color Cross-stitch Font
From Zimages comes an embroidery font with a heart-heavy motif that works great with textile design, t-shirt prints and, other presentations that need the homemade appeal.
Download Lovely Day Color Cross-stitch Font
5. Cross Stitch
The Cross Stitch Cursive font is for creating designs with letters that appear to be cross stitched for posters, art prints, signage or anything that cross stitched lettering would enhance. It is based on upper case characters 16 stitches tall and contains the upper case characters A-Z, lower case characters a-z, small numbers 0-9, ampersand, exclamation and question marks, comma, and period.
6. Good Morning
Good Morning is a modern script font and it comes ready and packed for you to use in your logos, badges, postcards and so much more.
7. Bodoni Terracina
Bodoni Terracina is a legible, fun-formal script face, with lots of curls. Sometimes script faces are hard to read. Sometimes being formal means that there's no personality and there's no fun. Enter Terracina: one of the masterpieces of font design. Some of the most personable italics ever carved.
8. Stitch Warrior
This is a Gothic style font made specifically to represent cross stitch look. Each letter consists of x es as for pixel placeholders and it's perfectly edited to fit to your Embroidery look designs!
9. Embroidery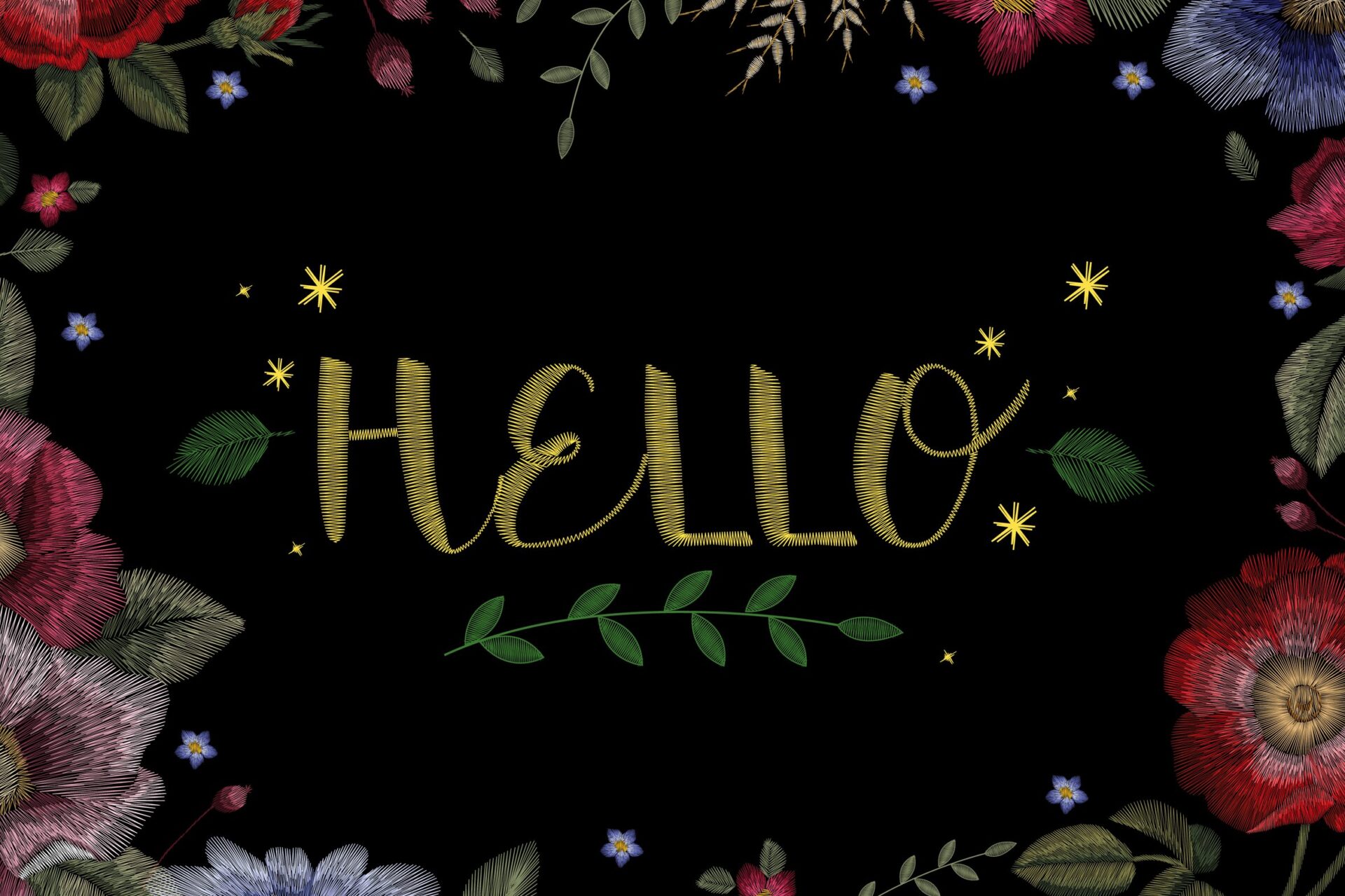 Includes font embroidery and 5 pictures – peace, love, forever, good day, hello The color is fully consistent as shown in the picture
10. Aweswell
Ekloff's script typeface makes visual presentations elegantly stylish using monolinear letterforms that make a hand-tuned and believably written touch.
11. Crochet
If you're looking for a loud, readable uppercase font that still keeps the embroidered appearance, this Peliken product will prove useful.
12. Snitch Typeface
The Snitch Typeface from Andr35 is a threaded, display font that is perfect for projects that need to exude a sporty, active and, edgy personality.
13. Made with Love Font
This sans serif font from Maria Radun lets you choose between a hand stitched appearance and a scratched motif.
14. Suture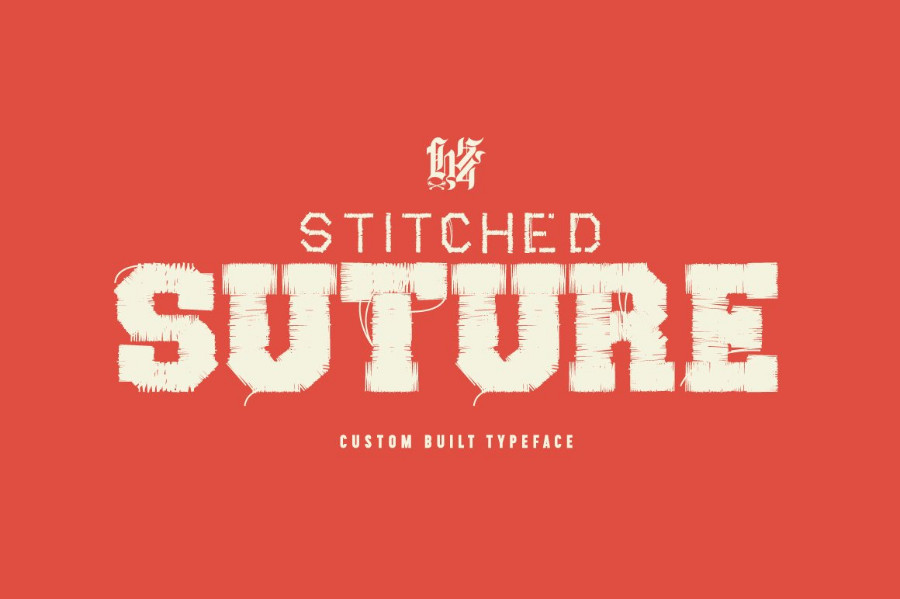 This all-caps typeface from Hydro74 comes in three stitched designs: the standard set, a thicker-lettered slab set and alternate characters.
15. Bespoke
Phil Marquet's Bespoke is a hand-crafted typeface that strikes a balance between the elegance of stitches found in tailored suits and the retro style you'd normally find in street denim.
16. Stitching Love
For design projects that need a home-made, crafted look, this cross-stitch font from Studio Indigo has it all – and other ornaments to further customize your presentation.
17. Stitched Handwritten Font
This Phil Marquet product shows a mix of the elegance of hand sewing and slight imperfections to project an authentic hand-made feel.
Download Stitched Handwritten Font
18. Mix Stitch
For works that need a handmade or DIY theme, Mix Stitch is a great way to get the effect – not to mention this can also be a writing guide for kids who are starting out with a pen.
19. Embroidery Font
From JoZOO, pick this font if you're looking for a decorative stitched typeface in an easy, cursive style.
20. Embroidery Cursive Chainstitch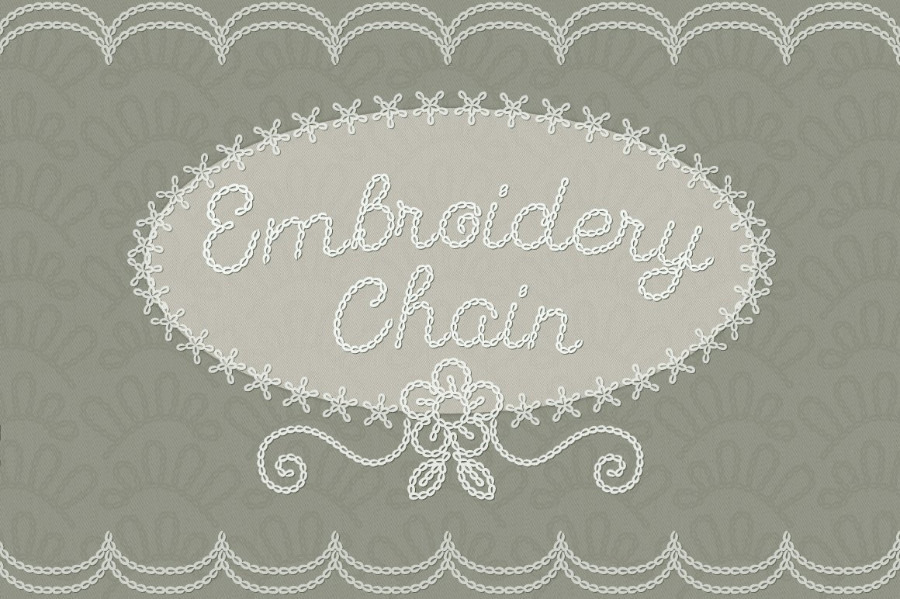 This embroidery font for use with invitations and craft project presentations has a bold and chunky aesthetic that is loud and delightfully readable regardless of letter size.
Download Embroidery Cursive Chainstitch
21. Stitch Warrior Font
Go for a truly handcrafted design using this font from Roland Huse Design that fuses Gothic design and a cross-stitched look.
22. Edyra
This all-caps typeface from Digital TYpeface Studio makes use of well-placed lines that make the letters look like they were formed out of groups of smaller shapes.