Last Updated on November 2, 2023
Here's a brutal truth every designer – whether seasoned or beginner – will always encounter: deciding on an online marketplace.
Often, you just have to accept that you can't have the best of both worlds. On one hand, you've got a massive library of vectors, stock photos, graphics, and more. On the other hand, the fees are so steep you probably won't financially recover.
So what's a modern creative to do?
Fortunately, not all online marketplaces are a pain to subscribe to. There are those that keep it simple. Vecteezy is one of them. With an impressive collection of digital assets, straightforward licensing, and super affordable plans, it could be the hidden gem you didn't know you needed.
But how does Vecteezy stack up against its competitors? Get the scoop here in our comprehensive review.
Introducing Vecteezy
Vecteezy is a subscription-based online marketplace that provides its clients access to millions of digital resources. Popular assets on the website include vectors, photos, videos, and bundles.
The term "Vecteezy" is a colloquial portmanteau for "vector" and "easy." It speaks to the website's ability to provide easy access to thousands of vectors in addition to other creative assets. As an online marketplace, it appeals to both buyers and sellers.
Customers can effortlessly access premium stock photos, videos, and vectors suitable for a wide range of personal and commercial projects. It's essential for them to adhere to the licensing terms when utilizing any content from the platform.
In contrast, creators can showcase their work on the Vecteezy website, opening the potential to earn additional income. Moreover, Vecteezy is a haven for artists to exhibit their creations. Meanwhile, art enthusiasts can leisurely explore the marketplace, indulging in extraordinary graphics found nowhere else.
Company Behind Vecteezy
The brand was established in May 2007. The creative marketplace is owned and run by Eezy.com.
Eezy.com was founded by Shawn Rubel, who also serves as its current chief executive officer (CEO). The company is based in Bowling Green, KY. However, it avails its services beyond the United States borders.
They are one of the pioneers in the democratization of digital resources that were once exclusive to a special cohort who could match the hefty price tags. The company dedicates itself to providing professional-grade graphic content for different types of clients, including individual and corporate entities.
It has earned the approval of notable brands, such as the BBC, Amazon, Microsoft, Facebook, Google, Disney, and Wells Fargo, to mention but a few.
Shawn Rubel was inspired by a desire to enhance access to digital assets for creatives. Rubel is himself a designer by profession and passion. He established Vecteezy with a mission to democratize the creative process, with a view to helping designers with different experience levels and budget needs to have a slice in the creative action.
Since its founding over 15 years ago, Vecteezy has provided its clients with the resources they require for various design projects. The website has grown over the years into one of the world's largest creative marketplaces, currently boasting over 100 million user sessions.
Getting Started On Vecteezy
The Vecteezy platform is available for both active accountholders and non-accountholders. However, there are certain restrictions for non-account holders.
For instance, you can only browse the featured graphics but cannot list or purchase any asset from the platform without an account. The best way to unlock its nifty features is to register for an account with the marketplace if you don't already have one.
The account sign-up process is straightforward. Simply enter your email address, set a strong password, and click the orange "Sign Up Free" button. You can also sign up with your Facebook account.
Vecteezy Features
1. Ease of Use
There are various aspects of Vecteezy that makes it incredibly user-friendly.
For starters, the dashboard is uncluttered. You have the search bar at the top, your profile, and your collections, favorites, and followed creators at the bottom. This no-nonsense design lets you get to work immediately.
An intuitive toolbar is another thing that makes Vecteezy awesome. All important functions are horizontally set on the website's top-left corner. These functions are essentially the categories of services the website provides, namely Photos, Vectors, Videos, Templates, etc..
It's also easy to locate digital resources on Vecteezy compared to many similar websites. That's because each category has clickable subcategories underneath it. Simply hover a mouse over the icon to display a list of subcategories under it.
The subcategories are as follows;
Photos: Nature; Lifestyle; Animals; Food & Drink; Travel; Business; Textures; Cityscapes
Vectors: Backgrounds; Banners; Plants; Flowers; Pattern; Wedding; People; Landscape
Videos: Family; Timelapses; Animals; Travel; Lifestyle; Aerials; Nature; Backgrounds
There's also a subcategory for Bundles and PNGs.
Another method to quickly find digital assets on Vecteezy  is to look them up directly from the search function located at the middle of the page. Simply click on the drop-down menu to the left of the search bar to search vectors, images, videos, etc.
Underneath the search function are trending themes, just in case you're looking for what's popular now.
2. Customized Bundles
If you're working on a design project that requires several creative resources, then you'll want to check out Vecteezy's bundles. Bundles are essentially files packed with several different resources. They're typically available as folders and are distributed as a single download.
The main advantage to buying Vecteezy bundles is that it's more affordable than purchasing the featured assets individually. This gives you access to resources that aren't typically hosted on the platform, such as fonts, mock-ups, Photoshop brushes, and slide decks.
Note that each bundle is unique. Certain packages may have more assets than others. However, most bundles generally come with a Pro license, with a few exceptions. It's also worth noting that Vecteezy bundles are time-bound. While you can download a past or future bundle, it's probably best to prioritize current offers.
You'll often see a countdown timer when you log into the website. Clicking on the timer takes you to the limited-time bundle, where you can check out the items in the package before downloading it. Bundles are free for Pro subscribers. Free users would need to part with $39 for each package.
3. Add-Ons
The platform offers several add-ons that give it an edge over its competitors. They include;
a) Templates
They have dozens of free templates to kick-start your graphic design project. These include templates on designing such as:
Resumes; Presentations (16:9); Presentations (4:3); Business Cards (Vertical); Business Cards (Horizontal); Pinterest Graphics; LinkedIn Posts; 5X7″ Greeting Cards; Instagram Posts; Instagram Stories; YouTube Banners; and Certificates (Landscape)
b) Vecteezy SVG Editor
Vecteezy also provides a web-based SVG editor that lets you implement a draft of visual effects to your designs. You can use the editor to add shapes, texts, and vector images to your creations. There's also the provision for editing attributions for each added effect.
The SVG editor is easy to use and is available under both the free and paid plans. It also integrates seamlessly with several browsers, including Chrome, Chromium, and Opera.
c) Contributor Benefits
Not only does Vecteezy maintain a huge library of creative resources – the website also allows you to become a contributor.

Are you a photographer, videographer, or illustrator? Then you can share your creations on the Vecteezy marketplace to gain exposure and make money on the side. The website pays a flat rate of $5/1000 downloads for photos and vectors, and $10/1000 downloads for videos.
To start, you'll need to apply by filling out a form on their Become a Contributor page. Submit the form and then follow the application link sent to you via email. You'll be asked to upload 10 creative resources. Remember to include your best works to increase your chances of acceptance.
Next, check the contributor agreement and submit the required samples.
If accepted, you can start contributing to Vecteezy right away. Note that the platform prioritizes quality over quantity. Insist on uploading high-quality, family-friendly content in various styles.
Exceptions include logo templates, photos featuring digitally embedded text, 3D renderings, and illustrations in either JPG or JPEG file formats.
Vecteezy Pricing
There are two different plans – Free and Paid. The FREE plan gives you access to thousands of resources free of charge. However, it comes with several limitations, including watermarked downloads.

Any digital asset downloaded under the FREE plan also lacks commercial rights and legal indemnification. You'll need to attribute such content, especially if using it for business purposes. The best way around these limitations is to purchase Vecteezy's premium version, known as the Pro plan.

The Pro version costs $4.50/month if billed annually or $7.00/month if billed monthly. Comparatively, the annual subscriptions are 36% cheaper than their monthly counterparts.
Among the features you'll enjoy under the Pro plan include;

• Access to millions of digital assets
• Unlimited downloads
• Faster downloads due to the absence of pop-up ads
• Free access to Vecteezy's bundles
• Full commercial license with no attribution required
• Provision for legal indemnification
Vecteezy provides many other customized plans besides the Free and Pro packages, namely;

• A pay-as-you-go model that allows you to purchase individual downloads separately without becoming a subscribing client.
• A one-time payment plan where you pay $39 to purchase a bundle.
• Team and enterprise plans, which are differently priced depending on the number of collaborators.
Cancelation Policy
Users can cancel their subscriptions whenever they please. There are NO fees or penalties to worry about.
To cancel your Vecteezy membership, you'll need to sign into your account and click on your circular profile picture located at the top right corner of the dashboard. This activates the drop-down menu, which you then scroll to click on the Dashboard link.
After accessing the dashboard, click on the "Billing & Plan" and then "Billing & Plan Settings." Head to the "Current Plan" section and click "Cancel plan." Bypass the button asking you to pause your plan and complete the cancellation process by clicking the "Cancel subscription" button instead.
Subscription Renewals and Changes
Their subscriptions are set to auto-renewal by default. This is a convenient feature for consistent clients as you don't need to manually renew your subscriptions at the end of each payment cycle.
It's also easy to upgrade or downgrade between the different plans. Just contact the company for assistance in moving up or down your package.
Vecteezy Licensing Terms
Resources on the Vecteezy website are available under royalty-free licensing. In other words, you only pay for the license when you download an asset. You can then use the downloads indefinitely within the specified license terms.
Any content downloaded under the Pro membership plan doesn't require attribution. You can use it in a variety of print and digital applications, such as magazine covers and billboard advertisements. Some assets also come with limited merchandise use.

Be sure to learn more about Vecteezy's licensing terms and read it carefully before downloading or purchasing a Pro plan.
Vecteezy and the Competition
1. Vecteezy versus Adobe Photoshop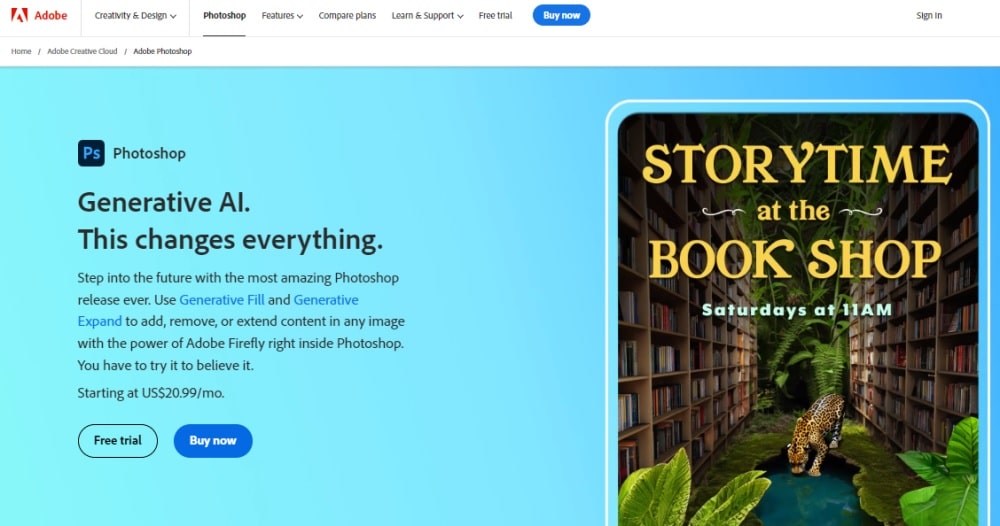 Adobe Photoshop provides slightly more advanced features. It also offers a complete suite of tools for different types of creatives, including photographers, video editors, graphic designers, and painters. However, Vecteezy boasts a more user-friendly editor than Adobe Photoshop. It's also more affordable, costing only $20.99/month or $239.88/year.
2. Vecteezy versus Adobe Illustrator
Adobe Illustrator is a vector graphics editor and design program. It's widely regarded as the industry-standard vector graphics application, allowing you to create custom logos, drawings, icons, and even typographies.
The provision for extra digital assets like logos and fonts appears to give Illustrator an edge over Vecteezy. However, it would be impractical to compare the two websites based on that parameter, seeing as they cater to slightly different clientele.
When it comes to pricing, Vecteezy is the clear winner. The platform is more than twice as affordable as Illustrator, where individual clients pay $20.99/month for the app itself or $54.99/month for other applications in the Creative Cloud suite.
3. Vecteezy versus Adobe Stock
Like Illustrator, Adobe Stock is best suited for vectors and images. The platform also has millions of digital assets, thanks to its seamless integration with Creative Cloud. However, Vecteezy offers better licensing terms. It's also a lot easier to contribute to Vecteezy than Stock, considering the high competition for content on the latter platform.
4. Vecteezy versus Shutterstock
Both Shutterstock and Vecteezy use a royalty-free licensing model. However, the two websites differ in their pricing plans. Shutterstock uses a credits-based payment model where $29 entitles you to 10 credits per month. That makes it considerably more expensive.
5. Vecteezy versus Freepik
Freepik is similar to Vecteezy in that both websites provide free and paid plans. Content downloaded under the free version requires attribution in both platforms too. But unlike Vecteezy, Freepik has no content editor. Freepik also costs twice as much, with membership plans starting from $14.99/month for monthly billing or $10.00/month for annual billing.
Vecteezy Pros and Cons
Pros
• User-friendly interface
• A handy, built-in SVG editor
• Unlimited access to millions of digital assets
• Access to a large community of other creatives
• Relatively affordable
• Competitive contributor payouts
Cons
• Comparatively smaller content library
• Limited free vectors
• Occasionally inaccurate search results
• Attribution required in the free version
Who Is Vecteezy For?
Vecteezy is suitable for creatives looking for a diverse collection of digital assets.
Although the platform has no logo mockups, icons, and fonts (except a few occasionally included in the bundles), you can still get your hands on thousands of photos, vectors, and videos. There's content for photographers, videographers, graphic designers, publishing professionals, and digital marketers.

Not only does Vecteezy stand out for its competitive plans, it also maintains an intuitive interface that makes content on the website highly accessible. The platform is also suitable for professional creatives looking to give their works higher visibility.
The website can help you grow your creative brand while allowing you to earn a decent income on the side. Art enthusiasts would benefit immensely from Vecteezy as well. It doesn't hurt to simply browse the website's rich library of digital content for inspiration.
Wrap Up
With its extensive library of vector graphics, easy-to-use tools, and a thriving community, Vecteezy is a great go-to for any creative endeavor. Whether you're a seasoned designer or just starting, the platform's combination of free and premium content, along with a marketplace for artists, ensures that you'll find the right design elements for your projects.
In essence, if you're looking for high-quality design assets at reasonable prices, then Vecteezy is your best bet.