Last Updated on October 18, 2023
Great design is more in-demand than ever. From business logos, poster templates, YouTube thumbnails, to t-shirt prints, slideshows, and print-on-demand, what sells is what catches the eye. You want something unique, attention-grabbing, and consistent. But these come at a cost – because great design takes experience, skill, and good taste.
Here's where mockup generators like Placeit come in. Placeit by Envato is one of the more popular apps for making beautiful templates, mockups, t-shirt prints, logos, and more. Here you can quickly and easily visualize product design while saving time and money. While it's an awesome design and marketing tool, it's not the only app of its kind online.
If you're wondering what else is out there, we've created a list of the best Placeit alternatives. We've provided a short introduction, price info, and link for your convenience. Check them out and see which ones suit your design needs the most.
What You Need To Know About Placeit
For those unfamiliar with the service, Placeit is a cloud-based digital design company that provides a wide range of graphic design services. These include mockup generation, logo generation, design making, and video editing. The website also maintains a massive repository of design templates.

The company was founded by Navid Safabakhsh with a mission to help designers generate compelling mockups and logos. It was later acquired by Envato in July 26, 2018, a move that only added to its growing list of design capabilities.
It has since become a crowd favorite. The platform's ease of use appeals to new creatives, while its collection of 100,000+ high-quality digital assets makes it a darling among seasoned designers.
What Makes Placeit Special?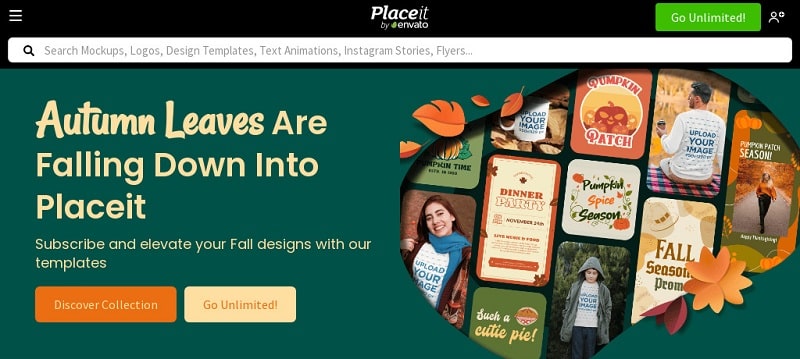 1. Wide Range of Services
The company has since diversified its features and services to include:
a) Logo Generation
It offers fast, budget-friendly logo design services with a vast library of customizable templates. Choose from thousands to craft a logo that perfectly suits your brand. 
b) Design Creation
You can whip a stellar design in a fraction of the time you'd require generating it manually. That makes it a particularly useful website for large marketing teams that need to churn out dozens of original designs within short deadlines.
c) Video Editing
The website offers a versatile video editor for various video types. Edited videos are ready for publishing. Simply pick a template, add effects, and export to your desired platform.
2. Intuitive Website
Placeit boasts a highly user-friendly website with a clean, organized dashboard. You can easily find content by browsing categories or using the search bar . Subcategories further streamline content discovery.
3. High-Quality, Unlimited Downloads
Its affiliation with Envato, a top digital assets platform, ensures high-quality content. Downloads come in resolutions up to 4,000 x 4,000 pixels, ensuring versatility across various operating systems. Subscribers enjoy unlimited downloads, and all content is neatly organized for convenient access.
Placeit Pricing and Licensing Terms
Placeit offers two pricing models:
1. **Individual Purchases: Pay a one-time price for each graphic, with pricing varying based on the item you choose.
2. **Subscription Model: Priced at $14.95/month (monthly billing) or $9.99/month (annual billing), this grants access to Placeit's entire graphic library and high-resolution downloads. Subscriptions are cancellable after the first month with no cancellation fees.
Regarding licensing, content can be used for personal and business purposes, and you have the freedom to edit, distribute, and trademark assets. The only restriction is not using Placeit's graphics on competitor websites.
10 Best Placeit Alternatives
1. Adobe Photoshop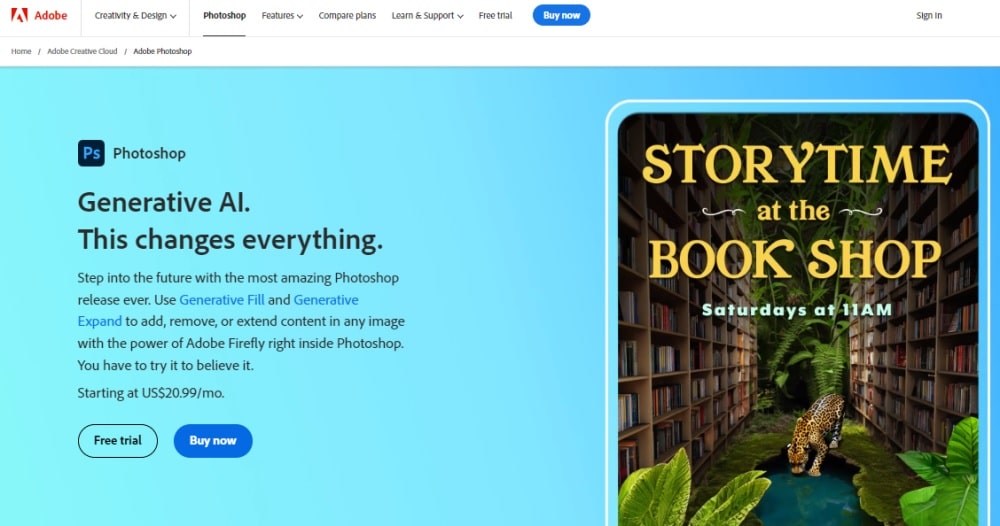 Official Website Link: Adobe Photoshop
Pricing: Paid plans start from $24.14/month; FREE trial available

Adobe Photoshop, an industry-standard for photo editing, excels in photo enhancement and image upscaling, making it an essential tool for various design projects. It's especially valuable for graphic design, enabling the creation of drawings, paintings, animations, and multi-layered raster images.
Photoshop supports a wide range of projects, from videos and podcasts to illustrations. Integration with Adobe Fonts and Adobe Creative Cloud provides access to a vast library of digital assets. While Photoshop comes at a higher cost compared to Placeit, its advanced graphic design capabilities make it a worthwhile investment.
2. Canva
Official Website Link: Canva.com
Pricing: Paid plans start from $14.99/month; FREE trial available
Canva offers versatile mockup creation for apparel, print, and product packaging, all fully customizable to suit diverse design projects. It features mockups for various cultures and ethnicities, paralleling Placeit's user-friendly interface.
Beyond mockups, Canva serves as a comprehensive design tool, providing AI image generation and other graphic design services. Notably, Canva has a cost-effective edge over Placeit, offering a free version with access to 2,000 mockups (though customization features are limited).
3. Adobe InDesign
Official Website Link: Adobe InDesign
Pricing: Paid plans start from $24.14/month; FREE trial available
InDesign and Photoshop, both part of Adobe's extensive suite of editing software, share similar pricing structures and integrate seamlessly with Creative Cloud.
While they are compelling alternatives to Placeit, InDesign primarily functions as a graphic design solution rather than a photo editing tool, making it a more direct competitor to Placeit than Photoshop. InDesign offers a wealth of user-friendly design templates, enabling the swift creation of various materials such as flyers, brochures, eBooks, postcards, menus, and even digital designs like webpages.
Despite InDesign's higher pricing, it grants access to an expansive library of high-quality images through integration with Adobe Stock, the official stock photography website.
4. Smartmockups
Official Website Link: Smartmockups.com
Pricing: Paid plans start from $9.00/month; FREE trial available
If you're a Canva user, chances are you're already familiar with Smartmockups, as this versatile mockup generator seamlessly integrates with various design tools, including Canva and Dropbox.
Smartmockups empowers users to create a wide array of online mockups, featuring convenient templates for diverse branding materials like business cards and apparel. Regular library updates ensure fresh graphics are available frequently.
With its user-friendly interface, Smartmockups offers an effortless design experience, allowing users to begin without the need for an account. You can upload designs in multiple formats (PNG, JPG, PDF, MOV, GIF, MP4) and download your graphic elements in resolutions up to 5K.
5. Media Modifier
Official Website Link: Mediamodifier.com
Pricing: Paid plans start from $25.00/month; FREE trial available
Media Modifier, hailed as a top choice among digital marketers, stands out for offering an extensive collection of professionally sorted mockup templates for various design projects. It provides a plethora of editing features, including sound effects, images, and fonts.
It allows for creative experimentation, too. With a Pro plan subscription, you gain the option to download Photoshop PSD files for more advanced edits. Notably, you can begin using Media Modifier without requiring an account (account registration is necessary for mockup downloads).
6. Adobe Illustrator
Official Website Link: Adobe Illustrator
Pricing: Paid plans start from $20.99/month
Adobe Illustrator, another exceptional Adobe editing tool, stands out for its strength in design projects that involve drawing more than editing. Fortunately, Adobe's Creative Cloud provides access to all its tools.
When comparing it to Placeit, the key distinction lies in the nature and quality of graphics they cater to. Placeit excels at mockups and logos, while Illustrator is ideal for crafting vector graphics and animations.
Unlike Placeit, Illustrator lacks a standalone video editor. Instead users can make use of Adobe Premiere Pro for comprehensive video editing. Notably, Adobe Illustrator is also the pricier option.
7. Visme
Official Website Link: Visme.co
Pricing: Paid plans start from $12.25/month; FREE trial available
This global cloud-based digital design platform offers real-time mockup creation and sharing. With a wealth of templates, you can quickly generate various mockup types for apparel, print, and social media.
Visme provides a more budget-friendly alternative to Placeit, with a free plan to try out. The free version includes access to numerous design templates and assets, 100 MB storage, and basic support. Once you're ready, premium packages start at $12.25 per month.
8. Jasper AI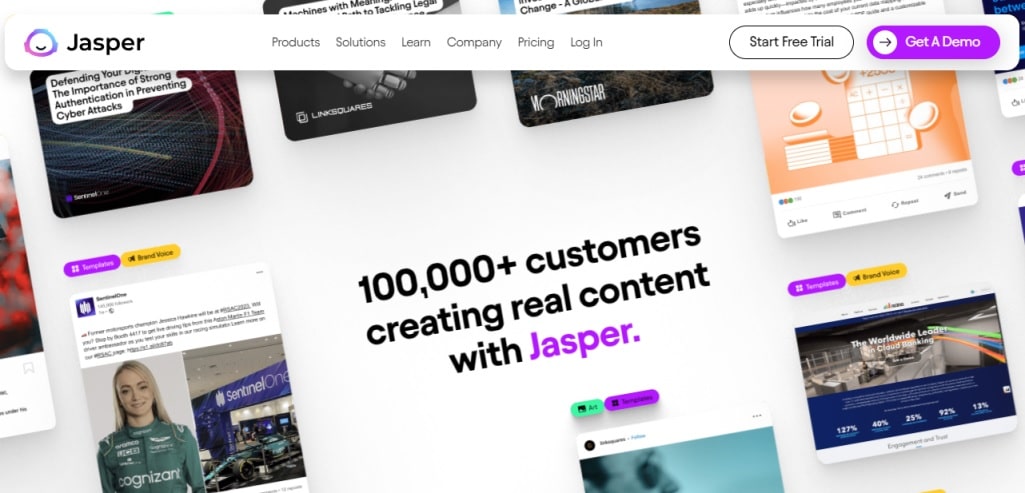 Official Website Link: Jasper.AI
Pricing: Paid plans start from $20/month; FREE trial available
For a hands-off graphic design approach, consider AI-powered tools like Jasper. Jasper AI effortlessly creates realistic marketing images from your descriptions. This generative AI tool transforms your ideas into visual art within seconds, with more detailed prompts yielding more specific results.
Jasper AI's standout feature is the authenticity of its generated content—every image is entirely original. You have the freedom to use your Jasper-generated content without restrictions, including the option to embed logos or share them as NFTs.
9. Envato Elements
Official Website Link: Elements.Envato.com
Pricing: Plans start from $16.50/month
Envato Elements and Placeit, both under the same company, often invite a comparison – almost pitting them against each other.
The former serves as a comprehensive digital asset repository with an extensive collection of graphics, photos, videos, and audio. Furthermore, it provides a wealth of educational resources for graphic designers and regularly updates its content.
The key distinction lies in the absence of built-in editing tools within Envato Elements. While it offers a plethora of high-quality assets for your graphic projects, editing must be carried out using separate software or through app integration.
10. CorelDRAW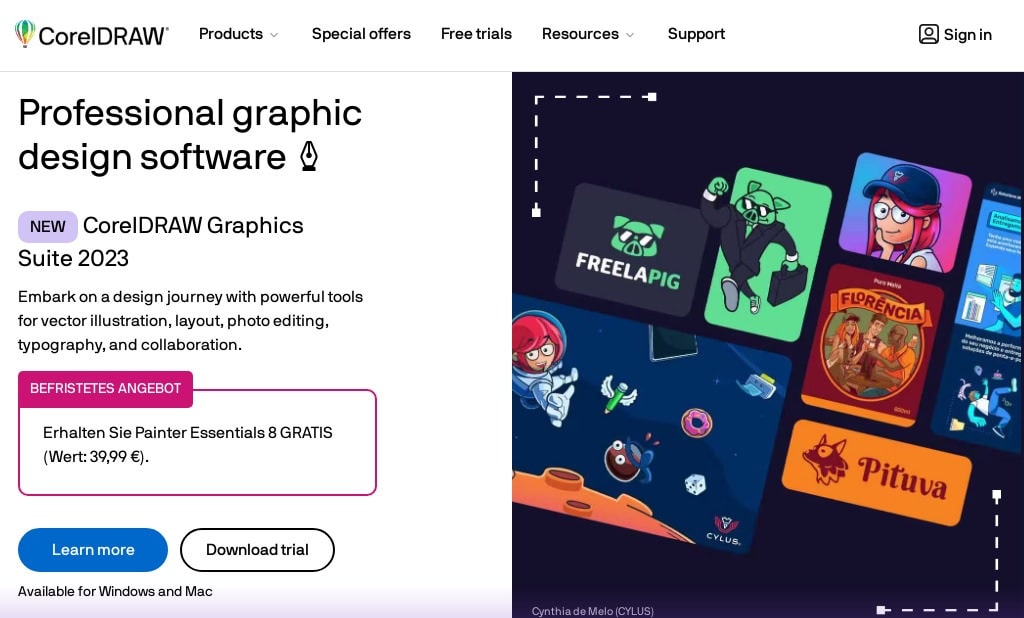 Official Website Link: CorelDraw.com
Pricing: Plans start from $249/year for the CorelDRAW Graphics Suite
CorelDRAW, a vector graphic editor, serves as a hub for a diverse range of digital artwork and web graphics. Developed by Alludo, it offers user-friendly templates to streamline your projects.
Define your goals and select a suitable template, or create artwork from scratch using integrated vector illustration features. After setting up your layout, you can enhance your creations with custom effects, such as contours, vector images, and mesh fills.
Wrap Up
While Placeit offers a comprehensive range of design and mockup services, there are several notable alternatives worth exploring.
Each option brings its unique strengths to the table, such as Canva's user-friendly design tools, Envato Elements' vast collection of mockup templates, or Visme's social media optimized graphics.
Whether you're looking for affordability, specialized features, or diverse content options, these alternatives offer compelling choices for individuals and businesses seeking creative solutions beyond Placeit.