Last Updated on November 13, 2023
Cricut stands out as a leading brand in electronic cutting machines. Used mainly for a wide variety of DIY projects, it's a favorite among designers and entrepreneurs. These cutting-edge machines can cut through all kinds of materials, including paper, vinyl, fabric (and even leather and cork) with intricate detail and precision.
The seamless integration of Cricut with design software enables users in making their own crafts, uploading personal creations, or selecting from an extensive library of pre-made designs. One minute, you have an idea in your head – next thing you know, it's being brought to life!
While Cricut comes with its own design software called Design Space, you may want to explore other options. Depending on your project, the right software will have more features, better usability, and free stock elements.
As such, we've made a list of the best Cricut apps for you to try.  
Best Software for Cricut Projects
1. Design Space
Pricing: Paid plans start from $9.99/month; FREE version available
Official Website: Design.cricut.com
Design Space is Cricut's own software. So it's understandable why it's the first app you'll want to use. Installing it on your device is one of the initial steps in getting started with Cricut.
The app gives you access to a vast array of crafting and design tools. These include free graphic templates and fonts to customize your designs further. Design Space lets you personalize your own templates by hand. You can draw and scan graphics into the app's interface directly or in conjunction with other compatible software.
You'll also love the fact that Design Space is compatible with all Cricut machines. The app works on PC, macOS, and Chromebook. There's a free version that contains limited features and a premium version that provides the full gamut of design capabilities.
Paid plans start from $9.99 per month if billed monthly or $7.99 per month if billed monthly.
2. Adobe Illustrator
Pricing: starts from $31.49/month; 7-day trial available
Official Website: Adobe Illustrator
Adobe Illustrator is a design and editing program that specializes in vector graphics. It's an excellent tool for creating scalable graphics perfect fit for Cricut machines.
Illustrator lets you create your own designs from scratch. It also maintains a huge catalog of premade graphic templates to accelerate your crafting experience. It's beginner-friendly, too. The software has an intuitive user interface, with all key functions located within reach. There are also tutorials that you can watch to jump-start your craft cutting experience.
As with most Adobe products, Illustrator supports numerous plugins for higher customization. There are also QR code generators ideal for printing branding materials like business cards and leaflets.
Last but not least, Illustrator supports working with multiple artboards. This allows you to work on multiple items or multi-page printed materials without leaving your session. The app works on multiple operating systems.
3. Adobe Photoshop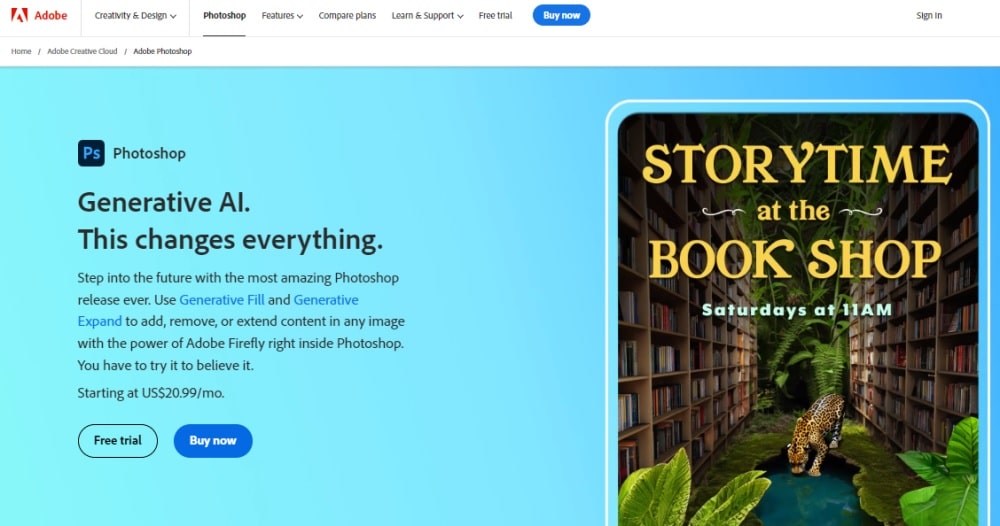 Pricing: from $20.99/month; 7-day trial available
Official Website: Adobe Photoshop
Photoshop is another Adobe-owned software on this list that you can use with your Cricut machine. The app is probably best known for its photo editing features. However, it also boasts graphic design capabilities, which make it ideal for use on Cricut projects.
First, it helps you create accurate drawings and paintings. The software then lets you manipulate your creations digitally using its slew of image enhancement features. Photoshop even supports the creation and editing of animations.
It has recently become popular with Cricut users who need to create multi-layered bitmaps. Some creators also rely on the tool to handle more intricate design aspects, including alpha composition and image masking.
There are plenty of other features that make Photoshop worth integrating with your Cricut machine. These include live streaming, project tracking, workflow automation, and collaboration features. The only drawback, as with other Adobe products, is that it doesn't have a free plan.
4. Canva
Pricing: Plans start from $54.99/year/user; free version available
Official Website: Canva.com
Canva allows its users create different forms of digital graphic designs. These include but are not limited to business cards, invitations, flyers, lesson plans, and graphic templates. It's used mostly by beginners and entry-level designers (but there are also plenty of pros who love it). That's due to its user-friendly drag-and-drop interface and clutter-free dashboard.
The software offers multi-platform support which boosts access to its features. You can use the browser-based version while working on your PC or switch to the mobile-based app for offline access. There are numerous graphic templates to get you started, too.
You can readily adapt these designs to your Cricut project or personalize them further depending on the specific measurements desired. The provision of stock elements like images and fonts allows you to customize your creations even further. When done, you can export your designs in PNG or SVG files.
5. Silhouette Studio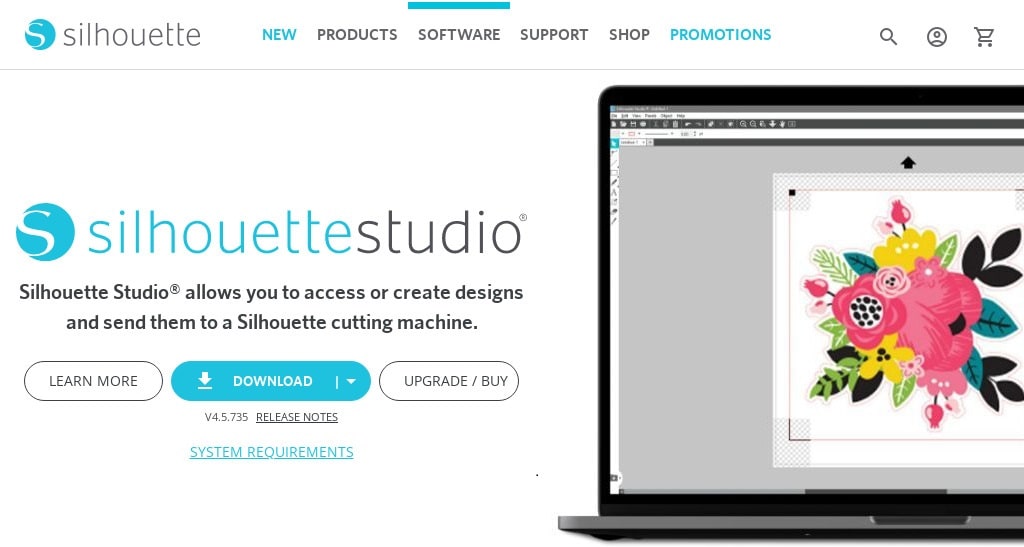 Pricing: Paid plans start from $49.99; free version available
Official Website: Silhouetteamerica.com
Silhouette Studio boasts powerful graphic design capabilities. Its name suggests it was intended primarily for silhouette cutting machines. But it's definitely more than that.
It has a Design edition that makes it possible to cut graphics using other machines, including most Cricut models. Just export your designs as SVG. The SVG file format doesn't need you to convert your files before working on them, thereby saving time.
The app implements a PixScan technology that helps with digitizing stamp collections. You can also activate this function to convert hand-drawn sketches into professional-grade vectors using a scanner or camera. In terms of compatibility, Silhouette Studio works on all Windows devices. The app is also compatible with macOS 11 devices or later.
6. Vectr
Pricing: Paid plans start from $9.99/year; free version available
Official Website: Vectr.com
Vectr is a vector graphics design software originally intended to help bloggers generate intuitive vectors for their posts. The application has since garnered a huge clientele that includes Cricut enthusiasts. It is especially suitable for budding crafters for its ease of use and competitive pricing plans.
The software includes real-time collaboration feature that allows you to share your graphics via a unique URL. You can then invite your collaborators to contribute to the project by making changes in real time. This is an invaluable time-saving feature as it eliminates the need for third-party apps.
Vectr is also among the few Cricut compatible software that support cross-platform usage. You can use the app on all major operating systems. However, Vectr has a limited feature range compared to other Cricut apps on this list. It notably lacks photo editing capabilities.
7. GIMP
Pricing: Free
Official Website: Gimp.org
Most Cricut software are freemium-based, which means they come with premium plans in addition to a limited-feature basic plan. However, GNU Image Manipulation Program (commonly abbreviated as GIMP) is an exception to that rule.
GIMP is majorly a raster graphics editor. The software boasts a slew of design tools that are sure to improve your Cricut experience. These include image retouching and editing, transcoding between graphic file formats, and free-form drawing.
Aside from being 100% FREE to download and use, GIMP is also beginner-friendly. Users with previous Adobe Photoshop experience will especially find the software easy to get the hang of, as it provides most basic tools as Photoshop.
GIMP scores highly for its ability to convert creations into the SVG file format before importing them to Cricut's Design Space. Multi-OS compatibility is yet another excellent thing to write home about. This Cricut software works efficiently on both Windows and macOS.
8. Inkscape
Pricing: Free
Official Website: Inkscape.org
Here's another Cricut software that's 100% FREE to use. The app is widely touted as a free alternative to Adobe Illustrator due to their near-similarities in design features. But unlike Illustrator that may require a bit of a learning curve.
Inkscape is fairly approachable. No wonder it enjoys the confidence of beginner crafters. It also has a reputation of running efficiently on low-end computer systems. That's another reason that makes it a top Cricut tool, especially if you're designing basic vector plans.
There are dozens of advanced design tools to experiment with as well. Noteworthy ones include calligraphy, layering, drawing, and object grouping tools. Inkscape is open-source, so it's subject to improvement by more seasoned graphic designers.
You can send your creations to Cricut's Design Space using the shareable SVG file format. For more sophisticated or elaborate projects however, you may want to consider other apps on this list.
9. CorelDRAW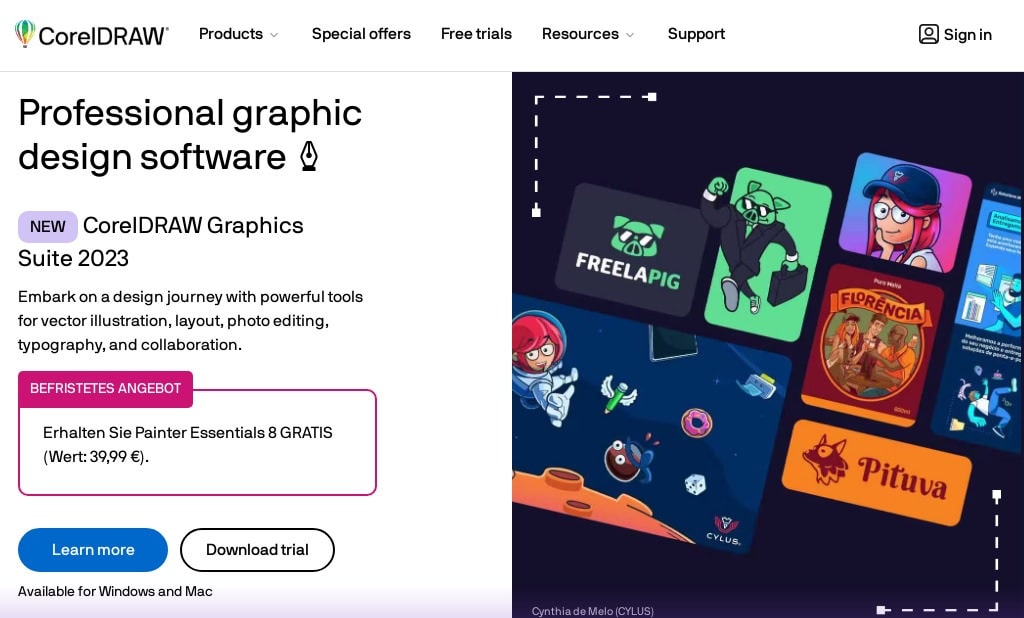 Pricing: One-off upfront fees start from $249; free trial available
Official Website: Coreldraw.com
CorelDRAW shares a lot in common with Adobe Illustrator: both software offer superb vector design features for nearly the same price tag. The primary difference is that CorelDRAW has both a monthly subscription and a one-off upfront payment plan.
CorelDRAW provides dozens of templates on all its plans. These come in various unique designs, including floral and geometric shapes. Most of the vector templates come ready-to-use. But you can also customize them further depending on the nature of your Cricut project.
The software is also compatible with numerous plugins. Some of these include plugins designed exclusively for Cricut models. Using CorelDRAW is as easy as designing graphics and then converting them to SVG. You'll then need to send the files to Cricut's Design Space. Finish the process of vectorization by a single right-click.
10. Affinity Designer
Pricing: Plans start from $18.49
Official Website: Affinity.serif.com
This Cricut app works on Windows as well as macOS and iPad. Its pricing varies depending on the plan you choose, with the iPad version being the most affordable.
In terms of functionality, Affinity Designer is particularly effective at creating pixel-perfect mockups. You can also use it to fine-tune or enhance existing graphics.

Affinity Designer has impressive editing tools that edit your work on a pixel-by-pixel basis, as well as powerful zoom capabilities of up to 1,000,000% times. Among its key editing features include cropping and resizing. There's also a color tool for selecting hues from images and vector features like Bezier curves for auto-editing graphic shapes.
Most reviewers further praise it for its ease of use. Coupled with its fairly competitive plans, there's no reason you wouldn't consider this app for your next project.
11. SCAL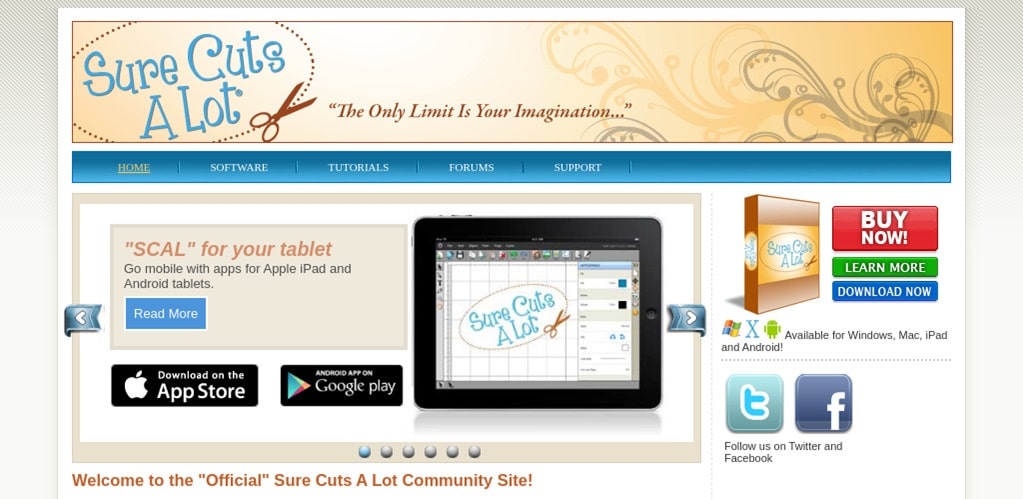 Pricing: One-off upfront fees start from $59.99
Official Website: Surecutsalot.com
Sure Cuts A Lot, commonly abbreviated as SCAL, stands apart from other common Cricut software with its nifty collection of custom fonts. Even better: these fonts are available for use directly from any installed library, which saves you time while elevating your design experience.
But SCAL isn't just effective with Cricut. It contains tons of versatile features for use with other electronic cutting machines, such as Graphtec, GCC, and Silhouette SD/CAMEO/Portrait.
For instance, there's a shadow layering feature intended to add a touch of depth and sophistication to your designs. The software also supports image tracing, another time-saving feature that lets you convert pictures into cuttable shapes in a fraction of a second.
Moreover, you get welding overlapping characters for creating chic designs. Perhaps the only area SCAL might want to improve on is its interface, which is a bit jumbled up.
12. Corel Vector (formerly Gravit Designer)
Pricing: Plans start from $59.99/year; free for 15 days
Website Link: Corel Vector
Corel Vector, previously known as Gravit Designer, stands as a web-based vector graphic design application that Corel Corporation acquired in 2018. Operating seamlessly on any device with a web browser, it empowers users to craft and refine vector graphics, logos, icons, illustrations, and more.
The platform provides additional features such as unlimited cloud storage, an extensive array of templates, and thousands of stock photos, fonts, and graphics. Catering to both hobbyists and professionals, Corel Vector proves to be a versatile and cost-effective solution. Interested users can explore its capabilities with a 15-day free trial or opt for an annual subscription.
Notably, Corel Vector is compatible with Cricut models, ensuring that your designs seamlessly integrate into your crafting projects. By saving your creations in the SVG format, the app lets you to generate and modify vector graphics, logos, icons, and illustrations across various devices with web browsers.
This accessibility, combined with its feature-rich offerings, positions it as a valuable tool for those seeking an efficient and user-friendly design experience.
What Can You Make with a Cricut Machine
The answer: your imagination's the limit!
From personalized vinyl decals for items like laptops and water bottles to custom iron-on transfers for clothing, Cricut can handle materials ranging from paper and fabric to wood and leather. It's ideal for crafting various items such as kid stuff, party decorations, educational materials, and even custom gifts.
The possibilities extend to 3D projects such as etched glass, car decals, holiday ornaments, etc.. Whether it's embellishing clothing, making greeting cards, or crafting unique wooden signs, the Cricut is a go-to tool for DIY enthusiasts. Flexible and easy-to-use, anyone can begin crafting small or elaborate projects.
It's a truly incredible machine that helps anyone unleash their inner creativity.
Wrap Up
There's a lot to consider before choosing the right app for Cricut. First, you'll need to select a program that supports various aspects of graphic design, including vectors and bitmaps. Second, the software should integrate seamlessly with your Cricut machine system, too.

Remember to read online reviews to find out what other users have to say about the app's performance. It's also best to test-drive the software before committing fully to it. That means insisting on applications that come with either a free plan or trial period. 
Feel free to choose from any of our pre-selected options above. And don't forget to have fun. Happy creating!