Last Updated on June 15, 2022
Ask anyone that has tried to make it in the font selling business, it is not easy. There are millions of fonts out there that look incredible, and can be used on a huge range of projects, so why even bother creating your own? Well, font design is one of the most rewarding of all design niches, and it can bring a lot of prosperity if you get lucky. The question is, if you are new to font design, where do you even sell your creations? 
Well, fear not, because we have the answer for you right here! Actually, we have 5 of them. Not only will this article show you five hugely popular places where you can sell your fonts in an instant, but it will give you tips and tricks for how to get started, it will show how the font designer job application process looks, and it will address the age-old question: Why on earth should I create my own fonts? So sit back and enjoy! 
Why Should I sell Fonts in the First Place?
If you are creative, or have a creative edge, then font design might just be for you. Every day new fonts are released, and all it takes is one lucky break, for one company to resonate with your design and want to use your font, and you have made it, you have hit the big time! 
Selling a font is like selling any other product, there is always a market out there for something new, fun, and niche, and if you can provide something special that other fonts may not have, then that alone makes it worth your while. Selling fonts is fun, and can be a useful hobby for people, and a means to make a little extra cash while doing so. 
Foundries and Vendors
Just in case you happen to be new to the whole 'font selling' thing, let us just remind you of the two main font marketplace types out there, vendors, and foundries. How are they different or similar to one another? 
A foundry is a publisher of sorts, they will often distribute as well, and tend to deal with the customer support issues. The only downfall is that most ask for exclusivity, which simply means you can't sell your fonts anywhere else.  If going this route, a foundry can have strict quality standards, so you may want to read the guidelines before applying. They can be a little more limited, but you are not charged as much for a sale and have less of a headache dealing with issues regarding customer service etc. 
A retail platform or a vendor is the second place that you can go to sell your fonts, and there are a few differences when comparing it to a foundry. Firstly, a vendor can take up to 50% of your sale. However, the biggest difference between a foundry and a retail platform is that a retail platform will not create its own typeface.  Just picture it as a storefront and that's about it.  If you were to go this route, you would have to sell your fonts on your own and give a cut to the platform you're using. 
Applying for Jobs 
There are two ways that you can go about working as a font designer, the first of which is applying to work with a font creation company. Finding a job as a typographer is not a simple task. Typically, people with an interest in design will join companies as an apprentice and work their way up from there, so if you have the time and the money to commit to it, that is likely the easiest way to work up the ladder. 
Similarly, you can apply to work with companies as a freelancer, but this is a little more impersonal and can be a lot more luck-dependant. 
There are many pros to working with typography companies like stability, a stable schedule, opportunity for career growth and promotion, health benefits and large project work. However, this approach can have its downfalls as well, like you are not your own boss and have limited creative control, and of course, you will have to follow orders and work on the projects that you are given, even if you don't like them. 
Selling Independently
The second way that you can go about working with and selling fonts is what we are going to focus on. Selling independently. Doing this is a little more high-risk in that being your own boss and relying on yourself is not as stable as working with a company that may be established. However, you do have full creative control over where and how you work. 
Not only this, but you can decide where to sell. However, maybe you don't know where to sell your fonts! That is where we come in to save the day! Below are five awesome sites that you can use to independently sell your fonts right now! 
Creative Market is one of the best places to showcase your fonts on the entire internet. Simply apply to have a 'shop' created (have some of your work ready to prove that you are for real), and within a couple of days, you can start selling. 
Opening a shop on CM is totally free, and you make 70% off of each sale, which is a far better rate than other sites. You can maintain control over prices and the ways on which your fonts are promoted, and you are free to add and remove fonts as you wish. 
While main space on the site tends to be reserved for the more successful sellers, persistence is key, and staying consistent with your uploads and your sales will soon see you feature on the site more prominently.
This site was designed specifically so that independent font designers could have a place to sell fonts. FontBundles has been at the forefront of font selling for a number of years now, and that is because creators love the fact that they can make 50-75% on every sale that is made. In fact, sellers get 75% if a font is bought without the use of an affiliate link (50% if an affiliate link is used). 
One of the better places to sell due to its high-traffic and competitive commission and sales fees, Font Bundles is certainly a site to consider.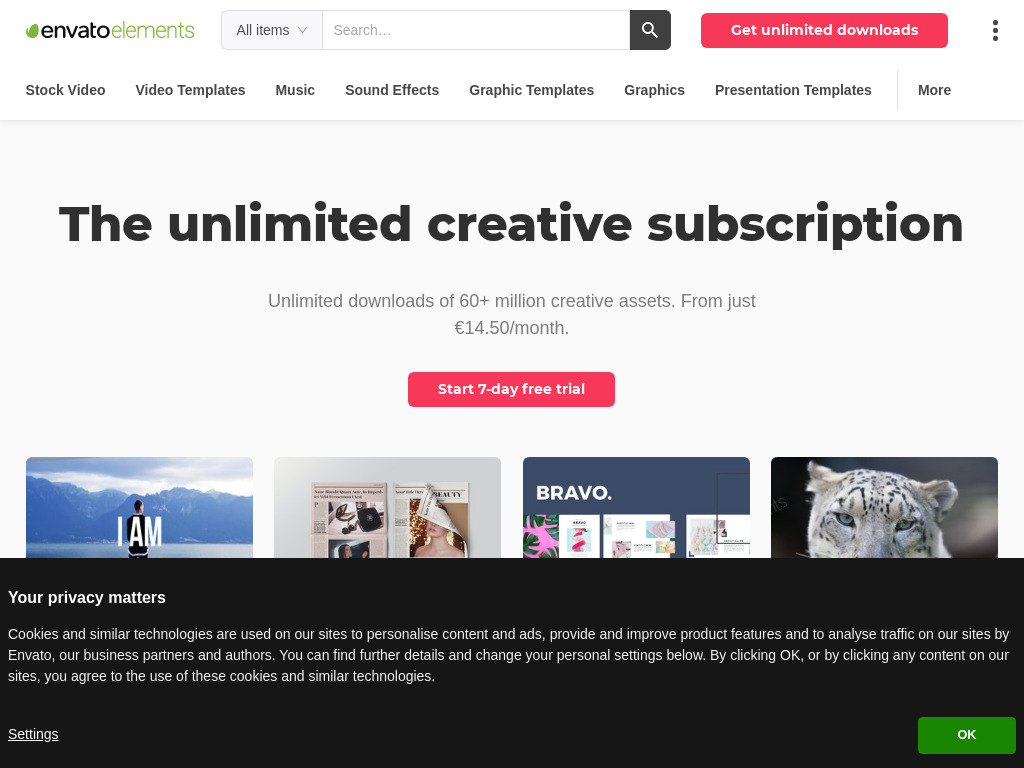 Through Envato, you can earn up to 50-60% off of all subscriptions and purchases, and seeing as it has such a huge following and a massive amount of traffic, we think that Envato is certainly a site to consider if you want to showcase your best typography work to others. 
Yellow Images is another awesome website that you can use to sell fonts with ease! It isn't specifically for selling fonts, however, it has many fonts collections, good traffic, and a supportive creator environment. In Yellow Images it's possible to build a team and whenever you invite new members to join your team it's possible for you to earn some commissions. 
Most creators will earn a 70% commission from each sale, which is a fantastic figure, and if you become a team leader of other creators, you can make a commission whenever a team member makes a sale. What's not to love? 
Etsy is one of the best-known sales platforms in the world, and it is the home of the quirky and the unique! Maintaining a shop on Etsy can be a little expensive, with every list costing $0.20, and every list needing to be renewed for $0.20 each, three times a year, you can find that you are spending a lot to keep the store going if you have a lot of fonts to sell. 
However, seeing as it is such a huge platform, and is stable, paying for placement can often be worth it, because a lot of people are likely to see your work and want to use it. 
Honorable Mentions
Creativefabrica.com – Wonderful marketplace that has been growing alot in the past few years. Wonderful team and support (from personal experience).
Myfonts.com – The big boy in the font industry. You will have to create completely separate preview images for this marketplace. 
Youworkforthem.com – According to SEMrush.com this website receives a minimal amount of traffic. Therefore it may be a risk to invest time and energy to upload your fonts there. 
Gumroad.com – This is the route many creatives take. Gumroad allows you to sell digital assets. You can create your own shop page and start selling in minutes. This is a great option if you already have a large following.