Last Updated on August 8, 2023
Welcome, art enthusiasts, to a captivating journey that fuses creativity and culture! In this artistic adventure, we're delving into the heart of African art, presenting you with 20 mesmerizing prompts to ignite your imagination during your Midjourney.
From the vast landscapes of the Sahara to the vibrant rhythm of African heritage, these prompts are designed to enrich your artistic expression and transport you to a world of visual storytelling.
Embrace the intricate motifs, explore traditional crafts, and infuse your canvases with the essence of Africa's rich cultural diversity. Join us as we unlock the door to your creativity with these remarkable African art prompts.
Beautiful African Inspired Art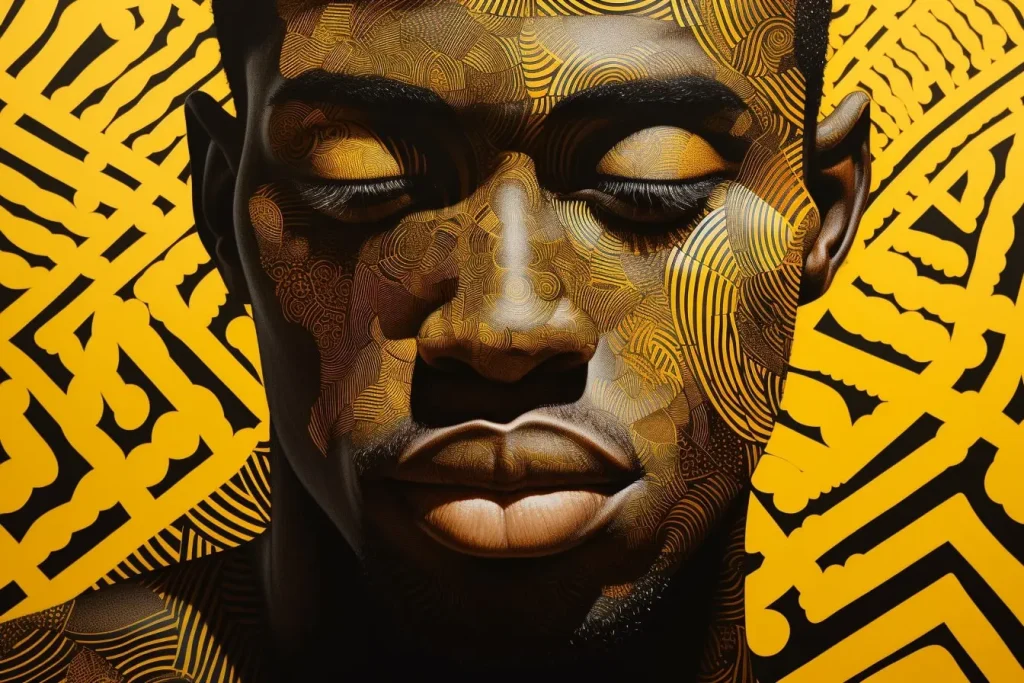 1. PROMPT: the portrait of a black man with an African style art, in the style of yellow and white, black-and-white graphic, tattoo-inspired, undulating lines, feminist art and contemporary feminist, monochromatic shadows, intricate designs –ar 3:2
2. PROMPT: the black and white painting has animals on it, in the style of expressionistic bold lines, emotive faces, pre-columbian art, smooth lines, playful figurative renditions, moche art, calming symmetry –ar 3:2
3. PROMPT: the cover of africa the a music, in the style of graphic design-inspired illustrations, ritualistic masks, geometric simplicity, sigma 105mm f/1.4 dg hsm art, dark bronze and indigo, ndebele art, expressive character design –ar 3:2
4. PROMPT: an illustration of a african woman near a circular yellow sun, in the style of modernism-inspired portraiture, dark emerald and red, ahmed morsi, modern jewelry, letras y figuras, bess hamiti, appropriation artist –ar 3:2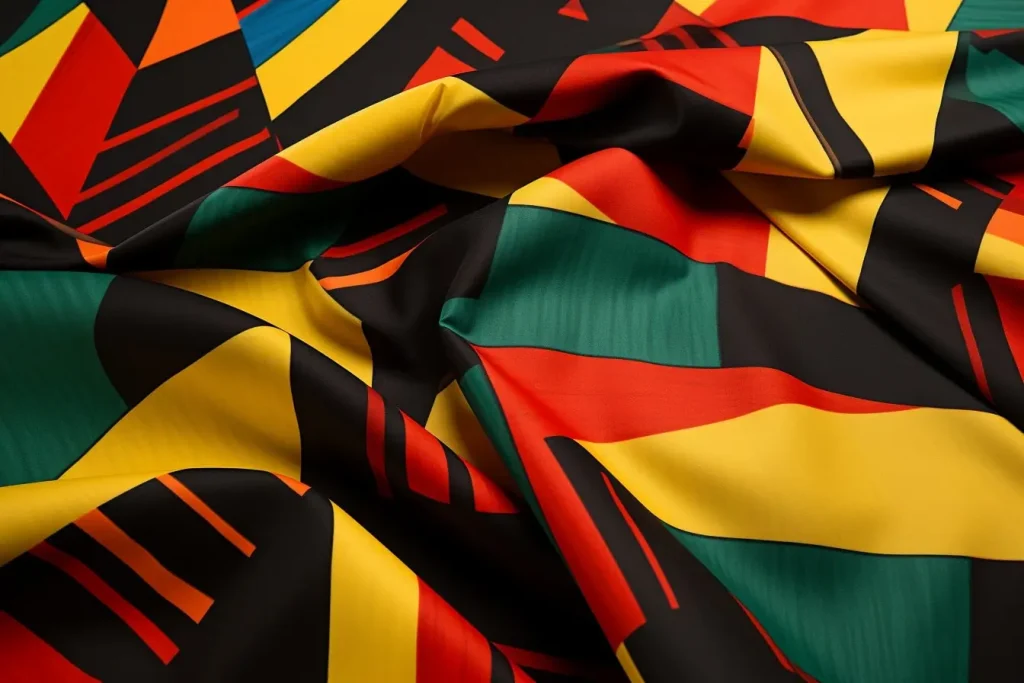 5. PROMPT: a rasta fabric featuring colorful blocks and designs, in the style of dramatic diagonals, wood, energetic mark making, abstraction-création, ndebele art, art deco geometric designs, prehistoric art –ar 3:2
6. PROMPT: two women are holding water buckets on their heads, in the style of bold contrast, rich hues, yombe art, black background, simple, colorful illustrations, black arts movement, bright hues, dansaekhwa –ar 3:2
7. PROMPT: this is a very geometric design on a black african inspired fabric, in the style of sketchy lines, pegi nicol macleod, kinuko y. craft, light brown and light black, primitive imagery, bess hamiti, warm tonal range –ar 3:2
8. PROMPT: a black face in monochromatic colors with a multicolored tattoo, in the style of naive childlike, african influence, feminist art and contemporary feminist, expressive lines, light brown and purple, bamileke art, digital art techniques –ar 3:2
9. PROMPT: the title says it all, 'the first african portrait' by person, in the style of neon-infused digitalism, suprematism influence, cross-processing/processed, bold chiaroscuro contrast, fashion-illustration, kodak gold, robotic motifs –ar 3:2
10. PROMPT: africa map made with fabrics, in the style of afrofuturism, european symbolism –ar 3:2
11. PROMPT: a cartoon figure with eyes and mouth wide open, in the style of tribal abstraction, guillem h. pongiluppi, marcel mouly, african influence, figura serpentinata, dan matutina, art & language –ar 3:2
12. PROMPT: this portrait of an african woman painted in bright colors, in the style of iconic album covers, official art, 32k uhd, bold, manga-inspired characters, colorful futurism, portraitures with hidden meanings, highly detailed illustrations –ar 3:2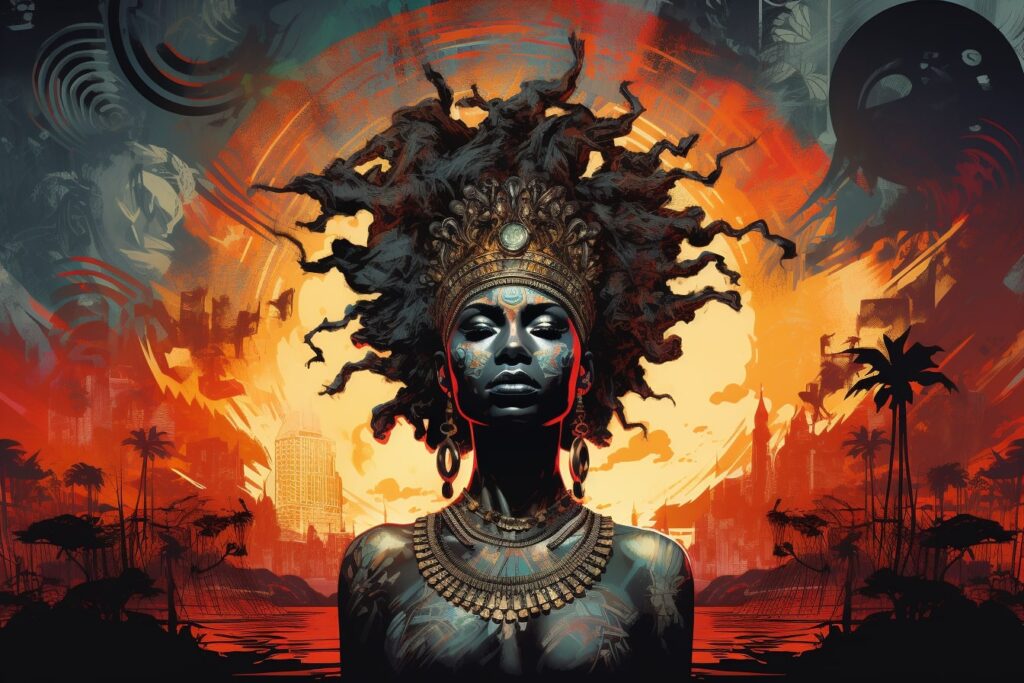 13. PROMPT: a poster for contetemps, featuring music and a multicolored design, in the style of african influence, frostpunk, temporary art, emotive faces, aztec art, contrasting tones, album covers –ar 3:2
14. PROMPT: ethnic people dancing in old style in a modern fashion interior stock vector, in the style of ndebele-inspired motifs, made of insects, tarot card, yellow and orange, dogon art, tactile canvases, quadratura –ar 3:2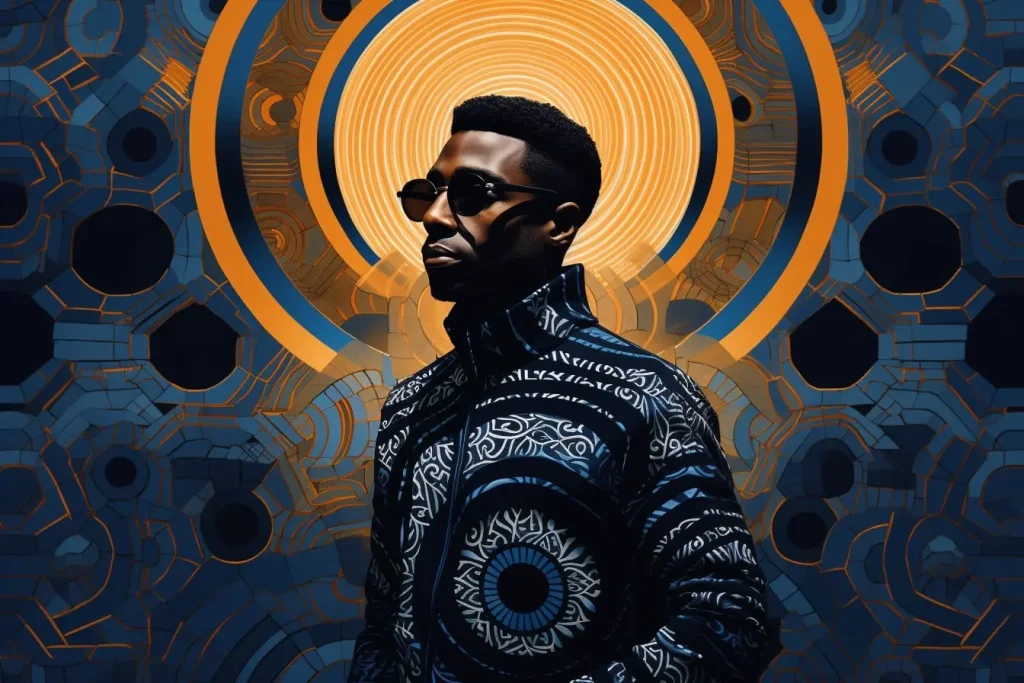 15. PROMPT: an illustration of a man clad in blue, in the style of bold patterns and typography, asante art, dark indigo and bronze, sanctuary, naïve, iconic album covers, sense of awe –ar 3:2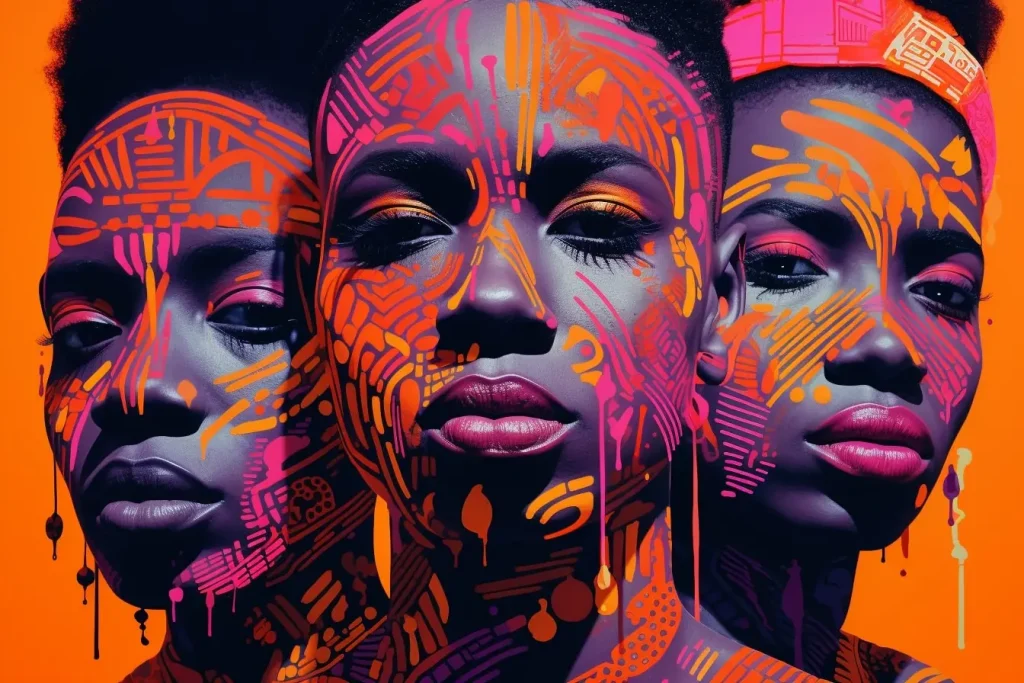 16. PROMPT: a colorful tattoo of people's faces in the background, in the style of contemporary african art, photogram, punctured canvases, playful character design, portraits, self-portraits, darksynth, light magenta and orange –ar 3:2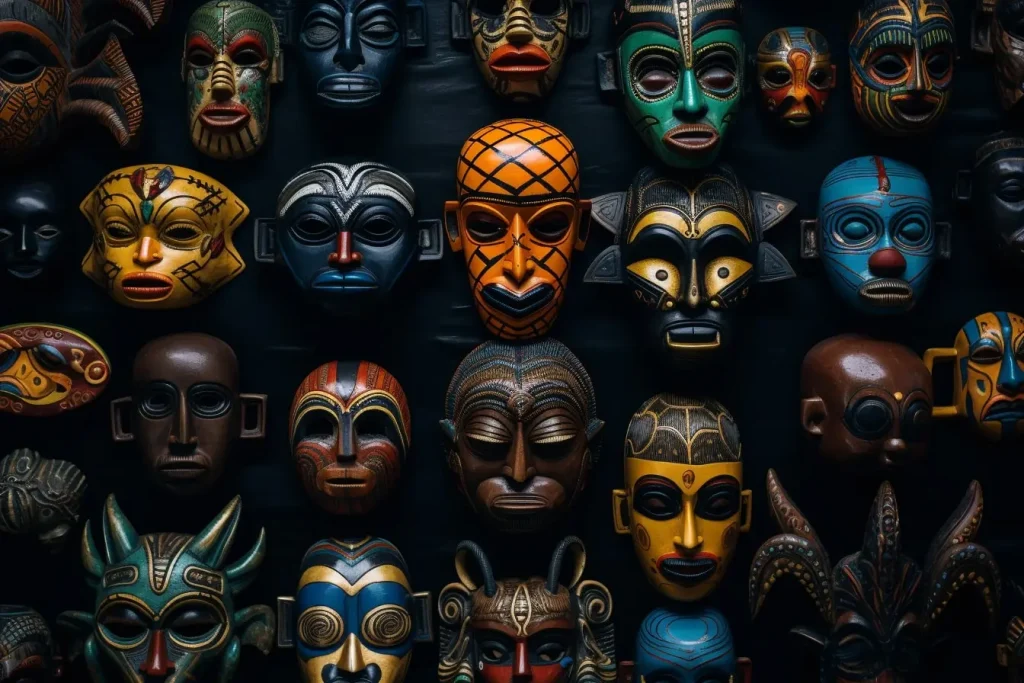 17. PROMPT: various african masks put together to make a colorful pattern, in the style of hyper-realistic sci-fi, dark and moody vignettes, documentary travel photography, bronze figurines, schizocore, selective focus, #vfxfriday –ar 3:2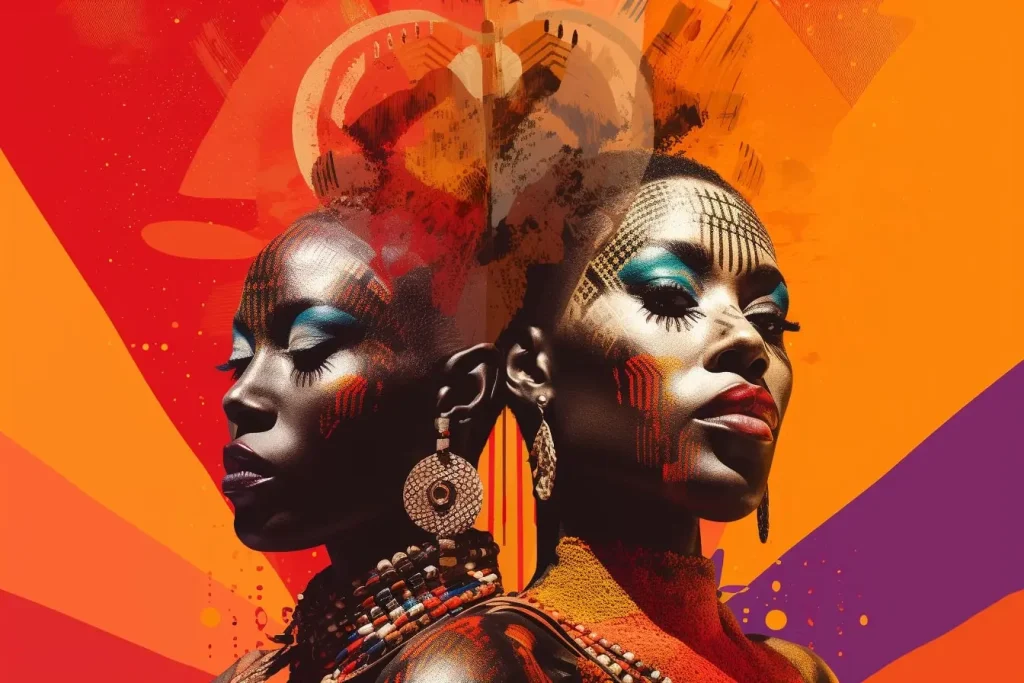 18. PROMPT: art and film in kenya, in the style of afrofuturism-inspired, colorful collage, dark violet and light bronze, psychedelic color schemes, infused symbolism, iconic album covers, transcendental art –ar 3:2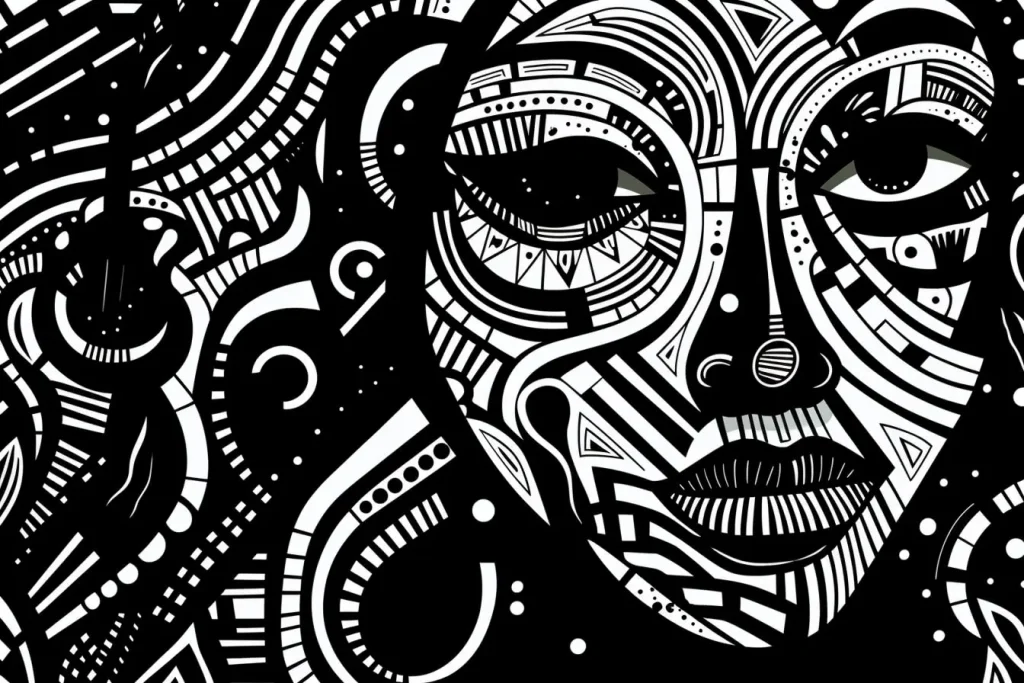 19. PROMPT: doodle of kantu abstract female, in the style of mbole art, detailed monochrome –ar 3:2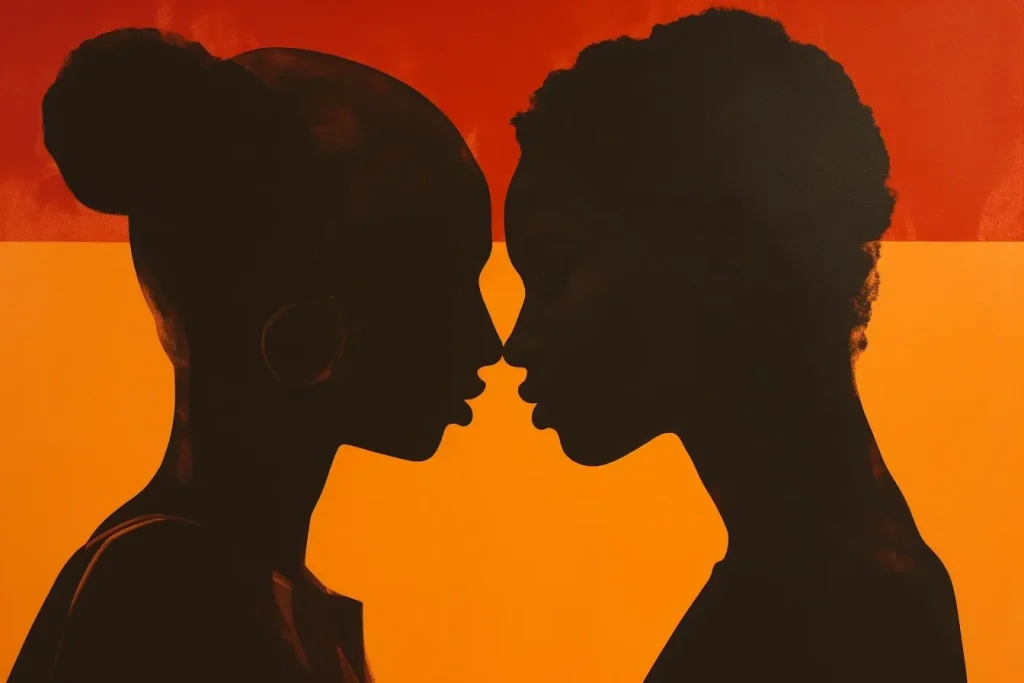 20. PROMPT: artist sarah carmo has a silhouette of two people against an orange background to the print, in the style of tonal variations in color, dark crimson and dark black, identity politics, serene faces, bold colorism, close-up, poster art –ar 3:2