For all you artsy types out there, we know that you can appreciate a good collage. That is why we are so happy to bring you 8 different collage-themed fonts.
Each of the fonts below are inspired by vintage or modern collage design and are perfect for a rage of different designs or projects. Make sure to get them today, and stand out from the crowd, be it via print or media. You'll be happy you did.
1. Freakshow
An eclectic mixture of the weird and wonderful, this font embodies a real circus/freakshow style that we find super attractive, and we are sure will be versatile for use in any project or print/media design. With upper and lowercase lettering included, as well as alternates and ligatures too for good measure, there is a lot of versatility with Freakshow that we know you will be able to take advantage of.
2. Craft Collage Bitmap Font
Inspired by old unique newspaper clippings and cutouts, this font is exactly what you need if you are looking to create something a little different and unique. Editable using OpenType programs, you can use Craft Collage to help improve your design or project.
Get your hands on craft collage here
3. Newspaper Cutboy
Newspaper cutboy is a color sans serif font designed in the style of newspaper cut letters. The font has four different alternates for each letter, meaning that there are over 100 alternates within this package, a fantastic return on investment. The font will certainly make your design stand out, so be sure to use it wisely!
Download Newspaper Cutboy here
4. Sound Distortion
Inspired by old newspapers and retro collage art, Sound Distortion is a gorgeous block font that we feel is highly attractive and perfect for use in a host of different project types.
Download Sound Distortion here
5. Retroma Vibes
Yet another font that combines a range of different vibes, we think that this font looks the business, and it will certainly do the business for you. There are a host of alternates included which means you are free to mix and match, and of course you can always avail of the multi-language support too.
6. Ransom Note Letters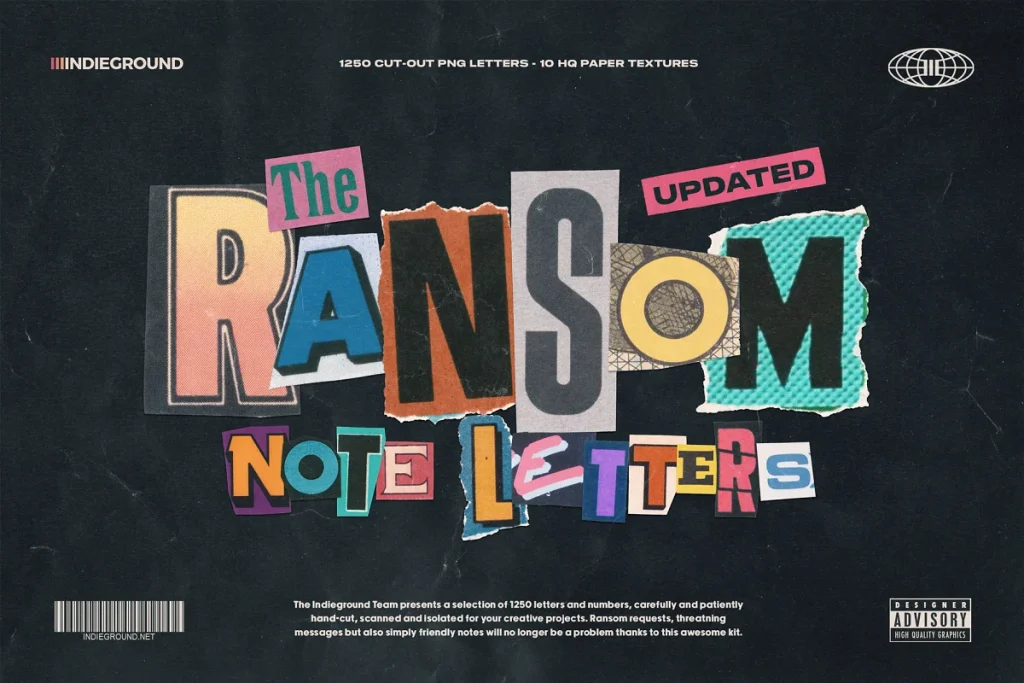 As if the sheer eye-catchiness of the colors in the template wasn't good enough, the range of features, alternates, supports, and ligatures included in the package will be sure to make you want to get your hands on Ransom Note Letters.
Download Ransom note letters right here
7. Anon OTF color font
Easy to edit in a range of OpenType supported programs through Adobe, this font is not only modern, but is unique and interesting. Perfect for posters, flyers, and media design, the mix of curves, straight lines, and sharp edges is aestheticlly pleasing and will certainly catch attention.
Get your hands on Annon OTF font here
8. Collagio display font
Abstract, cool, and modern, if you are looking for a font package that is full of character, then this is exactly what you are looking for.