Last Updated on March 13, 2023
Colors are an essential component of human communication. It's through colors (and shapes) that babies explore the world around them.

Different hues can also convey emotions that no amount of words could. For instance, stepping into a red or pink-themed party would leave one feeling romantic or sentimental.

The best part about colors is that there are millions of different hues to choose from. You can spend virtually your entire life just exploring the various unique pigments out there.

Lilac is undeniably one of the most beautiful colors in nature. The pigment's cute name makes it all the more charming. In this article, we will learn all the fun facts about lilac that you probably didn't know until now. Read on and be inspired.
What Color Is Lilac?
Lilac is a soft, pale shade of purple or a light violet color. The color has a hex code of #C8A2C8.

Lilac may also be defined simply as light purple. However, this definition may not be so accurate considering that there are several other lighter shades of purple, including mauve.
What Colors Are In Lilac?
Lilac is considered a light mauve or plum, with a more reddish undertone. Like most shades of purple, lilac is the result of combining blue and red.
What's The Deal Behind the Lilac Name?
The lilac color derives its name from an eponymous genus of flowering plants. Botanically known as Syringa, the lilac genus contains about 25 species of incredibly beautiful and fragranced flowers in the family Oleaceae.
Lilacs are native to the woodlands and scrublands that extend from southeastern Europe to eastern Asia. The flowers prefer temperate climates. But due to their charming and petite appearance, they're cultivated in nearly all human-inhabited regions worldwide.

It's worth noting that not all lilac species are visually identical. While most of these flowers range in color from basic purple to lilac, some can take on entirely different pigments, such as pink, magenta, red-violet, or even white.

Even flowers that identify as true lilac can sport different shades, including deep lilac, pale lilac, and rich lilac. This only speaks to the diversity of lilac as a color.
What Is The Origin and History of Lilac?
The purple family of colors boasts numerous pigments, all of which are exquisite in their own right. Some of these colors are as old as time itself whereas others are quite recent.
Tyrian purple (also known as royal purple, imperial purple, or Phoenician purple/red), is arguably the oldest purple variation. The color has a history dating back to 1570 BC. It was first created by coast-dwelling Phoenicians after discovering that the milk from murex snails could produce purple secretions.
These secretions would then be used to dye clothes to create a royal touch of violet. The fact that Tyrian purple was rare and difficult to make cemented its association with luxury. The color became synonymous with royalty and later on, the clergy.

First forward and in 1775, a new variant of purple known as lilac was born. Like most shades of purple, lilac's popularity quickly skyrocketed. The color especially stood out for its modesty. It was not as intense as other shades of purple like amethyst. Neither was it as dull as paler purple tints like mauve.

However, lilac began to experience a decline in popularity during the Victorian era after it was linked to mourning.
In the Victorian era, women coming out of the mourning period were expected to wear lilac clothing when black was no longer appropriate. This culture spread far and wide, pushing many away from the lilac color.

Lilac flowers were also linked to the death of President Abraham Lincoln on April 18, 1865. After Lincoln was shot by John Wilkes Booth, poet and journalist Walter Whitman Jr. composed several tribute poems to the fallen hero.
In one of his poems titled "When Lilacs Last in the Dooryard Bloom'd" Whitman describes lilac flowers in a very negative light. The fact that Lincoln's death occurred during the Victorian era dealt an even bigger blow to the popularity of lilac (flowers and color).

But like a phoenix rising out of the ashes, lilac's popularity rebounded from around the late 20th century. The color became particularly common in fashion shows and interior design.
Is Lilac a Warm or Cool Color?
Purple, blue, and green are the main cool colors while red, yellow, and orange are warm colors. It's intuitive to imagine that lilac is equally a cool color since it's a variant of purple.

However, that's not true. Despite its toned-down appearance, lilac is actually a warm color.
Is Lilac and Lavender The Same Thing?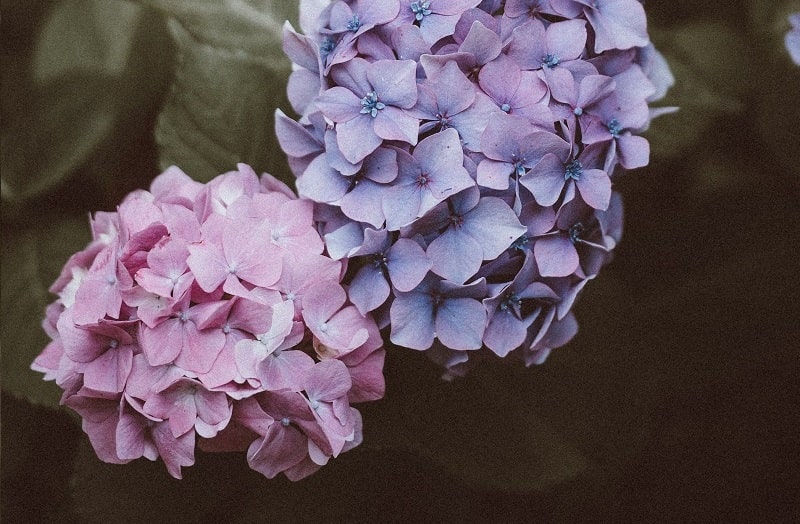 Lilac and lavender flowers have very similar colors. This might explain why many people think that the two pigments are identical.

Now, both lilac and lavender are shades of purple and violet. But while the terms are sometimes used interchangeably, the two pigments differ fundamentally in their undertones. Lilac has a pinkish tint while lavender has a bluish tint.

It's easier to tell lavender and lilac apart when you consider that the natural color of lavender flowers (which looks similar to lilac) is quite different from its web color. Besides, lavender is considered a cool color while lilac is a warm color. Lavender has a hex code of #E6E6FA.
What Other Colors Are Similar To Lilac?
Aside from lavender, the following are other notable colors that are strikingly similar to lavender: Magenta, Mauve, Periwinkle, Purple, and Violet.
What Is The Meaning and Symbolism Of Lilac?
Lilac is the color of youthfulness and innocence. The pigment can help you relive your childhood as you nostalgically reminisce upon the glorious days of your youth. It's a perfect choice for occasions like prom nights and bachelorette parties.

Lilac is also the color of creative energy. A stroll through a garden of lilac blossoms might be all it takes to kick creative blocks in the butt and get your creative juices flowing once again. Lilac's association with creativity might explain why artists like Prince and Jimi Hendrix were staunch fans of the color.

Apart from stimulating imaginative thinking, lilac may also help bring attractive energy into your life. That's due to its alluring and dreamy feeling. Stepping out in lilac attire from time to time is an intelligent way to attract love, admiration, and all the positive vibes into your life.

Some people associate lilac with spirituality. That's probably because the pigment is a shade of purple, which happens to be linked to spirituality and mysticism. The fact that lilac is an even rarer shade of purple adds to all the mystery around it.
Lilac might also convey calmness and tranquility. Frequent interactions with this color, be it in your home or office setting, can quell your irritable mind and restore disharmony in various facets of your life.

Lilac also resonates with luxury and prestige. Like other shades of purple, the color was very expensive and highly prized during the 18th century. Therefore, it became synonymous with power and affluence.

Lastly, as you might expect, lilac is also the color of love and romance. The color symbolizes the first emotion of love and is often designated the start of courtship. It's the quintessential color for fledgling relationships when red would still be considered inappropriate.
Is Lilac a Masculine or Feminine Color?
Lilac is a feminine color. The pigment is strongly associated with female attributes, such as compassion, emotion, and upbringing. It's rather uncommon to find lilac fashion accessories for men unless those designed for couples or gender-neutral occasions.
But while lilac is a feminine color, it doesn't suit any average woman. The pigment is more suitable for emotional and empathetic women. It also stands for whimsy and gracefulness, other major qualities associated with respectable women.

More recently, lilac has become associated with LGBTQI movements. This is probably the most prominent gender-fluid application of the color.
How to Make the Color Lilac
Like all shades of purple, the easiest way to create lilac is by mixing red and blue to obtain basic purple. You then add a hint of white to lighten the purple color.
Shades of Lilac
Lilac may be a distinct shade of purple. But the pigment also comes in numerous variations. Here are some of the common shades of lilac;

1. Pale Lilac
Pale lilac is what the ISCC–NBS System of Color Designation (ISCC-NBS) refers to as lilac. But as the name suggests, this pigment is basically a toned-down shade of lilac.
2. Bright Lilac
True to its name, bright lilac is a brighter shade of lilac. It sits between pale lilac and rich lilac in terms of intensity. The color was labeled 'lilac' by Crayola in 1994 in its Magic Scent specialty collection of colors.
3. Rich Lilac
Rich lilac is the direct opposite of pale lilac in terms of depth and saturation. The color is also known as bright French lilac and is what's described as 'lilac' at the popular French color list Pourpre.com.
What Colors Can Be Paired With Lilac?
Lilac sits between pink and bright purple. As such, the color tends to look gorgeous when blended with muted shades of orange, light green, and light blue. The combination of lilac with any of these pigments would create chic yet intense effects.

You could also mix lilac with olive, white, or other paler shades of purple. This is particularly recommended if looking to create a delicate and feminine look. A lilac and white combination would be highly suitable for creating a serene and refreshing ambiance.

Pairing lilac and yellow would convey a sense of visual charm, while lilac and light orange create a retro feeling. But if you truly want to feel nostalgic, consider pairing lilac with a reddish-purple or blue-purple color.
Wrap Up
Lilac has a delicate appearance that speaks to its charm and femininity. The color's association with flowers makes it suitable for occasions with romantic undertones. There are many other instances where lilac would transform any dull art creations into rare masterpieces.

But like all colors, the best way to make the most of lilac is to combine it with complementary colors. Using opposite pigments will truly bring out the maximum effects!