Last Updated on August 29, 2023
One of the struggles shared by millions of content creators around the world is finding high-quality digital assets. A quick online search will turn up dozens of recommendations. However, most of these platforms have certain glaring drawbacks including (but not limited to) low quality, insane subscription prices, and limited options.
Fortunately, one website has succeeded where most have failed. That platform is none other than Envato Elements.

In this review, we'll walk you through the top reasons to make Envato Elements your go-to digital assets marketplace. We'll also highlight the pros and cons to help you decide objectively. Let's go!
What Is Envato Elements?
Envato Elements is a subscription-based service that gives clients access to millions of digital assets. It's best known for its massive library of photos, graphics, stock videos, royalty-free music, and graphic templates. They also maintain hundreds of educational materials and business management solutions.
It stands as the ultimate destination for creatives, catering to both budding artists and seasoned professionals. With a licensed membership, you'll unlock boundless downloads of top-tier digital assets. As a pioneer in the realm of subscription services, Elements revolutionized the creative landscape by offering a myriad of premium graphic designs.
Through consistent curation and enhancement, they have managed to maintain a rich library of ever-evolving content. You're sure to find a new source of inspiration every time you visit.
What Company Is Behind Envato Elements?
Elements is one of the digital marketplaces developed by Envato, a Melbourne-based software development firm. The company was founded in 2006 by Cyan Ta'eed, Jun Rung, and Collis Ta'eed. Often hailed as the global leader in digital assets, Envato holds its ground alongside industry giants such as Adobe, underscoring its unparalleled stature in the tech arena.
As of the time of writing, the company enjoys over 2 million active customers. It has also generated more than $1 billion in total community earnings since its establishment barely two decades ago.
Aside from Elements, Envato currently has other services to help bring your ideas to life. A few noteworthy examples are:
Envato Market
This platform serves as a marketplace where designers, developers, and content creators can buy and sell a variety of digital products. These products span multiple categories, including website themes and templates, graphics, audio files, video footage, photography, code scripts, and more.
Envato Market comprises several marketplaces, such as: ThemeForest (for website themes), GraphicRiver (for graphics), AudioJungle (for audio), VideoHive (for video content), and CodeCanyon (for code scripts and plugins).
Envato Tuts+
As an online learning platform, Envato Tuts+ offers tutorials and courses in design, coding, photography, and more, helping creative individuals enhance their skills and proficiency through interactive content and expert instruction.
Mixkit
Mixkit is a well-known platform for free high-quality assets like videos, music tracks, and templates. It's especially useful for freelance writers working on web design, apps, and color-focused content, as it provides a wide range of visuals and sounds to add flair to any project.
Reshot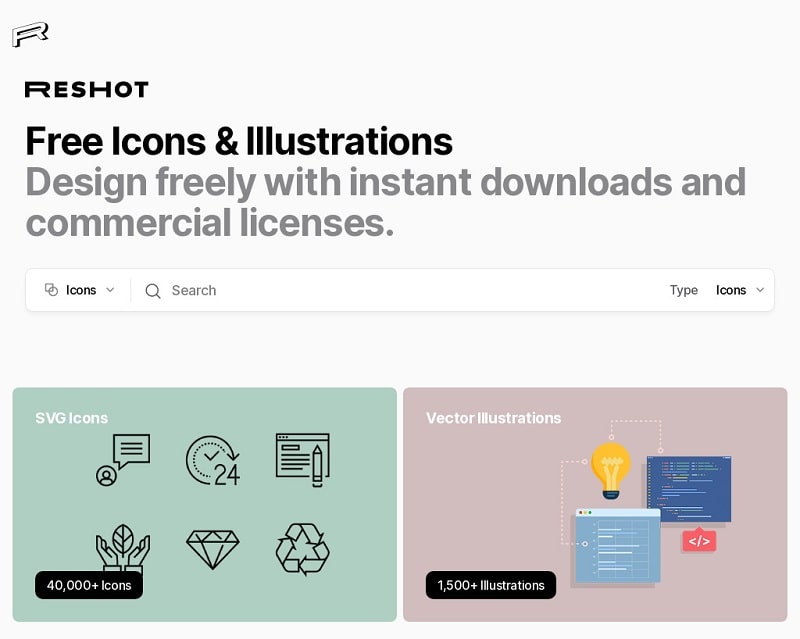 Unleash your creativity with immediate access to carefully selected SVG icons and vector illustrations on Reshot. Enjoy full commercial rights – all for free. No need for attribution.
How Does Envato Elements Work?
All the above directories collectively form the Envato Market, which allows you to pay for every digital asset individually. However, accessing content from Envato Market individually is both costly and time-consuming. That's where Envato Elements comes in.

Elements uses a subscription model that lets you download unlimited assets for a fixed monthly or annual fee.
How Do I Get Started On Envato Elements?
To get started, you'll need to sign in with your credentials or sign up for a free account if you don't already have one.

The account sign-up process is straightforward. Simply enter your First Name, Last Name, and Email. Then, set a strong password using 8 characters, agree to receive tips and updates from the website, and click "Create account."

You can also sign up with your Facebook, Google, or Apple account.
Is Envato Elements Worth It: Standout Features and More
1. Vast Asset Collection
The primary reason many creatives don't mind subscribing to Elements is the vast collection of digital assets the service offers. It provides unlimited access to all the directories in the Envato Market, only at a fee.
As of the time of writing, Envato Elements has more than 15 million digital assets. The assets are distributed as follows;

• Stock Photos – 8,673,165
• Stock Videos – 4,874,335
• Video Templates – 88,501
• Music – 153,952
• Sound Effects – 634,267
• Graphics – 155,140
• Graphic Templates – 253,635
• Presentation Templates – 102,897
• Web Templates – 5,020
• CMS Templates – 1,140
• WordPress – 6,269
• Fonts – 40,469
• 3D – 194,944
2. Unlimited Downloads
Any professional creative would desire a website that lets them download unlimited graphics on a single subscription. And that's precisely what Envato Elements provides. Subscribing users are entitled to unlimited content downloads with no daily limits or extra charge.
3. High-Quality Content
Rarely do you find a digital asset marketplace that provides quality and quantity in one package. But Elements is a welcome exception. It doesn't matter the type of media content you're looking for. Elements ensures you can download it in the highest quality possible.
4. Regular Site Updates
The Envato Elements website receives weekly updates, allowing you to sample thousands of new content every few days. Even better is that the assets are handpicked by the world's most reputed creative professionals. That ensures each addition meets the website's high quality threshold.
5. Easy to Use
Nearly every digital asset platform you'll come across markets itself as easy to use. However, Envato Elements is truly user-friendly. For starters, it maintains a clean interface with no pop-ups or intrusive ads. The dashboard is uncluttered and intuitively organized.

There's a search bar located on top of the page that lets you narrow down your search for the content you're looking for. Beside the search function is a drop-down menu to quickly select your preferred category.

Each category has a sub-category underneath it. This makes it even easier to find content on the platform. 
It's also reasonably easy to download content:
i. Head to the Envato Elements home page.
ii. Find the item by browsing the categories or looking it up directly through the search bar.
iii. Click on the "download" button located beside the asset you wish to download.
You can download the content with or without a license, depending on how you intend to use it.
6. Handy How-To Guides
On the off-chance that you encounter challenges using the Envato Elements website, there are dozens of instructional videos and how-to guides that you can take advantage of. These tutorials are found in the Envato Tuts+ directory. The fact that they incorporate videos helps accelerate the learning process.
7. Flexible Content Licensing
Elements provides flexible licensing. All items on the website share the same license terms. Subscribers enjoy broad commercial rights, allowing them to use the downloaded assets on both personal and commercial projects.
Whenever you download an asset, Elements gives you a lifelong license for a single, predefined usage. If you wish to reuse the item, you simply visit your downloads and register it for a different use.
However, note that Envato Elements prohibits the direct selling or redistribution of its assets. It's also illegal to copyright download content or use it for merchandising purposes.
How Much Does Envato Elements Cost?
Envato Elements offers four different pricing plans, namely;
a) Individual Plan
The individual plan costs $16.50/month if billed annually or $39.00/month if billed monthly. It entitles you to millions of creative assets as well as unlimited downloads and commercial licensing.
b) Teams Plan
The Teams Plan is ideal for several creatives collaborating on a single digital project. You can add up to 5 members, with a subscription going for a joint fee of $53.75/month for 5 users or $10.75/month for each user.
This plan provides every benefit in the Individuals Plan plus the flexibility to change the composition of your team at will. It also offers a central location for all downloads.
c) Enterprise Plan
The Enterprise Plan is a customized package suitable for larger teams of 6 members or more, businesses, and organizations. There's no standard pricing as the amount you pay depends on your team's size and composition.

However, you get to enjoy all the benefits of Teams Plan plus additional personalized services. Some of the extra benefits include custom licensing, dedicated account management, and tailored indemnification.

d) Students Plan

The Students Plan is a subsidized plan offered to students at a 30% discount. It costs $11.50 per month if billed annually or $33.00/month if billed annually.
Envato Elements Trial and Cancellation Policy
A free trial is no longer available (but do watch out for future promotions!). This could be a deal-breaker for those who prefer to test-drive a service before subscribing. Do feel free to cancel your subscription anytime (but you won't be entitled to a refund). Your subscriptions remain active if you cancel them 24 days or more before the set expiry date.
Does Envato Elements Provide Support?
They don't provide direct technical support for every digital asset on its platform. That's because all content on the website are created by third-party designers. Be sure to check the zip file that you downloaded to find out if the author included any support for that item.
Elements doesn't provide direct telephone or live chat support either.
As a saving grace, Envato Elements maintains an interactive email support through which you can post your queries and have them addressed in a few hours. The website also runs a massive community where you can freely interact with fellow creatives.
Envato Elements Pros and Cons
Here's a concise breakdown of the pros and cons of Envato Elements. Keep in mind that these can vary based on individual needs and preferences.
Pros
• Unlimited downloads without daily limits
• Huge collection of high-quality assets
• Frequent website updates
• Up to 12 free assets every month
• Simple commercial license
• Flexible pricing plans
Cons
• Lower indemnity
• No refunds on cancellations
• No direct support
• No free trial
• Inability to use digital assets for new projects after unsubscribing
How Does Envato Elements Compare To Its Competitors?
1. Envato Elements vs. Envato Market
Although made by the same company, they differ in their pricing models and licensing terms. The major difference is that Elements supports unlimited downloads of Envato digital assets for a single subscription that starts from $16.50/month. On the other hand, Market supports on-demand downloads for a one-time fee ranging from $1 to $70, depending on the assets required.
2. Envato Elements vs. Shutterstock
Price variation is the first noticeable difference between Envato Elements and Shutterstock. Shutterstock generally charges more. However, Shutterstock users enjoy higher indemnity and extended license. The website appeals more to professional graphic designers whereas Elements is suitable for both beginners and seasoned creatives on a budget.
3. Envato Elements vs. Artlist
Artlist maintains thousands of media content, which is intuitively grouped into different categories. The premium bundles start from $30/month – making it considerably more expensive than Elements. And while Artlist bundles its content into various categories, its collection of stock audios, videos, and sound effects is smaller than Elements.'
4. Envato Elements vs. Placeit
Elements differs from Placeit mainly in terms of ease of use and customizability. Most Placeit users laud the platform for being remarkably user-friendly. The website maintains in-house editing tools, allowing you to fine-tune each digital asset further to your liking before using it. Elements has no in-built editor. Still, it excels in terms of the vastness of its digital library.
Final Word
In this digital age, where every pixel matters, Envato Elements emerges as the ultimate muse for freelancers and creative minds. Whether you're a wordsmith weaving tales, a designer shaping visual narratives, or an app enthusiast envisioning the next digital sensation, it's your trusted companion. Explore its boundless playground of inspiration and let it fuel your artistic journey.