Last Updated on September 28, 2023
Berries have become synonymous with a bountiful and dreamy summer. Imagine: green, open fields; clear, azure skies; and a picnic mat laden with bread, butter, cut meats, and ripe berries. This is the essence of the mulberry color— luscious richness brought to life in a single hue that dances between red and blue.
Like a hidden gem, mulberry beckons with a unique charisma. It's a shade that defies easy categorization; a marriage of warmth and coolness that creates a visual tapestry of emotions. From a humble fruit, it's now a chic pigment that's used in various industries, including fashion, interior design, and digital art.
In this article, we shall attempt to unravel the multifaceted aspects of mulberry color by offering a comprehensive understanding of its history, meaning, symbolism. We'll also explore its place in color psychology as we delve into its diverse applications.
Quick Introduction To The Color Mulberry
The color mulberry is often a blend of red and blue, creating a deep, luscious hue that resembles the color of ripe mulberries (hex code #C54B8C). The composition may vary slightly depending on the specific shade you want. To be more specific, this hue is achieved by mixing a higher amount of red with a smaller amount of blue.
Meanwhile, the RGB color composition for mulberry is normally at around R: 110, G: 48, B: 92. Keep in mind that RGB values can be adjusted to achieve different variations. So don't hesitate to experiment until you achieve the perfect balance that resonates with your creative vision.
Exploring the Variations of Mulberry Color
Contrary to what many people might think, mulberry is not a single, fixed shade. Rather, it encompasses a range of variations that can be lighter or darker, warmer or cooler. You can achieve different shades of mulberry by adjusting the proportions of red and purple in the color mixture. Here are a few examples:


Burgundy: Rich and opulent, this rich, reddish-brown shade exudes a sense of luxury and sophistication. It's a deep blend of red and blue, creating a velvety hue that's reminiscent of fine red wine.

Dusty Rose: Soft and romantic, this lighter interpretation of mulberry leans more towards pink while retaining its underlying richness. It's like a gentle whisper of the classic hue.
Mauve: This shade takes on a more muted and subtle tone, leaning towards the mauve side of the spectrum. It carries a sense of understated elegance and works well in both casual and formal contexts.
Elegant Eggplant: Adding a touch of eggplant to mulberry creates a unique shade that's deep, velvety, and luxurious. It's a perfect choice for adding drama to your designs.
You probably already know that mulberry occurs in the natural environment. Various shades of the color can be seen in the rich tones of ripe mulberries, as well as in the petals of certain flowers like the hollyhock or the dahlia. These natural occurrences of mulberry can serve as inspiration for artists and designers looking to incorporate the hue into their work.
Complementary colors like green or yellow can enhance mulberry's vibrancy. While neutral colors like white or gray can provide a contrasting backdrop that allows the mulberry hue to stand out.
Origins of Mulberry Color
The word 'mulberry' is etymologically related to the Latin term 'morus,' which refers to the mulberry tree. It was derived from the natural dye of the mulberry fruit, resulting in a rich and deep hue reminiscent of the ripe berries themselves.
Dyeing techniques using the mulberry fruit as a source of color were prevalent in various civilizations, including the ancient Egyptians, Greeks, and Romans. Mulberry dye was highly sought after due to its rarity and intricate production process.
The historical significance of the mulberry color can be seen in its association with luxury and royalty. In ancient China, mulberry silk was highly valued and reserved for the emperor and his court. The color became synonymous with wealth and power.
The hue continues to evoke a sense of sophistication and elegance in most of its applications. For instance, it's often used in high-end fashion and interior design for its ability to create a luxurious and refined atmosphere.
The Cultural Significance of Mulberry Color
The significance of the color mulberry spans diverse cultures, each layering it with unique meanings. Its interpretations differ globally, weaving a rich tapestry of symbolism.
For some, it resonates with spirituality, embodying wisdom and intuition. In ancient China, mulberry symbolized nobility and imperial power. In Japan, it's the hue of change and contemplation, while among Native Americans, it speaks of fertility.
This chromatic narrative extends into art and fashion, where mulberry adds an air of mystery and luxury. Its emotive connotations vary: passion, mourning, even healing in color therapy. Multifaceted in its interpretations, mulberry's allure lies in its enigmatic embrace of cultural diversity.
More About the Symbolism of Mulberry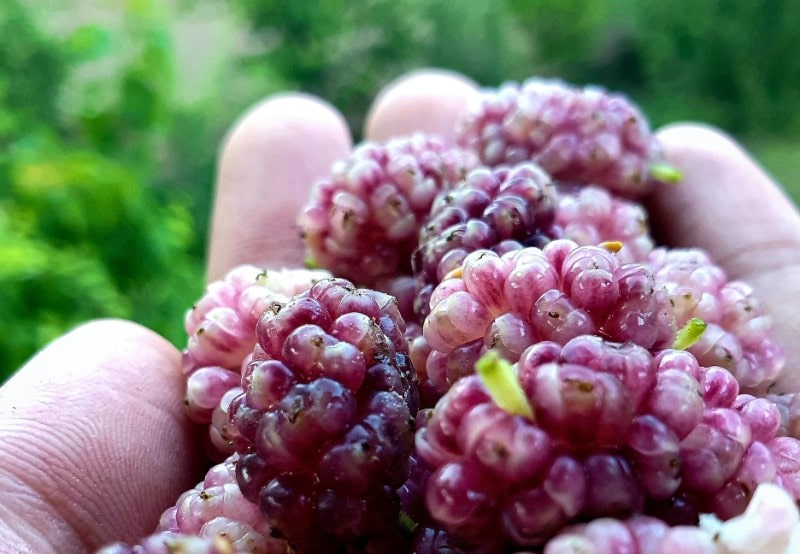 Just as its cultural significance, the symbolism of mulberry varies across different societies, reflecting its diverse interpretations. The color embodies different meanings in spiritual, artistic, and design contexts.
This enchanting color can add depth to an otherwise dull narrative. In literature, mulberry is often used symbolically to represent mystery, sensuality, and passion.
In religious contexts, the symbolism of mulberry varies from one faith to another. The color is associated with spirituality, wisdom, and divine connection in some religious practices. In others, it may represent mourning or sorrow.
It enjoys extensive usage in home décor, due to its potential to create a warm and luxurious atmosphere. This deep shade can add a touch of sophistication to a space, particularly when used in upholstery or drapery.

For branding and marketing, the mulberry color resonates more with luxury, exclusivity, and indulgence. It's often used by high-end fashion brands and upscale products to convey a sense of opulence and prestige.

Lastly, the mulberry color exists in various elements in the natural environment, such as flowers, fruits, and foliage. The color is often linked with abundance, fertility, and growth. Its rich and vibrant hues stand as a striking contrast against nature's greenery, making it visually captivating.
The Psychological Effects of Mulberry Color
Psychological research has demonstrated that exposure to the mulberry color may elicit feelings of warmth and comfort, stimulating a sense of tranquility in individuals.
The emotional responses triggered by mulberry are largely positive. In most psychological contexts, the color is associated with feelings of happiness and contentment. It's also perceived as a luxurious hue with an ability to evoke a sense of elegance and refinement.

Color associations play a significant role in how individuals interpret and respond to their surroundings. In this regard, the mulberry color has powerful resonance with nature, specifically with the ripe mulberry fruit. This connection to nature can evoke feelings of freshness and vitality, further contributing to mulberry's positive emotional responses.

It has a notable impact on mood too. Its warm tones are known to be incredibly soothing and might help to combat common mental health issues like stress and anxiety. This makes the color particularly suitable for environments where relaxation is desired, such as bedrooms or spa settings.

Millions of marketers around the world use the color to convey a sense of exclusivity and high quality. Its association with luxury makes it an appealing choice for brands that want to create a premium image.

The hue can create a cozy and inviting atmosphere. You can incorporate it through accent pieces, such as throw pillows or curtains, or as a dominant color in a room. Its ability to evoke comfort makes it a popular choice for living spaces and bedrooms alike.
Mulberry in Design
Mulberry's presence in design weaves a spell of enchantment and allure. It wields a transformative power in interior design, whether as an accent wall, furniture piece, or focal accessory, emanating comfort in its deep, warm tones, a perfect fit for cozy spaces like bedrooms and living rooms.
Its magic extends to branding, where it bestows luxury and exclusivity, elevating logos and packaging to high-end status. On product shelves, it beckons attention, kindling desire, and enhancing online allure. In graphic design, mulberry crafts captivating visuals, evoking reactions and enhancing aesthetics.
In the realm of advertising, its ability to conjure passion and mystery is a marketer's ally, leaving indelible impressions on clients and prospects alike.
Mulberry in Fashion
Its allure has captivated fashion designers, gaining favor among celebrities and enthusiasts alike. From red carpets to high-profile events, its elegance shines on stars.
Accessories like handbags and shoes have embraced mulberry's richness, elevating any look. Recent runways have witnessed its rise, enriching diverse styles for both casual and formal wear. Versatile in pairing, it complements neutrals for a timeless appeal or contrasts boldly with shades like gold or teal for depth.
Beyond clothing, mulberry graces makeup too—bringing seductive charm to lips and eyes. As a captivating feature in fashion, its adaptability makes it a must-have for those seeking mystic elegance in ensembles.
Historical Uses of Mulberry Color
Cherished across centuries, mulberry lends a touch of opulence to various contexts. Derived from the mulberry tree's bark, its rich dye adorned ancient textiles, signifying status and vibrancy.
In Asian art, it carried spiritual connotations, gracing depictions of monks and gods. In Japan, it graced elegant kimono fabrics, and medieval tapestries wove it into grand scenes.
Renaissance artists used it to evoke luxury on velvet and silk. From Victorian dresses to 1960s flair, mulberry's enduring presence has embodied wealth, spirituality, and elegance. A historical thread weaves through textiles, art, and fashion, showing its timeless allure.
Final Word
As we draw the curtain on our journey through the realm of mulberry color, its enchanting essence lingers on. The interplay of rich red and deep blue has gifted us a palette that whispers both elegance and intrigue. From the realms of art and fashion to the canvas of our imagination, mulberry's tones resonate with timeless sophistication. Let this hue continue to be your accomplice in the symphony of design.