Last Updated on October 9, 2023
'What is a spiritual font?' we hear you ask. Well let us just say that there is a font for everything, and spiritual-themed fonts are made to be not only stylish and contemporary but also classy and elegant. Every style of font that you will see below is uniquely different and has its own little quirks that regardless of what project you are promoting or highlighting, it will have its own unique edge. 
What is Spiritual Wellness? 
Many people attribute spirituality and spiritual wellness to a relationship with religion and God. While that is certainly true to some extent and for certain groups, it does not cover the whole story. 
Spiritual wellness is the process by which you look for meaning in life by getting in touch with yourself, your own emotions, and your own beliefs and morals. It can be achieved in a variety of ways. 
The reason that this is important to know in relation to fonts and typefaces, is because often, meditation or yoga companies might see the term 'spiritual' and overlook whatever is inside because they feel it may not apply. Well, we are here to tell you that spirituality covers a myriad of areas, and each of the fonts below will help your company and brand grow immensely.
Utilizing a Spiritual Font to its Fullest Potential
Where and 'for who' a spiritual font may appeal to can often be a little blurry, so below, we have included 3 groups or types of companies that we feel could strongly benefit from utilizing one of the 20 beautiful fonts below, and no, spiritual does not just mean religious, it can also mean getting in tune with yourself and your body, which relates directly into the first group that could benefit from the fonts below: 
Meditation Groups
Meditation is a key element of the spiritual world, and for centuries it has offered people a sense of both peace and purpose, two things that heavily underpin spirituality. Using a spiritually-themed font as a meditation group can give a sense of serenity and personality to your promotion and help to attract new people. 
Volunteer Groups/Units
Volunteering is like chicken soup for the soul, it makes us feel good about ourselves and helps us to connect to others, and to ourselves on a more spiritual level.
Religious Groups 
It had to be included. Yes, religion and spirituality have close connections because they both link with morality, goodness, inner peace and a sense of purpose and belonging. So if you are a religious group, or a prayer group and are looking to recruit members, promote yourselves a little, or hand out flyers and leaflets, then the 20 fonts below are just what you need. 
1. Brutalism Font 
This modern, quirky and whimsical typeface is inspired by the brutalist styles of old. Ideal for posters, brochures, and signs.
2. Langlock – Magical Type 
Langlock is a serif typeface inspired by classic fairy tales with wizard-era fonts. However, it is also a perfect typeface to use if you are promoting an evening of spiritual growth. There are super and lower case alternatives for each letter, and multilingual support is also included. A great choice. 
3. Peachy Fantasy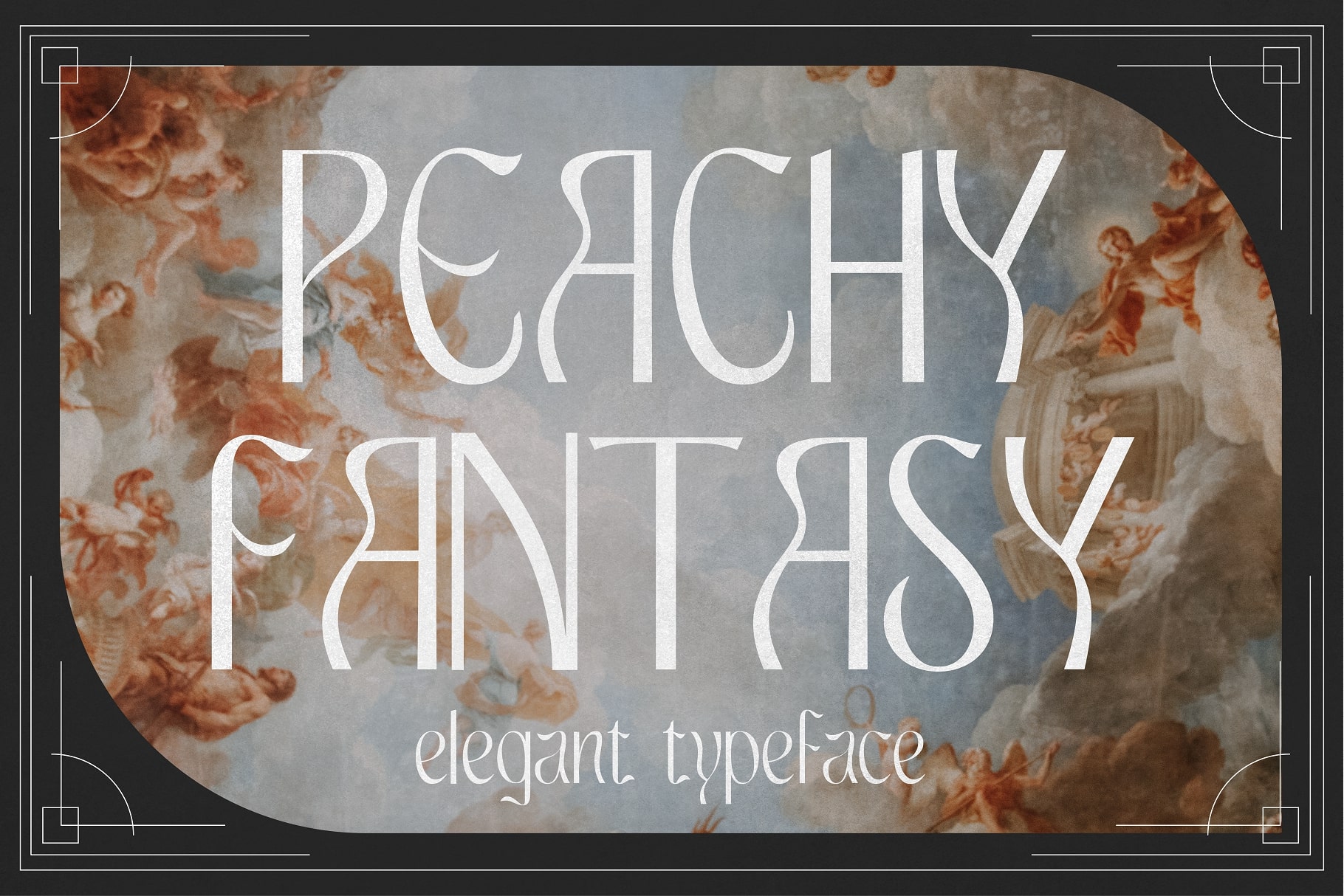 Peachy Fantasy is an Art Nouveau inspired typeface that evokes nostalgia. This typeface is ideal for a wide range of projects such as magazines, posters, branding, apparel, editorials, social media, packaging, advertisements, and much more. Each letter stands out on its own, giving your designs a touch of elegance and originality. If you're in the market for a modern typeface with vintage influences, then Peachy Fantasy is for you.
4. Bohemian Script 
This handpainted calligraphic font is the ideal font if you are looking to create a design or an advertisement that is not aggressive or threatening in any way. It is well-rounded, quirky, and inviting, perfect for anything spiritual. 
5. Rosemode 
This elegant font is light, minimal, and eye-catching. A solid choice for any branding or advertising project, we are confident that once you see Rosemode in action, you will be hooked. 
6. Niran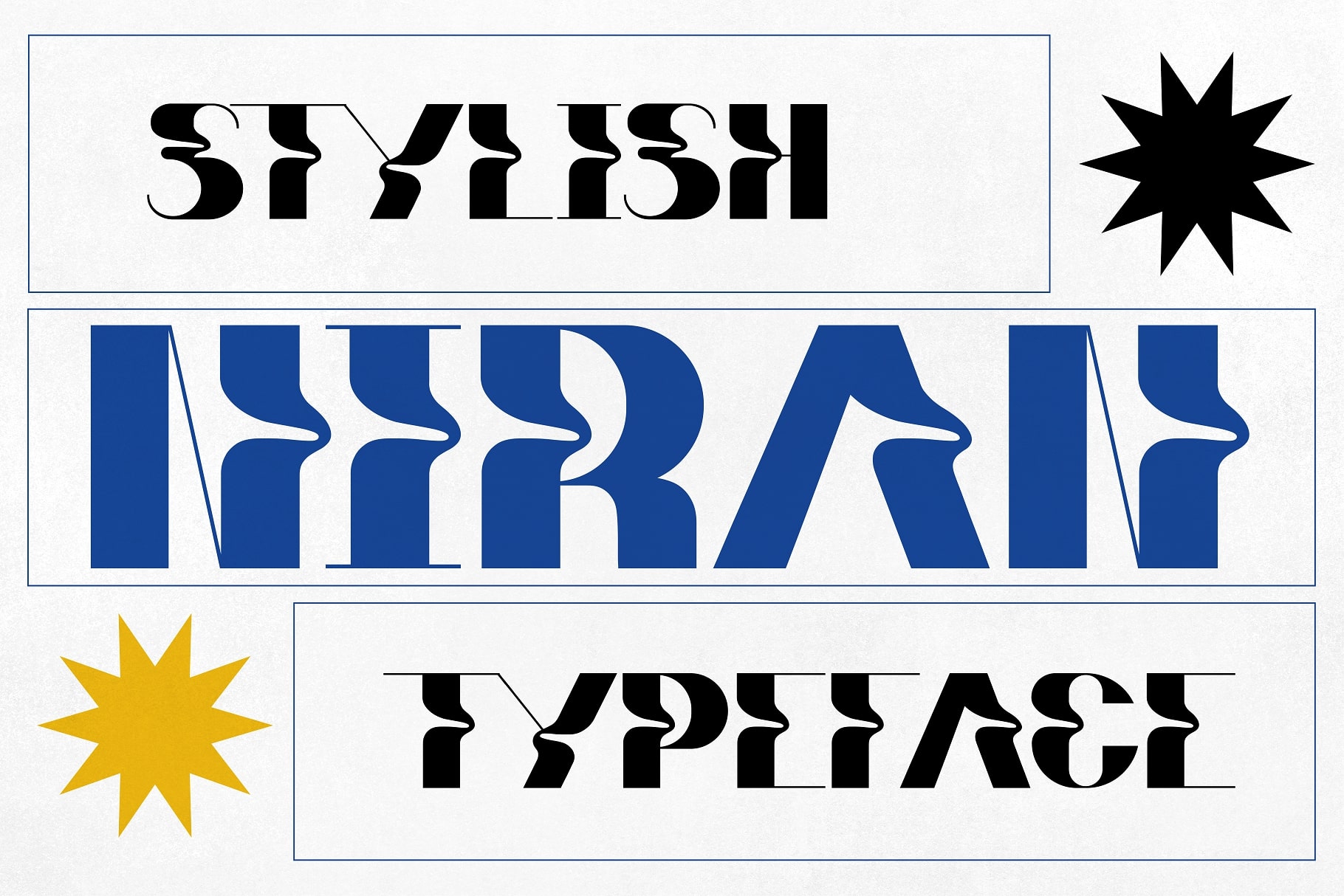 Niran is an experimental typeface with radical curves. Unique rippled lettering makes this font perfect for groovy posters, abstract logos, creative quotes, rad packaging, attention grabbing headlines, and much more. Niran mixes futurist letters with nostalgic curves, thus creating typography which stands out from the norm. If you're searching for an experimental font that breaks the rules, then look no further than Niran.
7. Modien – Stylish Handwritten Font 
Made to look like real handwriting and give a personal and contemporary design, Modien is a font that we think would blend in beautifully with any spiritually-inclined posters, flyers, brochures, or logos. 
8. Enchant
Enchant is a Celtic inspired typeface from the 1600s. This calligraphy font is legible, beautiful, and distinctive. You can use Enchant to create mesmerizing books covers, social media posts, magazines, packaging, logos, t-shirts, emblems, posters, and pretty much anything else you can think of. If you want to replicate that medieval/Celtic look, then Enchant is for you.
9. Rosaline
Rosaline is a beautiful outline typeface inspired by the glorious Art Deco era of the 1920s. This gorgeous font is strong, decorative, and classy. You can use it for vintage projects as well as modern design projects like packaging, apparel, posters, branding, prints, weddings, and more. Create your Art Deco masterpiece today with Rosaline.
10. Calaya – Lovely Modern Script 
Calaya Modern Script is a handwritten script font based on the expression of real handwriting. The modern and unique typeface will work perfectly for fashion, e-commerce brands, trend blogs, wedding boutiques or any business that wants to appear upscale and chic.
11. Sophisticated – A Lovely Modern Script 
To be honest, the name of the font says it best. We love this font and think that it will add a touch of class to any promotion or piece of advertisement. 
12. SOUGHT – Classy Extended Font 
A modern and stylish serif design, we think that you will love this font because it is so versatile. Included in the package is: 
A range of different characters and alternates 
OTF, TTF, and WOFF file formats 
Uppercase characters that are easy to edit and design. 
13. Lucky Beauty – Styled Classy Serif 
Perfect for an elegant style of branding, we are confident that this font will fit right into any design. The minimalist and classy shape will make your project appear classy, and elegant. What more could you want. 
14. Rantys – Quirky Serif

Quirky Serif Typeface is a quirky display font that combines thick and thin strokes, oldskool serif, and unusual tweaks. It can be used to create or enhance almost any type of design project, from print to social media. Just use your imagination and your project will become more alive and look great than ever with this typeface.
15. Rengard – Modern Serif Typeface 
Simple, minimal, elegant, thin, classy, and effective. Everything about this font is perfect if you are looking for a typeface that is not too over the top or invasive.
16. Eugerie – Classic Modern Typeface 
A modern typeface with a funky twist. We love this design because it is contemporary and super easy to apply to any design concept. Make brochures and flyers come to life with this gorgeous design. 
17. Mastels 
This handwritten script is very unique and personable in its appearance. With the expression of real handwriting at the forefront of its design, you can make any design look informal and inviting with Mastels. 
18. Santiago – Modern Chic Stylish Font 
A thin monoline font that is smooth and elegant in its appearance, Santiago has a lot going in its favor. We love the ligatures attached to the typeface package and the swashes which give it an even more sophisticated and elegant appearance. 
19. Quackey – Stylish Typeface 
Quackey – Stylish Typeface is an elegant low contrast sans serif. It can be used to create almost all types of design projects like print or media adverts. Within the package, you get access to both the regular and italic versions of the font, as well as upper and lowercase letters and numerals. 
20. Caramel – Classy Serif Font 
Caramel has a beautiful shape, size, and style that we are confident will add to your brand and will make promoting anything spiritual a breeze. 
21. Bohemy Font Duo 
Bohemy is an aesthetic font duo. Perfectly suited to logo, branding, signature, wedding cards, packaging design, stationery, website design and more. With super and lowercase characters included, as well as swashes, ligatures, punctuation, symbols, and OTF, TTF, and WOFF files to boot, what is not to love? 
22. Raginy – Stylish Modern Serif 
A stylish modern serif with a vintage edge, Raginy is a smooth font that will make any design look sophisticated and expensive. A versatile and quirky choice.
23. Mileur – Modern Elegant Serif 
This thin and stylish modern serif has beautiful thin strokes and features low-contrast modulation too. Easy to read, and even easier to edit with PUA encoded characters and OpenType features available, we are confident that you will be happy with Mileur. 
24. Buckaroo – Desert Typeface 
Hand-drawn, well-balanced, and rounded in its design, Buckaroo is a handmade font inspired by American Southwest & Mexico. It draws influence from old western typefaces that still feel functional in a contemporary world. This versatile display font includes a full set of uppercase letters, lowercase letters, numbers, and special characters.