Last Updated on August 21, 2023
Ask anyone, and they would be able to name something that reminds them of the color purple. Monica's apartment from the hit sitcom 'Friends', Frieza from Dragon Ball Z, the song Lavender Haze by Taylor Swift…the list could go on and on. Purple is just one of those hues that's a favorite by many and beloved by most. But it's also mistaken for other violet shades like lilac, lavender, and indigo.
This enigmatic color has long fascinated artists, designers, and enthusiasts alike. Purple's versatility knows no bounds. Renowned for its diverse symbolism, it conjures up creativity, spirituality, mystery, and royalty. Its historical rarity contributed to associations with luxury and power, giving it a somewhat sacred place in the color wheel.
This article aims to provide a comprehensive understanding of the history, meaning, and symbolism of the purple color. Hopefully, by the end , you'll have a comprehensive look at one of the most abundant colors in the natural environment.
Quick Introduction To Purple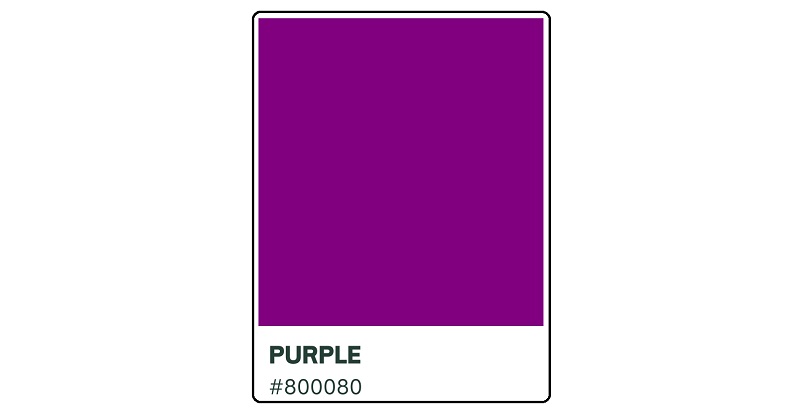 As a secondary color, purple (with the hex code #800080) is created by combining equal parts of red and blue. This mix makes a hue that holds characteristics of both warm and cool colors.
The RGB color composition of purple can vary based on the specific shade you're referring to. However, for a general idea, a common RGB combination for a balanced purple might be around: Red: 128, Green: 0, Blue: 128.
The specific ratios can lead to variations in the intensity and undertones of purple, allowing for a wide spectrum of hues within this color family. You could end up with similar shades like lavender, amethyst, magenta, aubergine, or orchid. Each of these specific tones will convey a different range of feelings and aesthetics.
Different Purple Shades and Their Applications
There is a spectrum of shades from indigo to violet, each tied to distinct chakras and cultural significance, adding intricate layers to its symbolism. These shades carry diverse meanings across realms like fashion, interior design, and literature. Several familiar shades of purple include:
Lavender: This soft and soothing shade of Purple is often associated with calmness and elegance.
Violet: A deeper shade that carries a sense of richness and depth, often linked to creativity and spirituality.
Amethyst: This shade resembles the gemstone it's named after, exuding a blend of sophistication and mystique.
Indigo: A darker and more intense shade, Indigo brings an air of mystery and depth to the Purple spectrum.
Magenta: A vibrant hue bordering on the edge of Purple, Magenta adds a touch of energy and modernity to the color palette.
A historical fashion favorite, purple signifies luxury and nobility, finding its place in opulent attire. In interior design, it exudes elegance and can be a captivating accent or a bold room color. Purple's cultural role is diverse too – in Asia, it reflects nobility, while Western traditions associate it with religious ceremonies.
Literature celebrates its royal, powerful, and beautiful connotations. Floral arrangements include soothing lavender and lilac. Purple's elegance fuels global inspiration, a potent means of self-expression through its remarkable beauty and deep symbolism.
Religious and Spiritual Significance of Purple
This deep pigment holds significant meaning in religious and spiritual contexts. The color is associated with the themes of wealth, royalty, and divine connection. Its spiritual significance is evident through various scriptural references as well as its incorporation into certain religious ceremonies.

The purple color has deep roots in religious texts, particularly in the Bible. In the Old Testament, purple was used in the construction of the temple, symbolizing its sacredness and connection to the divine.
The color was also associated with affluence and nobility. That's because purple dye was expensive and only accessible to the elite.

It continues to play a role in many religious ceremonies and practices today. In the Catholic Church, purple is worn during the seasons of Lent and Advent, representing penance, preparation, and anticipation. Purple garments serve as a visual reminder of the spiritual significance of these seasons.
Additionally, purple is linked to the chakras and auras in spiritual practices. Indigo, a shade of purple, is associated with the sixth chakra, also known as the third eye chakra. This chakra is believed to be the center of intuition, wisdom, and higher knowledge. Violet, another shade of purple, is linked to the crown chakra, representing spiritual connection and enlightenment.

People with a purple aura are believed to be connected to their spiritual path. Such individuals are also said to have a stronger sense of intuition. Besides, some people believe that burning purple-colored candles in spiritual practices may energize the space and enhance spiritual connection.
Purple's Symbolism in Art and Design
Artists and designers throughout history have utilized purple to evoke a sense of mystery, spirituality, and luxury in their creations. The color has widely appeared in painting to convey different emotions and ideas.
In art, purple is often associated with creativity, individuality, and confidence. Artists like Monet, Matisse, Andre Derain, and Rothko were known for their prominent usage of purple in their works. These painters leveraged different shades of purple to achieve dynamic visuals in their creations.

The color connotes luxury and royalty, which explains why it frequently appears in high-end clothing and accessories as well. It's a popular hue that easily stands out and grabs attention. That's why it's a favorite choice for fashion designers who want to make a bold statement.
Into the world of graphic design, purple is often used to convey of creativity and uniqueness. The color commonly appears in logos and branding for businesses in tech, finance, and food and beverage. Many graphic designers view purple as both modern and sophisticated. That makes it a perfect choice for companies that want to convey a sense of innovation and style.
Want to brighten up a room? Light tints of purple are remarkably calming and are often used in bedrooms and meditation spaces. On the other hand, darker shades are more effective at creating a sense of luxury and opulence, making them ideal for swanky hotels and restaurants.
Its association with mystery, spirituality, and luxury has made it a popular color choice throughout the ages. Whether used in painting, fashion, graphic design, or interior design, purple has the power to stand out conspicuously from its surroundings.
Purple's Psychological Associations
Understanding the psychological impact of the purple color yields insights into individual color preferences. Research reveals that purple can evoke both positive and negative reactions, symbolizing attributes like royalty, wealth, and wisdom alongside potential negativity such as arrogance and instability.
This duality fuels its versatile presence across industries. Purple's influence on emotions is pronounced, but its effects vary. Lighter tints can offer calmness, while deeper shades like indigo might evoke frustration. Purple even influences personality traits; those drawn to it are often seen as creative, confident, and intuitive, radiating a sense of luxury and sophistication.
Its significance extends to dreams, where purple links to spirituality and higher knowledge, bridging the physical and spiritual realms.
Marketing and Branding Strategies Using Purple
Recognizing the psychology of purple in marketing is a potent asset for businesses aiming to resonate with their target audience. By tapping into the emotional resonance linked to this color, companies can craft focused campaigns that deeply connect. Purple holds strategic potential to amplify marketing impact, especially in defining branding's triumph.
Its ties to luxury cater to high-end markets, while its prevalence in technology and finance sectors signifies trust and innovation. Purple also thrives in feminine-oriented brands. Campaigns featuring purple can align with diverse color meanings. Spiritual depth and creativity allure innovators, while the aura of royalty attracts those seeking exclusivity.
However, industries must adapt their approach. Technology leans on purple for innovation, while financial realms leverage it for trust and expertise. Tailored strategies ensure purple's potential is harnessed effectively across sectors.
Popular 'Purple' Phrases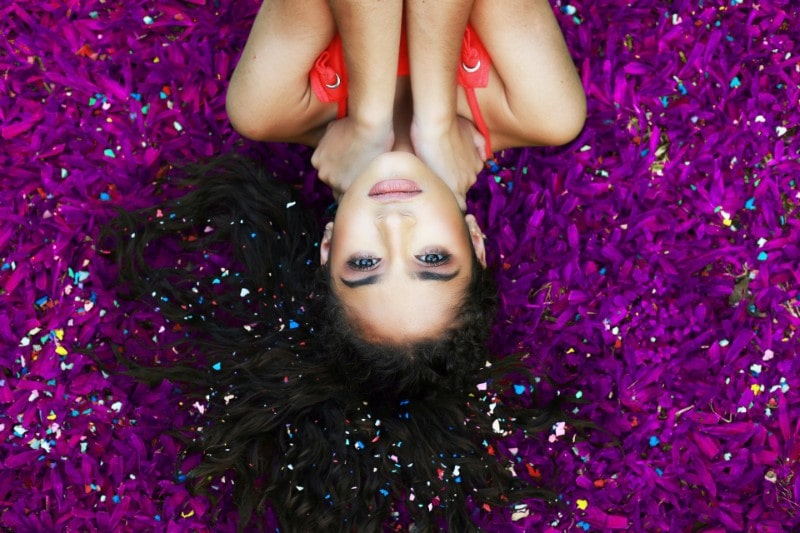 You will often hear purple mentioned not only in music lyrics, but also in TV, cartoons, and other catch phrases.
One such phrase is 'Purple Haze,' which originated from the popular song by Jimi Hendrix. It refers to a state of confusion or disorientation, often associated with the use of narcotics.
Similarly, 'Purple rain' is a phrase popularized by Prince, referring to a metaphorical rain that symbolizes sorrow or sadness. It's often used to depict a melancholic mood or a difficult period in one's life.
Another phrase that incorporates the word purple is 'purple prose.' This term refers to excessively flowery or extravagant writing that sounds overly ornate or pretentious. It's often used to criticize writing that's all show and no substance.
The phrase 'Purple Heart' holds significant meaning in the military community. It's a prestigious award given to members of the United States Armed Forces who have been wounded or killed in action. The Purple Heart is a symbol of bravery, sacrifice, and honor.
Lastly, 'Purple patch' is an idiomatic expression used to describe a period of success or good fortune. It originated from the idea of a patch of land covered in purple flowers, symbolizing prosperity. This phrase is often used to describe a period of exceptional abundance or achievement.
Final Word
The purple color stands as an embodiment of both artistic expression and emotional depth. Its ability to seamlessly blend the warmth of red with the tranquility of blue allows it to traverse a spectrum of emotions: from creativity and spirituality, to mystery and royalty.
Whether adorning majestic robes, accenting modern designs, or gracing natural landscapes, purple remains an ever-evolving symbol of enchantment. Its presence continues to evoke awe, making it an undying hue that transcends fads. Allow it to captivate your heart through its rich and multifaceted allure.