Last Updated on July 21, 2023
Today when clean, minimalist design is all the rage, occasionally, you want something different – one that will make heads turn and make eyes linger. This is where unique, custom typography comes in. Warped fonts for instance, are visually extraordinary and unconventional. It's definitely not something you see on many labels, logos, or product packaging.
But when you do see them, you can't help but fall into their spell. Usually distorted, the letters would recede or extend towards a vanishing point. They can appear in various shapes such as waves or exaggerated curves.
They are dynamic, playful, and chaotic. This makes them ideal for creative projects like digital art, branding, advertising, and web design. You could also spot this kind of typography on music album covers, event posters, and modern art.
Bending, twisting, and stretching its letters, this font challenges the eye. So consider readability and legibility before using them. Remember that while warped fonts can be an exciting choice, it's not for everyone. Still, it pays to have them in your design toolkit for when the need arises.
Here are several great options you can download right now. Have fun!
Gnarly and Warped Fonts
1. Hyper Bleach
Flowy, fluid, and expressive, this hand-drawn font from ikiikowrk captures modern urban vibes flawlessly. Featuring two (2) styles – Regular and Glossy – it has a distinct visual identity that's hard to miss. The best part is that it looks dope as image overlay or as stickers for your Instagram Story.
2. Wetnessday
Inspired by 70s typefaces with psychedelic touches, this bold, groovy font is the perfect mix of vintage and contemporary. It's ideal for giving your brand a fun, fresh feel that's young and somewhat chaotic. The pack includes everything you will need, such as upper and lowercase letters, numbers, punctuation, and bonus ligatures.
3. Wave Burn
You've never seen anything like this before: Gleb_Guralnyk brings you an all-caps typeface with a wave shape flowing through each letter. As long as you're using an app that supports OpenType features, you would be able to create stunning quotes, titles, and headlines that defy typography rules.
4. California Sunshine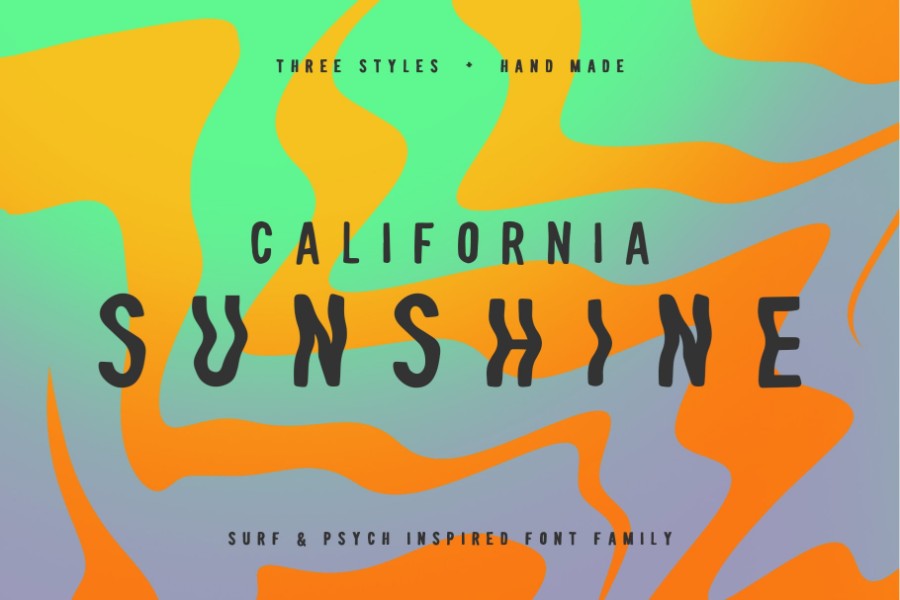 This wavy font from _midnightgrim evokes that famous suburbia haze and 60s psychedelic pop culture that's distinctly California. It comes in three (3) styles (Regular, Alternate, and Basic) to help your design shine bright. Ideal for surfing, skating, and music themes.
5. Surreal
With influences from the psychedelic movement of the mid-60s, this hand-drawn font from epdesigns has the right dose of mojo for one-of-a-kind projects. Use it to create groovy posters, experimental artwork, and rad design on apparel. The pack contains uppercase, lowercase, numbers, and punctuations.
6. Wavelength Typeface
Hold the reader's attention effortlessly using this abstract display typeface. It boasts a complete set of uppercase and lowercase letters, numerals, and special characters, providing versatile options for your creative endeavors. Ideal as a decorative display font, it shines best in editorials, album covers, posters, logos, web designs, and packaging.
7. Huckleberry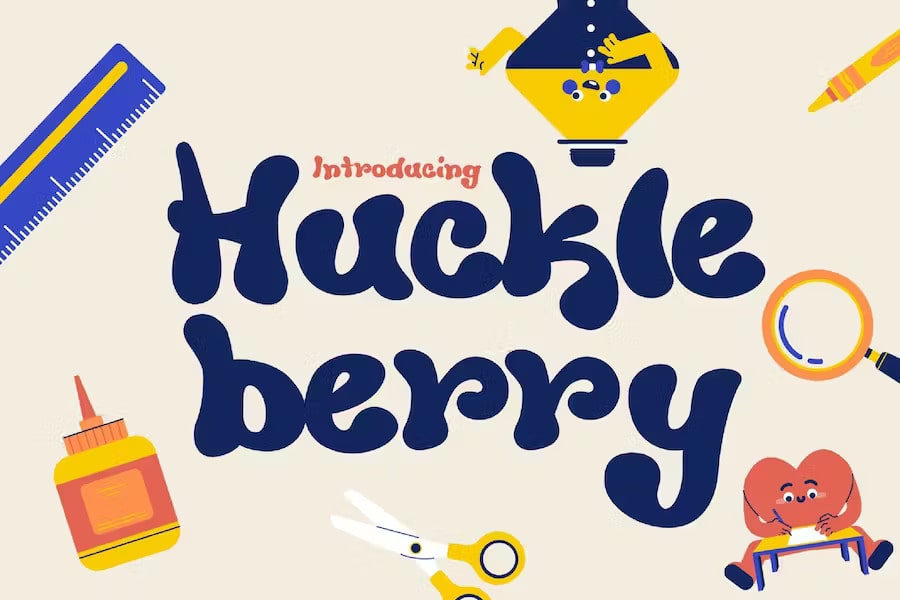 Inspired by carefree childhood days, this lighthearted typeface has curvy, quirky letterforms that draw viewers in. It's ideal for school presentations, quotes, branding, packaging, invitations, and more. Enjoy fun ligatures accessible in OpenType capable software like Photoshop, Illustrator, and InDesign.
8. Nestor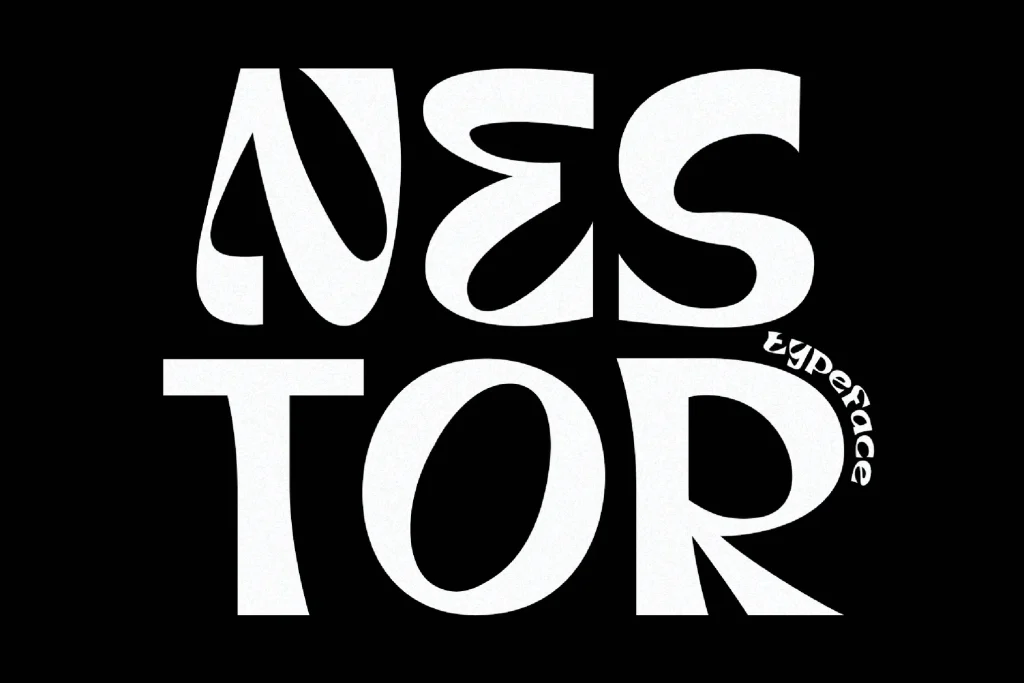 Come and meet this retro-inspired display font that exudes uniqueness, lovability, and quirkiness! Bold, trendy, and wild, its groovy curves make it a fine choice for headlines, ads, posters, branding, social media, quotes, and prints. Embrace its charm and make your designs stand out today.
9. Niran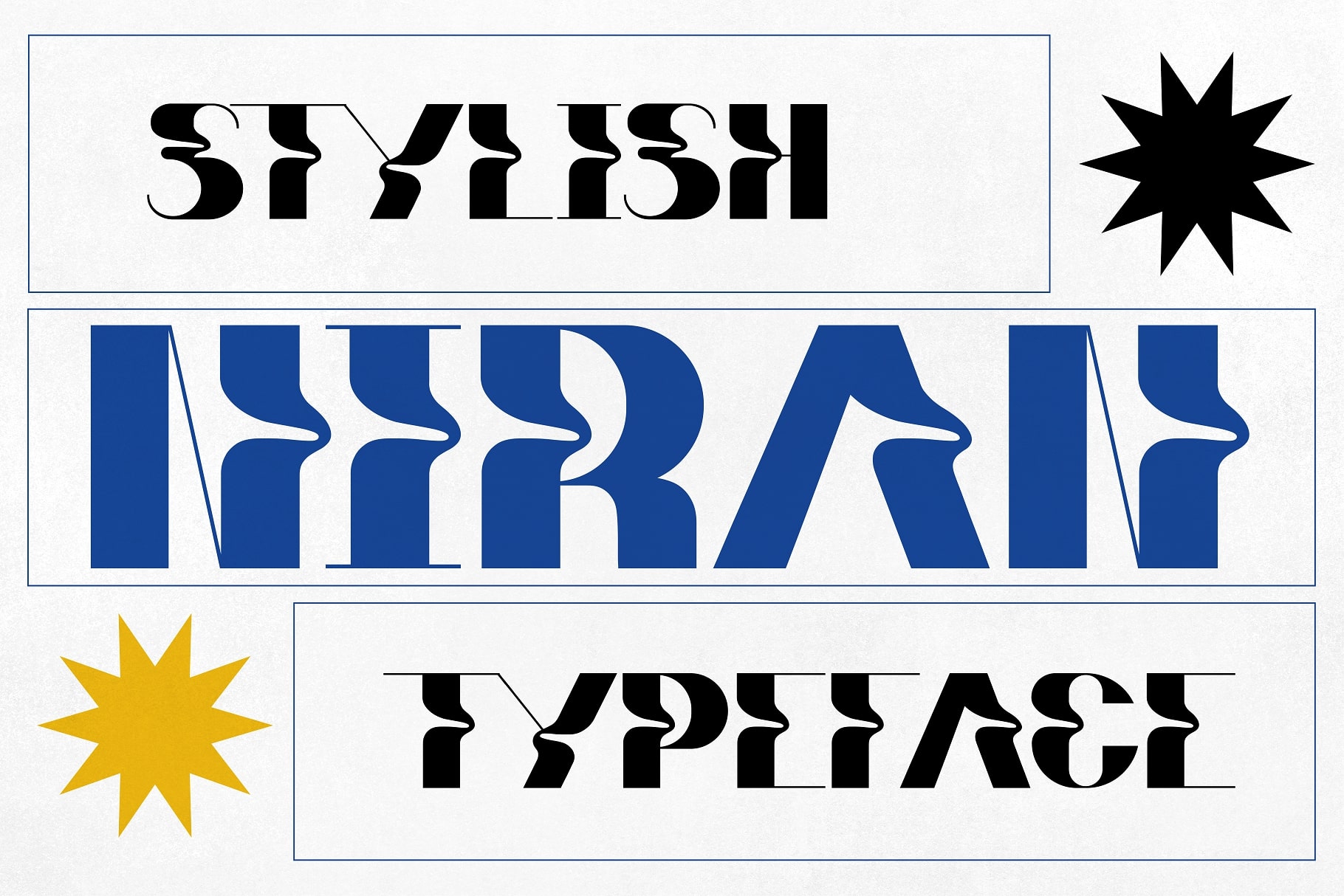 Want something radical and far-out? Look no further than this decorative font with lovely rippled curves. Perfect for sensational posters, logos, and packaging, it defies norms by blending futurist letters with nostalgic charm. Let its unconventional yet stylish look keep you and your audiences on the hook!
10. Kenzo
Channel the wavy, hippie vibes of the carefree 60s and 70s with this psychedelic typeface. Boasting unique letterforms that go well with colorful gradient backgrounds, you can easily imagine it on music album covers, posters, flyers, and unorthodox artworks. So, what are you waiting for – let your designs dance!
11. Burra
Mesmerizing, psychedelic, and chic, this display font from Creative Media Lab brings a fresh wave of creativity to any project. With all-capital letters and wavy, liquid-inspired strokes, it also offers three (3) widths and five (5) weights on each, giving you a total of 15 fonts to play with.
12. Mayego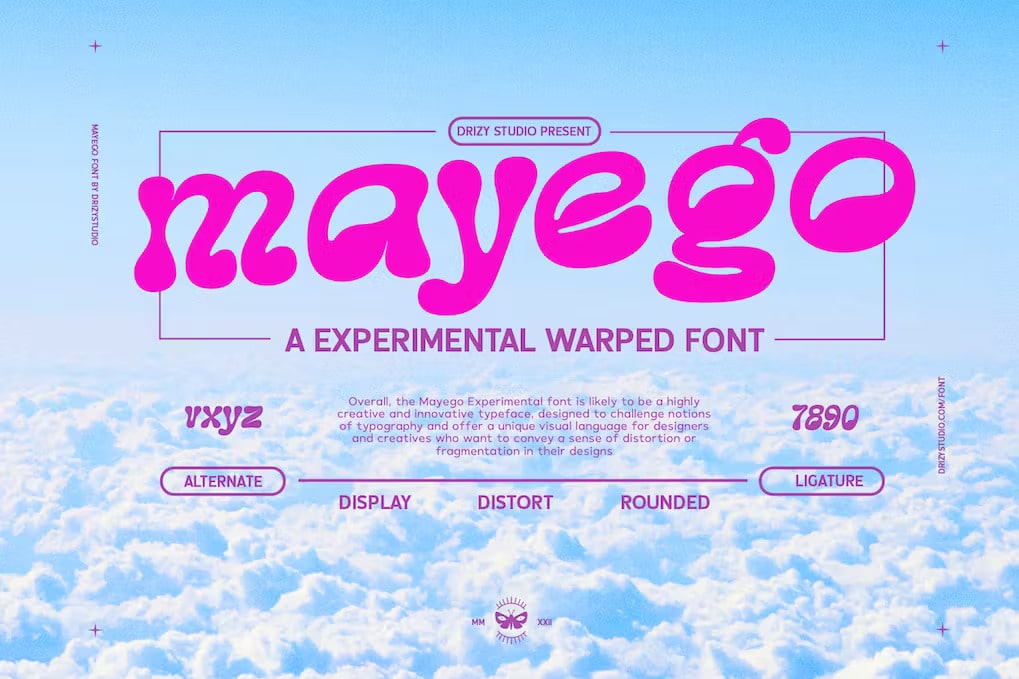 Drizy Studio proudly presents this adorable experimental font that's easy on the eyes. You will receive alternates and ligatures along with standard lowercase characters. Apply a 3D effect for that puffy, bouncy appearance.
13. Garpwarp
Why have one font when you could get two? Introducing this special decorative typeface that's both versatile and offbeat. It comes in two (2) versions – Regular and Warped – for you to effortlessly mix and match. Make sure you keep this one handy in your design toolkit.
14. Gilest
Get ready to bend your reality and challenge your audience's perceptions with this trippy, mesmerizing font. Despite its wavy, liquid appearance, it's unexpectedly clean and minimalist, making it easy to pair with other lettering styles. Try it on headlines, titles, banners, business cards, apparel, and web design.
15. Telgra Neue
Step into the future with this mind-bending font that pushes the boundaries of typography. With each letter featuring a strange, warped design, it's great for standout labels, titles, headlines, logos, etc.. Combine it with glitchy or grainy effects for a hi-tech vibe.
16. Humbeys
Want to give your works a distinct fun feel? Let this whimsical, hand-drawn typeface give your text that dynamic charm that it's been missing. The distorted shape makes it unconventional, while the rounded edges provide a touch of softness to the overall image. It includes uppercase letters, punctuation, numbers, ligatures, plus multilingual support.