Last Updated on September 28, 2023
When you think of the color salmon, what do you think of first: the fish or the adorable pinkish hue? Inspired by the hues of the salmon fish, salmon captivating shade exudes a harmonious balance of tranquility and energy. Delicate, feminine, and refreshing, it could brighten up spaces and even spark creativity.
For this post, you will learn the meaning, symbolism, and origin of this captivating hue. From its earliest recorded use to modern applications, you'll find out how the salmon color has held onto its timelessness and beauty for centuries, making it a great choice for any fashionista or home decorator.
Salmon Color Overview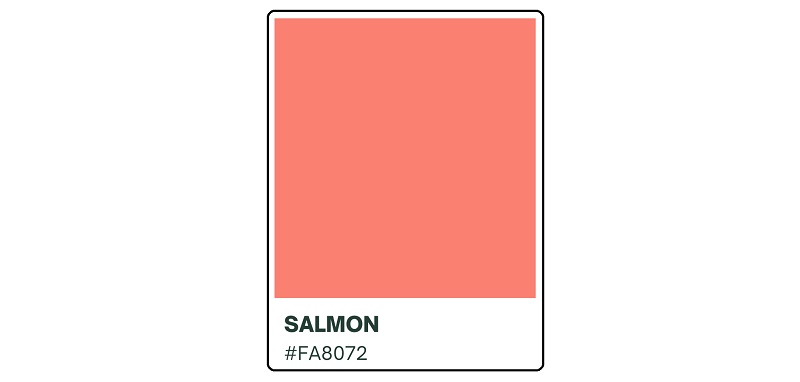 This unique blend of pinks and oranges often leans towards a lighter coral shade. In the design realm, the hex code #FA8072 precisely defines the color of salmon, created by a combination of 98% red, 50.2% green, and 44.7% blue. Renowned for its pleasing aesthetics, salmon color has captivated designers, inspiring wistful, dynamic creations.
When incorporating this pigment, consider combining it with shades of blue, complemented by pops of cream, green, and purple. Such a color palette can evoke a harmonious and visually appealing composition.
What colors pair well with salmon?
Salmon blends well with aqua, gray, and white for a modern, yet timeless look. Combining the color with navy or yellow can bring out a cultural perspective to a piece of clothing.
Mint Green
The refreshing hues of salmon and mint green creates a harmonious combination. Combine them by using salmon as the dominant shade and introducing mint green as a subtle accent, such as throw pillows or artwork in interior design. Mint green tones with warm undertones work best.
Mauve
As both salmon and mauve are delicate tones, they will create a beautiful, sophisticated color combination. For a cohesive look, consider using salmon as the dominant color and introducing mauve as a complementary accent.
Alternatively, you can incorporate both colors in equal proportions by color blocking, such as painting adjacent walls in salmon and mauve or combining furniture pieces in each hue. Add metallic accents, such as gold or silver, to enhance the richness.
Soft Blue
Pairing the warm tones of salmon with the soothing hues of soft blue creates a serene, balanced look. For this approach, incorporate both colors in equal proportions. Consider throwing in natural or neutral shades for an organic and calming feel.
The Color Salmon Aesthetic Properties
This pigment encompasses a captivating range, from vibrant pinks to subdued oranges, offering a visually striking appearance. Its warm tones have the power to infuse a cozy atmosphere into homes and add a lively, energetic vibe to clothing.
With a psychological impact that promotes confidence and action, salmon has gained popularity in the fashion industry, making its way into men's dress shirts and polos, commanding attention effortlessly.
In branding strategies and artistic endeavors, salmon's ability to captivate the spotlight makes it an ideal choice. In interior design, salmon brings warmth to a room and works wonderfully as a subtle accent wall or a vibrant pop of color amidst neutral tones.
Functional in different settings, from offices to homes, salmon effortlessly complements other colors like blues or greens. It enhances the beauty of existing furniture pieces, such as leather couches or wooden cabinets.
As a timeless choice, salmon's historical significance adds a touch of uniqueness and sophistication, while its warm tones make it a versatile option for any space or outfit. Its endless shades reign supreme in fashion trends, interior design looks, and branding campaigns.
Origin and Notable Applications of Salmon Color
The name "salmon," with reference to this peachy hue, dates back to 1776. That only goes to show how old the color is.
Salmon is commonly used in clothing, accessories, and décor. The color notably appears in men's fashion. It occurs in several hues, making it a versatile accent choice for many fashion designers.
In fashion, salmon can be paired with navy blue or pale gray for a classic look. The color can also blend well with pastel green or light orange for a more modern feel. In home decoration, salmon can add vibrancy to a space when combined with warm tones like deep reds and yellows.
Shades of pink are generally known to stimulate energy and increase respiration, heartbeat, and pulse rate. Salmon happens to convey the same feelings. Those who love this color tend to be energetic and fun-loving.
Psychological Effects of the Color Salmon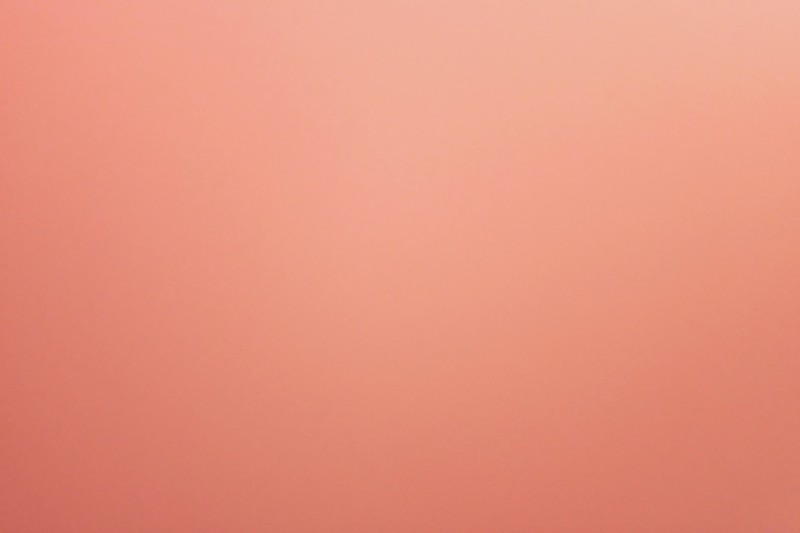 Its warmer undertones can evoke feelings of confidence and action, inspiring you to take initiative and be in charge. The color can help you feel more confident in your abilities, knowing that others will be able to recognize your presence.
Interestingly, these feelings aren't only psychological but physiological as well. Studies have shown that shades of pink, such as salmon, can stimulate energy and increase various aspects of respiration.
Similarly, shades of salmon that are closer in appearance to orange can induce feelings of excitement. The sense of agitation and urgency associated with this color may be beneficial in situations where quick decision-making is necessary.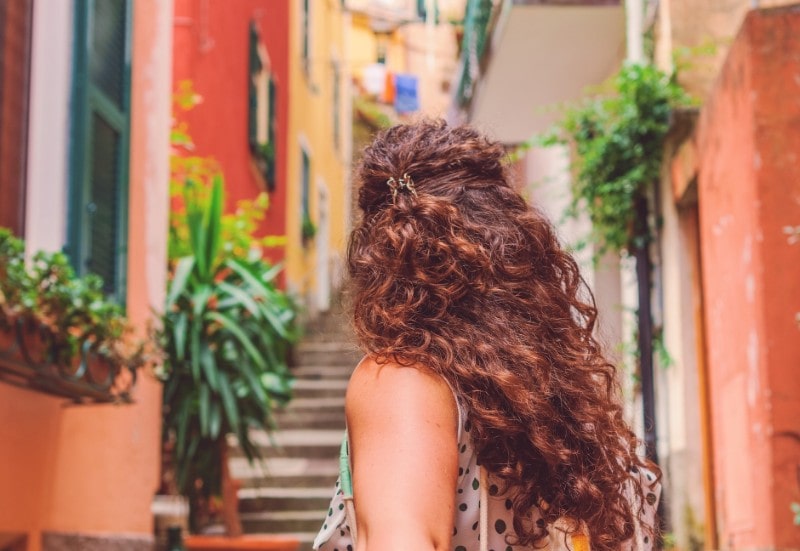 Besides, the color salmon has long been used to grab people's attention. Its bright hues are commonly used to call attention to things like road signs and other warning symbols.
Using salmon in clothing and décor may also provide certain emotional benefits. The color can add a touch of timelessness when used correctly, and those who love it tend to be quite energetic and fun to be around.
Depending on how you apply it, salmon may provide a sense of security and stability, while also encouraging action and creativity.
Salmon's eye-catching qualities may be of benefit in many other situations. The fact that this pigment is able to stand out from its surroundings is enough reason to incorporate it into any design or space.
Salmon and Sensory Stimulation
It's easy to experience a heightened sense of energy and self-awareness when surrounded by shades of salmon. There's plenty of research suggesting that colors like salmon may have a positive impact on mood and appetite. Such hues might even impact consumer preferences.
In the world of marketing, salmon has been widely used to create an atmosphere that's both energizing and inviting.
Its potential to stimulate the senses also has something to do with color therapy, which refers to a color's ability to treat a variety of ailments. Salmon has been found to be particularly helpful in elevating mood.
When properly used, shades of salmon can inject a touch of energy and vibrancy into a space, making it a great choice for celebrations and marketing. Incorporating salmon into your marketing campaigns is an ingenious way to entice consumers to purchase your products.
From its positive impact on appetite to its ability to supercharge your energy, salmon is a great color to have in your arsenal.
Whether you're looking to create an energizing atmosphere or just add some color to your wardrobe, salmon is a great choice. The color's striking hue can make a powerful statement without being too overwhelming, and its timelessness ensures that it'll never go out of style.
Color psychology has determined that more intense salmon undertones have a way of enhancing the mood and emotion of a room or outfit. In fashion, salmon's lighter, softer shades are perfect for creating a calming, subtle statement while the brighter, more intense hues stand out for their attention-grabbing abilities.
This pigment carries immense cultural significance too. From its first recorded application in 1776 to its modern-day presence in fashion, interior design, and many other applications, the color's timelessness and versatility knows no bounds. Salmon has become a defining symbol of energy, confidence, and excitement in various facets of life.
The Historical Significance of Salmon Color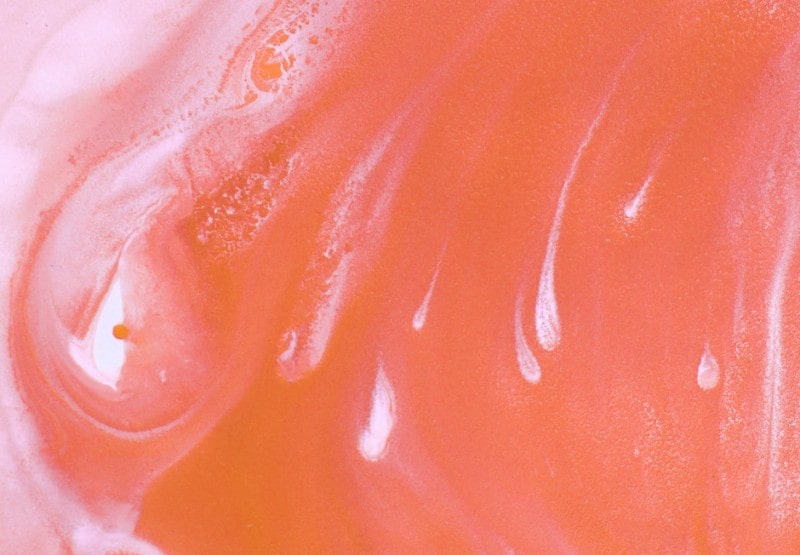 Since the first recorded use of the term "salmon" to describe the trademark peachy hue in 1776, the color has been a consistent source of influence on fashion, culture, and art. From clothing to accessories and home décor, salmon has been an integral part of many people's lives.
One of salmon's biggest claims to fame is its ability to instill a sense of confidence and action, making it a popular choice for those looking for an extra dose of inspiration. Shades of salmon that are closer to orange are particularly effective at inspiring motivation.
It's also regularly seen in men's fashion, with dress shirts and polos being popular choices during the spring and summer. The color has certainly evolved over time to claim a permanent sport in fashion, art, and interior design.
Salmon is no longer simply described as a neutral shade. Instead, it has become a powerful tool for self-expression and creative expression.
It doesn't matter whether it's used to call attention to something like a road sign or simply to add an eye-catching accent to an outfit. Salmon continues to be a source of inspiration and a reflection of our unique personalities.
More About Salmon's Popularity and Timelessness
It has evolved over the years to become increasingly popular in the world of fashion and design. While its historical significance is undeniable, its modern-day popularity and applications stand out as well.
Throughout its history, salmon has been used to make lasting fashion statements by infusing a touch of magic into a setting. And despite being especially popular with the female gender, the color has found its way into numerous male apparel too.
Its versatility means it can fit into a wide range of fashion and design applications. From dress shirts to accessories, home décor to marketing materials, salmon is pretty much available everywhere.
There's no doubt that this pigment has gained widespread popularity due to its cultural significance and influential presence. Renowned for its captivating nature and emotional impact, it has become a go-to choice for designers and marketers alike.
Its inherent charm and adaptability make salmon a powerful tool in the hands of creative professionals seeking to make a lasting visual impact.
Final Word
Salmon has been a part of fashion and home décor for centuries. The color's timelessness makes it a great choice for any season.
Its brighter hues can inspire confidence and optimism, while its duller shades are more relaxing. Indeed, salmon is truly an amazing color with deep symbolism that will continue to be appreciated for years to come.