Last Updated on May 25, 2023
Amber is a popular name associated with a charming and cheerful personality. The name gained initial recognition in the 1800s but took off in the mid-1960s. It was featured in the top 20 girl names in the United States from 1981 to 1993.

It is also one of the most beautiful colors. The pigment occurs naturally in nature but can also be prepared artificially by combining different colors.

If you've heard about the amber color but didn't exactly know what it looks like, this article for you. We'll begin by understanding amber's appearance. The post shall then dig deeper to uncover the hidden meanings behind this elegant pigment.
What Color Is Amber?
Amber is a bright, warm yellowish-orange color with a hex code of #FFBF00. The color is also defined as a vivid yellow hue by the ISCC–NBS System of Color Designation. It's one of the most beloved colors in art and design. The pigment blends the brilliance of yellow with the warmth of orange to bring out the best in any artwork.
Which Individual Colors Are In Amber?
The pigment is a combination of yellow and orange. Yellow is a primary color whereas orange is a secondary color obtained by mixing red and yellow. Therefore, amber also contains decent amounts of red in addition to the more predominant yellow and orange hues.
Is Amber A Primary Or Secondary Color?
It is neither a primary nor a secondary color. It's rather a tertiary color. Tertiary colors are pigments created by mixing together a primary color with a secondary color.
In this case, yellow is the primary color whereas orange is the secondary color. Other common tertiary colors include azure, purple, chartreuse, and violet.
Is Amber A Warm Or Cool Color?
As a bright, warm color it's actually one of the warmest tertiary colors available. The reason amber is classified as a warm color is that its constituent pigments – yellow and orange – are both warm colors.
Is Amber On The Color Wheel?
Due to its position on the color wheel, amber usually takes on the appearance of both yellow and orange, where it sits midway between yellow and orange. The shade may look darker than basic yellow and browner than true orange.
What Colors Complement Amber?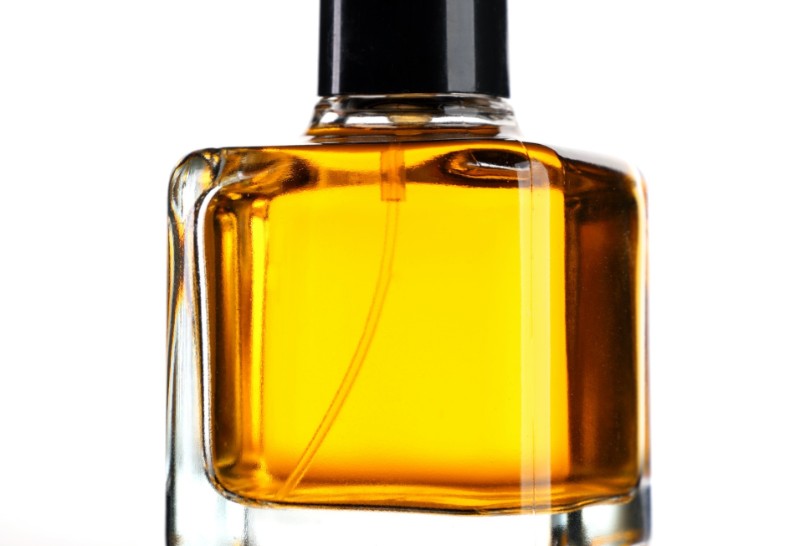 Blue is located directly opposite both yellow and orange on the color wheel. That equally makes it the complementary color of amber. But just like yellow and orange, blue comes in multiple undertones and not all of them perfectly complement amber.

Neon blue is widely thought to be the perfect matching opposite to amber on the color wheel. The color is a medium-dark shade of blue comprising equal parts cyan and magenta.
How Did Amber Acquire Its Name?
Amber is named after the eponymous fossilized tree resin. The fossils are hard, translucent resins originating from extinct coniferous trees that thrived in the Tertiary Period (66 million to 2.6 million years ago). These fossils have been used for millennia in folk medicine and jewelry making.

Interestingly, the word "amber" was not always associated with the bright yellow-orange color or the fossilized tree resin in the English language. The term derives from the Arabic word 'anbar,' which itself comes from the Middle Persian and Middle Latin word 'ambar,' referring to ambergris.

Ambergris, also known as ambergrease or grey amber, is a solid, waxy flammable substance produced in a sperm whale's digestive system. The gray or blackish substance has a marine, fecal odor when fresh but then acquires a sweet, earthy scent over time. The first recorded English usage of the word amber with regard to ambergris was in the 14th century.

However, about a century earlier, "amber" was already being used in the Romance languages to denote fossil resin. The word would later be adopted in English for the same meaning in the early-15th century.

The application of amber for ambergris began to wane gradually after the word entered the English language. A few centuries later, amber was used almost exclusively for fossil resin.

It's also interesting to note that amber fossils don't always appear yellowish-orange despite the name denoting that color. These remains can take on various shades of yellow, orange, and even brown.
Some fossils may also appear metallic bluish-green, purplish-blue, or translucent. It all depends on the nature of the plant matter in them.
What Is The Origin And History Of Amber?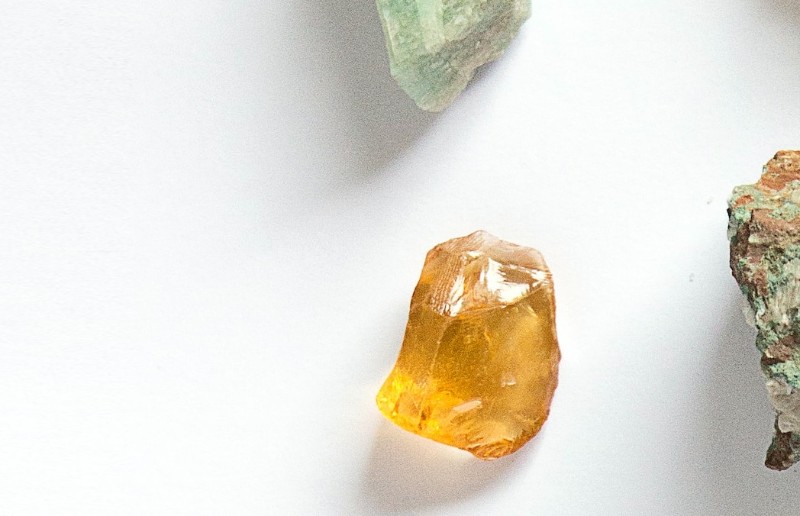 The color was used in art and craft long before the color was officially defined. The color, and by extension the fossil remains, was a particular favorite of jewelers. The oldest amber artifact uncovered from underground ruins was a hewn bead dating back to between 11000 and 9000 B.C.

Amber witnessed a surge in popularity around 3400 to 3100 B.C. following the large-scale production of amber crafts. The ensuing mass market trading of amber crafts in the Baltic region between 3100 and 2500 B.C. also contributed immensely in propelling the yellowish-orange color further into the limelight.

Expectedly, amber fossils became rare over the years due to uncontrolled exploitation of the mineral. But this only shifted interest to the amber color.

Several renowned painters used amber extensively in some of their works. For instance, Van Gogh's 1888 oil painting titled 'The Sower' depicts a male sower strolling through a wheat field featuring dabs of amber and violets.
What Are The Notable Uses Of Amber Recently?
Amber is one of the three colors used on traffic lights, along with red and green. The color is a cue to proceed with caution because the signal is about to turn red. Amber lights commonly flash at crossroads or pedestrian crossing sections.

Still on traffic engineering, amber is part of motor vehicle design. Motorists typically flash amber lights as a warning to other road users of a possible emergency braking. It also signals poor visibility ahead and is a cue to other drivers to slow down.

It is also one of the two most commonly used colors in theater lighting. The other one is moonlight blue.

In interior design, amber is most noted for its usage in the original Amber Room, a chamber in the Catherine Palace of Tsarskoye Selo located near Saint Petersburg. This chamber was decorated in amber panels backed with gold leaf.

The sports industry also has a love affair with amber. The elegant yellow-orange color appears in the jerseys of various English football clubs, including Hull City AFC, Shrewsbury Town FC, and Mansfield Town, to mention but a few.
What's The Psychological Meaning of Amber?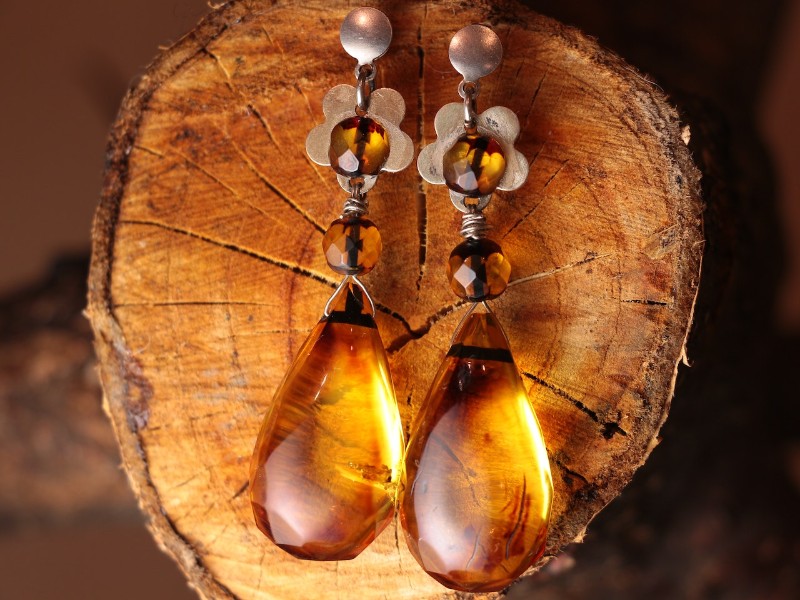 This pigment is the color of glamor and flamboyance. This is probably why amber-inspired crafts have awed humans from time immemorial. Pops of amber can have a significant visual impact on any design regardless of the primary color the creations come in.

But amber doesn't resonate with beauty alone. The color is also linked to wealth and status. Amber jewelry has largely been a preserve of the rich and powerful throughout history. It can also instill a sense of energy and happiness. The color draws its stimulating properties from yellow, which is stereotypically associated with positive vibes.

In addition to uplifting your spirits, amber can also inspire expressiveness. Using this color on your next social or corporate event might be an excellent strategy to have the participants freely ventilating.

As a warm and radiant color, amber resonates with confidence. Sporting amber outfits from time to time is an intelligent strategy to cultivate self-esteem. The color can help inspire boldness, allowing you to approach every endeavor with a sense of complete control.

Like many colors, amber was linked to spirituality at some point in time. Several ancient cultures wore amber charms to ward off evil. Others introduced amber crafts into their living space as a means to spiritual rejuvenation.
It is welcoming in a cautious way. Like the street lights it's used on, this color can help attract people into your life while also warning you of the ill-intentioned ones.

The amber color may also symbolize balance. That's especially considering that it sits midway between yellow and orange on the color wheel, masking the negative qualities associated with both pigments.

This shade connotes homeyness. The color evokes feelings of comfort and safety, making it particularly suitable for designing maternity products. You could also consider it while choosing household items like furniture sets and electrical appliances.

It's a seasonal hue, too. The pigment is strongly linked to fall. As autumn slowly sets in and sunlight duration decreases, plant leaves lose a significant amount of chlorophyll. The loss of chlorophyll causes the leaves to turn from their natural green pigment to shades of amber (yellow and orange).

Finally, as an earthy tone, amber may offer a seamless reconnection with Mother Nature. The best part about amber as a nature-themed color is that it's incredibly warming. That's unlike common nature-themed pigments like green and blue. Amber is the perfect color to help you embrace both nature and humanity.

On the other side of the emotional spectrum, amber can be quite upsetting. Although not as bright as plain yellow and orange, amber is still brilliant enough to create overwhelming effects. Be sure not to overdo this color as the results may turn out to be counterproductive.
How to Make and Use Amber
To make amber, you'll need red and yellow paints.
i. Add three parts of yellow paint to a color mixing bowl.
ii. Introduce tiny amounts of red paint to the bowl and stir to form a basic orange color.
iii. Add yellow to a second bowl.
iv. Mix the orange paint into the yellow paint in equal ratios.
v. Stir carefully until the color turns to amber.
You can tweak the outcome depending on how yellow or orange you want your amber to be. Adding more red or orange will darken the shade while more yellow will lighten it.
vi. If ready, use the amber color as is or in combination with other pigments.
Amber blends well with other warmer shades, particularly reds and oranges. The color would also suit deep browns. And for contrasting effects, you could pair it with cooler pigments like blues and greens.
Final Word
Amber is a vibrant and incredibly versatile color. The pigment can bring out most of the positive attributes associated with yellow and orange. And with a history dating back thousands of years, amber is a lovely hue to shortlist for your next art or design projects.