Last Updated on October 9, 2023
Periwinkle is undeniably one of the most intriguing plants. It's difficult to walk past a patch of blossoming periwinkle plants without being blown away by their gorgeous, fragrant flowers.

Spoiler alert – periwinkle produces highly toxic secretions! Fortunately, the plant is generally poisonous if ingested. You're unlikely to fall ill by merely marveling at its colorful blossoms.

This color's awe-inspiring attributes have often led many to wonder what color the plant's flowers come in. This article shall attempt to put those concerns to rest. Read on as we delve deep into the periwinkle color.
Introducing the Periwinkle Color
Periwinkle is a washed-out purplish blue color with the hex code #CCCCFF. The color may also be described as a very light or pale tint of purple or blue. Some color enthusiasts also define periwinkle as a pastel purple. The pigment goes by many names, including lavender blue and light blue violet.
Individual Colors in Periwinkle
It belongs in the blue and violet family. However, the color appears more purplish than blue or violet. Theoretically, periwinkle can be described as containing decent saturations of both red and blue.
Periwinkle's Position on the Color Wheel
The position of secondary colors on the color wheel depends on the position of the primary hues used to create them. Being a shade of purple, periwinkle is inherently a mixture of red and blue. That means the color should occur between red and blue on the color wheel.

However, note that purple itself is found on the color wheel between red and blue. All shades of purple, including periwinkle, are nestled between basic purple and blue.
Which Colors Complement Periwinkle?
Yellow sits directly on the opposite side of purple on the color spectrum. That means yellow and periwinkle are complementary colors considering that the latter is a shade of purple. It also means you could combine periwinkle with yellow to create impressive contrasts.
Difference between Periwinkle and Lavender
This pigment is often confused with lavender. That's because they're both elegant shades of purple with nearly the same amount of depth and saturation.

However, lavender tends to have less blue than periwinkle. The color leans more towards purple, unlike periwinkle which usually features a decent saturation of blue in addition to purple.
Difference between Periwinkle and Mauve
Mauve is another beautiful purple undertone commonly confused for periwinkle. Both colors are aesthetically stunning and can command the spotlight in any space or design they're used on. They also somewhat share the same origin.
However, periwinkle is a pale bluish-purple color while mauve is a pale purple color. Again, the primary distinction is the saturation of blue.
Is Periwinkle A Warm or Cool Color?
Periwinkle is a cool color because it's a shade of purple – a cool color. However, many color enthusiasts describe the pigment as a warm blue. And that's one of the things that make periwinkle so intriguing. The color can easily oscillate between cool and warm, exuding qualities from both sides of the emotional spectrum.
Shades of Periwinkle
1. True Periwinkle
True periwinkle is the most commonly identified shade of the color.
2. Dark Periwinkle
Dark periwinkle has a bright and dark hue. The color has a higher saturation of violet than most periwinkle shades, making it appear almost indigo. This type of periwinkle can brighten up your designs without becoming too overwhelming.
3. Light Periwinkle
Light periwinkle is the lightest tone of periwinkle with an equal balance of blue and purple. Note that other lighter shades may lean towards either blue or purple.
4. Deep Periwinkle
While dark periwinkle is only dark in the literal sense, deep periwinkle is both deep and dark.
5. Dull Periwinkle
This shade of periwinkle has a visible tint of gray. It's highly versatile and blends well with several colors.
6. Lavender Blue
Lavender blue is both an alternative name for periwinkle and a variant of the color. It lies midway between true periwinkle and light periwinkle.
7. Pale Lavender
Pale lavender has less blue in it, making it incredibly light.
8. Lavender Shadow Lavender shadow is a deeper shade of periwinkle highly recommended for interior design due to its soothing effects.
9. Very Peri Blue
True to its name, very peri blue contains more saturation of blue than true periwinkle.
10. Very Peri Gray
If you want a more muted shade of periwinkle, this is the color to go for. The silvery blue-purple hues in this pigment resonate with class and elegance.
11. Very Peri Tint
Very peri tint has a green, minty hue. It differs from true periwinkle mainly in its green undertones.
Origin of the Word Periwinkle
Periwinkle derives its name from a plant that bears flowers of a similar color, botanically known as Vinca minor.

Vinca minor is a flowering plant species in the dogbane family. The plant is native to central and southern Europe, as well as southwestern Asia. It goes by many other common names, including common periwinkle, lesser/small periwinkle, dwarf periwinkle, creeping myrtle, and myrtle herb.

Periwinkle is also known by a few ominous names, such as fairy's paintbrush, sorcerer's violet, and flower of death. These names reference both the plant's toxic nature and its association with death.

Note that all parts of the periwinkle plant are poisonous. Most documented cases of toxicity result from ingesting or aspirating the flower's extracts. The symptoms can range from fever and nausea to vomiting, headache, nerve damage, and hallucinations. In countries like Italy, it was common to lay periwinkle wreaths on the graves of dead children.

The name "periwinkle" actually describes how Vinca minor grows. The word comes from the 12th-century English word 'parvink,' which itself derives from the Old English word 'perwince' and the Latin word 'pervinca.' It loosely translates to 'bind' or 'entwine,' which is pretty much how periwinkle plants grow.

The first documented use of the word "periwinkle" with reference to a color in the English language was in 1922.
History of the Periwinkle Color
The word "periwinkle" first entered the English language in 1922. However, the color's history goes way back.
Like mauve, periwinkle was discovered accidentally in 1856 by teenage chemist William Henry Perkin. Perkin was attempting to create quinine – the cure for malaria – as part of his university assignment when he accidentally stumbled on a purple dye. He quickly patented the formula, making it the first mass-produced synthetic chemical dye.

Perkin's purple dyes became incredibly popular as they were easier to produce than natural dyes obtained from specific plants and insects. It's from his original formula that various shades of purple – including periwinkle – entered the mainstream chromatography market.
Psychological Meaning of Periwinkle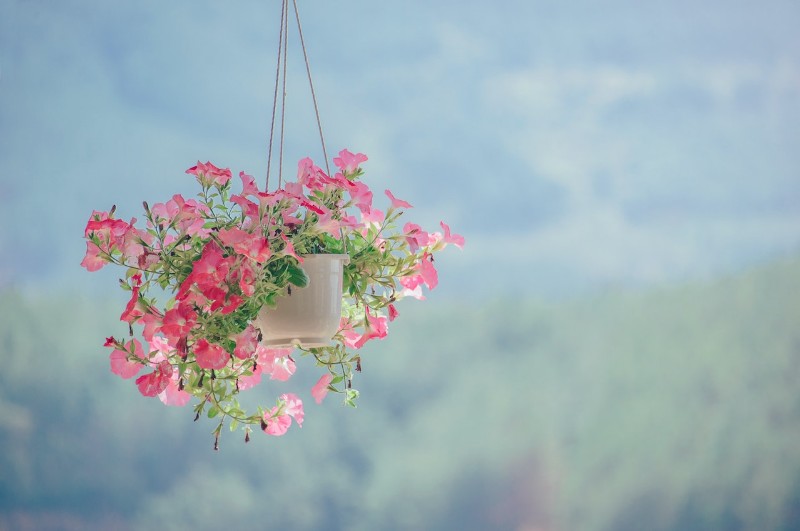 Periwinkle represents young friendship. In the language of love, the color stands for blossoming romance. So, if your relationship is only a couple of weeks old but your partner's anniversary is coming up and you want to wow them with a befitting gift, it would be best to opt for a periwinkle-themed present.

It also stands for calmness and serenity. The color's tranquilizing effects can help imbue peace into a rather chaotic environment. It's the color of winter and ice. That's because the plant which bears flowers of the same name is famous for surviving through the winter.

Due to its ability to withstand winter's unforgiving conditions, the periwinkle plant has often been associated with resilience. Therefore, the periwinkle color may also resonate with the same qualities. You could choose the pigment when organizing sporting events that require a decent amount of strength and endurance, such as marathons.

Also, while periwinkle is generally associated with blossoming friendships, the color may sometimes symbolize enduring love and nostalgic memories. It's an excellent choice for designs aimed at evoking nostalgia.
Some people also associate periwinkle with marriage. Those who subscribe to this school of thought have gone as far as to claim that periwinkle may have been the color referenced in the 'Something Borrowed, Something Blue' marriage rhyme.
Periwinkle is one of the colors of seduction. The pigment's amorous qualities are mainly due to its supposed aphrodisiac properties. As a shade of purple, periwinkle represents homeyness and femininity. The color would be a great choice for female outfits, especially provocative dresses.
It may also have spiritual connotations. The color represents higher qualities in life, such as faith and hope. It's also thought to ward off evil and restore mental clarity. You would never go wrong using it on projects with supernatural themes, such as horror films and novels.

However, be warned that periwinkle also has a dark side. The pigment is aptly christened 'the color of poison' due to the toxic nature of the flowers associated with it.

In certain ancient cultures, such as England and Italy, periwinkle flowers were woven onto hairbands and worn during children's funerals. The flowers were also fashioned into garlands in medieval England and given to death row convicts.
And for some strange reason, periwinkle plants prefer to grow around cemeteries. Incorporating the color into your designs might create a gothic aura in a positive way. But overdoing it could ruin an otherwise elegant artwork.
Popular Applications of Periwinkle
The periwinkle color has had a conspicuous appearance in numerous books, movies, and television shows. One such appearance was in a blue dress worn by Hermione Granger to the Yule Ball in the novel 'Harry Potter and the Goblet of Fire.' A periwinkle-colored kitten aptly named Periwinkle can also be seen in the Blue's Clues franchise.

Other notable applications of periwinkle include in the K-pop group F(x)'s fandom outfits and in awareness campaigns for stomach cancer, pulmonary hypertension, and the eating disorders anorexia nervosa and bulimia nervosa.
How to Make and Blend Periwinkle
To create periwinkle, you'll need to start with a red and white combination to make a basic pink color. Then, add a little blue to the pink to make it purple. You can tweak the color produced to your preference by adding more blue or violet to it.

Periwinkle can blend with a range of colors, including neutrals like white or gray. Avoid black or brown as they can create clashing effects. Other colors you could pair with periwinkle include mint green, navy blue, silver, yellow, and sage green.
Final Word
There goes our definitive guide to periwinkle. Remember that although it's one of the most gorgeous shades of purple, periwinkle works best when paired with a matching color.