Encanto is an American computer-animated musical fantasy comedy film directed by Jared Bush and Byron Howard, and produced by Walt Disney Animation Studios. The movie follows an exceptionally talented family called The Madrigals, who live in an enchanted place in Colombian mountains called Encanto.

Encanto's charm has blessed every child in the Madrigals family except for Mirabel. Mirabel struggles to fit into a family where everyone is extraordinarily gifted. Although occasionally frustrated by her apparent lack of talent, Mirabel eventually discovers that the magic surrounding the Encanto is under threat. She must move swiftly to save her family.

Encanto was initially released on November 3, 2021, in Los Angeles' El Capitan Theatre and then on November 24 in the United States. The movie was both a critical and commercial success. It grossed over $256.8 million at the box office from a $120 – $150 budget.
Encanto Logo and Font

Encanto's logo is a wordmark featuring the words "Disney Encanto." The logotype is executed in two levels, with the word "Disney" appearing in the lowercase and "ENCANTO" in the UPPERCASE.

Another noteworthy element of Encanto's badge is the color scheme. The 'Disney' part of the wordmark is executed in yellow while the 'ENCANTO' word is rendered in a gradient green-to-blue. You'll also spot thin pink shadows and yellow bubbles around the 'ENCANTO' word.

The letters in 'ENCANTO' feature curved tails. The characters also vary slightly in size and texture. Some occur a bit higher than others, creating a dancing appearance. Encanto uses a unique, custom-designed typeface. However, there's a very close match called Madrigal.

Madrigal is a sans-serif typeface designed by NubeFonts. The font looks a lot similar to the one used on Encanto's logo and posters. In fact, the typeface pretty much gets its name from Mirabel Madrigal, the movie's protagonist.

It's important to point out that Madrigal is only similar to the font used for the 'ENCANTO' and not the 'Disney' part of the logo. The latter uses a typeface called Waltograph, which was created by Justin Callaghan.
More About Madrigal Font
Madrigal is classified as a chic, stylish sans-serif typeface. The font is a licensed property of NubeFonts. It features luxurious alternates and ligatures, which speak to its sophistication and versatility. The typeface is PUA-encoded. That means its elegant glyphs and swashes are easily accessible.

Uniqueness is one of the main things that set Madrigal apart from similar fonts. As with Encanto's custom typeface, the individual characters in Madrigal all feature distinct elements. For instance, letters 'I', 'L,' and 'U' have sharp edges and curved terminals. Also, the stems of most letters sport a combination of thin and bold. These features blend seamlessly to create a fantasy theme.

Madrigal is presently available only in one style and weight. However, the font comes with a slew of nifty characters. You can access it in UPPERCASE letters and letterlike symbols. The typeface also supports other special characters, including, punctuation marks, fractions, and currency signs.
Madrigal Font Application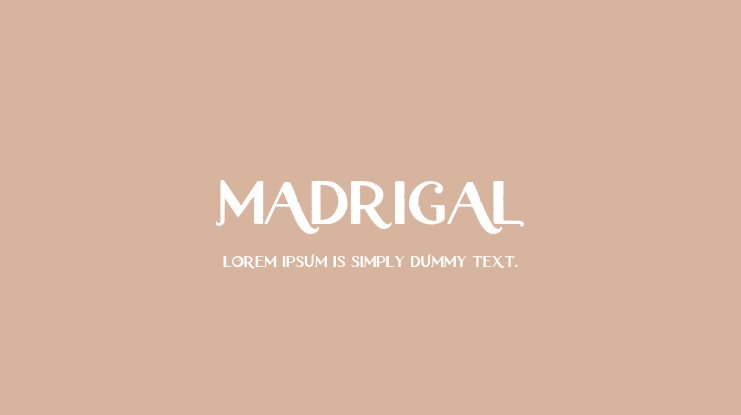 Madrigal's apparent lack of serifs gives the font a clean texture and appearance. It also makes it particularly suitable for using on official design projects.

You might consider Madrigal when designing company logos, business cards, and movie posters (as is the case with the Encanto film). Madrigal would also look stunning on various kinds of invitation cards. These range from birthday party invitations to wedding, graduation, and housewarming invitations.

You could also opt for Madrigal as the primary font when designing road signage, store signage, newspaper and magazine covers, book and comic strip covers, and even apparel.

Another exciting fact about Madrigal is that it's both a print and display font. In other words, you can use it both as a titling and body text font. You only need to vary the size.

Still on versatility, it's reassuring to know that you can use Madrigal both on physical and digital projects. Whether you're designing flyers for an upcoming tournament or a billboard advertisement, you can trust the font to bring out the distinct elements of your designs.
Madrigal Language Support
Madrigal boasts multi-lingual support. Some of the popular supported languages include: Afrikaans, Albanian, Dutch, English, Italian, Portuguese, English, Swedish, and Zulu.
Madrigal Compatibility
Madrigal is compatible with Windows, Apple/Mac, and Linux. The font supports all major operating systems.
Where Can You Find Madrigal?
You can find Madrigal on a number of websites, including Font Mirror, Blog Fonts, and CDN Fonts. The font is also available on Font Meme, Cufon Fonts, and Font Lot.
Is Madrigal Free?
Since Madrigal was custom-designed by NubeFonts, the company reserves all rights to the typeface. Applying the font without NubeFonts' express authorization or without adhering to the specified terms of use could have you sued for copyright infringement.

You can use Madrigal for free on personal projects. The font's license type also supports application on certain official design works, provided there's no monetary gains attached. For instance, you could still use the typeface to design the logo of a non-profit organization (NGO).

Fortunately, many websites let you generate typefaces similar to Madrigal. You can take advantage of these font generator tools to come up with something that looks nearly similar to the original Madrigal font but entirely unique. You can then use the typeface created by these font generators on both personal and commercial projects.