Adding movement in your designs can spice up an otherwise bland presentation. One, your viewer's eyes will naturally be drawn to your works. Second, you'll definitely stand out from your competition. Believe it or not, adding movement is all about keeping it simple.
There are a couple of ways of doing this. One of the most common is using motion lines. This method is popular because it's the simplest and easiest, anyone can do it. Another technique is using multiple images, similar to the zoetrope. These methods are going to make your works more dynamic and 'alive'.
Need a quick way to depict motion in your projects? Let these speed fonts show you how it's done.
Swift Speed Fonts
1. Klutch
Klutch is a beautiful racing themed typeface. It's ideal for sports headlines, editorials, racing posters, esports, branding, website design, advertising and much more. If you're looking for a beautiful typeface that creates the effect of power and speed, then Klutch is for you.
2. Sportage
Featuring a total of 13 fonts, this sports font family pack by Burntilldead includes multiple weights from thin to extra bold to give an athletic edge to your logos, apparel, posters, and branding.
3. Fast Track
This all-caps font by Build Interactive features subtle motion lines that will provide movement to your logos, book covers, titles, apparel, labels, and more.
4. Zuume Font Family
Looking for a high-impact product that can handle the heat? Adam Ladd offers you this condensed, display font family with plenty of weights and italics for different aesthetic needs.
5. Work Space
From science fiction, adventure, to retro, you will have fun exploring the possibilities using this flexible font from Inumocca_Type.
6. Scripter
Vintage meets modern in this geometric script by Sanborne. Apply it to your logos, posters, labels, games, and more.
7. Dash Horizon Sporty
This typeface by Anomali Creatype is the best choice when you're designing products with gaming, racing, and fighting themes. With 10 BONUS Adobe Photoshop text effects/mock-ups.
8. DRIVER
Inspired by retro race posters and action comics during the 60s and 70s, Vintage Voyage D.S. introduces this classic typeface with a realistic hand-drawn effect and 5 styles to bring your designs to life.
9. Swipe Race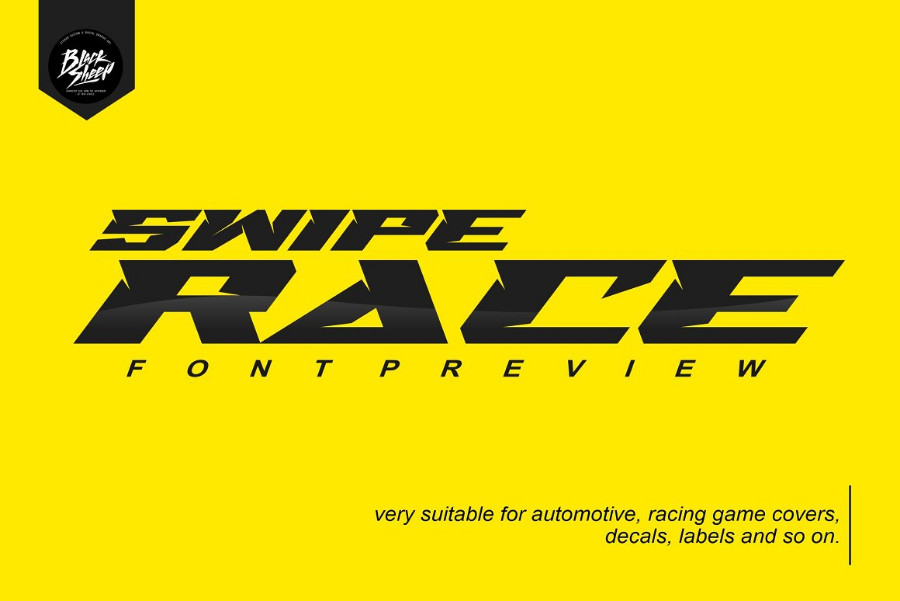 Sharp, tilted, and contemporary, Blacksheep Studio presents this gem that will look awesome on your decals, magazine covers, logos, automotive labels, game titles.
10. Mammoth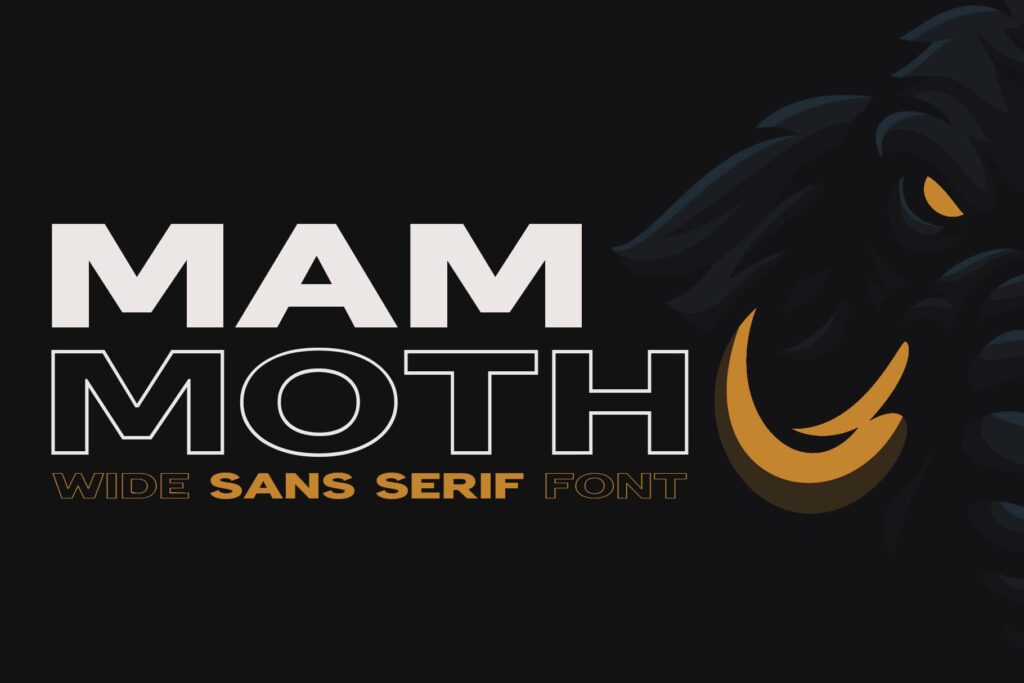 Mammoth is a wide sans serif typeface ready to push the boundaries in your designs. Thanks to its modern look you can use it for any project that requires a bold, clear statement.
You can use it for numerous projects like fashion, magazines, logo, branding, photography, invitations, wedding invitation, quotes, blog header, poster, advertisements, postcard, book, websites, etc. This download includes regular and outline versions as well as lowercase letters for each. You can mix and match the outline and regular version to come up with unique designs.
11. Aeronaves
A high-quality sans serif from Mans Greback, inspired by mid-century air travel graphics, it has the geometric confidence and the speeding slant for travel and old-world creations.
12. Flighter Font
Featuring a balanced style and multi-language support, this bold sans serif will give you 50s graphics vibes unlike any other.
13. Tunning
Go into hyperdrive with confidence knowing you'll excel with these racing-inspired fonts from Rodrigo Typo.
14. PREDATOR
This all-caps modern display font by Anzor Shaov will bring energy and power to your projects.
15. Weekend Warrior
Let this sans serif from Themesmile help you conquer travel, sports, sci-fi, and fighting themes.
16. Grunge Tire Font
Leave a unique mark on your projects when you use this special grunge font from Just Type It. Now you can create exciting off-road or sports branding materials like logos, posters, apparel, and titles with ease.
17. Krunch
Low-key but remarkable, this sans serif by NimaType has a modular techno/digital vibe that will look great when used in titles or body copy.
18. Roadstar
If you love Harley or Metisse motorcycles, Plymouth race cars, and Marlon Brando movies, then you will love this display font family!
19. Drift Typeface
Inspired by drift racing, this futuristic and bold font with 350 glyphs by Thedesignshark looks amazing as is, or in 3D.
20. Reckless
Spencer & Sons Co. brings to you this connected geometric typeface that you can use on logos and posters, but also on tattoos and signage.
21. Headline Speed Font
Simple, geometric, and accurate, this dynamic font by Artyway is everything you need for creations that are sharp and to the point.
22. VTF Gladius
Whether it's for headlines or body copy, you can trust on this offering by VarsityType that offers 12 fonts in 5 weights, with oblique and stencil versions.
23. Stooges Races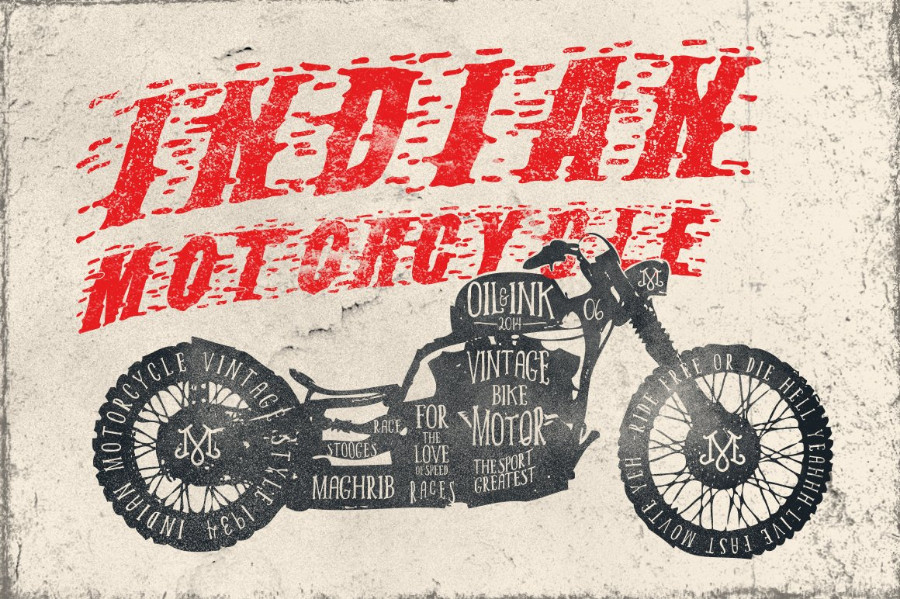 With influences from 1900s motorcycle posters, this font with extra vector silhouettes from Maghrib will awaken the rider in you.