Last Updated on July 18, 2023
Scarface is a 1983 American crime drama film starring Al Pacino. The film was directed by Brian De Palma, while Oliver Stone took charge of screenwriting.

Scarface revolves around a troubled Cuban refugee known as Tony Montana (played by Al Pacino). Montana arrives in Miami in the 1980s, penniless and lonely.

Montana's visit to the United States was courtesy of a green card he won in exchange for assassinating a high-profile Cuban government official. While in Miami, he becomes drawn into the city's lucrative drug trade.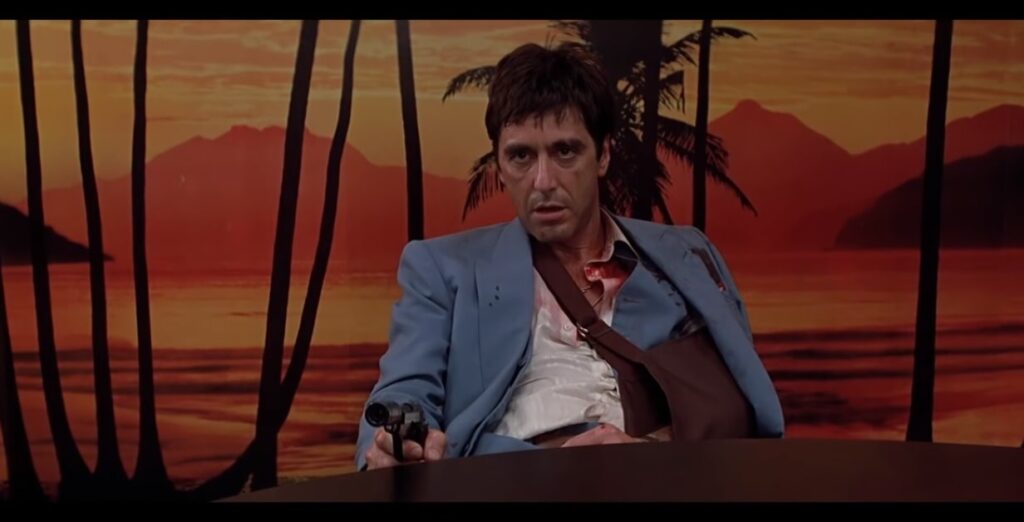 Montana's newfound lifestyle makes him even more ruthless as he fights viciously to control the city's drug business. To achieve that feat, he must murder virtually anyone who poses a threat to his ambitions.

Tony finally emerges as Miami's most dreaded drug lord. But heightened anti-narcotic campaigns by the police and pressure from Colombian drug cartels signal his eventual downfall.

Other lead actors include Steven Bauer, Mary Elizabeth Mastrantonio, Michelle Pfeiffer, and Robert Loggia.
Scarface Font
The Scarface logo font was likely custom-made by in-house designers hired by the film's makers.
The font doesn't seem to have been inspired by any specific previous typefaces. That uniqueness is one of the main reasons the Scarface movie poster has remained imprinted on our memories for years.

However, there are several fonts similar to the one used on the original Scarface logo. One such font is known as Birch.

Birch is a font designed by Kim Buker Chansler in 1990. The font was created based on designs that were popular at the turn of the 20th century.

NOTE: The release date makes it virtually impossible for Birch to have been used as original Scarface movie logo. The similarity is striking nonetheless.
Kim intended her Birch typeface to be used primarily on commercial advertisements. However, the font has generated immense interest among thousands of graphic designers worldwide. You can apply Birch on various projects besides commerce-based ones.
The font can enhance the visuals of a movie poster, book cover, homeware items, campaign posters, etc. Birch suits any design project where the main objective is to catch the eyes of prospective consumers.
Like most typefaces created during the 90s, Birch features several elements of past-age fonts. The difference is that these elements are reworked to create a font that's rich in texture and style.
One unmistakable feature of Birch fonts is their incorporation of woodtype, a style popularized by its wide usage on the posters of Western movies.

Birch has been used on numerous movie logos, video game posters, and album covers. Notable mentions include Amity Affliction's fourth studio album Let the Ocean Take Me, ASAP Rocky's second studio album At Long Last ASAP, and the 2012 French animated film The Suicide Shop.
Where to Download Scarface Fonts
As already indicated, the Scarface movie font is unique and custom-made. The exact version of the font can only be seen in the film's official posters.

That said, there are several fonts that bear close resemblance to the Scarface movie poster, including Birch and Edition.

Note that Birch is a commercial font. Therefore, you can only use it on personal design works. Applying the font on business projects will require a special license. You can purchase a Birch license on My Fonts. Find similar Scarface fonts from FontMeme.