Last Updated on January 5, 2023
Whether it's a neighborhood party or a simple dinner, you can't go wrong with a bit of dazzle if you want to turn heads.
The red carpet for instance, is not complete without gowns and suits that beckon photographers. Wear diamonds to any event and it instantly turns into an unforgettable occasion. Want to attract late-night customers? Adorn your restaurant or cafe in neon lights and watch night owls fly in. Tired of the usual business cards or part invitations? Show them your fun, playful side by using a dash of glitter or gold foil.
Indeed, nothing spells excitement or glamour more than sparkles. Just don't go overboard. And what better way to use that than in these charming glitter fonts.
Glitter Fonts
1. Glitter Lovers
Thanks to its handwritten appeal, this font by Figuree Studio is everything that you could ever ask for in a modern, flexible lettering. Apply it on book covers, social media posts, part invitations, product posters, or Valentine's Day promotions – you simply can't go wrong.
2. Glitterino
With 2 styles (Regular and Hairline) to choose from, you won't run out of uses for this chic script. You can even use both fonts together in one project for a consistently dashing look.
3. Archelaos
An elegant script typeface by AlienValley, this signature-like lettering pairs well with a sans-serif. But don't just take our word for it: grab it today and enjoy contextual alternates as well as webfont formats.
4. Vanilla Frosting Typeface
Nicky Laatz proudly presents this one-of-a-kind lettering, featuring 3 styles and loads of alternates, swashes, and catchwords. Ideal for anything that requires a fun, playful touch or a dash of magic!
Download Vanilla Frosting Typeface
5. LET'S PARTY
Instantly add glitz and glamour to your invitations, labels, headers, posters, and more, when you use this OPENTYPE-SVG installable font from Dixie Type Co. Make sure you're using Photoshop CC 2017 and over, Illustrator and InDesign CC 2018+ for the high-quality PNG files to work.
6. Serangkai Typeface
This unique typeface by Thirtypath Studio features all-caps in uppercase and a playful script for lowercase letters. Toggle them to see interesting results that look amazing online, or in print.
7. Sparkles Font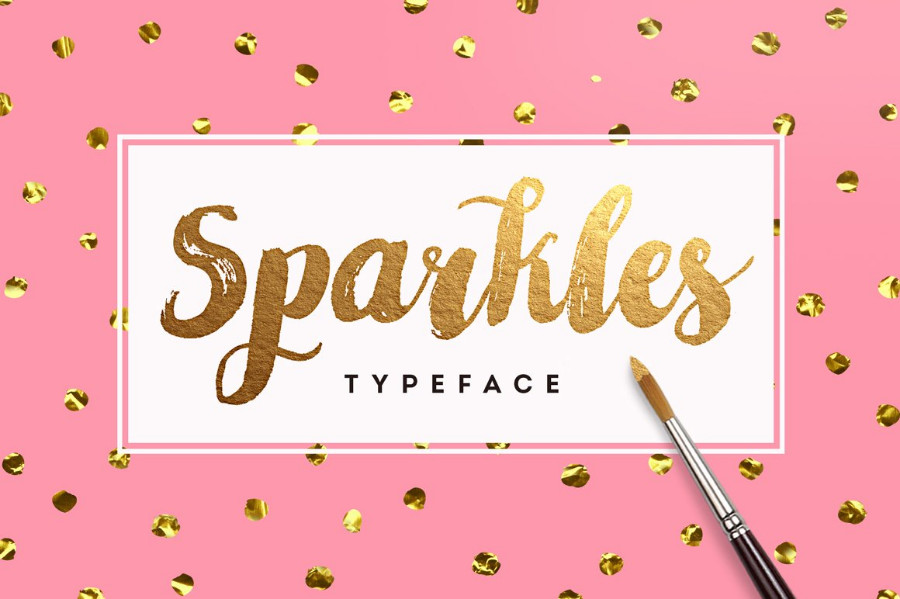 You don't just get this gorgeous hand-painted typeface designed by Ayya Studio. Purchase this product today and also get your hands on free 15 shiny foil layer styles in 3 metallics: gold, silver, and pink as well as a greeting card with all hand-drawn elements in PSD. How cool is that!
8. Golden Night Font
This handwritten script font from Ira Dvilyuk doesn't just include beautiful upper and lowercase letters with extensive language support. The pack also has 6 bonus golden and silver seamless patterns to help you make the best postcards, invitations, blog headers, or business labels.
9. Liquid Gold SVG Font
Inject some strikingly realistic liquid gold lettering into your designs when you download this product by Sam Parrett. Featuring high definition OpenType-SVG font with built-in liquid gold textures, a second version, plus 5 bonus Photoshop actions (for changing the gold color), this is one typeface you gotta have in your arsenal.
10. Glitter
A sparkling handwritten font from AnMark, it comes in 2 styles that are festive, feminine, and utterly stunning. The Regular version is decorative and comes with sparkle effects; while the Clean version is a wonderful calligraphy which can be used anywhere.