Last Updated on August 21, 2023
It's difficult to have eyes for anything else when a peacock is walking in your path. These birds are some of nature's most beautiful creatures. No wonder they're mostly kept as ornamental pets despite technically falling in the poultry category.
A peacock's crown jewel is its iridescent plumage. The shimmering features have lent their name to an equally dazzling color known as peacock blue.
Always wondered what shade of blue the peacock feathers come in Here's everything to know about the lovely shade and how it can inspire your next art project.
Introducing Peacock Blue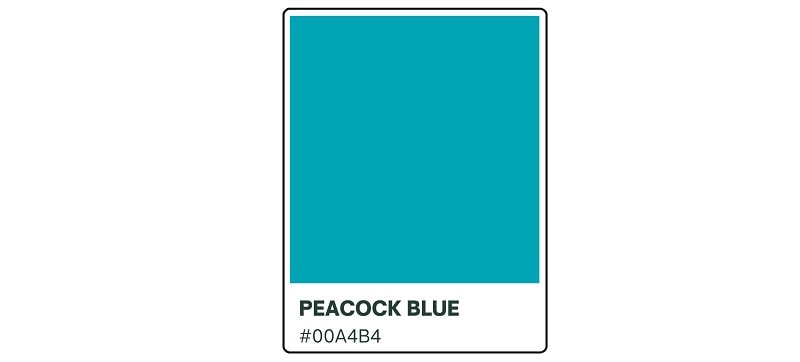 Peacock blue is a brilliant, dark blue-green color. It can also be defined as a darker, more vibrant shade of blue that features green undertones. It is commonly confused for various other shades of blue. Therefore, the best way to understand the color is to differentiate it from similar pigments.
Peacock Blue versus Navy Blue
Navy blue is a dark shade of blue, which makes it easy to confuse with peacock blue. This color got its name from the blue undertone worn by Royal Navy officers since 1748.
The primary difference between peacock blue and navy blue is that the former is a bit warmer and more intense. These attributes explain why some people consider peacock blue as a jewel tone. Other popular jewel tones include sapphire blue, emerald green, citrine yellow, amethyst purple, and ruby red.
Peacock Blue versus Teal

There's also a common confusion between peacock blue and teal. These confusions are mainly because the two colors contain both blue and green pigments. They could also be due to the fact that peacocks come in blue and green varieties.
But if observed up-close, you'll notice glaring differences between peacock blue and teal. Teal is lighter and displays more green. In fact, some color enthusiasts describe teal as containing equal amounts of blue and green saturations.
Other Colors Similar To Peacock Blue
Aside from navy blue and teal, peacock blue also bears striking resemblance to many other blue undertones. You may actually stumble upon some publications describing these colors as shades of peacock blue despite being quite distinct from each other.
1. Venice Blue

Venice blue displays medium brightness and a relatively high saturation compared to peacock blue. The color is closer to sky blue and azure. It's associated with calmness, wisdom, and creativity.
2. Verdigris
Verdigris is a bluish-green color that has enjoyed tremendous popularity since the Middle Ages and Renaissance Periods. The color is also known as earth green or copper green as it was traditionally obtained from oxidized copper deposits. Compared to peacock blue, verdigris is more of a green color with bluish undertones.
3. Medium Electric Blue

Medium electric blue is a bright, vivid shade of blue. The color derives its name from the blue discharges emitted by electrical sparks. It may also resemble the color of lightning and electrical flashes. And going by its definition, medium electric blue is more vibrant than peacock blue.
Peacock Blue – Warm Or Cool Color?
It is a shade of blue with a tinge of green. Both blue and green are cool colors. Therefore, it goes that peacock blue is also a cool color. The heavy blue influence in this color makes it much cooler than most shades of blue.
Peacock Blue – Complementary Colors
Blue and orange are considered complementary colors. In other words, these colors sit directly opposite each other on the color wheel. However, note that both colors come in various shades, which all have their specific complementary pairs. The color that directly complements peacock blue is dark orange.
Origin of the Peacock Blue Name
The peacock blue color is aptly named after peacock feathers. Peacocks, also known as peafowls, are medium-sized birds closely related to pheasants. These birds mostly inhabit the warmer climates of the Southern Hemisphere. They're incredibly famous for their dazzling plumage.
Now, there are three key things to note about the origin of the peacock blue color in relation to the birds it's named after.
First, both peacocks (males) and peahens (females) grow unique feathers that form a magnificent crest atop their heads. However, the crest of male peacocks is generally blue or green while that of female peacocks tends to be a neutral shade of brown or cream. The peacock blue color more accurately resembles the tail feathers of a male peacock.
Second, peacocks fall into blue and green varieties. The blue peacock is native to India and Sri Lanka while their green cousins are widespread in Burma. True to their descriptions, blue peacocks sport bluish plumage while green peacocks display greenish plumage. It's also evident that the peacock blue color derives its name from the blue peacock species, commonly known as the Indian peafowl.
Lastly, there are two phenomena that give an animal or object its visible colors – pigmentation and structural coloring.
A pigment is a natural dye that gives color to living and inanimate objects. For instance, melanin and chlorophyll are the pigments responsible for the coloring of the natural human hair and green plant leaves, respectively. Colors resulting from natural pigmentation remain unaltered regardless of the view angle.
On the other hand, structural coloring is due to the light-handling properties of an organism or object. Peacocks, the blue sky, rainbows, and soap bubbles are noteworthy examples of structurally colored animals/things. Structural coloring causes a significant variance in color intensity depending on the light characteristics and view angle.
In the case of peacock feathers, the bright coloration doesn't come primarily from natural pigments. It's the result of the structural arrangement and light-handling properties of tiny two-dimensional crystal-like structures on the bird's feathers.
History of the Peacock Blue Color
The peacock blue color has been in existence for the same duration as peacocks, which could be millions of years. However, synthetic peacock blue pigments are relatively new.
Peacock blue became popular in 2013 when it, along with other fancy shades like emerald green, made its way into the global fashion industry. The color's popularity slightly faded away before experiencing a slight resurgence.
This pigment is now a favorite of designers, who especially love it for its sheer elegance and relative scarcity.
Meaning of Peacock Blue
Peacock blue is a symbol of beauty. This is understandable considering that the color takes its name from the peacock's iridescent plumage. Adding this pigment to your designs is an excellent way to make them stand out from their surroundings.
In addition to their sheer beauty, peacocks are also famous for their gracefulness. Therefore, the peacock blue color might be a perfect choice for creating graceful crafts, such as the display outfits for your boutique.
As a shade of blue, it is elegant in a rather sophisticated way. The color's sophistication comes mainly from its relative scarcity compared to many other shades of blue. The pigment would suit most designs associated with jewel tones, such as jewelry and cosmetics.
The pigment also stands for boldness. Again, that's an attribute it borrows from the birds whose appearance inspired its name. The color can imbue a dash of confidence while also inspiring positive emotions on the user. The fact that it is a little more vibrant than many shades of blue lends further credence to its association with boldness.
It might also resonate with calmness. Note that blue is a cool color that reminds us of nature's serenity. You might invite peacock blue into your interior walls to help calm your nerves after a hectic day outdoors. Thanks to its tranquilizing effects, the color would especially suit the interior of your workplaces.
The peacock blue color symbolizes knowledge and wisdom. That's partly because peacocks themselves are remarkably smart animals and partly because their colorful plumage usually features eye-like spots when the wings are fully open.
You could also associate peacock blue with mystery. But unlike similar mystery-evoking colors like black, this cute version of blue is rather mysterious in an alluring way. That makes it a great choice for occasions such as bridal parties and date nights.
How to Make Peacock Blue
As peacock blue is a shade of blue with green undertones, the easiest way to prepare the color is by mixing more blue with a little green. You could start with a blue: green ratio of 4:1.
i. Add four part blue and one part green to a mixing bowl.
You could use basic blue and basic green. But for optimal effects, consider cerulean blue and phthalo green. But note that in this case, you'd need two parts cerulean blue and one part phthalo green.
ii. Stir the mixture thoroughly until no streaks of blue or green are visible.
iii. Compare the outcome on a color chart to ensure it's a true peacock blue color.
iv. Add more blue or green if required.
More blue will darken and deepen the shade while more green will lighten it.
How to Blend Peacock Blue with Other Colors
Peacock blue blends well with many bold neutrals, such as white and beige. It can also pair well with other haughty hues like orange and magenta.
Like most colors, peacock blue would mix seamlessly with its complementary color – dark orange – to create a spectacular contrast. In fact, this shade of blue would create beautiful contrasts when used alongside most warm colors, including red and yellow.
There's also the option of combining peacock blue with green or other blue tints to create an analogous pair. Analogous colors are pigments that blend harmoniously when placed next to each other.
Another exciting thing about peacock blue is that it can serve both as the background or accent color or color. For maximum visual effects, consider darker pigments for the background and peacock blue as the accent color. Alternatively, you could use peacock blue for the background and go for lighter shades for the accent.
Summary
Peacock blue is a color whose beauty is only akin to the plumage of the bird it's named after. This shade of blue is indiscriminate too, and can mix harmoniously with numerous colors.