Last Updated on September 28, 2023
You would think you know the color peach – but it's more than a gentle, sweet pigment. People are drawn to it for several reasons. It is soft and warm, creating a welcoming and comforting atmosphere. This hue is often associated with sweetness, innocence, and gentleness, which resonates with many individuals.
Its delicate balance of pink and orange adds a touch of elegance and femininity, promoting relaxation and a sense of tranquility. Can't get enough? Check out definitive guide to the exquisite pigment.
Introducing the Color Peach
Peach is a pale yellowish-orange color with the hex code #FFE5B4. Some outlets also define it as a mixture of yellow, orange, and white, although the ratio of each component can vary considerably depending on the specific shade of peach you're preparing.

Its definition primarily depends on the platform or version in which it appears. In web versions, peach may look like a light pink or pale orange. It's this version that's highly popular with graphic and website designers.

The name peach is sometimes used interchangeably with "peachy." Remember that "peachy" is also a common endearment term among love birds. So, it's best to get the context right when using the term to denote the color.
Shades of Peach
1. Peach Puff
Peach puff is an extremely light peach color that appears with a small amount of blue and green. This shade of peach closely resembles light orange and sand tan.

2. Dark Peach
Dark peach contains higher brightness and medium saturation of red than basic peach, giving it the darker appearance. The amount of red in dark peach is so high that some people may consider it a shade of red and not peach. It may also appear with a light shade of pink-red. The pinkish tints in this color is the reason it's also called New York Pink.
3. Crayola Peach

This shade of peach is deep and somewhat resembles a pale orange color. And as its name suggests, Crayola peach is part of the Crayola crayon colors.
4. Peach Pink
The name says it all – peach pink is noted for its light red-pink undertones.
5. Peach Beige
Peach beige is a lighter shade of peach with pale grayish-orange undertones. It looks like a muted salmon-red color.
Origin of the Peach Name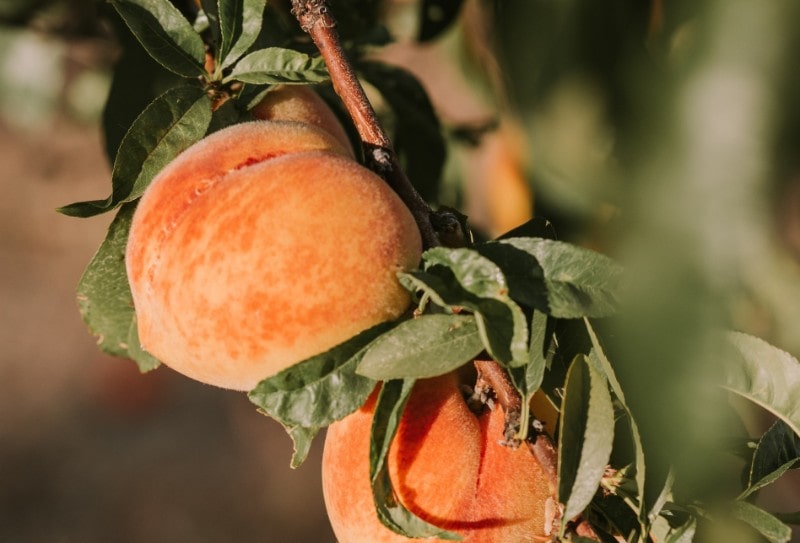 The pigment borrows its name from the appearance of the interior flesh of the well-known fruit of the same name. Peach is a popular pitted fruit with a red or yellow skin and white or yellow flesh. The fruit is noted for its high sugar levels and low acidity.
It's also incredibly rich in antioxidants, particularly vitamin A that's associated with better vision and reduced risks of inflammatory conditions. Other notable minerals that are relatively abundant in peach include potassium, iron, and fluoride.

Before the word "peach" came to be associated with colors, the term was used almost exclusively to refer to peach fruits. The first documented use of "peach" as a color name in the English language was in 1588.

The name "peach" itself comes from the Middle English word 'peche,' which further derived from a Middle French word. The Middle French version of the name came from the Latin word 'persica,' which loosely translates to 'fruit of Persia.' This etymological history can be quite confusing considering that the actual origin of peach plants was in China and not Persia.

It's also worth noting that pale yellowish-orange is not the color of the interior flesh of all peach fruits. As already hinted, the flesh of some peaches may take on other hues, including white.
History of the Peach Color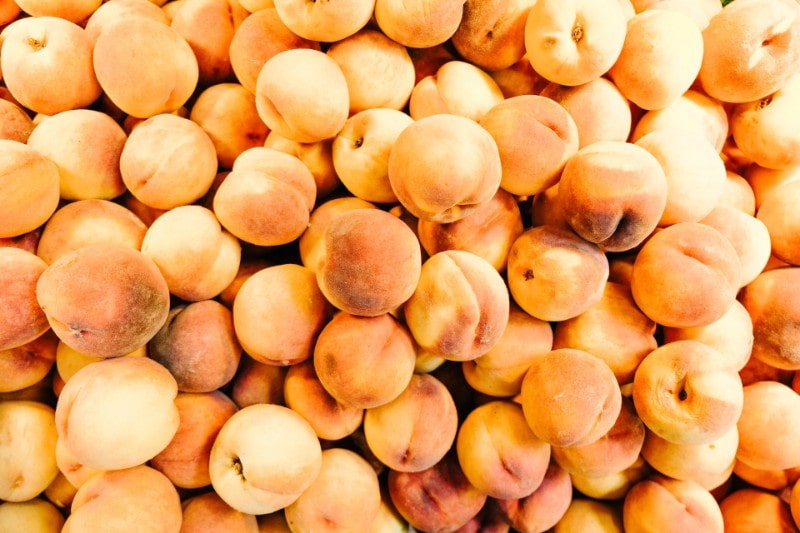 The name peach may have entered the English language as a color name in 1588. But the color's usage goes way back. Various historical records indicate that peach was a favorite color as far back as the 1080s. The color was a preference of both artists and architects.

'The Arnolfini Portrait' completed in 1434 by Flemish artist Jan Van Eyck is one of the most famous paintings featuring peach. Eyck added peachy tones to the left corner of the painting as a representation of fruitfulness and female fertility.

Peach witnessed an eclipse in popularity from the 15th to the 19th century. The color would later bounce back to the limelight in the 1920s when it began appearing in the tinted mirrors of luxury hotels, nightclubs, and even residential buildings.
The Meaning of Peach
Psychological Meaning of Peach
The pigment contains decent amounts of yellow and orange as well as considerable white undertones. Therefore, the color blends the emotional attributes of all three pigments.

Peach is commonly associated with modesty. The color's muted hues makes it less polarizing than the three individual pigments comprising it. It can fit most designs where yellow would look too childish, orange too stimulating, and white too dazzling.

The color peach also resonates with innocence. This is mainly due to its white undertones. While most people would probably settle for white wedding gowns, peachy ones would be nearly as effective in conveying the same emotions of purity.

Thanks to its yellowish shades, the color can convey warm feelings of friendship and caring. As the color of friendship, it would aptly suit various types of events, ranging from family reunions to bachelorette parties and even corporate dinners.
The color's pastel charm makes it a go-to option when designing feminine or teen-related designs. You could also consider it as the backdrop color for your interior décor.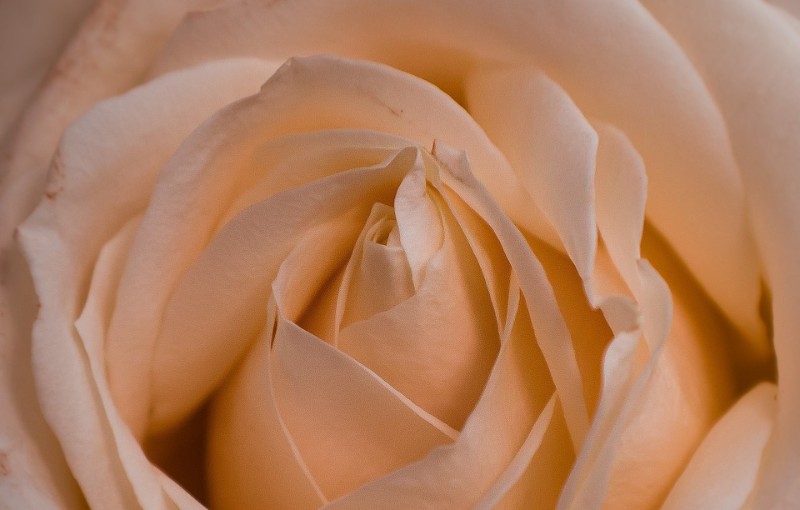 It may also convey a sense of balance. That's due to its paler appearance compared to its constituent pigments. The color can imbue feelings of harmony into your projects if properly used. You could also use it to balance out overpowering colors, such as bright yellows and reds.

The peach fruit that lent its name to the peach color is famous for its sweetness and dense nutritional profile. It's unsurprising that many people also view the peach color in the same light. Due to its association with sweetness, peach would be a great choice for use on confectionary products. 
As a botanical color, it blends well with other common nature-themed pigments – blue, green, and umber – to evoke feelings of freshness and vitality. Peach can be quite calming. You can invite this color into your bedroom to boost your sleep quality.

Lastly, while gold is probably the most common shade of yellow associated with luxury, peach may also inspire the same feelings. The color's resurgence in the 1920s was actually due to its association with luxury.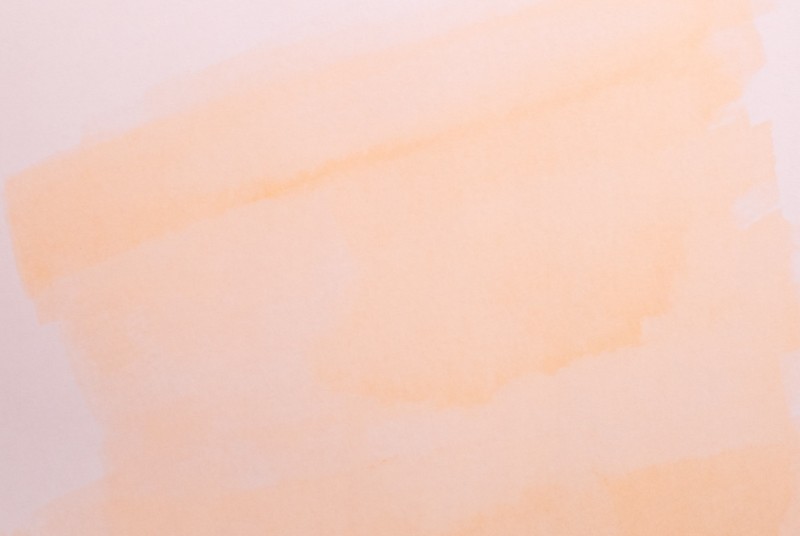 Cultural Meaning of Peach
Peach is the color of immortality in Chinese culture. That's because of its association with 'The Peach Tree of Immortality,' which has been revered in the mythology of the Taoist religion.
This immortal tree is long believed to grow on a mountainside in the Tian Shan region of western China. Myth has it that it only blooms once every 3,000 years.
How to Make Peach
The easiest way to make peach is using yellow, red, and white. Here's how to go about it;
i. Add equal amounts of yellow and red to a color mixing bowl.
ii. Stir gently using a paint brush or palette knife until you get an orange color.
iii. Add one part of yellow to a different color bowl and add three to five parts of the orange color to it.
iv. Add white to the mixture and stir carefully until you obtain your desired shade of peach.
v. Tweak further as required.
More yellow will lighten your peach, resulting in a coral color that nearly resembles the appearance of unripe peach, while more white will lighten the color but without changing its tint. On the other hand, more red will darken your peach.
Remember that a little red goes a long way. So, if you're seeking to darken your peach, add small amounts of red to prevent dramatic effects. Besides the combination of yellow, red, and white, you could also make peach using yellow and pink. That's because pink is a lighter shade of red.
In this case, you'd start with equal amounts of basic yellow and pink. Stir the mixture until you get a peachy orange color. Then, experiment with more yellow or white depending on your desired effects.
How to Use Peach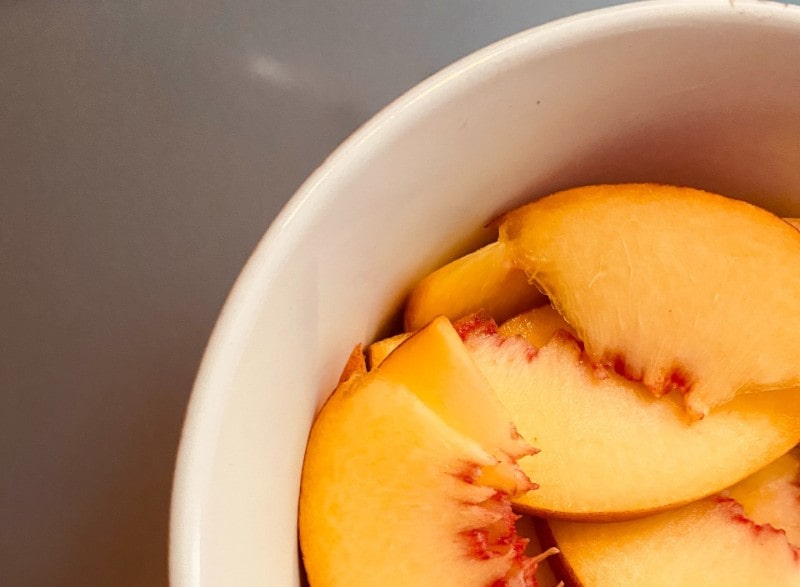 This hue blends seamlessly with numerous colors. You can use it either as a background or accent color. Peach combines well with neutrals like black and white to create a more adult look. However, such combinations make more sense if you use the neutrals for the background.

Both peach and gold are shades of yellow associated with luxury. Using pops of both colors can help ooze elegance and sophistication into your designs.

Warmer shades of peach can bring homeyness into a setting. That makes them excellent for use indoors. You could use the color alongside lighter shades of green to invite the serenity of Mother Nature into your living space. And if you find the warmer tones a bit overwhelming, you could paint your interior walls in other cooler colors while designating peach to furnishings.
Wrap Up
Peach color is a gentle and warm shade, blending pink and orange. It exudes sweetness, femininity, and a sense of calm. With its versatile and elegant nature, peach finds its place in fashion, interior design, and art, creating a soothing and inviting ambiance. It's a delicate hue that adds charm and comfort to any setting.