Last Updated on May 29, 2023
When you see a bolt of lightning drop from the sky, three things usually come to mind: it's bright, fast, and powerful.
While there are different types of this weather phenomenon, the one that gets the most popularity points is the common lightning bolt. When you see it hit the ground, it takes a few seconds before the sound of thunder catches up to it.
Lightning in Nature and Pop Culture
Lightning is basically a giant spark of electricity produced in the atmosphere either between clouds, in the air, or on the ground.
Positive and negative charges build up, with the air acting as an insulator. Once a big enough build-up occurs, bam! You get a flashy stream of electricity. This means the charged regions are equalized until another build-up triggers a new bolt.
This symbol of a bright discharge is adopted by many fields in everyday life. Signages use this to denote that something is electrically charged, or is capable of carrying electric current. It's also a common element used in several fantasy themes.
Whether it's in video games or in books, there's a whole host of mages, wizards, or even demi-gods who can wield this power right on their fingertips. There are also creatures created from this zap of energy (e.g. Frankenstein's monster).
You will also see a lot of lightning attributes in science fiction; from weather-controlling aliens to superheroes that give their enemies a shocking realization.
Best Lightning Fonts
Lightning is fascinating because it's both lethal and beautiful (as long as you don't get too close). Its jagged edges convey power, strength, and volatility. With the right elements, you too, can express the same awe and excitement to your designs.
Use these lightning fonts and leave your audiences speechless.
1. Routen Lightning Monoline
Multilingual and comes in 6 variants, this handsome monoline script by Martype Co pairs beautifully with any clean sans.
Download Routen Lightning Monoline
2. Blackburn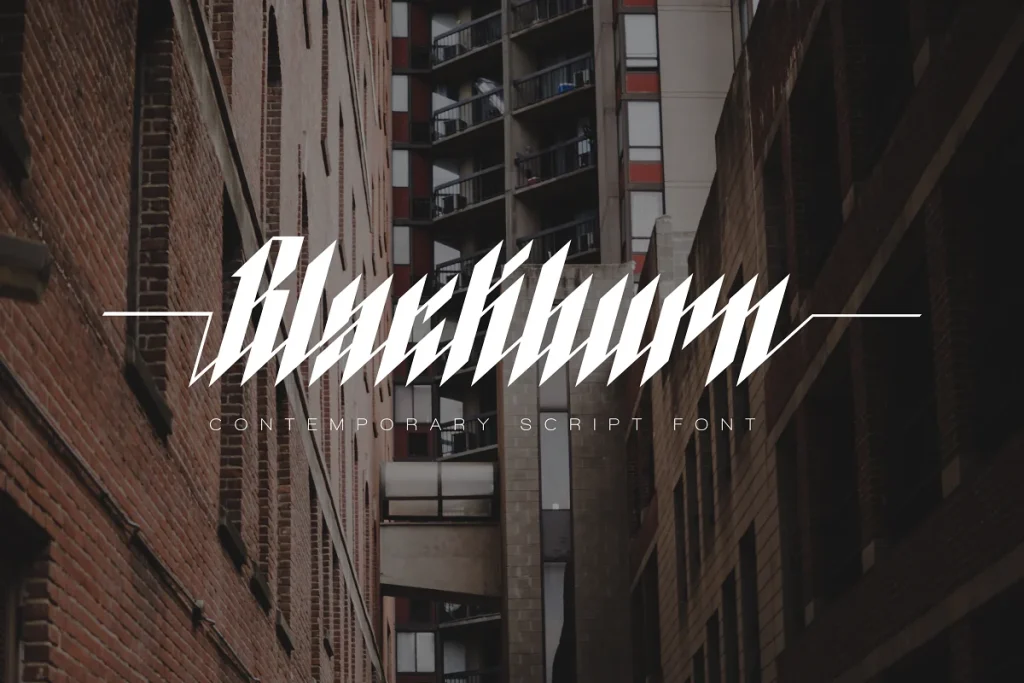 Inspired by blackletter and modern hand lettering, Ashenterprise brings you this sharp typeface that bends the rules. It's perfect for music, architecture, and adventure themes.
3. Retro Thunders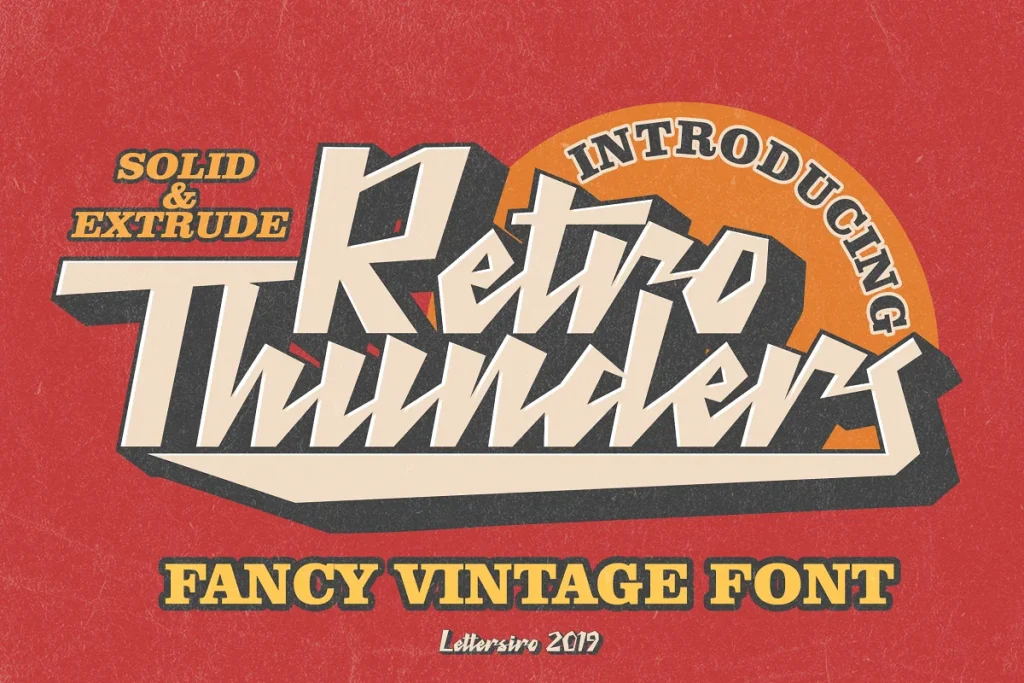 Re-create those nostalgic designs with this retro font by Lettersiro. It comes in 2 styles (Solid and Extrude) to help you make awesome sports logos, automobile posters, and more.
4. Shock Block
Don't be scared – it's just Wingsart Studio's electrifying all-caps font. Now you can re-create those amazing 80s movie posters, book covers, and comic art using these experimental characters.
5. Electric Vibe
If you want it fast, this hand-drawn typeface from Fortunes Co was made from natural brush pen to give that distinct edgy vibe that's perfect for album covers, posters, and headlines.
6. Wavelength Typeface
Inspired by the 'Rick and Morty' logo, Inspirationfeed presents this abstract display type that instantly grabs attention. Use it on projects that need that wild, groovy factor.
7. Letric
With some traits of a brush font, this high-energy all-caps by Mans Greback can fit into almost any theme, be it adventure, vintage, thriller, horror, sports, or wildlife.
8. Desperate
Typodermic Fonts Inc. brings you this punk, new wave font with unruly ligatures and sharp edges. Keep out of reach of children.
9. Boardslide – Energetic Typeface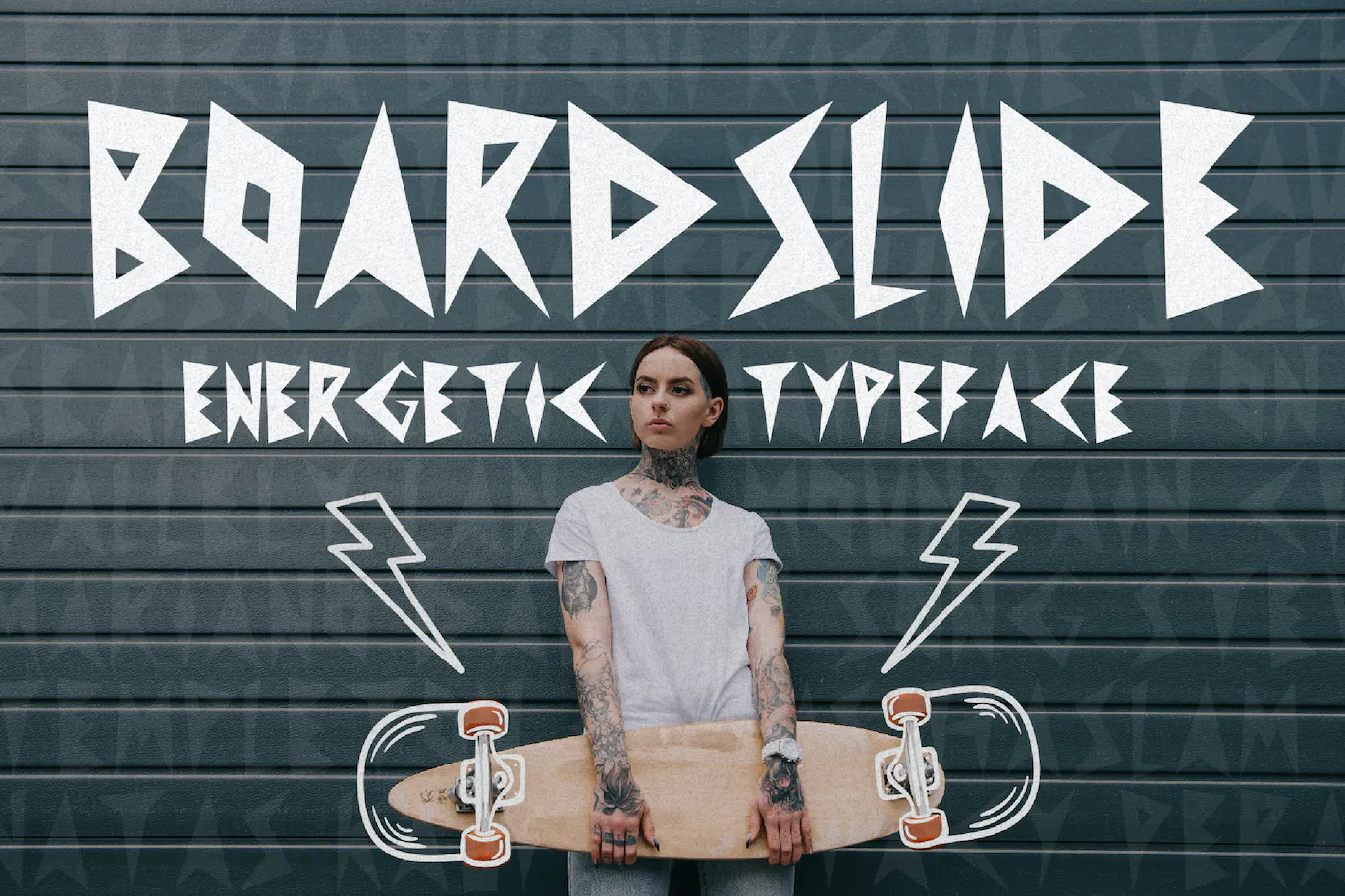 Boardslide is a rad all caps typeface inspired punk and skateboarding culture. This sharp and energetic typeface is perfect for creating logos, headlines, social media posts, t-shirts, Youtube graphics, event posters, and much more. If you're looking to create a wild design, then Boardslide is perfect for you!
10. Againts Typeface
Messy with an attitude to match, this typeface includes 4 styles plus thunder dingbats for all your labelling, branding, display, editorial, and clothing design needs.
11. Voltage Regular
This beautiful script by award-winning typeface and lettering designer Laura Worthington is as elegant as it is functional.
12. ZZZAP
Give your readers and audiences a SHOCK with this zany font by Comicraft Fonts. It's ideal for graphic novels, comics, and digital storytelling.
13. Old Biker Label Font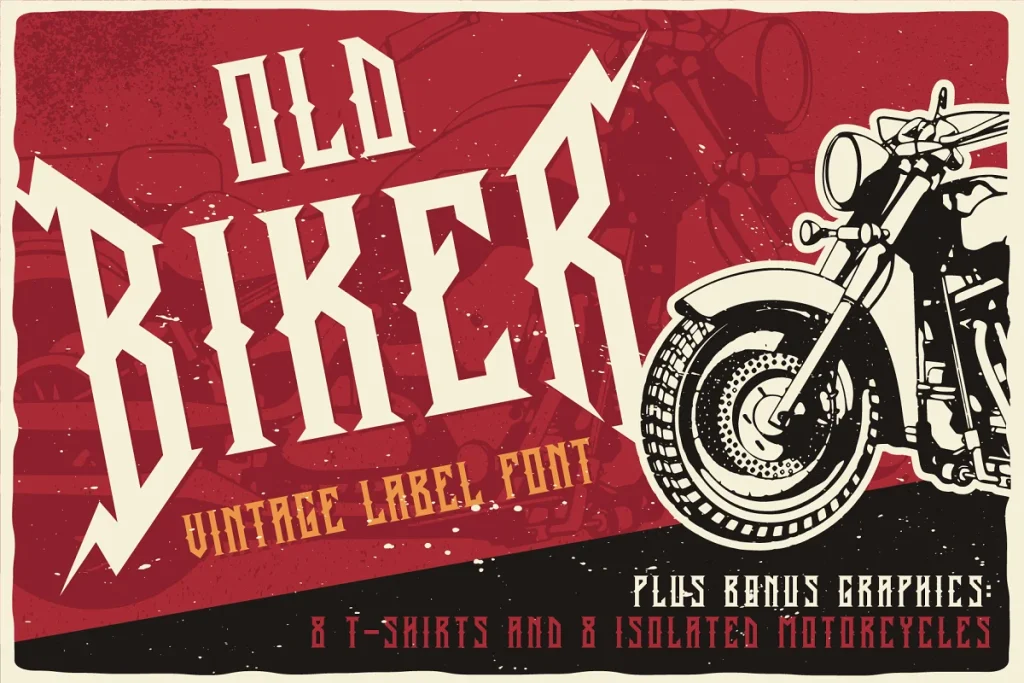 Bring out your inner biker with this vintage label type from Vozzy Vintage Fonts. Set includes motorcycle illustrations to help complement your designs.
14. Northern Runes
Capture that authentic, ancient look using this aged northern font by the Kaer Shop. It comes in 2 medieval styles (Runes Frame and Dots) you can play around with.
15. Haywire
Featuring 5 styles to choose from, Ekloff gives you this energetic font that's both fun and practical.
16. Brothers of Metal
Looking for an original heavy metal font? This gift from the gods is chosen especially to give justice to your projects. Brought to you by defaulterror.