Last Updated on September 28, 2023
Imagine gazing into the heart of a perfectly cut ruby gem, where layers of red intertwine to create a mesmerizing depth. The ruby color captures that very essence. It offers a visual symphony of crimson and burgundy, occasionally infused with subtle notes of purple or pink. This dynamic palette lends itself to versatility, making it equally at home in opulent settings as it is in more delicate and refined contexts.
This article will unearth all the fun facts about ruby. Some of the areas the post shall address include the color's history, meaning, and symbolism. It will also go into the origins of ruby, tracing its roots back to ancient civilizations and exploring its evolution over the centuries.
Finally, the article will discuss the practical applications of ruby in art, design, and everyday life. You'll discover insights and suggestions on how to incorporate this captivating hue into your surroundings. Read on to gain a comprehensive understanding of this beautiful hue. 
Introducing The Color Of Ruby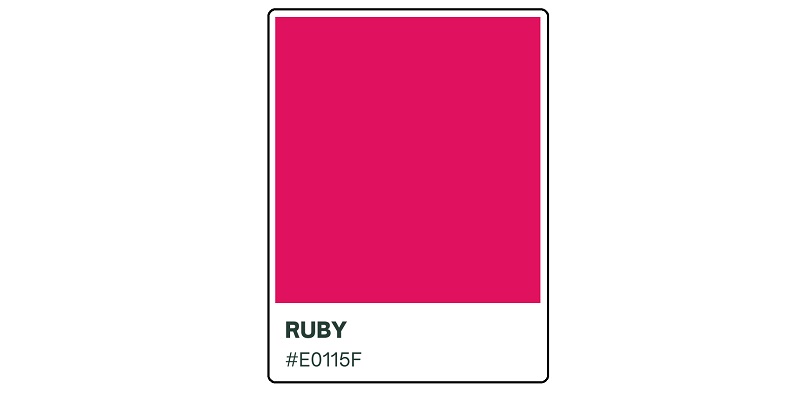 The ruby color is a captivating blend of red hues with varying levels of depth and intensity. Comprising a range of warm and rich shades. It draws its inspiration from the vivid tones of the ruby gemstone. The hexadecimal code for it is #E0115F.
At its core, the ruby color consists of a dominant red base, often deep and bold. This primary red tone can be interwoven with secondary tones to create nuances that add complexity and depth to the color. Hints of burgundy, crimson, and even slight touches of purple or pink can be present, creating a dynamic and multi-dimensional visual experience.
Exploring the Different Shades of Ruby Color
The world of ruby color encompasses a range of captivating shades that evoke various emotions and aesthetics. Some of them are even mistaken for the color ruby! Being familiar with these pigments will not only broaden your horizon, you will also gain a deeper appreciation of the rich red hue.
Deep Garnet: This shade captures the intensity of a rich garnet gemstone, exuding a sense of passion and depth.
Crimson: A vibrant hue reminiscent of ripe berries, this shade radiates energy and warmth, making it perfect for adding a dynamic touch.
Candy Apple: This vibrant, intense shade of Ruby is reminiscent of a classic red apple, radiating energy and immediate attention.
Burgundy: Deeper than classic Ruby, burgundy combines red and purple to create a sense of luxury and elegance.

Raspberry: With hints of pink, this shade combines the vibrancy of Ruby with a playful and youthful twist.
Remember that color perception can vary. So always test shades in the context of your design to ensure they evoke the desired emotions and aesthetics.
A Brief History of Ruby Color
Like most shades of red, ruby has a rich history. The color's origins date back to ancient civilizations, where it was highly prized for its vibrant hue. Some people believed it possessed protective powers.
The actual history of the ruby color can be traced back to the classical world. During this period, the color was mostly associated with power, passion, and courage. In ancient Rome, various shades of red often symbolized the bloodshed in battles.
These colors were worn by victorious generals as a mark of their achievements. Similarly, in ancient Egypt, ruby was seen as a symbol of life and vitality. The color was often used to adorn jewelry and amulets.
Ruby has gained significant cultural associations throughout history.
In many Eastern cultures, such as China and India, red is considered a lucky color. Shades of the color are associated with good fortune and prosperity.
In Western cultures, different red undertones (such as ruby) resonate with love, passion, and intensity. And in Christianity, red is often used to symbolize the blood of Christ. The color is associated with sacrifice and redemption.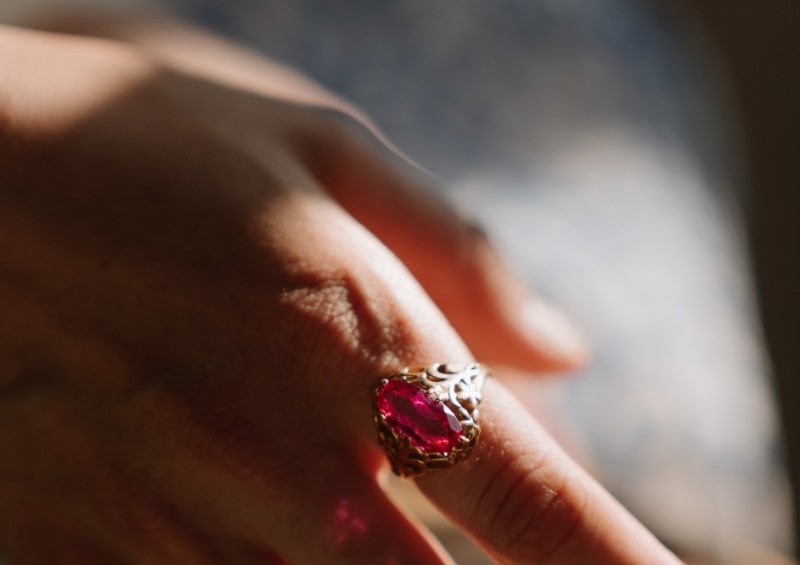 The ancient meanings of the ruby color may have changed over time. However, these changes are largely negligible. In contemporary society, the color red is still associated with energy, power, and excitement. Shades of red are commonly used to draw attention, such as in advertising and branding.
They're also effective at evoking strong emotions and creating a sense of urgency. In the field of psychology, red has been found to increase heart rate and stimulate appetite. These effects make shades of the color, such as ruby, a popular choice for restaurants and food packaging.
From its origins in ancient civilizations to its contemporary symbolism, this shade of red continues to mesmerize millions of color enthusiasts worldwide.
The Symbolism of Ruby Color in Different Cultures
There are also certain traditions which believe that the ruby color may bring protection and ward off evil spirits. In Chinese culture, shades of red (including ruby) resonate with luck and happiness. These hues are commonly used in celebrations like weddings and New Year festivities for their resonance with good fortune.
It has also found its place into Indian culture. Many Indians associate the color with purity and often use it in religious rituals and ceremonies. In Western cultures, ruby stands out as a symbol of love and passion. The color's association with romance explains why it's often used in Valentine's Day decorations and gifts.
One clever way to incorporate ruby into your creations is to understand its meaning in different cultures. As we've just highlighted, the color's symbolism is deeply rooted in cultural beliefs and traditions. Whether it represents luck, love, or protection, the ruby color commands a significant place in different cultures worldwide.
The Psychological Effects of Ruby Color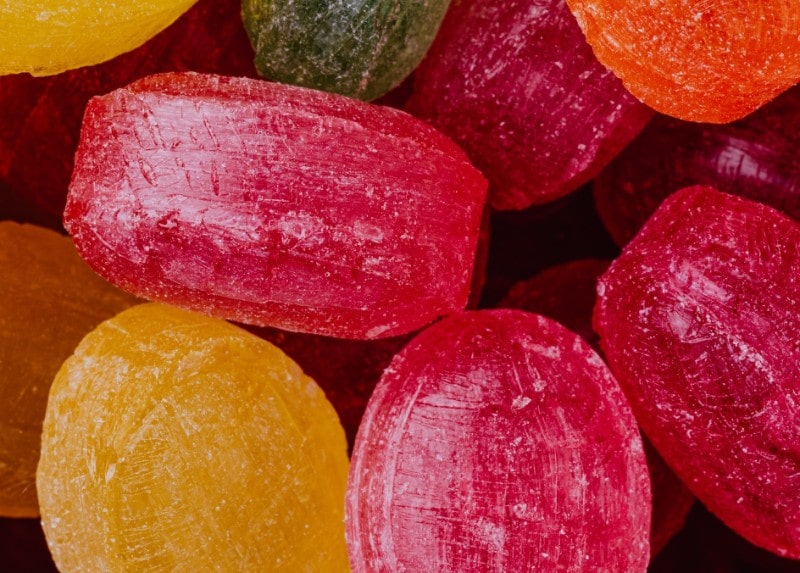 The ruby color possesses a dynamic capacity to incite energy and excitement, a psychological facet worth exploring. Its vibrancy embodies passion, power, and vitality.
This color invokes potent emotions, varying by context and personal history. Ruby's resemblance to blood anchors it to love and desire, while its fire-like nature resonates with courage and strength, lifting low self-esteem.
Marketing harnesses ruby's psychological impact, as seen in sports, energy drinks, and entertainment promotion. This generates urgency and engagement. Beyond marketing, color therapy taps into ruby's prowess for holistic healing.
A conduit for energy and vitality, ruby's presence in this realm aligns with enhanced well-being, lending credence to its broader psychological effects.
The Influence of Ruby Color on Emotions
Ruby's vibrant hue evokes potent emotions, its impact on mood and physiology well-documented in studies. Often linked with passion, energy, and love, ruby's context shapes its emotional resonance. As a facet of color therapy, it ignites excitement, intensity, and sensuality.
Research hints at physiological responses, like heightened heart rate, tied to its invigorating traits. Sensually, ruby sparks feelings of love, desire, and warmth, making it a tool for intimacy. Its sway extends to decision-making; red tones, including ruby, enhance focus and precision, likely due to its association with heightened concentration.
Beyond its visual allure, ruby's emotional range shines through color therapy and cognitive processes, fostering well-being, vitality, and intensity.
How to Incorporate Ruby into Your Life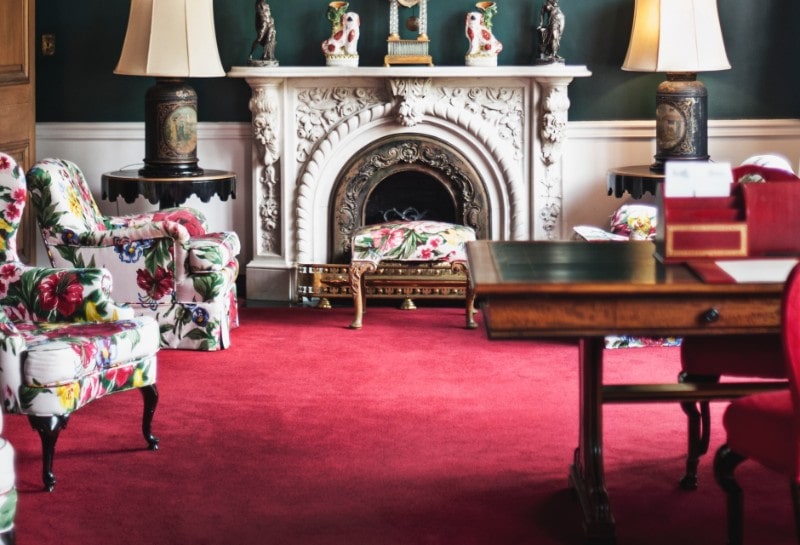 Incorporating ruby into your life can be effortlessly chic. Elevate your home ambiance with ruby accents – think throw pillows, curtains, or rugs – for an air of luxury. Enrich your living space by employing ruby-themed walls or furniture as elegant focal points.
In fashion, ruby transcends as a daring choice. From dresses to suits, ruby hues make a confident statement. Adorn your ensemble with ruby jewelry – necklaces, earrings, rings – for added allure. In makeup, embrace the dramatic with ruby-colored lipsticks, eyeshadows, and nail polishes.
For branding, ruby captures attention with its boldness. Use it in print, billboards, or digital campaigns to infuse urgency. Unveil its romantic side in weddings – a symbol of love and commitment. From bridesmaid dresses to décor, ruby hues transform weddings. This deep red evokes passion, power, and sensuality, elevating evening gowns, accessories, and formal attire.
Conclusion
Whether used as a focal point or a complementary accent, the ruby color commands attention. It is a hue that invites exploration, stirring feelings of energy and romance while carrying an air of sophistication. Just as the ruby gemstone is cherished for its rarity and beauty, the ruby color brings a touch of enchantment and allure to any creative endeavor it graces.