There is no doubting the fact that an Indian style of writing is very unique. Many of the fonts that you will see in this short but sweet article contain stylish and easy to use Indian-like styles that are super easy to understand as well as use. 
Regardless of whether you are having an Indian themed event or party, or if you just want to download a package of new and unique fonts that will make your product, promotion, design or logo stand out from the rest. 
Stunning Indian Style Fonts
1. Mantra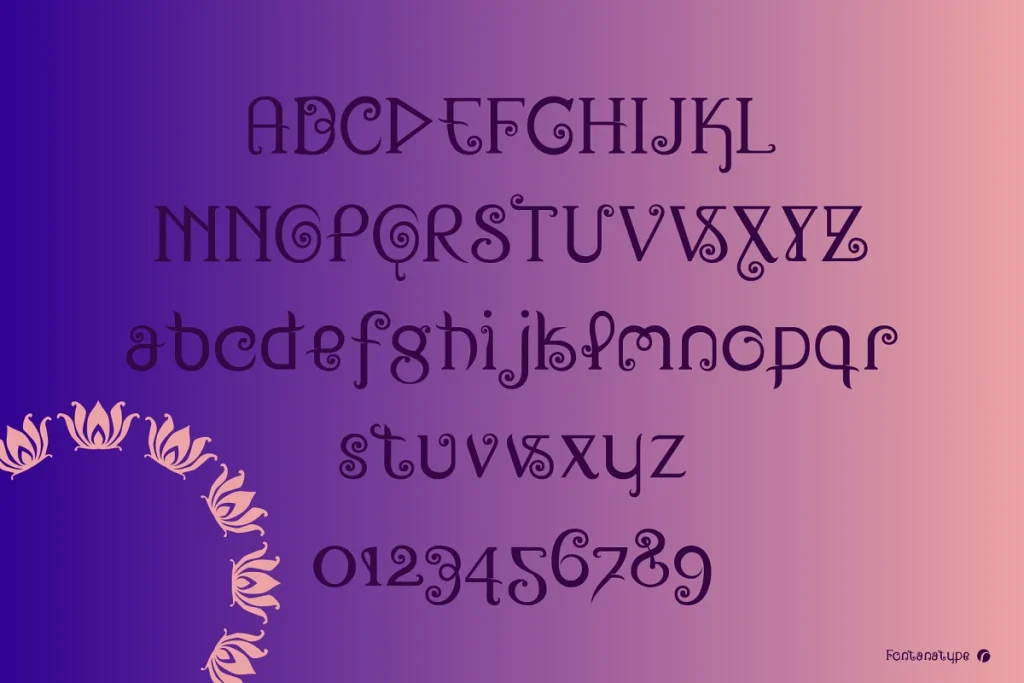 Inspired by the drawing of lines on a box of Indian scent sticks, the creator of this beautiful font has used a range of experiences to invent a special font that looks great on any design concept. The font (available in ttf and otf format) is available in a series of different languages, and multilingual support is always available. Not only that, but the ont is perfect for parties, posters, logos, flyers, or any Asian themed promotional event. 
Download the Mantra font right here!
2. AZ Indian
AZ Indian font is inspired by the original early 1900's Indian Motorcycle Logo. The font is designed for use as a worn and antiqued headline and is perfect for any piece, poster, logo, design that you want to make look old and worn. The package comes with only one font, but that font is beautifully crafted and when you have one perfect font, you don't need any others!
3. Indi Kazka 4F
Inspired by Indian culture and, this beautiful font type is easy to use, easy to read, and looks fantastic. Perfect for any project, its beauty knows no bounds, and it will provide a standout look for any flyer or poster. 
4. Ramadona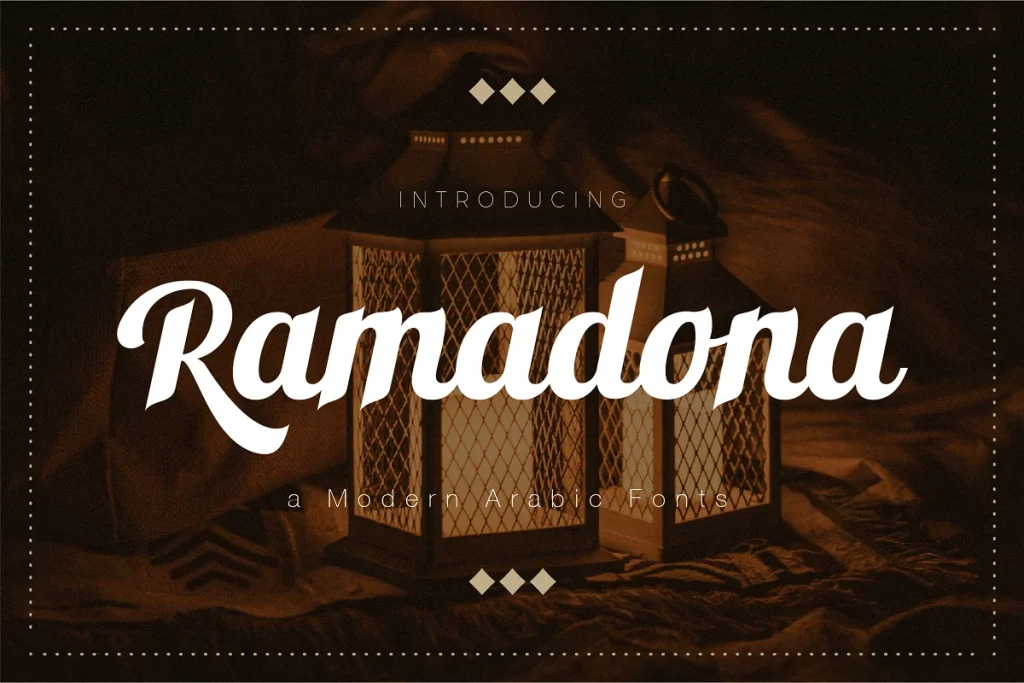 Wit Ramadona font, you get a beautiful Arabic style design and classy lettering. The font is versatile and is ideal for branding, headings, wedding, digital, movie, invitations, signatures, logos, labels, and much more!
5. Caligraf 5 Weight Script Typeface 
Caligraf is a classical calligraphy script.  The character design blends traditional soft flowing handwriting with a modern, sharp look, and its angle and weight balance gives it a determined and progressive pace.
Caligraf is a multistyle font family, composed of Thin, Light, Regular, Bold and Black. Its range ensures usability in any context, while also giving the ability to emphasize phrases or words. Use it in an invitation, a diploma, a logotype or in a decorative body text.
Being a font with over 850 glyphs, it is guaranteed to contain all characters you'll ever need, including all punctuation and numbers. It has an extensive lingual support, covering European and Asian Latin scripts.
6. Mantra Font
A seriously impressive and ethnic font, Mantra is a handwritten font that is inspired by Om Mantra. It is easy to download, and even easier to use and edit as needed. There is only one font style in this package, but it is well worth the price. 
7. Krishna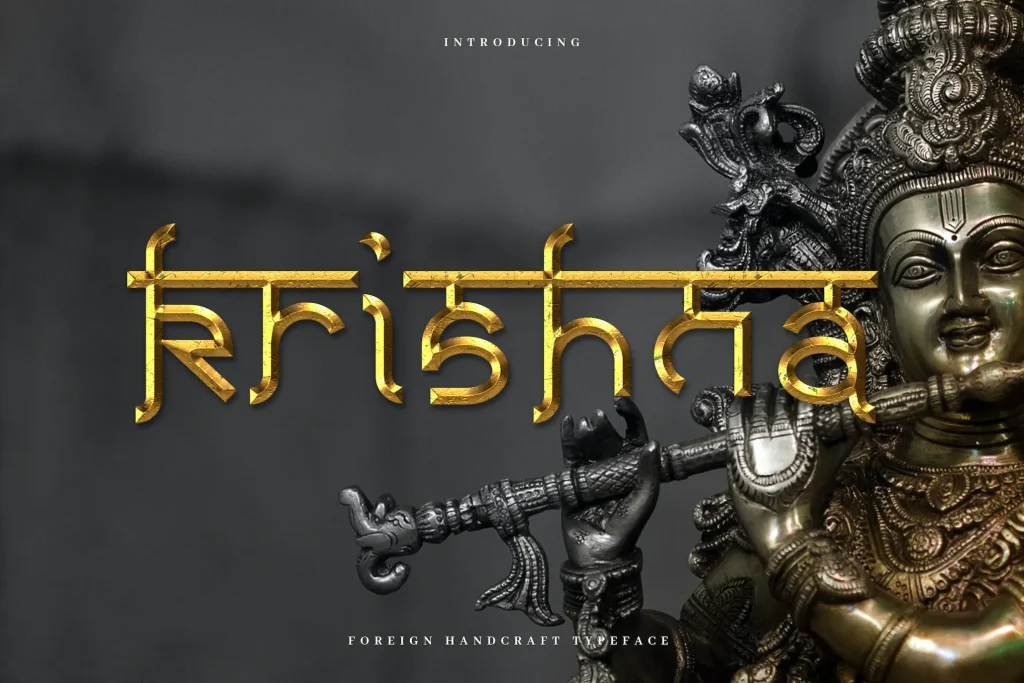 Looking for a bold and solid display font that has authentic Indian feeling? Then check out Krishna font. The unique typeface is ideal for projects such as posters, headlines, editorials, packaging, book titles, branding, and more. 
8. New Delhi (FREE)
Easily spice up any design with this extraordinary typeface by DisplayStudio. Enjoy multilingual features and style variations that will surely level up your invitations, logos, blog titles, editorials, product labels, and more.
9. Khaleefa (FREE)
A modern calligraphy with exotic roots, ARToni brings you this amazing font with graceful serifs. Set contains upper and lowercase letters, as well as numerals and punctuations.
10. Jainism Font Family (FREE)
Make standout postcards, signs, banners, logos, and brochures using this playfully nostalgic font from Spenser and Nathan Dawdy. Inspired by Devanagari scripts, Indian signage, and Art Deco, it's ideal for titles, headlines, and short texts. Contains only upper case letters and numbers in multiple weights and styles.
Download Jainism Display Font Family
11. Arashveti (FREE)
With influences from the beautiful calligraphic techniques of the Javanese script, this typeface from Nuryanto Dwi is classy, chic, and refreshing to the eyes. Use it to enliven any project, though it's most suited to lend a traditional vibe (especially for India and Southeast Asian-inspired designs).
12. Prognostic (FREE)
This unique sans serif from Måns Grebäck connects each character when typed without spaces in between. Use it for vintage-style works or modern projects – it's going to look amazing either way. Includes numerals and punctuations. For personal use only.