Last Updated on May 29, 2023
The witches that we know now come in all shapes and forms. There's the green, wart-nosed villain who rides on a broom and likes to terrorize children. There's also the old hag who lives either with her coven or by herself in the woods. Then there's the suburban wife or teenager, who's just trying to control her powers and do wonderful deeds.
But the real origins and history of witches are far darker – and for the witches themselves, deadlier. The early Christians of Europe for instance, saw them as malevolent practitioners of black magic. However, many of these 'witches' during that time were simply wise women, who knew how to use herbs. From the mid-1400s up to 1660, thousands of women accused of being witches were either tortured, or killed.
Today, witches are one of the more popular symbols for Halloween. Far from their morbid past, they are now delightful and colorful characters that make this holiday a special treat for all.
You don't need Halloween as an excuse to use these spook-tacular Witch fonts. All you need is a dash of spirit, a pinch of inspiration, and a lot of creativity.
Magical Witch Fonts
1. Pokra
Pokra is a whimsical Halloween font perfect for creating fun and catchy designs. Use it for flyers, book covers, headlines, posters, stationary, web design, t-shirt designs, stickers, packaging branding, and much more. Take your creative ideas further with Pokra!
2. Child Witch
Feel free to play the witch or the wolf using this Halloween typeface by Arendxstudio. Product comes with dingbats to make your works stand out.
3. Avarta Cadavra
Inspired by spells and magicians, this product from ilhamtaro includes not only magical lower and uppercase letters, but also vector illustrations in full color.
4. Thursday
Thursday is a Gothic serif typeface crafted with the utmost care, creating a stunning and dramatic design that'll send shivers down your spine.
It's perfect for conveying a sense of mystery and sophistication that's sure to leave a lasting impression. With intricate details and beautiful serifs, Thursday is just the ticket for a wide range of projects: from book covers, movie titles, headlines, to magazines, Youtube thumbnails, and Halloween posters.
Transport your audience to a world of dark fantasy filled with captivating tales and mystical elements. Ready to make something wicked and wonderful? Get your hands on Thursday.
5. Nightwish
Nightwish is a sharp script typeface. The font is a bit slanted as if it's handwritten. Its gothic/Old English aesthetic is ideal for apparel, greeting cards, product packaging, book covers, album covers, logos, social media, posters, and more. If your design requires an aggressive vibe, then Nightwish should definitely be on your radar.
6. Freebooter 
Freebooter is a pirate inspired typeface from the 1500s. The imperfections of Freebooter will give your designs and authentic human touch. It comes with upper and lowercase letters along with all the special characters you would expect. Suitable for branding, apparel, social media, advertising, editorials, marketing. etc.
7. Castleton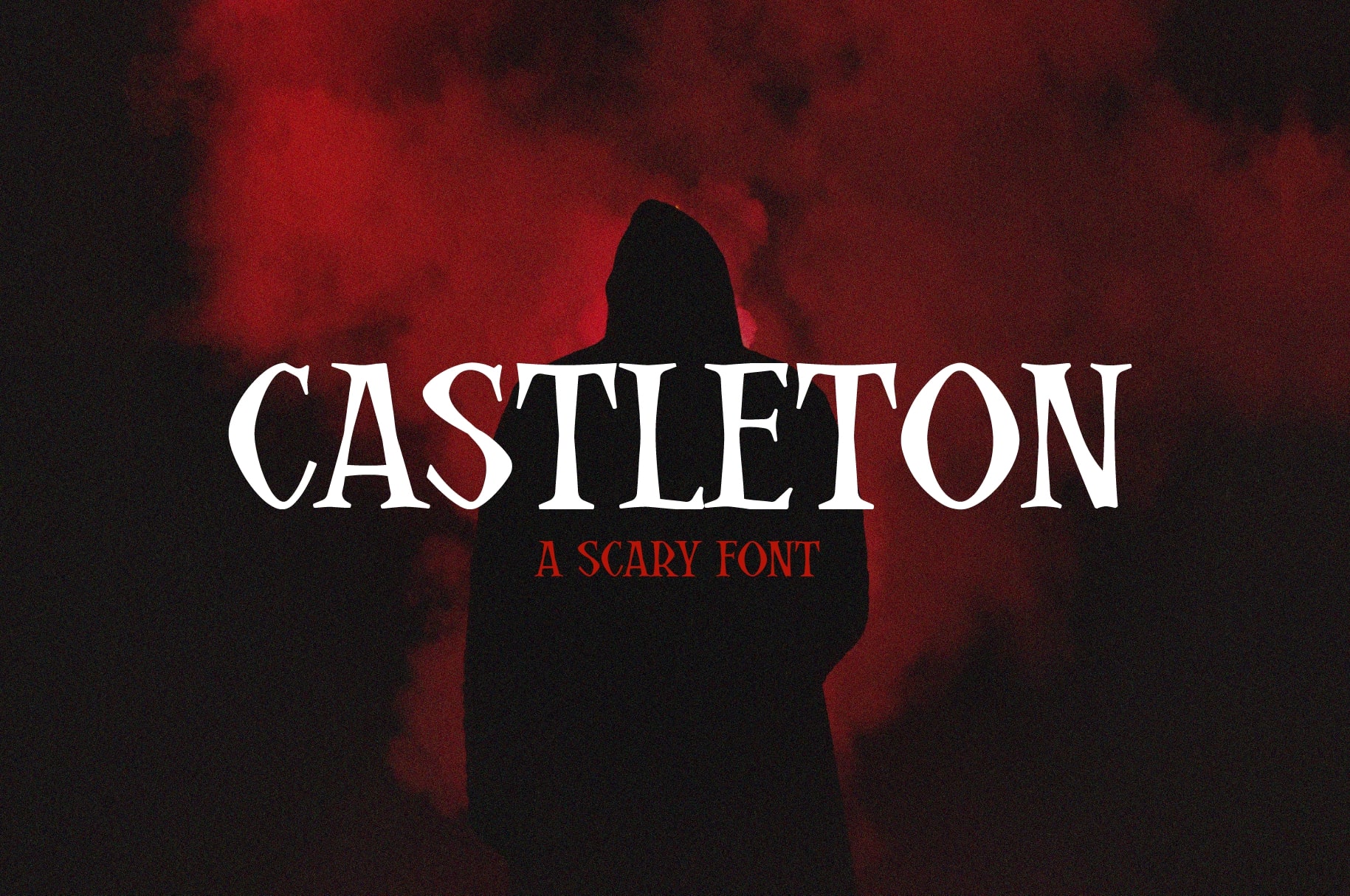 Castleton is a Halloween inspired typeface. This unique font is perfect for horror designs as well as fantasy based projects. You can use it for just about anything like posters, branding, apparel, stationary, stickers, packaging, movies, album covers, and more. Create eye-catching designs today with Castleton!
8. Haext
Haext is neo-Goth rustic Art Nouveau, part rune, witch font which gives a varied feel depending on how it's applied.
9. Pentacle Font
With two styles (Gothic and sans serif) to choose from, this pairing from Design Surplus also comes with more than 130 eerie, apothecary-inspired icons for all your spooky projects.
10. Wavelength Typeface
Wavelength was inspired by the "Rick and Morty" logo. This abstract display typeface grabs the reader's attention and keeps them there. It has an upper, lowercase display, numeral, and special characters. It is most suited as a decorative display font for editorials, album covers, posters, logos, web or packaging design. If you're looking for a typeface that's weird, trippy, and unique then Wavelength is for you!
[fontsampler id=60]
11. Misfit
Misfit is a decorative display typeface heavily influenced by the 1990s punk scene. The font is perfect for posters, headlines, album covers, apparel, logos, and much more. This all caps font includes punctuation and numerals. You can mix up small and low caps to get unique combinations. Enjoy!
12. Fright Night
If you're looking for a typeface that will grab the readers attention and build suspense, this font is for you. Fright Night is an emotional serif typeface with horror vibes. The font is clean, sharp, and unique. Fright Night is suitable for posters, movie titles, billboards, branding, business card, and much more.
[fontsampler id=47]
13. Zachar
This typeface from Rosario Nocera may have been made for horror and thriller themes, but thanks to its sinister elegance, you can still use it for non-scary concepts as well, like on billboards, posters, cards, and more.
14. Lunaria
Get ready to be enchanted when you see this classic serif from Laras Wonderland. Handmade with a rustic finish, it comes with 50 bonus icons and graphics to help you reveal the enchantress within.
15. WICKEDLY
Treat yourself with this divine Halloween font family by Dixie Type Co. Featuring 4 variations in 2 fonts, there's no trick – just wicked awesome fonts for all your Hallows Eve projects.
16. Mitoos
Get ready for the Halloween spirit in the way you want to with this playful product from beetlepixels. It also comes with Halloween graphic elements so you can party until midnight!
17. Alchemy
Warm, bright, and full of mystical feeling, this vintage typeface from AndrewPixel can be used by day – or night.
18. Shockbar
Whether you're working at something spooky or hardcore, you will love this offering from Letterhend Studio. Use any Adobe apps or Corel Draw to see and access all Glyph variations!
19. Spooktacular Font Family
With vibes reminiscent of 1950s beatnik movement, horror movies, and vintage comics, there's nothing quite like this fun yet unearthly typeface from Aiyari.
Download Spooktacular Font Family
20. LovePagans
MrKevCostello proudly brings you this imperfect font inspired by pagan history and Nordic runes that will go well with camping, adventure, tourism, as well as modern concepts.
21. Magical Font
All Hallow's Eve doesn't have to black and white – it can also be sparkly and bright, thanks to this sassy product from Salt & Pepper Designs.
22. Mukadua Font Duo
With a serif and a script, Letterhend Studio introduces this font duo that truly complements each other.
23. Magick Journal
Get in touch with your inner wizard when you use this magical hand-drawn letters from MoodyPapers.
24. Carpathia Typeface
This ultra condensed typeface by Von Type Co has carved styling that will evoke that natural spooky vibe instantly. It also comes with more than 50 vector occult symbols.
25. The Witches Font
Get your hands on this bewitching font by I'm Knot Tangled. It will look great on esoteric or contemporary projects.
26. Northern Runes
An all-caps gem from kaer_shop, this ancient lettering is all you need to create fantastic medieval prints, pagan posters, and unique clothing.
27. Runista
Struvictory.art brings to you this thin line geometric font that is available in two styles (Symbols and Decorative), reminiscent of ancient runes.
28. Langlock Magical Type
Langlock is a serif typeface inspired by classic fairy tales with wizard era fonts. This typeface is perfect for a classic or vintage book layout, fairy tale, magical stuff, flyer design, poster design, inspirational quotes, or simply as a stylish text overlay to any background image.
29. Witch Typeface
Whether you're working at something spooky or hardcore, you will love this wicked and wonderful typeface design. Aptly titled 'witch', the font is super stylish and includes a range of ligatures that are easy to work with.
30. Lost in the Woods
Dasagani is proud to present this spooky all-caps font that will either have you jumping off your seat, or getting lost in its chilling vibes.
31. El Zorro Script
Create edgy designs effortlessly when you use this handwritten font that consists out of multiple thin pen strokes. And did we mention FREE updates forever?
32. The Witch
Double the trouble with this cute Halloween font by Dm Studio. Add it to your posters, cards, posters, book covers, branding, or merch!
33. Exorcist
Are you looking for a Horror witch font that has a scary Halloween feeling? Great for Halloween, horror movie title, book title, event, clothing, music and more.