Last Updated on September 28, 2023
While we all have our favorite colors, individual preferences should take the backseat while looking for the right pigment for an art project. Instead, the focus should be on whether the chosen color is perfectly matched for those specific designs.
Perhaps your next question is – what constitutes the right color for graphic artwork?
Color suitability mainly comes down to the ability of a pigment to bring out the best emotional vibes in the object or setting it's used on while still retaining its aesthetic appeal.
Purple is undeniably a designers' choice as far as creating exquisite artwork is concerned. Not only is this color delightful to look at. It's also rich in psychological meaning. Besides, there are multiple shades to experiment with.
This article looks at a popular purple undertone known as orchid.
Introducing Orchid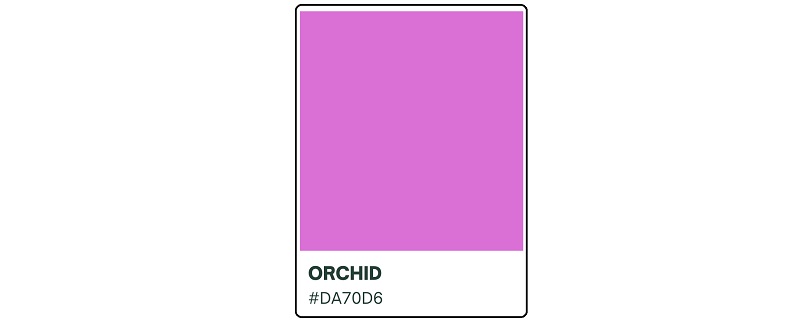 Orchid is a bright, rich purple color with blue undertones. The color is named after the charming blossoms displayed by various orchid species.
Much like the plant it's named after, orchid may come in tones ranging from blue to grayish purple, purplish-pink, and very strong reddish purple. The color is assigned the hex code #DA70D6.
The Pigments in Orchid
The orchid color is a shade of purple, and purple is essentially made up of blue and red. So, red and blue are the main pigments that constitute a standard orchid color.
But as already pointed out, there are several orchid undertones. Some of these shades may feature other hues besides red and blue, including gray, pink, and even white and black.
Comparing Orchid with Similar Colors
Orchid versus Lavender Purple
Lavender purple is variously described as a light pinkish-purple color or a medium purple color. The color differs from orchid in its lighter hues of purple as well as its fairly visible hints of pink.
Orchid versus Lilac
Lilac and lavender are commonly confused with each other. So, it's not uncommon to find some artists also confusing lilac with orchid.
However, these colors are completely different from each other. While orchid is a richer shade of purple, lilac is paler and features even more pinkish tints than lavender.
Orchid versus Mauve
Mauve is a pale-bluish purple color located between pink and violet on the color wheel. Although it may look like a paler shade of orchid, mauve is a distinct color with its own hex code (#E0B0FF).
Orchid versus Magenta
Magenta is a mauvish-crimson color that may also be defined as a pinkish-purplish-red or reddish-purplish-pink.
The main difference between orchid and magenta is that orchid is predominantly purple with subtle tints of blue while magenta contains visible shades of purple, pink, and red.
Orchid versus Fuchsia
Fuchsia is a very brilliant pinkish-purplish-red color. You can consider it as a more saturated version of orchid that also includes hints of pink and red.
Orchid versus Thistle
At first glance, thistle looks like a muted version of orchid. But upon close examination, you'll realize glaring differences in terms of value and saturation. Thistle is a very pale purple undertone with the hex code #D8BFD8. The color is so pale that it's easy to pass as a neutral shade.
Orchid versus Heliotrope Purple
Heliotrope is a deep pink-purple tint named after heliotrope blossoms. The depth of purple in this color is why some people may confuse it for orchid. However, the conspicuous pint undertones make all the difference.
Orchid: Primary or Secondary Color?
It is a secondary color. That's for the simple reason that it's a shade of purple, which is itself a secondary color. Secondary colors are produced by mixing two primary colors. In this case, orchid is the result of mixing blue with red.
Is It A Warm or Cool Color?
There's a tendency by many novice painters to classify purple among warm colors like red, yellow, orange, and pink. But while one of the constituent colors in purple, i.e. red, is a warm color, true purple has cooler effects. Orchid is equally a cool color by virtue of it being a purple undertone.
That said, some cool colors may have warmer shades and vice versa. While the standard orchid color is more of a cool tone, certain shades can skew towards the warmer end of the spectrum. That underscores the importance of understanding all the different shades of orchid before adding them to your design project.
Locating Orchid on the Color Wheel
Orchid belongs in the broader purple family and purple is found on the traditional color wheel, nestled midway between blue and red.
Origin of the Orchid Color Name
The orchid color gets its name from the appearance of flowers borne by plants of the same name. The name "orchid" comes from the Greek word 'orchis,' which translates to testicle, referring to the appearance of the tubers of plants in the Orchis genre.
Orchis is a genus that produces orchids and many other species of plants in the Orchidaceae family. These plants are renowned for their colorful and fragrant blooms.
The Orchidaceae family is one of the two most diverse families of flowering plants, the other one being Asteraceae. The family has about 28,000 officially identified species spread across 763 genera. That's exclusive of over 100,000 different hybrids and cultivars produced by horticulturists since the 19th century.
Orchids have certain distinctive phenotypic features, one of which is their delightful blossoms. Most orchid flowers appear in a bright, rich purple color. However, the exact shade may depend on the specific species. In fact, orchids can come in a variety of colors besides purple.
History of the Orchid Color
Various shades of purple have been popular across several historical periods. Tyrian purple is widely considered the oldest purple undertone.
The color goes by many other names, including imperial purple, royal purple, and Phoenician purple/red. Its history dates back to 1570 BC when it was first created by coast-dwelling Phoenicians who discovered that the milk produced by murex snails had purplish pigments.
Early Phoenicians used Tyrian purple primarily for dyeing clothes. But considering the scarcity of murex snails and the rigorous process of obtaining their milk secretions, this shade of purple proved quite difficult to come by. It was mainly a preserve of royalty, which explains its other names.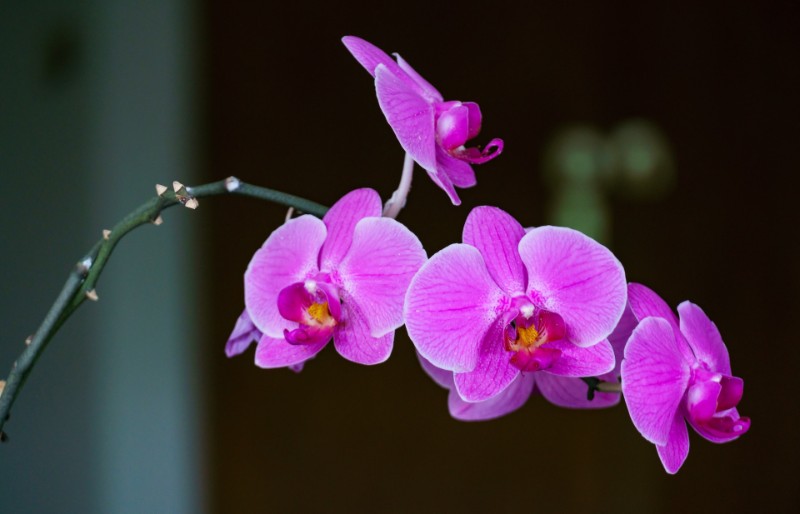 Artists throughout history created other shades of purple to meet the ever-rising demand for the color. It's unclear when orchid was first officially synthesized. However, the first documented use of the word with reference to a color in the English language was in 1915. That potentially makes orchid one of the newest color names.
Considered by many artists as one of the most elegant shades of purple, it wasn't long before orchid's popularity began to rise. In 1987, orchid became one of the X11 colors. The X11 colors later became known as the X11 web colors following the invention of the World Wide Web (WWW) in 1991.
Orchid's popularity kept rising as the color continually acquired new uses. In 2014, Pantone declared orchid the Color of the Year, describing it as "an enchanting harmony of fuchsia, purple, and pink undertones."
Meaning of the Orchid Color
Orchid flowers are available in numerous colors. And as you might expect, each pigment has its distinct symbolism. For instance, white orchids symbolize innocence, purity, and reverence. Yellow orchids evoke happiness, friendship, and new beginnings while pink orchids stand for grace and femininity.
However, our focus are the bright purple orchids. Purple has traditionally been associated with royalty. At some point in history, purple dyes were so scarce that only the high and mighty could afford them. While the color is now fairly accessible by people from different walks of life, its association with royalty still stands.
Purplish shades like orchids may also imbue a sense of luxury and sophistication into their surroundings. This has everything to do with their association with nobility. As the color of luxury, orchid would be best suited for showy occasions where glitz and glamor are the overriding themes. Think red carpet events or high-profile corporate dinners.
Like many shades of purple, orchid is relatively scarce. That rarity gives it an aura of mystery, consequently making it perfect for projects with spiritualism as the underlying theme.
Most colors that derive their names from plants tend to conjure feelings of freshness, and orchid is no exception. Although it's generally associated with cool vibes, orchid can inject a sense of warmth and positivity into your artwork.
The fact that the color's name was inspired by gorgeous flowers makes it especially great for use in wellness or nature-themed designs. Orchids are also associated with fertility. Remember that 'orchis,' the Green word where the English name "orchid" comes from, relates to male organs.
How to Make and Blend Orchid
To make orchid, you'll need blue, red, and white paints. Start by mixing equal portions of blue and red paints to obtain a basic purple color. Then, add tiny amounts of white to the mixture to obtain the orchid color.
You can also experiment with hints of other colors, including neutrals like black, white, and gray, to create the specific orchid undertone you're looking for. Below are the different shades of orchid that you can make using a blue-red palette plus tints of other colors;
• Wild Orchid – takes after the color of the flowers borne by orchids growing in nature.
• Orchid Pink – appears with pinkish undertones, which gives it a warmer appearance than most orchid undertones.
• Dark Orchid – This shade of orchid appears darker due to its higher purple saturation.
• Dark Pink – sits between dark orchid and orchid pink in terms of brightness.

Orchid blends well with many colors. However, the specific colors to pair orchid with will depend on its undertones.
All orchid shades can brighten up neutrals like taupe, beige, and gray. However, pink orchids will look exceptionally stunning if matched with cooler tones like greens and blues, while dark orchid will blend well with warmer shades of red or yellow.
Summary
Orchid is a rich purple undertone that derives its elegance from the blossoms of the orchid plants. Although it's not a popular choice by artists (perhaps due to its rarity), orchid has all the qualities you might need to transform your designs' aesthetic appeal.