Last Updated on August 5, 2023
With names like 'clemetine', 'cornflower', 'emerald', and 'jazzberry jam', well-loved crayon brand, Crayola, has cemented itself in history. It's been a huge part of everyone's childhood since its debut in the 1900s. Today, there are more than a dozen types of crayons for both kids and adults.
Your Childhood in Color
The technology behind making crayons isn't new. While its true origins are still unclear, there's evidence suggesting that early Romans, Greeks, and Egyptians, as well as some indigenous people in the Philippines, have made this medium. The process was quite simple: mixing wax (such as beeswax) with pigments.
Modern crayons are non-toxic, have richer hues, and are kid-friendly. Jumbo crayons for instance, come in large sticks so small hands can easily grip them. The most well-known crayon brand of course, is Crayola, formerly known as the Binney & Smith Company.
They began producing wax crayons in 1903. The brand name Crayola, was coined by Binney's wife, Alice. It's a combination of the words craie (French), which means 'chalk', and 'ola' from oleaginous (i.e. oily). The first box they sold contained only 8 colors: red, blue, black, brown, purple, orange, yellow, and green.
Children aren't the only ones who enjoy coloring with crayons. Experienced artists also use this medium, particularly if they want to achieve a soft, somewhat pixelated look. They use special artist crayons that have more vivid pigments, which can be easily blended with water. These result in fabulous realistic drawings!
Cool Crayon Fonts
There's probably no adult today that hasn't used a crayon (regardless of brand) during their childhood. These brightly colored sticks weren't just used on walls and coloring books. They hold precious memories of drawing with friends, paper placemats at old diners, and leaving a few broken pieces inside your bag by the end of the grading period.
Feeling sentimental? These unique crayon fonts should help you capture a more contemporary vibe, while retaining that childhood innocence.
1. Chalk Board Font Tuck Shop
Childlike, naïve, and messy, this gem from Simon Stratford exudes fine detail and texture not found in most crayon fonts. Expect 2 versions (Regular and Outline), as well as a Decoration variant to help you create lively, fun projects.
Download Chalk Board Font Tuck Shop
2. Earth Elements Typeface
This organic collection by Anna Ivanir features 2 fonts – one is bold and rough, the other, soft and smooth. Aside from pretty lettering, you'll also receive bonus vector pack full of florals, swirls, banners, and more.
Download Earth Elements Typeface
3. SHAKE Brush & SVG Font
This grunge style sans by Cruzine will be all the rage in your social media posts, posters, online ads, blog headers, or postcards. Be advised that the SVG OpenType feature can only be used with compatible apps, such as Photoshop CC 2017 and Illustrator CC 2018 (or higher).
Download SHAKE Brush & SVG Font
4. Goal Digger Font Collection
Upgrade your designer toolkit with this rich and sweet vintage font collection from MaryamKamalCo. You'll get over 13 stylish crayon swashes, plus built-in Opentype features to give your works a truly hand-drawn feel.
Download Goal Digger Font Collection
5. Chalky Fingers
Turn heads with this hand-lettered chalk font by Jeremy DV Boyd. Proudly hand-drawn with real artists' chalks, it has plenty of personality to make your menus, packaging, labels, and promotional materials stand out from the competition.
6. Blackbird Crayon Script SVG Font
Ana's Fonts brings you this deliciously textured SVG script that includes lots of extras in the form of swashes, underlines, arrows, small illustrations, and scratches.
Download Blackbird Crayon Script SVG Font
7. Pastel
Believe it or not, this font By Tomatstudio was originally hand-drawn by kids! You'll get 2 variants: Regular and Brush.
8. Sarayon
The randomness in this handmade chalk style font by Ateliervonau will make your titles, posters, greeting cards, birthday invitations, or book covers look and feel more authentic.
9. Boathouse
Personalize your travel photos and adventure branding using this signature brush script from Hustle Supply Co.. Drawn in a natural and stylish calligraphy form, it's the perfect complement to your postcards, blog headers, labels, titles, and more.
10. Gessetto Family
This extensive chalk font family by Rsz Type Foundry contains 9 fonts, ranging from sans, script, roman, sans cursive, plus ornaments and figures.
11. Sticky Lollipop
Ian Barnard brings you this sweet, hand-written typeface that goes well with contemporary themes and inky style illustrations. Made using a vintage chinagraph pencil, it's casual, laidback, and nostalgic.
12. Pastelova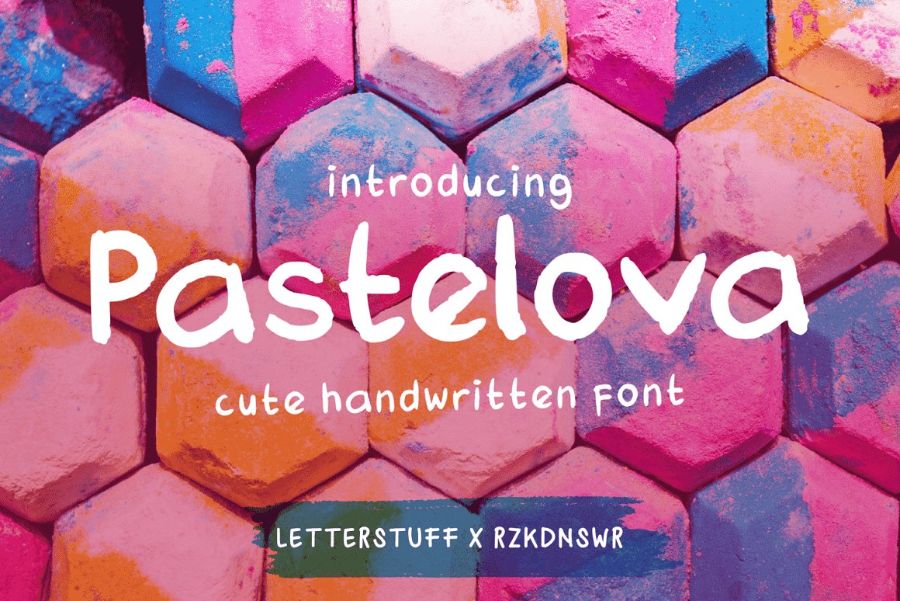 Inspired by children's crayon drawings, this cute font from LetterStuff Typefoundry includes Regular and Italic versions, as well as adorable crayon illustrations in PNG.